Autumn 2012 | Issue No. 23
UW VIRTUAL TOUR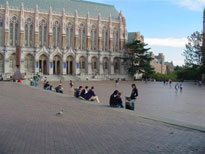 TRANSFER THURSDAYS
Thinking about transferring to the UW? If you are,
Transfer Thursday is your gateway to transfer information
. At a Transfer Thursday session, you can speak to an admissions counselor who will tell you all about applying to the UW. You can also meet with an undergraduate academic advisor who will help you prepare for your intended UW major. Bring your questions and your unofficial transcript(s). It's one-stop shopping for the prospective transfer student.
Where:
University of Washington
141 Mary Gates Hall
When:
Every Thursday afternoon.
Click here to view the scheduled activities
.
For more information:
(206) 543-2550 or click
here
.
CREDITS
Megan McConnell
Editor
Jennifer Stock
Technical Designer
Contributors:
Tory Brundage
Heather Clineschmidt
Vikki Haag Day
Megan McConnell
Risa Morgan-Lewellyn
Michal Nolte
Molly Ormsby
Mona Pitre-Collins
Trina Sterry
Debbie Wiegand
Carlos Williams
The Transfer eNewsletter is a project of UAA Advising.
UW Tacoma Updates
New Priority Deadlines
UW Tacoma rolled out new Application Priority Deadlines for transfer applicants this year.
Apply by March 15th for priority consideration for Autumn Quarter 2013.
Winter Quarter: October 15th.
Spring Quarter: February 15th.
For specific program application priority deadlines, visit the UW Tacoma website.
New Office of Admissions Location
The Office of Admissions moved to a new location this summer. Find us in the Mattress Factory Building (MAT) room 251. Other offices now located on the second floor of the MAT include Financial Aid, Office of the Registrar and the new Veteran and Military Services office.
Stop by to see our new space and join one of the student led campus tours offered Monday through Friday at 3:00pm (except on university holidays). The tours walk students through UW Tacoma's historic urban campus and include information on student life, academics, campus resources, housing and more. Please RSVP on-line.
Prospective Transfer Students can also schedule an admissions advising appointment. In an appointment admissions advisers can provide unofficial transcript evaluations, answer program and university admissions questions and help students with the application process. To schedule an appointment call the Office of Admissions at 253-692-4742.
MEDEX Northwest at UW Tacoma Spring 2013
MEDEX Northwest, the UW School of Medicine physician assistant training program, is coming to the UW Tacoma campus Spring Quarter 2013. Students interested in the program are encouraged to contact the MEDEX program directly.