Expanding Astrobiology Understanding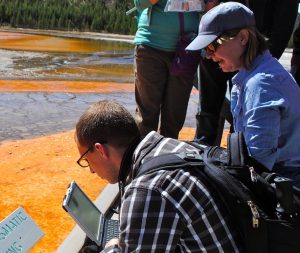 Astrobiology is an incredibly dynamic and engaging topic that attracts professional scientists and amateur enthusiasts alike. To serve this diverse and widespread community, UWAB is committed to taking astrobiology beyond the typical university and research settings to share the exciting discoveries and unique perspective of astrobiology with a wider audience.
Our Education & Outreach Team, comprised of UWAB students, faculty, and staff, is dedicated to providing current and responsive educational resources and opportunities for audiences at all experience and skill levels. The team is committed to collecting and sharing helpful resources and news stories for astrobiology students and teachers alike. For more information on the field of astrobiology, or to access the archive of teaching-and-learning materials our E&O Team has collected, visit the following pages:
Working In The Community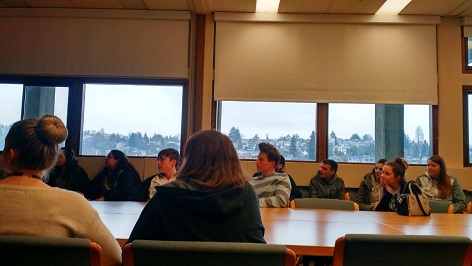 Our E&O team members are frequent contributors to community-based science and education programs such as neighborhood Science Cafes, the Science Communication Fellowship Program at the Pacific Science Center, and the Seattle Science Festival. In addition, UWAB has been host to many of its own successful initiatives including collaborating with high school teachers to establish astrobiology courses for high school juniors and seniorsand hosting class trips to visit UWAB labs. But that is just the start! The UWAB Education & Outreach team is always developing new events and activities to educate and inspire. Bookmark our UWAB Calendar for the latest information on astrobiology events (both at UW and in the general Seattle area).
If you would like more information about our current and developing outreach activities or would be interested in having a UW astrobiologist visit your classroom, scout troop, professional meeting, or other organization, contact the Education & Outreach team at: astrobio@uw.edu.
Building Partnerships
Finally, as an interdisciplinary community that draws from multiple science fields, UWAB often collaborates with educational and outreach activities hosted by other programs on campus and with the NASA Astrobiology Institute. Visit the website of our affiliated departments and the NAI for the latest news and resources in their outreach efforts: