February 7, 2019
Looking Back at 2018, Looking Forward to 2019
Greetings and welcome to 2019 from the Health Promotion Research Center (HPRC) Director, Peggy Hannon.
In my time as director of HPRC, I've developed a new appreciation for how much can happen in a dynamic research center in any given year. That said, 2018 was unusually eventful in a variety of ways.
Below, I share some of the highlights of 2018 as well as a couple things we're most excited about for 2019.
2018 Highlights
George Dicks took the helm as new chair of HPRC's Community Advisory Board.
Anne Turner joined HPRC as our new Associate Director.
We welcomed Leah Westra as the new Deputy Director of HPRC, following Kitty Christensen's retirement.
The PEARLS Connect Study, which will examine the impact of the PEARLS program on social isolation in older adults, launched. HPRC's Lesley Steinman received her first grant, from the AARP Foundation, to do this important work.
HPRC received an R01 grant from the National Cancer Institute to test different strategies to expand the reach of Connect to Wellness—a workplace wellness program for small and low-wage businesses—beyond Washington State.
The Healthy Brain Research Network (HBRN) received an APEX Award and many accolades for its action guide, "Connecting with Asian-American and Pacific Islanders about Dementia." HPRC is the coordinating center of the HBRN, a thematic network of the CDC PRC program.
Our work with the Washington State Department of Health continued to grow and now includes arthritis, cancer control, hypertension control, and workplace health promotion.
HPRC's cancer team made strides on two special interest projects focused on patient navigation for cancer screening, including completing data collection for the first national survey of patient navigators associated with the Colorectal Cancer Control Program and the National Breast and Cervical Cancer Early Detection Program.
After more than 15 years in our suite in the University District Building, everyone pitched in to make our move to the fourth floor (of the same building) smooth and welcoming.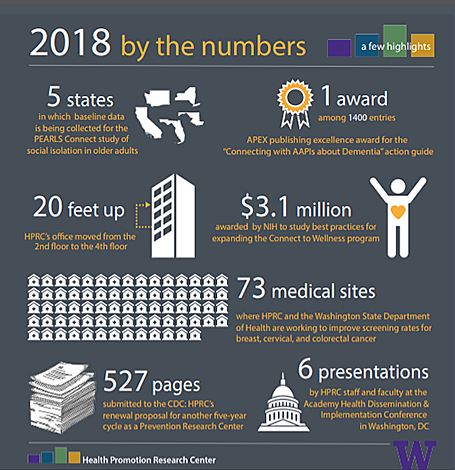 Looking Forward to 2019
We await final word from CDC on our five-year renewal as a Prevention Research Center, having spent much of spring and early summer 2018 devising and writing our competing renewal proposal. There is always a stressful aspect to this process, but it also gives us the opportunity to plan an exciting new research project, and to critically examine ourselves and our growth as a center. This was truly an "all hands on deck" proposal; every person at HPRC made important contributions and all of our partners provided critical support. If we are once again fortunate in having our funding renewed, we will start work in October toward realizing our vision for the next five years.
We welcome new faculty and students to HPRC in January, and look forward to additional student collaborators throughout the year. Watch for more info about our staff, faculty, students, affiliates, and CAB members in future issues of the Link.
Thank you for everything you do to improve the health of people in all communities. I wish you a healthy and happy 2019.
Tags:
ARC NW
,
Breast Cancer
,
Cervical Cancer
,
Colorectal Cancer
,
George Dicks
,
HBRN
,
PEARLS Connect
,
Year In Review