May 24, 2022
Training Adapted to Expand Access to Depression Care for Older Adults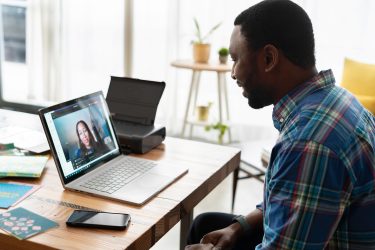 The Program to Encourage Active, Rewarding Lives (PEARLS) educates older adults about what depression is (and is not) and helps them develop the skills they need for self-sufficiency and more active lives. It was designed with communities to expand access to mental health services for underserved older adults without needing a diagnosis.
In order to better support accessibility and expand access to the program, the PEARLS team at the University of Washington Health Promotion Research Center (UW HPRC) is excited to launch a new version of the PEARLS Coach Training that is fully remote and online. PEARLS coaches are the heart and soul of an organization's PEARLS. They are the staff at community-based organizations who meet one-on-one with older adults to help them build the skills they need to live happier, healthier, and more independent lives.
There are no professional licensing, accreditation, or higher education requirements to participate in PEARLS training or become a PEARLS Coach. Our goal is to make this program easier for organizations to adopt, and thereby make mental health services more accessible to older adults in need.
"The goal of PEARLS has always been to expand access to depression care for older adults," said Caitlin Mayotte, PEARLS program manager at UW HPRC. Caitlin led the effort to develop the online training for PEARLS Coaches. "Demand for online training did not reach a tipping point until the beginning of pandemic. Now, video conferencing and connecting with people from a distance is more of a norm. We knew we had to leverage this opportunity to provide more accessible training."
Going Online
The PEARLS Coach Training is now entirely online in three sections (online modules, a practice session, and training evaluation). The online modules are self-paced so participants can access and finish them at a convenient time for them. Once someone has enrolled in the PEARLS Coach Training, they will have unlimited access to these modules and can revisit them if needed. The live practice sessions are offered regularly online and allow participants to role play and ask questions in real time. The final section of the training is a brief, 10-minute training evaluation. The full training — all three sections — is estimated to take a total of eight hours.
To become a PEARLS Coach, organizations previously had to attend in-person training for two days. This option either happened twice a year in Seattle, Washington or in select areas where there was a qualified trainer. In 2019, there were 20 people across eight states who could provide PEARLS Coach Training outside the PEARLS team at UW HPRC. While the PEARLS team knew travel for training could be a barrier for some organizations, the resources and demand for online training were not readily available until more recently. After COVID-19 spread around the country, the PEARLS team began offering these two-day trainings via Zoom twice a year because of easier access to resources, such as video conferencing programs like Zoom, and an increase in demand for online trainings. Many people were becoming more familiar and comfortable with online formats.
As the demand for online training grew, the PEARLS team partnered with the UW Northwest Center for Public Health Practice (NWCPHP) to create online training modules people could complete at their own pace. NWCPHP is one of 10 regional public health training centers in the country that works closely with public health professionals and organizations to improve the health and well-being of communities with the support of training, evaluations, and research.
The increased flexibility of the PEARLS Coach Training will further open the door to more organizations having staff trained, which will ultimately increase access to the mental health services underserved older adults need.
Continued Support
The PEARLS team will continue their ongoing support through monthly technical assistance calls (now held on Zoom) that are free and optional to join. These calls are an informal way to connect, hear updates, and troubleshoot together with other PEARLS coaches and the PEARLS team at UW HPRC.
People who complete the PEARLS Coach Training will also have access to the PEARLS Toolkit, which includes the PEARLS Implementation Manual and forms needed to offer PEARLS to older adults in your community.
"We at UW HPRC are committed to improving accessibility of adopting and providing PEARLS to older adults of all backgrounds and experiences — during COVID-19 and beyond," Caitlin said. "The need for mental health services for older adults will continue, and we are dedicated to making it accessible with PEARLS."
Tags:
Caitlin Mayotte