Labor and Radical Press History and Geography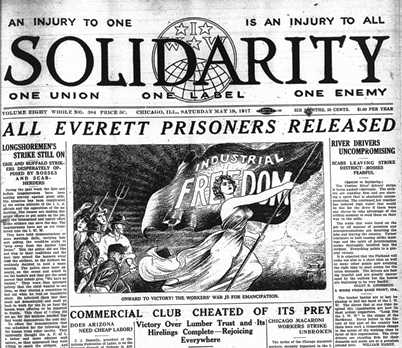 Social movements need ways to educate and communicate. Until recently that meant newspapers and other periodicals. Denied access to major media, labor and radical movements have published thousands of periodicals, constituting an alternative press that is vital to these movements and important to the history of American journalism. The decades from the 1880s through the 1940s were the golden age for labor journalism while radical journalism enjoyed an extraordinary renaissance with the underground press movement of the 1960s and 1970s.
Here we explore this history and show the geography of radical journalism across nearly a century with maps and databases that include more than 1,000 publications linked to the American Federation of Labor, the Socialist Party, Industrial Workers of the World, Anarchist movements in the decades between 1880 and 1925. Then we map more than 2,000 underground and alternative newspapers published from 1965-1975, including a large complement of Chicano movement publications. In addition, we have detailed descriptions of several dozen labor and radical newspapers that were published in the Pacific Northwest. To get started, read this introduction to "The Labor and Radical Press 1820-the present" by Karla Kelling Sclater. Note: more maps and databases will be soon be added to this unit.
This interactive map identifies 380 newspapers linked to the Socialist Party, providing detail about editors, circulation, and about the towns and cities where they were published.
The IWW published newspapers in 19 languages. Many were short-lived with small circulations, while one, The Industrial Worker, continues today. Here are interactive maps and a database of information.
Anarchists published periodicals in 18 different languages, reflecting the immigrant majority and transnational nature of the American movement.These maps and tables locate 274 periodicals affiliated with anarchist groups or ideas from 1872 to 1940. 
In 1925, researchers at the Rand School of Social Science compiled and published The American Labor Press Directory, listing more than 600 newspapers affiliated with unions, labor councils, and radical organizations. Here are interactive maps.
Here are seven maps and charts showing the year-by year geography of the underground media system, locating the comings and goings of more than 2,000 weeklies and monthies. Filter by state and by categories, including African American, Chicana/o, antiwar GI, countercultural, radical left, and other descriptives.
Here are more than 300 newspapers and newsletters associated with the surge in Chicano activism in the 1960s and 1970s. Some were published by movement organizations, others served local communities.
This site explores the history and ongoing influence of newspapers and periodicals published by unions, labor councils, and radical organizations in the Pacific Northwest. Two dozen essays and numerous illustrations highlight influential newspapers like the Seattle Union Record, the Industrial Worker, Portland Labor Press, The Timberworker, Washington Teamster, Pacific Longshoreman, The Aero Mechanic, Washington Teacher, along with a string of newspapers, like the Voice of Action, affiliated with the Socialist and Communist parties