Interview with UW President Michael Young
Error message
Deprecated function: Methods with the same name as their class will not be constructors in a future version of PHP; views_display has a deprecated constructor in require_once() (line 3157 of /nfs/bronfs/uwfs/hw00/d62/eacnews/includes/bootstrap.inc).
Deprecated function: Methods with the same name as their class will not be constructors in a future version of PHP; views_many_to_one_helper has a deprecated constructor in require_once() (line 113 of /nfs/bronfs/uwfs/hw00/d62/eacnews/sites/all/modules/ctools/ctools.module).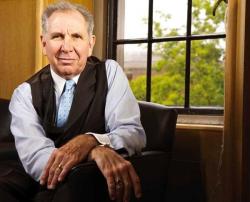 Bold ideas about the future made an impression on University of Washington President Michael K. Young at an early age - he was a 13-year-old boy from California when he attended the Seattle World's Fair. Living in Japan during his Mormon mission in the 1970s further expanded his world view and set the foundation for a career focus on Asia.
Now he considers technology innovation and international collaboration as fundamental to the University's success. The world's most challenging problems require a global, multidisciplinary approach, whether it's understanding the role of gene switches in human disease or resolving complex legal disputes across Asia and the United States.
During his first year at UW, Young gave a major address on the role of human rights in U.S. foreign policy and offered a fellowship to dissident Chinese lawyer Chen Guangcheng (who chose an earlier offer at NYU). With a rising number of students enrolling from Asia, the University could do more to ensure that they are adequately prepared and are integrating well into campus life, he said.  But he lauded the benefits of such diverse classrooms in helping students see global issues from a different point of view.
Perhaps Young's biggest challenge is maintaining a great university in spite of dwindling state funding. His agenda includes developing new capabilities with UW's research mission at the core.
Earlier, the university opened an incubator to support startups and commercialization of UW research. Young called the University's combination of high quality research and ability to track and measure the huge amounts of data that it generates "a remarkable sweet spot."
Below is an edited transcript of an interview the Jackson School's Kristi Heim conducted with Young in September.
Q: You spent 20 years at Columbia University and established your expertise in Japanese law. How do you see the influence of Asia on our region in the next 10 years?
Michael Young: I think we're seeing a kind of coming together in an interesting way. Take China for example. I'm struck by the fact that China in many ways is developing in the same direction as the U.S. but doing it much more rapidly. They've gone from a fairly impoverished country to a much more economically dynamic and vibrant country. But they are moving already into that stage of asking whether more economic growth is worth it at the expense of the quality of life of people?
I was just reading that Guangzhou is going to actually ration license plates, to reduce the number of cars in the city by 50 percent, not for economic reasons but for quality of life reasons. You're seeing more and more introduction of these quality of life issues into their calculations, something that took us a very long time to get to.
Conversely, we tend to learn a lot from Asia as well. Japan was taking off on a whole range of issues about their manufacturing techniques and the way they structured their economy in terms of capital formation. We really took a lot of lessons from that and you still hear in America about just-in-time supply.
Information moves much more seamlessly. You see us coming together, and yet we're still very distinct. The way China, Japan, Korea, India still each have a very ideologically and culturally distinct way of pursuing that, which helps us understand that even the fundamentals of a market-based economy can be designed in very different ways to serve different needs.
I also remember sitting around the table with the founder of Adobe and the number two person at Hewlett Packard and a couple of students. The students asked what they thought about international competition. They said more than half of our sales occur abroad, not quite half our productive capacity is abroad. We make some parts over there and some parts here. So there's this kind of seamlessness that's beginning to develop in the economy. Take the Seattle Mariners who are owned by a Japanese company.
I just think there's a narrowing of these borders of all sorts – intellectual borders, cultural divides, a narrowing of the ideological, economic and political and practical. While at the same time, it isn't a merger. We're not necessarily becoming like each other, but we're interacting and learning from each other in a much more intimate way than at any time in history.
Q:  We're certainly seeing that at the University, including a major influx of students from Asia. How do you think UW can take advantage of that trend?
Michael Young: I think certainly having foreign students on our campus is immensely valuable to our domestic students. It enhances the educational experience in dramatic ways. It's not in anybody's interest to have the University of Washington look like Garfield High School. If it's exactly the same student body here that they had in high school, we miss a real opportunity.  The key for us is to give them opportunities and exposure to things that will be relevant for the rest of their lives. We live in a global world.  The number of our students we can get to go abroad - the more the merrier.
On the research front, you look at this recent headline about junk DNA - about finding switches that turn genes on and off, what used to be called Dark Matter. That's a multi-university project. A project of that size couldn't be done any other way because you need to amass an enormous amount of data. Well, I think the chance to do that on a global scale will increase our research capacity and our understanding of the world that much more.
Q: Is this driven by faculty or can you articulate a university-wide vision or strategy?
Michael Young: As all good things at a university, it's going to be deeply driven by faculty. I think the university's role is to facilitate it, to help with logistics, to reduce barriers and provide resources. I think we're going to see a lot more of that going forward.
Q. Is there anything you are engaged in that helps drive these connections?
Michael Young: I still have a couple of research projects in Japan. It's a whole set of surveys about people's attitudes towards law and legal institutions and how they use that in their everyday lives. We did a large number of surveys in about 25 countries. We've got three large ones in China, Japan and the United States. We're still gradually writing articles about that. I still have a lot of close personal connections in Japan and Korea. I haven't yet mobilized those for the university. I've got to get over there and start churning things up a little bit.
Q: This spring you invited Chen Guangcheng to come to the UW for a fellowship, either at the Jackson School or Law School. This was after Jerome Cohen at NYU had offered Mr. Chen a fellowship at NYU. How did this idea arise?
Michael Young: Part of it comes out of the human rights work I've done over the years. Sometimes universities can provide valuable homes for people who are going to bring a very different perspective. Part of it derives from an experience I had while I was at Columbia. Jack Greenberg became a faculty member. He had been Thurgood Marshall's successor at the NAACP Legal Defense Fund. For 25 years he had been kind of the chief civil rights lawyer in the United States. Jack retired from the Legal Defense Fund and came to Columbia to teach, and he expanded his civil rights work to be more international.
One of the things Jack did that I thought was extraordinary was during the apartheid period in South Africa. Columbia arranged to bring a number of dissident lawyers to Columbia when they were most under attack by the government – Arthur Chaskalson and Albie Sachs. They were under some sort of threat of death. They would come spend a year until things cooled down and then they would go back. It was fascinating. It was one of the most extraordinary experiences to sit at a table with Arthur Chaskalson, And hear in a very intimate way the anti-apartheid struggles. When Nelson Mandela became president they went back. Both became Supreme Court judges. We sent lots of students to serve as clerks for them. It really enhanced the intellectual dynamism of the school enormously. So I think inviting all sorts of different people to spend time at the university is important. We've had the leaders of China and Korea and other nations on campus. We ought to have those who are a little more disaffected with those leaders here, too. That's what great institutions do best.
Q: Did you coordinate your invitation with NYU?
Michael Young: I let Jerry know. Part of my thinking was Jerry's a good friend, one of my professors at Harvard. In all likelihood Jerry was kind of advising him. And New York was a very logical place for him to go – it's a major human rights center close to the diplomatic centers in Washington so he could continue activism. And Jerry is there as his guide.
But at the same time, I lived in New York 20 years and I know NYU pretty well. I thought there might be an occasion in which he would say when he got his family to the states New York is not the environment I want to be in. I thought with the quality of Asian programs we have here and the history we have here, it would be a great place. We would benefit. We would be a safe haven. I think we would learn a lot. We have the resources here to take advantage of his knowledge.
Q: What response did you get from Mr. Chen?
Michael Young: The initial response through an intermediary was "Thank you very much -- he's going to go to New York. We appreciate the offer – we'll keep this in mind."
Q: For some of the recently arrived students from China, there's a gap between what you would expect here and the preparation they have. What is UW doing to make sure they are successful?
Michael Young: A big part of it is enhancing the counseling services available. We're looking into whether we want to start them coming earlier for some more elaborate instruction. It's a fairly recent phenomenon, so I think we're feeling our way a little bit. But I do think we need to provide more direction.
Q: How can we take advantage of the perspectives they bring to enhance our global competence?
Michael Young: We need to ensure they understand the participatory nature of American education. Sometimes they'll come in a little shy about the language. Other times they'll participate excessively. I used to teach international environmental law. We were talking about ozone depletion. Americans were very enthusiastic about limiting CFCs. A fellow from Bangladesh piped up and said, "You know, if the question is harm to the person, then the real question is weighing the advantages of refrigeration versus the disadvantages of the likelihood of dying from skin cancer because of ozone depletion. Nobody in Bangladesh lives long enough to get skin cancer from ozone depletion, so you're asking us to reduce our lifespan to increase your lifespan". That's a heck of a perspective. Americans thought how could any right thinking person not want to preserve the ozone layer? Getting all sorts of different perspectives in class on the table can be really interesting. It's not so much they come with a Buddhist perspective or Confucian perspective, though they may. Certainly Lee Kuan Yew's visions of democracy vary dramatically from Jefferson's visions of democracy.
My youngest son's former girlfriend went to Russia in high school. They met with a group of other high school kids. All the Americans were basically saying isn't Putin terrible because of the deprivations of civil rights?
The Russian kids were saying who cares? Putin is reestablishing Russia as a major force in the world. He's giving us our dignity back. And all the sudden you realized there's no dispute over whether Russia was authoritarian or not. But how you valued that compared to other things really was an eye opener.
Q: Recently recruiters from universities in Hong Kong, Singapore and other cities have come here to meet with faculty and students. In our increasingly globalized world, how does the UW make sure it is getting the best and brightest, not losing them to another university?
Michael Young: The interesting thing is we actually don't recruit in China and yet we're seeing this dramatic spike. Chinese are pretty sophisticated. They look at the serious rankings that look at real academic output. The University of Washington is consistently the 15th or 16th best university in the world. I think we out-recruit by outperforming. I think the biggest boon is just the quality of the university. 
Q: Do you favor the university having campuses overseas?
Michael Young: I have mixed feelings about that. I would have fewer mixed feelings if we actually partnered with an equivalent university to set up campuses and did the same thing here and have fairly targeted curricula we're focusing on. Pick something where there is a real sweet spot and strengthen the two institutions. Just going abroad and setting up a campus - I don't know what the benefit of that would be. Yale's done that and to this day I'm puzzled about that. There's this NYU thing in Abu Dhabi. They get a lot of political pop out of it, but I don't understand it. Anything we do would have to be anchored in our core mission. In my judgement, anything that's done would have to have a significant research component to justify it.
Q: In your recent letter, you talked about making more strategic investments in programs and developing capabilities to respond to new opportunities. What did you mean?
Michael Young: To give you one example: the work going on in this intersection of the work Chris Murray is doing in Health Metrics and the interesting work going on in the genetic side of campus- David Baker's protein synthesis, those really come together in a fascinating way. We're on the cusp of being able to manipulate DNA in some way. How we figure out what needs to be done is this huge cross-hatching of what we know about DNA with what we know about disease and medical outcomes. That's the kind of thing that is truly global. We're going to have massive amounts of new information-sequencing of the genome alone, and crossing that with medical records, and that is the other area where we are strong and getting stronger. That's a remarkable sweet spot. It's not something you can sit in your laboratory and concoct based on a population sample of West Seattle. That's something where I think we're going to see enormous international engagement on a large scale that brings together people from a lot of disciplines, and from lots of different universities, domestic and abroad.
Q: How would you review your first year at UW? What were the highlights, what were the biggest challenges?
Michael Young: The highlight is getting acquainted with the sheer quality. The challenge was the realization that for the foreseeable future we're working in an environment of constrained resources people wouldn't have anticipated five years ago. State funding is essentially going away.  Flat is the new up. I don't see in my tenure, absent significant leadership on the part of the state, a capacity of the state to significantly reinvest in education. I don't think we're unique in that regard. It's been a 30 year decline in state support of higher education. What's new is the speed of that state disinvestment. Wherever we're going we're going to get there faster. Figure out how to continue a great university without it.
Jackson School of International Studies