Program Updates
Error message
Deprecated function: Methods with the same name as their class will not be constructors in a future version of PHP; views_display has a deprecated constructor in require_once() (line 3157 of /nfs/bronfs/uwfs/hw00/d62/eacnews/includes/bootstrap.inc).
Deprecated function: Methods with the same name as their class will not be constructors in a future version of PHP; views_many_to_one_helper has a deprecated constructor in require_once() (line 113 of /nfs/bronfs/uwfs/hw00/d62/eacnews/sites/all/modules/ctools/ctools.module).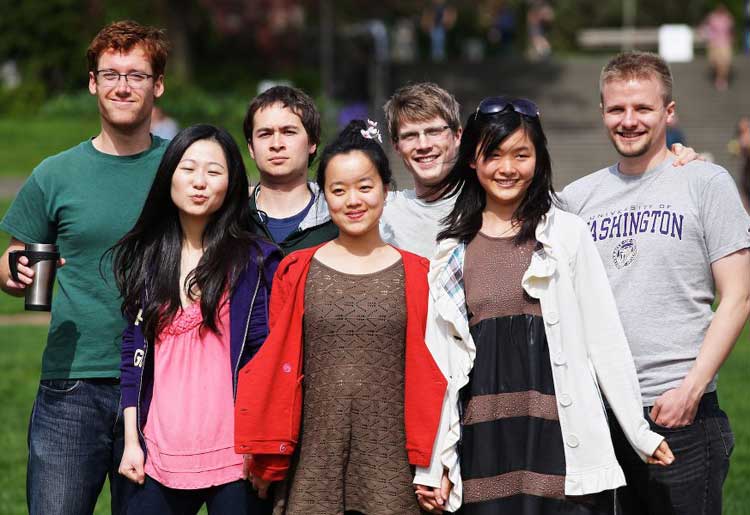 The 2011-2012 academic year for China Studies at the University of Washington was one marked by success and further involvement with the community in the Greater Seattle area and beyond. Several faculty affiliated with the China Studies program were awarded high accolades for their work. Most notably, Professor Yomi Braester, a Chinese cinema expert, was presented the prestigious Levenson award (Modern era), for his latest work, Painting the City Red, an examination of the role visual media has played in post-revolution China. Professor R. Kent Guy also received the Honorable Mention in the pre-Modern category for his work Qing Governors and Their Provinces, giving the UW faculty the rare distinction of being honored in both categories in the same year. We were especially honored to be joined by Professor Yao Yang, a renowned economist from Beijing University, who served as guest faculty for a quarter, teaching a class and lecturing in the Seattle area. Professors R. Kent Guy and Kam Wing Chan hosted conferences at the university for their respective fields (history and geography), and talks were given regularly throughout the year by various faculty members on pertinent topics, such as Professor David Bachman's discussion of the events surrounding Chen Guangcheng's escape and eventual visit to the United States earlier this year. We were also very saddened at the passing of former Professors Hoklam Chan and Jerry Norman, who will be missed as part of the China Studies community.
Under the leadership of Professor Madeline Yue Dong, the China Studies program participated in various events with community partners, such as CHIME (Chinese Microsoft Employees association), Washington State Confucius Institute and the Seattle Asian Art Museum. The China Colloquia series was very well attended and featured such distinguished speakers as Professor Ezra Vogel (Harvard, emeritus) and Professor David Johnson (UC Berkeley).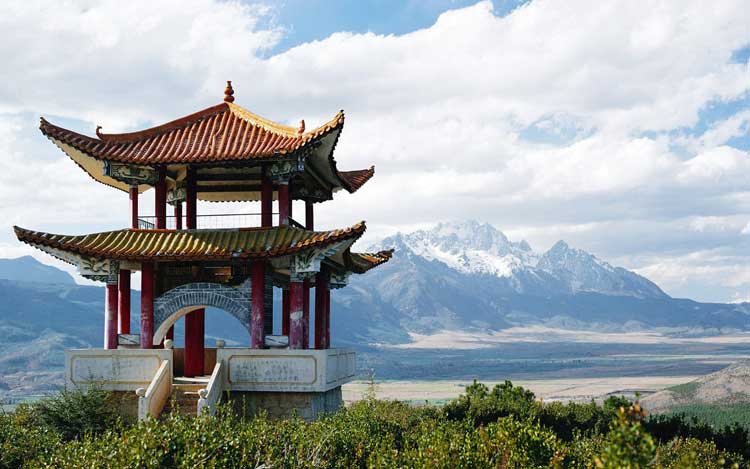 The students in the Masters of China Studies program also remained very active, hosting several events. They met throughout the year, to discuss their current research, hear faculty talks on current research and receive advice on how to improve their own. In early 2012, our students co-organized a conference with colleagues at the University of British Columbia, moving forward on a partnership that should provide the North American Northwest with an annual student conference on topics spanning the breadth of Asian Studies. Twelve students travelled to Vancouver for the conference in 2012; the 2013 conference will be held in Seattle in April.
Autumn Quarter of 2012 in China Studies was busy with major events and its continuing colloquia series showcasing China scholars from around the world. The program welcomed Chinese Academy of Social Science scholars Jin Yilin and Luo Min who gave their analyses of Chiang Kai-shek's establishment of power. Prof. Qi Dongfang, an archaeologist from Beijing University used a piece of Tang Dynasty literature in conjunction with archaeological artifacts to present a compelling picture of life during the Tang. Prof. Nicholas Lardy, Solomon Senior Fellow at the Peterson Institute for International Economics presented a thought provoking public lecture sponsored by the Jackson School entitled "Is There a China Model of Capitalsim?" and generously spent informal time in discussion with China Studies graduate students.
China Studies was fortunate enough through Prof. David Bachman's participation in the 2012 Pyle Center Conference, North East Asia in Transition (with the National Bureau of Asian Research) to enlist Prof Ren Xiao of the Institute of International Studies of Fudan University and the director of its Center for the Study of Chinese Foreign Policy for a presentation of "China's Foreign Policy in the Hu Jintao Era." China Studies own Prof. Kent Guy opened the quarter with his presentation of "Confucian Administrators? Scholar Officials in the Yongzheng Reign."
Photos courtesy of Brian Chu (Japan Studies 2012) and Dan Miller (International Studies 2013)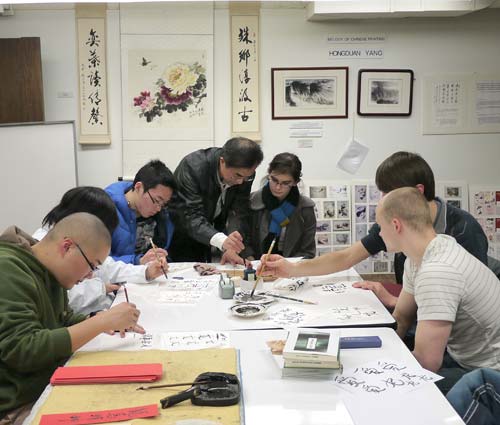 The East Asia Library (EAL) had a very productive year in 2011-12. Thanks to the hard work of its staff and strong support from its users and colleagues, several projects were successfully completed, which have further enhanced EAL services and collections.
In Winter 2012, EAL opened the new instruction/group study space on Gowen Floor M2. The space is furnished with tables, movable white boards, and a computer station with a seating for 16. Two graduate classes that heavily used library collections were taught in the new space in Winter and Spring Quarters. Faculty and student feedback was positive: "It was tremendously useful for us to have a meeting space that provided such access to library materials, and for the reserves to be so easily available to students outside of class time."  We welcome more classes and groups to use this new space. 
The EAL collection remains the third most actively used collection among all 17 branches of the UW Libraries, second only to the Suzzallo-Allen Library and the Media Center. In the past year, there were 16,865 check-outs and 6,463 paging items.  Circulation activities increased 19% from the year before.
Numerous grants and extra funding were received for our China, Japan, and Korea collections, allowing new acquisitions of print and electronic resources and enabling several preservation projects for our invaluable rare books and special collections.  The Tateuchi Foundation extended the funding ($144,000) for the Japanese cataloger position for another two plus years. This grant will ensure the successful completion of all the Japanese pre-catalog retrospective conversion.
Through a renewed contract, Korea Foundation will provide $20,000 for UW EAL's Korean collection for another five years. The Korean collection also received a $5,000 grant for Korean electronic resources.  With additional funding of $15,000 from the Libraries and $8,000 from the China Studies Program, EAL acquired the Dacheng Journals Database, which provides access to over 6,000 full-text Chinese journals published in late the Qing and Republican Eras. 
 A grant of $3,250 from the Libraries Allen Endowment Fund was awarded for preservation binding of Chinese pamphlets; $7,000 from the Friends of the Libraries was awarded for the project of preservation boxes for EAL special collection materials.  The digital scanning project on James Palais Papers in Korean studies received $5,210 from Friends of Libraries.  A grant of $6,900 from the Allen Endowment Fund was awarded for acquisition of North Korean films and literature materials; $7,500 from the Allen fund was awarded to purchase Asahi Shinbun gaichiban.  The Japan Studies Program contributed $3,420 for preservation boxes for the Japanese materials cataloged through the Tateuchi project.
The EAL cataloging retrospective conversion project completed the copy-cataloging of the decades-old backlog of the "pre-catalog collections." Of the near 70,000 pre-catalog titles of CJK and Tibetan books, only 20,000 still need original cataloging.  In addition, analytical cataloging of Baibu congshu jicheng, a set of 4,000 titles and 7,000 volumes of Chinese books, was completed, making each of the 4,000 titles searchable and significantly enhancing the accessibility of this important source material.
The EAL has been especially busy in 2012-2013.  Three searches, for the China Studies Librarian, Japan Studies Librarian, and EAL Technical Services Coordinator, have been approved and are underway.  The EAL has begun a project to create a new EAL special collections room in Gowen West Stacks. The EAL serials that were housed in West Stacks are now located in Kane Auxiliary Stacks.  It is anticipated that the EAL special collection will move into its new home in Winter 2013. Also this year, the EAL will join the rest of the UW Libraries in a major project to migrate from its current integrated library system of Innovative Interfaces to Ex Libris which will be shared by the 37 Orbis Cascade Alliance libraries.  There will be many challenges and exciting opportunities to enhance our services.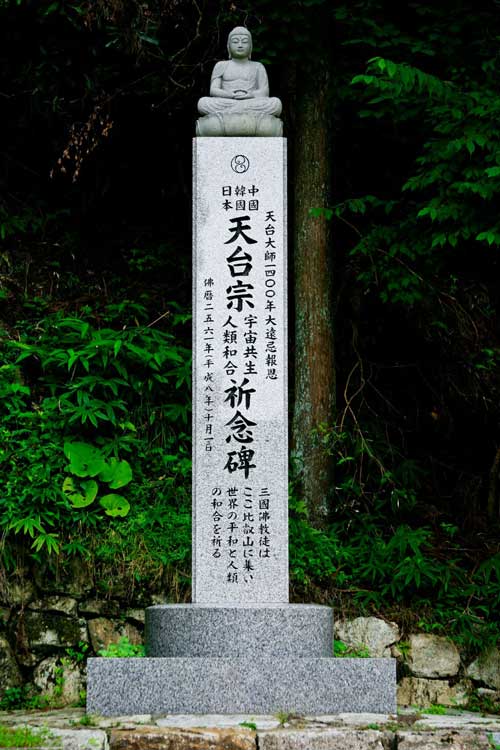 The East Asia Resource Center maintains an active schedule year-round, providing accessible opportunities for K-12 teachers to learn about East Asia.  Many of the EARC programs are intensive experiences such as week-long summer institutes on campus, study tours to Asia, and multi-week seminars.  Shorter offerings include workshops and book clubs.
The most wide-reaching EARC project is the National Consortium for Teaching about Asia.  The EARC co-founded NCTA, now in its fifteeth year, and offers NCTA seminars to teachers in the Pacific Northwest states and Alaska, and online.  Funding from the Freeman Foundation has made it possible for the Consortium to grow and adapt to changing technologies and curriculum.  Seminars in Alaska, Idaho, Oregon, Washington, and online are currently taking place.
The 2012 EARC study tour took teachers from four states to Japan on a month-long program of study funded by a Fulbright-Hays Seminars Abroad grant from the U.S. Department of Education and a grant from the Freeman Foundation.  The group spent time in Hyogo Prefecture, Kyoto, Mt. Koya, Tohoku, Hirosaki, and Tokyo, gaining a broad overview of contemporary Japan.  Sister state ties in Hyogo made it possible to visit schools and have homestays with Japanese teachers.  While based in Ichinoseki, the group toured towns on the Tohoku coast that were devastated by the 2011 tsunami.  As residents of quake-prone western states, the American teachers empathized with the people of Tohoku and shared a desire to improve disaster preparedness and education.  Since the study tour, alumni have worked on a curriculum project and made public presentations at a September workshop and the annual conference of the National Council for the Social Studies.  
In another project, the EAC and EARC partner with four other centers in the Jackson School to develop an annual Asia-focused series for secondary students and teachers for The Seattle Times Newspapers In Education program.  This year's project "Political Change in the 21st Century" consists of five newspaper articles, an extensive teaching guide, and a pre-series workshop for teachers.  The East Asia-focused lesson and article provides an overview of the 18th National Congress of the Communist Party of China by Professor David Bachman, Jackson School of International Studies.
Photo courtesy of Brigit Stadler (Korea Studies 2013)
Events in the Japan Studies Program in 2011–12 were headlined by presentations related  to the anniversary of the March 11, 2011, disasters in Fukushima, Japan, and an annual lecture for the Griffith and Patricia Way Lecture Series.  Satsuki Takahashi of Princeton University spoke in May on "Currents of Disaster: Radiation, Ocean, and Safety in Post-Fukushima Japan," highlighting the challenges faced by fishing communities in northeastern Japan and production in coastal Japan's postwar modernization.  With other UW and off-campus organizations, the Japan Studies Program co-hosted a business roundtable aimed at exploring the impact of the tsunami on Seattle area business.  The Way Lecture was given in April by William W. Kelly of Yale University.  His talk, entitled "Will Soccer Be Japan's 21st Century Sport?", explored the ramifications of the meteoric rise in popularity of soccer in Japan, both for Japanese society and for Japan's place in East Asia and the world.
Japan Studies students received a number of honors and awards.  Cindi Textor (MA Japanese/Korean) received the UW's Schwartz Foundation Graduate Fellowship; Columbia University Press has published her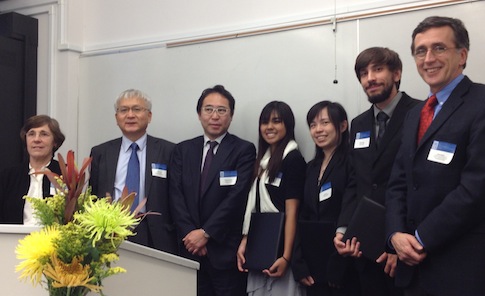 translation of Kim Sok-pom's work The Curious Tale of Mandogi's Ghost, a central work of postwar Japanese fiction.  Mitsubishi International Corporation granted scholarships to two undergraduate students (Lisa Sticka and Derek Schlieps) and a graduate student (Sam Timinsky) in the Japan Studies Program.  Sachi Schmidt-Hori (PhD candidate, Japanese Language and Literature) received the Elizabeth Kerr Macfarlane Endowed Scholarship in the Humanities and the Graduate School Presidential Fellowship.
Faculty in the Japan Studies Program are spread across many departments at the University of Washington, and their activities and awards are equally diverse.  Recent examples of faculty accomplishments include:  Paul Atkins, associate professor of Japanese language and literature, was awarded the 2011 William F. Sibley Memorial Translation Prize in Japanese Literature and Literary Studies for his work Hara-kiri of a Woman at Nagamachi, a translation of Chikamatsu Monzaemon's Nagamichi onna-harakiri (c. 1712).  Edward Mack, associate professor of Japanese language and literature, compiled a reproduction of two Japanese-language textbook series originally published for use by the Nikkei community in the Pacific Northwest between 1920 and 1938. Reproduction of a similar series produced in California between 1924 and 1930 will follow in late 2012.  Ken Oshima, associate professor of architecture, was a Japan Foundation Research Fellow at the University of Tokyo in 2011–12.  He was curator of an exhibition at the Toto Gallery MA in Tokyo, titled "GLOBAL ENDS—towards the beginning," and is author of a new book with the same title.  Kenneth B. Pyle, Henry M. Jackson Professor of History and Asian Studies, was the 2011 recipient of the Thomas S. Foley Award from the Japan-America Society of the State of Washington for his life-long service to furthering understanding between Japan and the United States.
Japan's Ambassador to the United States, Ichiro Fujisaki, launched the new academic year with a lecture on the UW campus. Other speakers presented by the Japan Studies Program in Autumn quarter included Glen Fukushima, a former officer of the U.S. Trade Representative and corporate executive, who reflected on changes in Japan from 1990 to 2012, and Janice Bardsley from the University of North Carolina at Chapel Hill, who spoke about beauty queens and fashion models in postwar Japan. The Jackson School, Foster School of Business, and Japan- America Society hosted a roundtable on social media and how major corporations, such as Microsoft, Starbucks, and Nico Nico, utilize this technology to reach Japanese customers. The program also hosted talks by Consul General Kiyokazu Ota on the March 11 triple disasters and the debris issue; by J. Keith Vincent of Boston University, a specialist of modern Japanese literature; and R. Keller Kimbrough of the University of Colorado, Boulder, who discussed his work on medieval tales. Recent events in Japan stimulate discussion and research on campus as well. The unresolved territorial disputes between Japan and its neighbors fueled a dialogue between speakers Matake Kamiya, of the National Defense Academy of Japan, and Yoichiro Sato, of Ritsumeikan Asia Pacific University.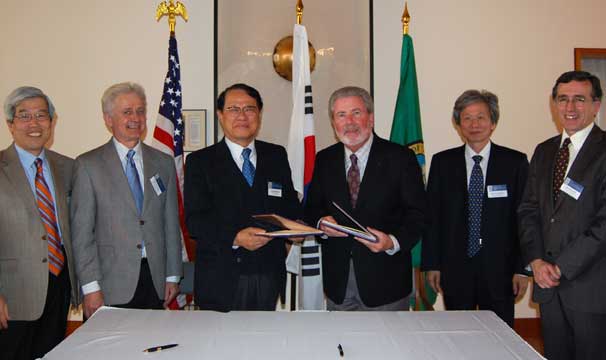 The Center for Korea Studies recently renamed its colloquium series to the Korea Studies Critical Forum to attract faculty and students from beyond the Korea Studies Program. Among the colloquium highlights from the 2011-2012 academic year and the fall of this academic year were (1) the "Negotiating with North Korea" forum co-sponsored by the Korea Society (New York) that included two former U.S. ambassadors to Korea and a State Department negotiator for the Agreed Framework; and (2) the "2012 Korean National Assembly Elections" forum involving UW faculty and invited presenters from Ajou and Seoul National Universities. Overall, there were twenty-three non-UW speakers from the US and Korea, and three performers. Highlights included Suk-Young Kim, author of a recent book on North Korean theater, who showed how analysis of performance can be used to understand both the maintenance and subversion of North Korean; two scholars working on legal issues (Tae-Ung Baik on Criminal Process in the DPRK and Yukyong Choe on reform of the legal profession); Kyung Sub Chang of Seoul National University, who introduced the discourse of "multiculturalism" 다문화주의; Jung Hwan Cheon of Sungkyunkwan University who held a quarter-long residence in the Asian Languages and Literatures Department, working on Japanese-Korean cultural interaction, which also contributed toward the conceptualization of the upcoming comparative conference on political suicide in East Asia; Geewhan Kim and Abraham Kim (KEI) on US-South Korea global partnership; SangGil Lee (Yonsei University) on broadcasting and cultural hybridity in early Colonial Korea; and Seongji Woo (Kyung Hee University) on the making of North Korean foreign policy under Kim Jong-il.