Study Abroad
Error message
Deprecated function: Methods with the same name as their class will not be constructors in a future version of PHP; views_display has a deprecated constructor in require_once() (line 3157 of /nfs/bronfs/uwfs/hw00/d62/eacnews/includes/bootstrap.inc).
Deprecated function: Methods with the same name as their class will not be constructors in a future version of PHP; views_many_to_one_helper has a deprecated constructor in require_once() (line 113 of /nfs/bronfs/uwfs/hw00/d62/eacnews/sites/all/modules/ctools/ctools.module).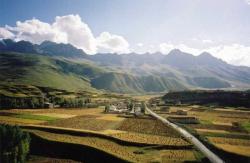 Urban Design and Planning: China Village Studio - Sichuan, China
The course is organized as a service-learning studio, in coordination with design, social-scientific and environmental-scientific faculty and students in China and local community and social-entrepreneurial initiatives. Students will practice different methods of cross-cultural engagement, including community asset mapping, participatory rural appraisal (PRA), design "charrettes" and other rapid, inclusive, interdisciplinary and intercultural exercises.
Sichuan University Summer Intensive Language Exchange
Students will receive approximately 160 hours of classroom language instruction, earning UW credit equivalent to a full year of Chinese language coursework at the second-, third-, or fourth-year level. UW students will be in classes together with students from Arizona State University.  Outside of class, students will meet with individual language tutors for language practice and for integration into Chengdu life, and adhere to a Chinese-only language pledge.  There will be opportunities for structured extra-curricular activities, and the program will include weekend excursions to local sites that will expose students to Sichuan's cultural and natural heritage. Students are also free to explore China on their own after the program ends.
Making the Connection- China Exploration Seminar
Our exploration seminar takes place in the capital of People's Republic of China. It is usually recognized as the political, educational, and cultural center of China. Our hosting university, Beijing Institute of Education, is located in the center of the city. To immerse our students into Chinese culture in a structured way, our seminar consists of three major parts: cognitive instruction of Chinese culture, field trips related to the lectures, and language classes. There are 7 cultural lectures that will touch on a wide variety of topics of China. The topics will be an introduction to the famous literary figures, artists, scholars and revolutionary pioneers in the city of Beijing, Chinese education, Chinese architecture, ethnic groups and religion, Chinese philosophy, Sino-US history, and China after 1978. Related field trips will include visiting of the famous people's dwellings, Chinese history museums, temples, emperor gardens, etc. Students will also be assigned to a language class according to their language proficiency.
Nursing Japan
This course will take place in Tokyo, Nojiri, and Hiroshima. Japan. Tokyo is the current capital of Japan. Nojiri is a small rural town set in the Japanese alps. Hiroshima is a medium sized city, which was one of the targets of the atomic bomb during world war II. The class will continue with lectures and discussion about the language and life of Japanese in Nojiri. The Japanese speakers will facilitate understanding of the health care system and the family-centered culture. Lectures, discussions and observations about contemporary culture in Japan provide a foundation for learning about social determinants of health. Visits will then be made to the historical site of Hiroshima. In Hiroshima we will visit the Hiroshima Peace Memorial Museum and talk with an Atomic Bomb survivor.
Business China
The program will take the students to the following cities in China: Beijing, Shenzhen, Hong Kong, and Guilin. As the political, cultural and economic center of China, Beijing provides a great venue to see, experience, and study business of China that nowhere else bears. The students will visit leading businesses in various industries, both national and international, and have the chance to meet and interact with their top management. Beijing also has a long history, many world-famous legacies, and therefore a rich environment for the students to experience, see, and taste the traditional Chinese culture.
Family and Child Nursing Korea
This Exploration Seminar in Seoul, Korea will provide opportunities for students to understand the factors influencing social and health issues of ethnic minority populations using Koreans as an example. The program and course comprise a broad and diverse look at cultural ideologies of heritage and mainstream cultures, immigration and acculturation process, social and health issues, and issues in families such as inter-generational cultural conflict. Students in this program will look specifically at the complexities of these issues on the lives of a minority population. When students encounter a different culture, they will be prepared to reflect on their own culture.
Information Technology in Society in Modern Korea
Korea is a leading country in the adoption of information technology and mobile devices. Per capita, it has the most broadband access of any country in the world. Its fast moving Internet-based applications, culture and life will provide students a sense of what will come to the United States in the next five years. The 2013 program will be held in collaboration with Kyung Hee University (KHU) in Seoul and Korea Advanced Institute of Science and Technology (KAIST) in Daejon.