US-China Sustainable Development Four-Day Conference, October 2012
Error message
Deprecated function: Methods with the same name as their class will not be constructors in a future version of PHP; views_display has a deprecated constructor in require_once() (line 3157 of /nfs/bronfs/uwfs/hw00/d62/eacnews/includes/bootstrap.inc).
Deprecated function: Methods with the same name as their class will not be constructors in a future version of PHP; views_many_to_one_helper has a deprecated constructor in require_once() (line 113 of /nfs/bronfs/uwfs/hw00/d62/eacnews/sites/all/modules/ctools/ctools.module).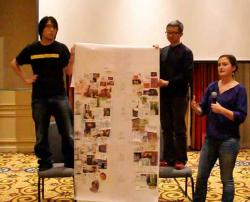 Designers and engineers from Seattle contributed ideas about the greening of Chongqing, a sprawling metropolis of more than 30 million people, while architects from China helped brainstorm on a co-housing community in Capitol Hill being designed with the Living Building Challenge, the most advanced green building standard in the world.
This collaboration is a unique feature of a four-day workshop on sustainable development that brought professionals from China together with their American counterparts for intensive exchange in Seattle and Olympia from Oct. 9 to 13.
The China-U.S. Workshop on Regional Sustainable Development was jointly sponsored by the University of Washington's East Asia Center, College of Built Environments, Jackson School of International Studies and Foster School of Business, and Confucius Institute, with support from the City of Seattle and King County.
The mission was to share knowledge and inspire new ideas.
"One of the things that Seattle and this region are famous for globally in the area of sustainable development is that this is part of our identity," said Dan Abramson, Associate Professor of Urban Design and Planning at the University of Washington and one of the event's organizers. "It's more than a government initiative, it's more than a business strategy, and it's more than a profession for people. It's really part of the culture. Every sector of the society is involved in it."
In both China and the United States, development in urban areas poses similar challenges of balancing economic, social and environmental priorities. At the same time, innovations in green building and infrastructure technology offer new ways to imagine cities, use energy more efficiently and create livable space.
Creative, environmentally sustainable approaches are needed to deal with the continued tectonic shift of urbanization as millions of people migrate from rural areas to cities, seeking better paying jobs and an improved standard of living. Over the next 15 years, as many as 300 million people are expected to move into China's cities, a migration unprecedented in human history. Yet already many cities are choked with pollution and traffic and face severe water shortages.
The workshop focused on integrating planning for rural and urban areas, particularly in China's western regions — including Washington state's sister province of Sichuan, and Seattle's sister city, Chongqing. Local experts, including Derek Chisholm from Parametrix and Kathleen Dorgan of Dorgan Architecture and Planning, shared ideas with Chinese counterparts, including Tao Tao from Beijing-based WuHe International and Wang Liang of the Chengdu Urban Rivers Association. Faculty from the UW China Studies program gave lectures on China's development to U.S. conference participants.
The 35 Chinese visitors toured the Bullitt Center site, where the Bullitt Foundation is building the greenest commercial building in the world, as well as the Bill & Melinda Gates Foundation campus, High Point, the Brightwater Treatment Center and other sites in the Seattle area. They learned about the LEED certification system and local experience in management of floodplains and watersheds. They also participated in the annual conference of the Washington State Chapter of the American Planning Association in Olympia.
In Southwest China, experimental policies are serving as national models for China's emerging green economy, and participants will share their experiences with local Seattle planners, architects and business people. Chengdu, for example, has citizen action groups focused on urban agriculture and water quality and is pioneering "agro-tourism," where city dwellers stay in farmers' homes to enjoy rustic food and a respite in nature. China is also building some of the most modern transportation networks in the world.
Direct exchanges between professionals are important as China's moves from a system led by government into one where private industry and non-governmental organizations play a much bigger role in shaping development.
"China right now is coming to the end of a period of government being out ahead on almost everything," Abramson said.
"There is a growing social, non-governmental sector interest in the quality of the environment, sustainability of the economy, and we have just this wonderful culture here that can inform and inspire that."
Connections are expanding between the Northwest and China in the areas of sustainable development, green building and clean energy.
In the fall, Seattle Mayor Mike McGinn visited China and spoke at a conference on clean technology and green building in Beijing. Last month, a delegation from Guangdong Province visited Seattle to learn about local climate change mitigation policies. Asia's dynamic growth and future challenges are part of a new focus at the University of Washington, which recently created a Center for Asian Urbanism within the College of Built Environments.
The 2012 workshop culminated with a two-day charrette, a kind of intense design brainstorming session, where teams of Chinese professionals, working with UW students, applied the Living Building Challenge to projects in Snoqualmie and Seattle's Capitol Hill, and American teams took on Chinese cases from Chengdu, Chongqing and Shanghai. Architects from Mithun, NBBJ and Callison also took part in the program. Results of the work were shown in public presentations in Seattle Oct. 13.
Abramson hopes the experience invigorates participants from both countries with new ideas and energy.
"We want to empower them with ways of looking at development problems that will enable them to go back and inspire their colleagues with the latest cutting edge stuff."
Jackson School of International Studies