Spaces of Possibility: Korea and Japan, In, Between and Beyond the Nation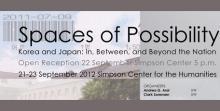 "Spaces of Possibility: Korea and Japan, In, Between and Beyond the Nation" is a new collaborative research project organized by Andrea Arai and Clark Sorensen (Japan Studies and Korean Studies program, respectively). The project began in the fall of 2011 with a working group meeting at the University of Washington of Korea and Japan anthropologists and literary scholars invited to the UW from across the United States.  Four of the six members of the working group traveled together to Korea and Japan this past summer to do fieldwork research on topics ranging from memorials, material remains and popular representations of the colonial period in the present, regional identity, performance and tourism, popular art, global imagery and labor activism.
The aim of this collaboration is to create a new space for cross-regional discussion about changing representations of the past in the present, effects of the Japanese economic downturn and Asian Economic Crisis on Japanese and Korean societies, and the shifting narratives of nation and culture of the early 21st century in both countries. On September 22-23rd, 2012, Arai and Sorensen organized a working conference sponsored by the UW East Asia Center, Korea Studies, Japan Studies and a Simpson Center Conference Grant to present the results of this first phase of collaborative field research. For more information about the participants, papers and panels, see: http://depts.washington.edu/uwch/projects/colloquia-and-conferences/spaces-of-possiblity. Arai and Sorenson and their working group members are planning a second phase of collaborative research in Japan and Korea in June, 2013, and an edited conference volume to be published by UW Press in 2015.
Jackson School of International Studies