Events
Error message
Deprecated function: Methods with the same name as their class will not be constructors in a future version of PHP; views_display has a deprecated constructor in require_once() (line 3157 of /nfs/bronfs/uwfs/hw00/d62/eacnews/includes/bootstrap.inc).
Deprecated function: Methods with the same name as their class will not be constructors in a future version of PHP; views_many_to_one_helper has a deprecated constructor in require_once() (line 113 of /nfs/bronfs/uwfs/hw00/d62/eacnews/sites/all/modules/ctools/ctools.module).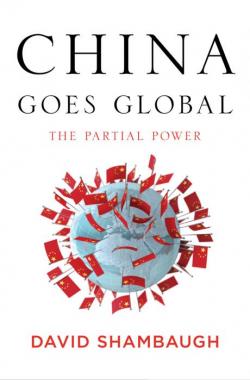 David Shambaugh on China Goes Global: The Partial Power
On February 22, 2013, the East Asia Center will host David Shambaugh for a launch of his recent book China Goes Global: The Partial Power. In China Goes Global: The Partial Power, the eminent China scholar David Shambaugh delivers the book that many have been waiting for--a sweeping account of China's growing prominence on the international stage. Thirty years ago, China's role in global affairs beyond its immediate East Asian periphery was decidedly minor and it had little geostrategic power. As Shambaugh charts, though, China's expanding economic power has allowed it to extend its reach virtually everywhere--from mineral mines in Africa, to currency markets in the West, to oilfields in the Middle East, to agribusiness in Latin America, to the factories of East Asia. Shambaugh offers an enlightening look into the manifestations of China's global presence: its extensive commercial footprint, its growing military power, its increasing cultural influence or "soft power," its diplomatic activity, and its new prominence in global governance institutions. This event is cohosted with the National Bureau of Asian Research.
Don't Just Stand There: Engage Students in Active Language Learning
Get your students up and moving, using language in everyday situations. Join us for an interactive workshop providing hands-on training in language tasks for the classroom that maximizes the learning experience. Professor Stephen L. Tschudi of the National Foreign Language Resource Center, University of Hawaii, will be leading the workshop. For more information on this March 29th event, please go to http://jsis.washington.edu/outreach/cclang/
Developing Communicative Competence in Chinese: A Workshop on AP Chinese Language and Culture Course and Examination
The AP Chinese workshop will be held on April 20, 2013. The goals for this year's workhshop are:
Understand design principles, content and performance objectives, and focal skills of the AP Chinese language and culture course
Familiarize assessment formats, delivery system, measures, and rubrics in the AP Chinese language and culture examination
Learn to use established AP curricular principles to design an AP Chinese course: sample syllabus analysis and hands-on thematic unit design
Learn to use performance tasks and assessments to measure and analyze students' learning outcomes, and to inform one's pedagogy
For more information, please go to http://depts.washington.edu/apchina/
Newspapers in Education Teacher Workshop: Political Change in the 21st Century
The Asia Centers and the Center for Global Studies of the Henry M. Jackson School of International Studies at the University of Washington are proud to present Exploring Asia: Political Change in the 21st Century, the 2013 Newspapers In Education Series and Workshop. The five-part series, in conjunction with The Seattle Times, includes articles on Burma, China, India, and Central Asia, in addition to an overview article. The workshop will be held on April 30, 2013 and will include presentations by series authors as well as an introduction to the curriculum guide that pairs with the articles. More information can be found at the Exploring Asia Web site: http://depts.washington.edu/nie/workshops.htm.
The ACTFL Writing Proficiency Guidelines Familiarization Workshop

Intended as an introduction to the ACTFL Proficiency Guidelines – Writing (Revised 2001), this workshop introduces participants to the major and minor level descriptors and the criteria for assigning a global writing proficiency rating. Participants will explore a variety of writing tasks across levels of proficiency, evaluate language samples based on the criteria as described in the Guidelines, and design appropriate writing activities and writing assessment prompts at the four major levels. This event will be held on May 4, 2013. For more information, please go to http://depts.washington.edu/jpnwksp/.
New Geographies of Feminist Art
New Geographies of Feminist Art was an international conference, held November 15-17th, organized by Sonal Khullar and Sasha Welland, that examined the practice, circulation, and cross-cultural significance of feminist art from Asia. Through a lively intellectual exchange and consequent publication, a broader understanding of how Asian women have negotiated changes in the contemporary art world and intervened in politics of visual representation was achieved. By staging an interdisciplinary conversation among art historians, anthropologists, historians, and Asian and cultural studies scholars, as well as artists and curators, the conference explored a feminist art history grounded in a comparative framework and the Asian context.
Ai Weiwei Film Festival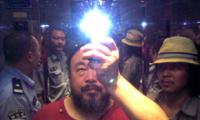 Five documentaries by acclaimed artist Ai Weiwei were shown from October 29th through November 2nd, for only the second time in the United States. These films covered a range of topics, from art to political dissent, and were accompanied by faculty led Q&A sessions.
Showing of "The Revolutionary: A Documentary on the Life of Sidney Rittenburg"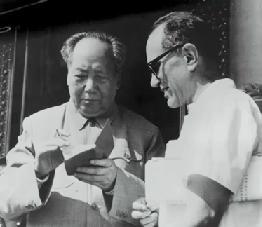 "The Revolutionary", a film on the life of Sydney Rittenburg, an American GI in the second World War who remained in China after the end of the War to assist the early Communist Party leaders, was screened on October 23rd, in conjunction with the Confucius Institute on campus. After 30 years, a key role in the Cultural Revolution, and two prison terms he returned the United States and has worked to increase understanding of Maoist era China.
The Sino-Japanese Island Conflict:  How Much Cause for Concern?
Professor David Bachman spoke on the current Diaoyu Islands Conflict between China and Japan on October 4th. The Senkaku/Diaoyudao/Diaoyutai Islands have been a source of controversy, conflict, and perhaps, in the future, combat.  Claims to the islands by China, Japan, and Taiwan have contributed to and have been driven by nationalism, and weak or divided governments.  Escalating rhetoric, demonstrations, and quasi-military actions have created significant tensions, and have led Secretaries Clinton and Panetta to urge all parties to calm down.  This talk looked at various aspects of the dispute and some of its implications, providing a framework for analysis.
A Celebration In Honor of K.C Hsiao 
Faculty, Staff, and members of the Seattle Chinese community gathered on October 3, 2012 to commemorate the life of K.C. Hsiao, the prolific scholar and writer who was a member of the Jackson Shool until his retirement in 1968. At the ceremony a chair was dedicated for use during the China Colloquia series, representing his constant presence at those events during his life.