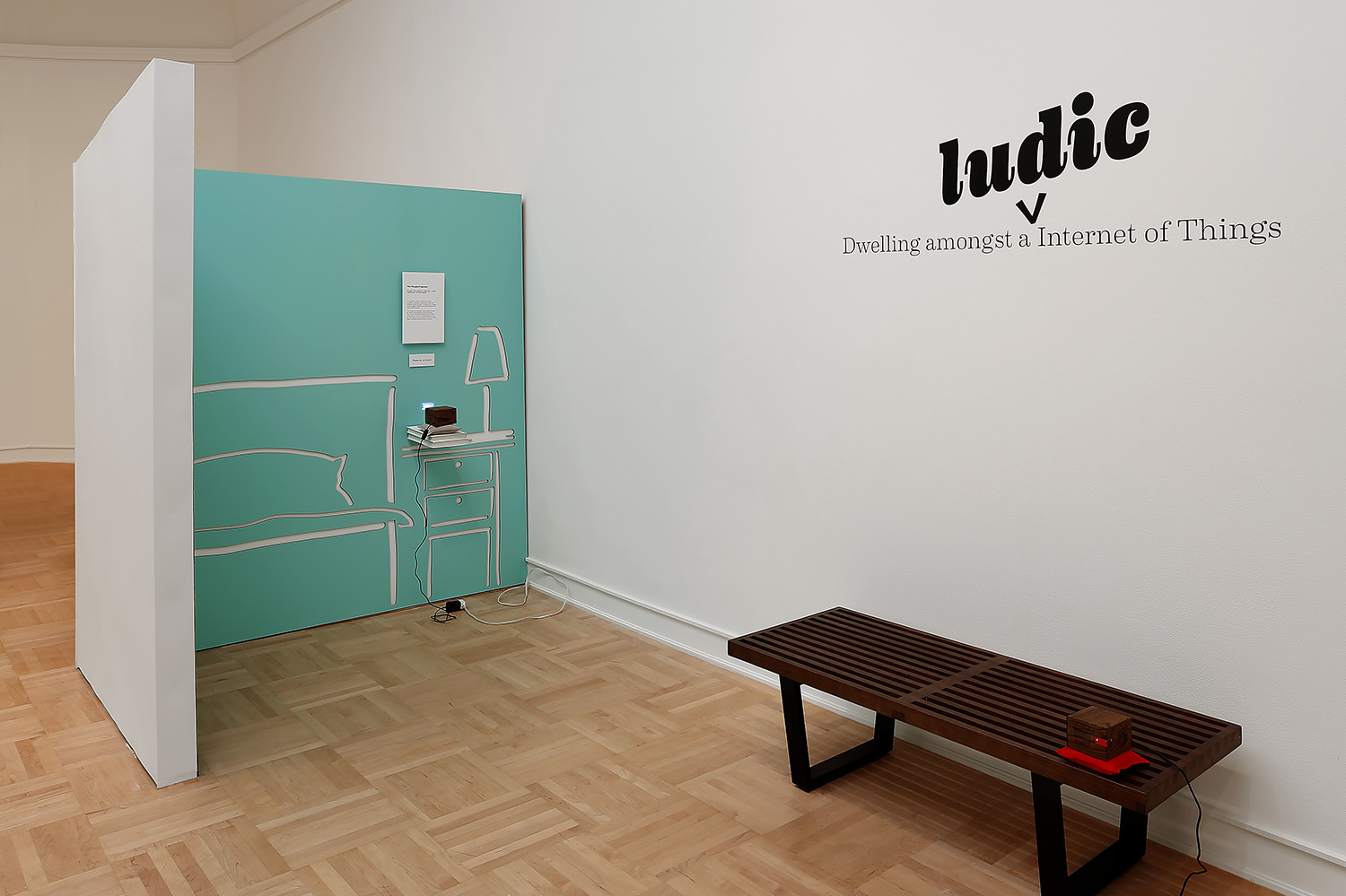 Thesis
Dwelling Amongst a Ludic Internet of Things: An Autobiographical Design Inquiry
Designer Statement
This is an autobiographical design inquiry in which I designed interactions and artifacts to form two unique Internet of Things (IoT) systems for my family to use in our home. I watched and recorded how we lived with the systems, looking at how the introduction of the technology impacted our family communication and how designers can use IoT principles to create ludic interactions between family members.
As homes increasingly grow into ubiquitous computing environments, re-imagining computing's role in everyday domestic life is pertinent to design. Building on the traditions of critical and speculative design within human-computer interaction, this work demonstrates that there is more than efficiency and productivity to be gained from weaving computing into the fabric of the home and offers an alternate vision of family life shared with computing systems.
I created two unique IoT systems that support ludic communication, the Thought Projectors, and the Inter(net)coms. Both embrace the principles of ludic design, introduced by design researcher William Gaver. The term ludic, stemming from the concept of Homo Ludens, denotes that people are innately playful creatures. Ludic design strategically opposes common assumptions about technology, that computers should be practical, unambiguous, and help us be as efficient as possible, even at home. A ludic design approach instead introduces domestic technologies to encourage curiosity, reflection, and simple delights.
Interactions XXV.6 (November–December 2018)
Read the full thesis publication.
Bio
Aubree Ball is an interaction design researcher with a professional background in industrial and architectural design. She holds a Master of Design degree and an undergraduate degree in Interdisciplinary Visual Arts from the School of Art + Art History + Design. Aubree uses design in physical space and form to design, explore, and reflect on human relationships to emerging technologies.
Aubree is interested in how ubiquitous computing can be designed to support practices and behaviors traditionally found within the home, such as rest, reflection, solitude, care, and the pursuit of simple pleasures. As a critical response to the contemporary notion of the "smart" and "connected" home, her thesis is a research through design project in which she built Internet-of-Things systems that are purposefully counter-productive and intentionally inefficient. Instead, the Thought Projectors and the Inter(net)coms are designed to support ludic, or playful, communication between family members in her own home. She conducted autobiographical design research — that is, research on herself and her family — by making functional research prototypes and living with them while observing their daily interactions over time. In the pursuit of a more holistic and reflective design practice, she intentionally blurs the boundaries between work and home life.
Education
MDes, University of Washington, Seattle, 2018
[IN]ARCH Summer Studio, Architecture, University of California, Berkeley, 2014
BA, Interdisciplinary Visual Arts, University of Washington, Seattle, 2012
Publications and Exhibitions
Designing Interactive Systems (DIS), Hong Kong, China 2018
Conference on Human Factors in Computing Systems (CHI), Montreal, Canada 2018
Borealis Festival, Seattle, USA 2018
Seattle Design Festival, Seattle, USA 2017
Jacob Lawrence Gallery, Seattle, USA 2017
Awards
Graduate School Fund for Excellence and Innovation Award, 2018
Graduate Recruitment Award, 2015-2018
Committee
Audrey Desjardins, chair (Interaction Design
Michael Smith (Human-Computer Interaction Design)
A.J. Bernheim Brush (Microsoft)