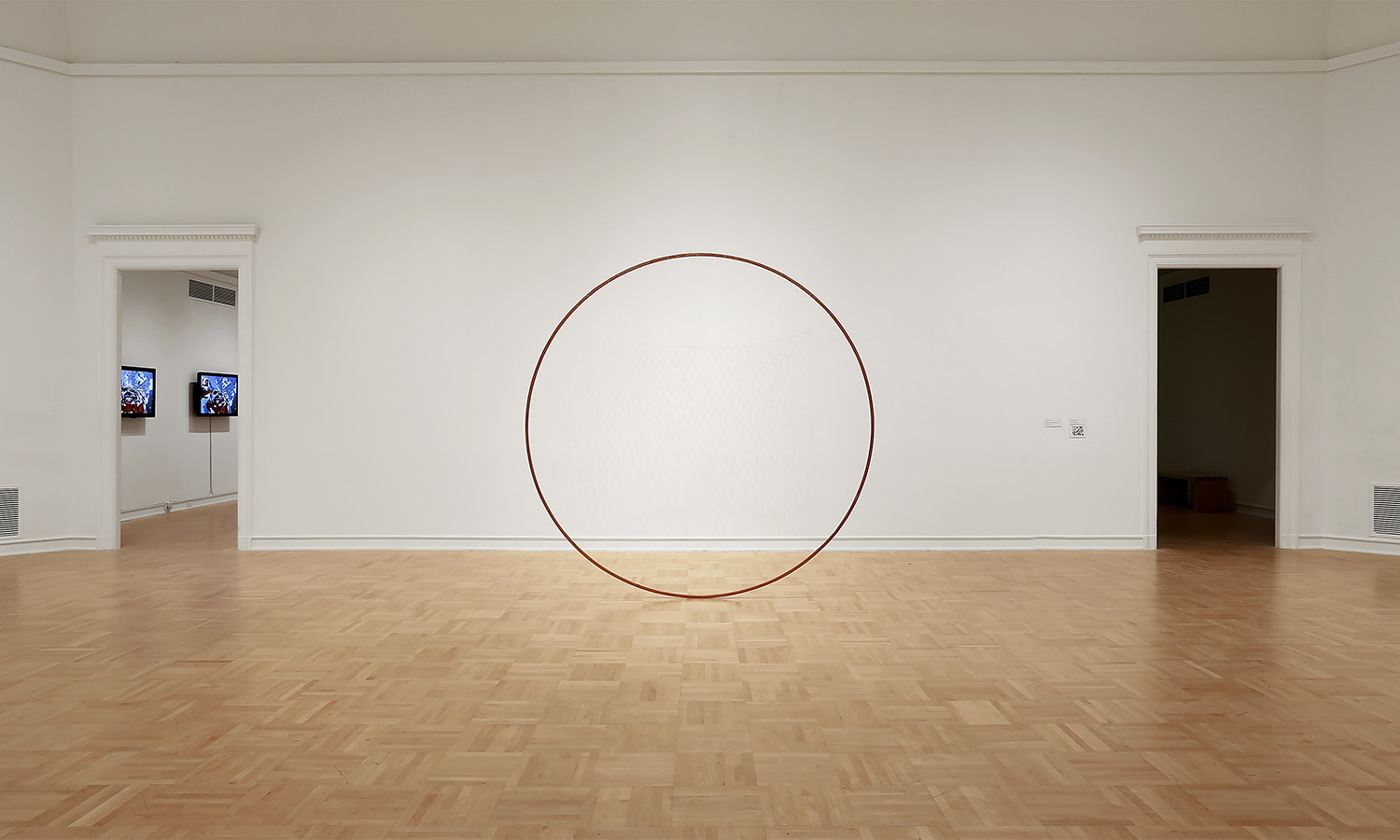 Artist Statement
This work began as an exploration of technology that is timeless but forgotten or ignored, though still poignant and useful today. Nets are ubiquitous, made and used by humans worldwide throughout history. The net can trap prey, carry goods, or be used as a safety device; it is both threatening and comforting, a duality dictated by the intention of the maker.
The process of tying nets relies on a structured system, similar to weaving, that creates a permeable surface both visible and invisible. The dialogue between the collapsed forms and the installed work challenge traditional notions of scale by using lightweight, fragile materials to embody space instead of stone, bronze, or steel. The material choices for these works are influenced by years of knitting and crocheting with my grandmother. Their ephemerality implies a delicate touch while leaving a small footprint ecologically and physically. This work is also influenced by cross-country bike touring and multi-day backpacking trips, where value is measured by the weight and function of a thing.
The formal qualities of these works are underlaid by questions about the implications of technological discoveries, like the net or the farm, that pushed civilization towards industrialization and capitalism. What is the result of a culture that hurdles forward through time, not looking backwards for inspiration, advice, or direction? What is the outlook for a culture that does?
Education
MFA, Painting + Drawing, University of Washington, Seattle, 2018
BFA, Painting/Photography, University of Nevada, Reno, 2010
Exhibitions
Artist Trust Benefit Auction, Seattle Center, WA, February 24, 2018
New Nets, Sun Gallery, Seattle, WA, November 1-December 2, 2017
Tilting the Basin: Contemporary Art of Nevada, Nevada Museum of Art, Reno, NV, August 5-October 23, 2016
Leeway, OXS Gallery, Nevada Arts Council, Carson City, NV, December 28-March 11, 2016
Awards
Sierra Arts Foundation Grants to Artist Recipient, 2015
Committee
Helen O'Toole, chair (Painting + Drawing)
David Brody (Painting + Drawing)
Ann Gale (Painting + Drawing)
Philip Govedare (Painting + Drawing)
Zhi Lin (Painting + Drawing)