Unemployed Citizens League and Poverty Activism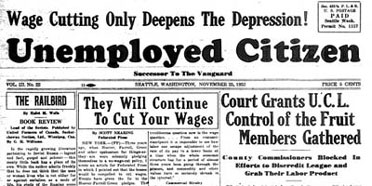 Called the Vanguard when it began publishing in 1930, the lively weekly became the Unemployed Citizen after the UCL was launched in the summer of 1931. See the reports below.Founded in West Seattle in 1931, the Unemployed Citizens League (UCL) became in just a few months an important political force in Seattle and beyond.
The organization had two goals. First, it would establish self-help cooperatives where unemployed men and women could exchange labor Second, it would develop a political organization that politicians could not ignore. Within months the organization had branches throughout Seattle and nearby cities and claimed a membership in the tens of thousands.
TOUR THIS SPECIAL SECTION
A newspaper begun in 1930 at the Seattle Labor College, The Vanguard, became the voice of the UCL, later changing its name to the Unemployed Citizen. Based in Seattle, the newspapers helped the UCL reach other areas of the state. The UCL soon gained national attention for its successful self-help barter economy, its political power, and its ability to bring unemployed workers together in a social movement capacity.
The UCL claimed political victories as well, helping to recall one mayor and then helping to defeat his replacement at the polls. UCL self-help activities attracted attention around the country and by 1932 similar organizations were operating in major cities in other states.
We have detailed reports about the UCL, poverty activism, and its impact on Washington politics:
Self-Help Activists: The Seattle Branches of the Unemployed Citizens League by Summer Kelly

In the summer of 1931 a group of Seattle residents organized to establish self-help enterprises and demand that government officials create jobs and increase relief assistance to unemployed.



Interactive map of the Seattle Branches of the Unemployed Citizens League

This interactive map shows the Seattle locations of the the Unemployed Citizens League which established self-help commissaries and demanded jobs and relief services for the unemployed.



Vanguard and Unemployed Citizen, newspaper report by Erick Eigner

The Unemployed Citizen's League, a radical organization of unemployed men, put out two newspapers during the Depression Years.



Organizing the Unemployed: The Early 1930s by Gordon Black

As elsewhere in the country, Washington State's Communist Party helped to organize the unemployed into active political and social formations. In Washington, the Unemployed Citizen's League and its newspaper, The Vanguard, gained the state Communists a broad appeal, and integrated the unemployed into the state's radical reform coalitions.

Seattle's "Hooverville": The Failure of Effective Unemployment Relief in the Early 1930s by Magic Demirel

"Hoovervilles," shanty towns of unemployed men, sprung up all over the nation, named after President Hoover's insufficient relief during the crisis. Seattle's developed into a self-sufficient and organized town-within-a-town.

A Tarpaper Carthage: Interpreting Hooverville, by Joey Smith

Seattle's Hooverville and its residents were portrayed as violent, exotic, and separate from the rest of Seattle, obscuring the social accomplishments and self-organization of shantytown residents.



"Nobody Paid any Attention": The Economic Marginalization of Seattle's Hooverville, by Dustin Neighly

Seattle's decision to raze Hooverville in 1941 and expel its residents relied on a discourse of "otherness" that set Hooverville economically, socially, and geographically apart.



The Unemployed Citizen's League: An Overview, by Charles Sprague (coming soon)