Faces of the IWW: The Men Arrested after the Everett Massacre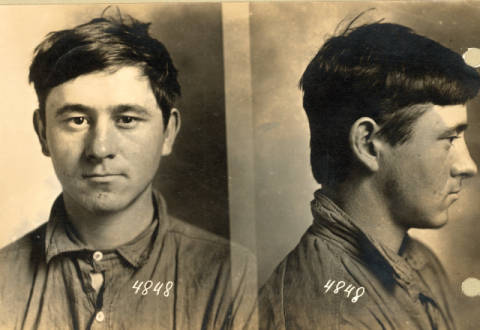 Axel Downey, age 17, laborer, born in Iowa. Downey was the youngest of the prisoners. Courtesy Everett Public Library's Everett Massacre Collection
by James Gregory
(Special thanks to David Dilgard and Lisa Labovitch, Everett Public Library)
Photographs of rank and file members of the IWW are rare. This page, developed in conjunction with the Everett Public Library, offers a collection of remarkable photographs that allow us to look closely at the faces of Wobbly activists.
In the aftermath of the November 5, 1916 Everett massacre, Seattle police arrested 294 IWW members who had survived the gun battle that took the lives of at least five of their fellow workers on board the steamer Verona. Seventy four were held for trial, facing murder charges. They were photographed as they were booked in Seattle and the Everett Public Library has preserved and digitized these remarkable images.
An unidentified police photographer captured these faces, displaying a talent that was more typical of portrait photographers in 1916. Most of the images were carefully composed, artistic in their own way.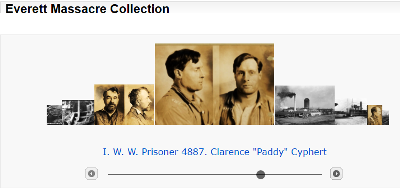 The images for this article come from the remarkable digital collection made available by the Everett Public Library. Click above to visit the collection.
Here we look into the eyes of the men who fought and were willing to possibly die to build the Industrial Workers of the World. We learn something also about the ages and backgrounds of IWW activists in the Pacific Northwest. They ranged in age from 17 to 56, but half were under 30. A couple were Jewish and one might have had some African American ancestry. They came from 24 states and 8 different countries; only two were natives of Washington. They claimed more than a dozen occupations, most commonly laborers, longshormen, and loggers. [more on backgrounds below]
All of the three hundred or more men who boarded the Verona and Calista in Seattle on Sunday November 5 knew they were headed for trouble twenty miles north in Everett where shingle mill workers had been on strike for six months and where previous contingents of Wobblies had been brutally beaten and driven out of town. The 74 men that prosecutors charged with murder in the death of the two deputies who died in the gun fight, were chosen because they had a reputation as organizers and committed activists. Only one, Thomas Tracy, stood trial and his definitive acquital led to the release of the other defendents.
Below are 18 of the 74. Look at their faces and read what the Everett Public Library has recorded about their backgrounds. The full archive of Rebel Faces is here. Search using term "rebel faces".
F.O. Watson

IWW prisoner 4839

Age 35, blacksmith, born in Louisiana. Watson was one of the 11 named on the first information of the Massacre trial. Of these, Thomas H. Tracy was tried first.

Frank Stewart

IWW prisoner 4849

Booked as Frank Stuart. Age 35, logger, born in Canada.

C.D. McLennan

IWW prisoner

Booked as C.D. McLawson. Age 48, longshoreman, born Georgia.

Harold Miller

IWW prisoner

Age 21, gas fitter, born in Kansas. Miller was one of the 11 named on the first information of the Massacre trial. Of these, Thomas H. Tracy came to trial first.

Charles Haywood

IWW prisoner 4830

Age 46, miner, born in Minnesota

Albert Shreve

IWW prisoner 4854

Booked as Albert Sharve, age 40, born in Illinois

Harvey Hubler

IWW prisoner 4831

Age 21, teamster, born in Illinois. Prosecutors tried to get Hubler to turn state's evidence but failed.

E.M. Beck

Age 45, laborer, born in New York.

D. Stevens

IWW Prisoner 4891

Age 21, longshoreman, born Canada

Thomas H. Tracy

IWW Prisoner 4866

Booked as Thos. H. Tracy, (Alias Geo. Martin" typed in under name on back of photo.) Age 36, teamster, born in Nebraska. Charged with killing deputy Jefferson Beard, Tracy was the first and only prisoner brought to trial in the Everett Massacre.

Charles Auspos

IWW Prisoner 4857

Booked as Chas. Austin. Age 38, teamster, born in Wisconsin. Auspos became a witness for the prosecution. See Walker Smith's "The Everett Massacre", pages 106, 136-37, 168-72, 218, 225, 227, 250, 251.

Abraham Wimborne

IWW Prisoner 4867

Booked as O. B. Winborn. Age 22, buss-boy, born in England. The son of a Jewish Rabbi, Wimborne had come to Everett on November 5th to support the Wobblies right of free speech. He joined the I.W.W. while in the Everett jail and was a principled

Alfred Howard

IWW Prisoner 4834

Age 28, coal packer, born in New York.

J.A. Kelly

IWW Prisoner 4851

Age 31, logger, born in Ohio.

Oscar Johnson

IWW Prisoner 4862

Age 24, laborer, born in Sweden.

J.E. Houlihan

IWW Prisoner 4829

Booked as J. E. Hanlon. age 36, miner, born in Ireland. In court, Auspos claimed Houlihan had a gun. Houlihan denied this claim. See Walker Smith's "The Everett Massacre", pages 107, 170, 218, 220.

Harston Peters

IWW prisoner 4847

Age 32, laborer, born in Virginia. Owner of a gun that didn't work, Peters testified that he was unarmed Nov. 5th, but cowering under fire on the Verona, wished he had had one. See Walker Smith's "The Everett Massacre"
Backgrounds
Everett Public Library has recorded background information for seventy three of the prisoners, mostly from notes made at the time of booking on the back of the mugshots and from Walker C. Smith's account, The Everett Massacre: The History of the Class Struggle in the Lumber Industry (1920). We learn something about the sort of men who were the most dedicated organizers and activists in the Pacific Northwest.
Most were young. Axel Downey was only 17. Thirty-five others, nearly half, were in their twenties. Twenty-three were in their thirties, fifteen were 40 or older, including the oldest, J.H. Beyers, a painter age 56.
They almost all had come from somewhere else. Only two gave Washington or other Pacific Northwest states as a birthplace. Itinerancy for many was a way of life. Sixteen out of the 73 had immigrated to the United States, four from Sweden, three from Ireland, three from Canada, others from Germany, England, Holland, Finland, and Russia. The native-born Americans came from twenty-four different birth states, led by New York (10), Illinois (8), Pennsylvania (5), Massachusetts (4).
A few apparently had Jewish backgrounds, and it is possible, looking at his photo, that Alfred Howard, had some African ancestry. The majority of names follow British family name patterns, but Irish and German names are also evident.
There is another name pattern that is notable. Many of the arrested men gave false names when booked by Seattle police, a common tactic for IWW activists who hoped to make it difficult for authorities to track their arrests and other activities. How the police decided what was a genuine name is not clear.
Nearly all of the records include a stated occupation and again there is a huge range. Twenty men, including most of the younger ones, said they were laborers, suggesting that they like so many men in the Pacific Northwest worked seasonally in all sorts of industries. Other occupations included longhoremen (5), loggers (4), miners (4), teamsters (3), painters (3), cooks (3), blacksmiths (2), sailors (2). Fifteen other trades were also listed.
Here are the 74 men whose photographs and records have been made available by the Everett Public Library, sorted according to birthplace.
| | | | |
| --- | --- | --- | --- |
| Name | Age | Occupation | Birthplace |
| I. W. W. Prisoner 4856. William Coffin | 34 |  motorman |    California  |
| I. W. W. Prisoner 4884. Roy Davis | 47 | Laborer |    California  |
| I. W. W. Prisoner 4891. D. Stevens | 21 |  longshoreman |    Canada  |
| I. W. W. Prisoner 4849. Frank Stewart | 35 |  logger |    Canada  |
| I. W. W. Prisoner 4890. Fred Crysler | 26 |  Laborer |    Canada  |
| I. W. W. Prisoner 4843. John "Red" Downs | 28 |  sailor |    Colorado   |
| I. W. W. Prisoner 4875. Pat Lyons | 48 |  laborer |    England  |
| I. W. W. Prisoner 4867. Abraham B. Wimborne | 22 |  buss-boy |    England   |
| I. W. W. Prisoner 4878. Victor Johnson | 37 |  laborer |    Finland  |
| I. W. W. Prisoner 4846. H. T.Cheetman | 25 |  carpenter |    Florida  |
| I. W. W. Prisoner 4844. C. D. McLennan | 48 |  longshoreman |    Georgia  |
| I. W. W. Prisoner 4858. Charles Berg | 22 |  laborer |    Germany  |
| I. W. W. Prisoner 4898. Pete Breed | 26 | Laborer |    Holland  |
| I. W. W. Prisoner 4854. Albert Shreve | 40 |  laborer |    Illinois  |
| I. W. W. Prisoner 4874. Jack Paterson | 24 |  laborer |    Illinois  |
| I. W. W. Prisoner 4836. John D. Bates | 29 |  steam fitter |    Illinois  |
| I. W. W. Prisoner 4897. Frank Boyd | 43 |  Laborer |    Illinois  |
| I. W. W. Prisoner 4827. John Mitchell | 38 |  miner |    Illinois  |
| I. W. W. Prisoner 4828. Harry Feinburg | 25 |  cleaner and dyer |    Illinois   |
| I. W. W. Prisoner 4831. Harvey Hubler | 21 |  teamster |    Illinois   |
| I. W. W. Prisoner 4838. I. P. McDowell, alias Charles Adams | 28 |  printer |    Illinois   |
| I. W. W. Prisoner 4840. Charles Hawkins | 28 |  laborer |    Indiana  |
| I. W. W. Prisoner 4848. Axel Downey | 17 |  laborer |    Iowa   |
| I. W. W. Prisoner 4888. Jim Mack (alias of James McInerney) | 31 | Laborer |    Ireland  |
| I. W. W. Prisoner 4859. Malachi O'Neill | 34 |  blacksmith |    Ireland  |
| I. W. W. Prisoner 4829. J. E. Houlihan. | 36 |  miner |    Ireland   |
| I. W. W. Prisoner 4842. Harold Miller | 21 |  gas fitter |    Kansas   |
| I. W. W. Prisoner 4841. George Murphy | 28 |  laborer |    Kentucky  |
| I. W. W. Prisoner 4863. Jack Leonard (aka Jack Miller) | 27 |  laborer |    Kentucky   |
| I. W. W. Prisoner 4839. F. O. Watson | 35 |  blacksmith |    Louisiana   |
| I. W. W. Prisoner 4861. William Davis | 35 |  Cook |    Maryland  |
| I. W. W. Prisoner 4864. William Winn | 44 |  miner |    Maryland  |
| I. W. W. Prisoner 4853. W. H. Brown | 40 |  laborer |    Maryland  |
| I. W. W. Prisoner 4845. J. J. Black | 27 |  longshoreman |    Massachusetts  |
| I. W. W. Prisoner 4872. John Ross | 36 |  laborer |    Massachusetts  |
| I. W. W. Prisoner 4879. James Powers | 47 |  sheet metal worker |    Massachusetts  |
| I. W. W. Prisoner 4896. William Shay | 28 |  Laborer |    Massachusetts  |
| I. W. W. Prisoner 4852. Robert Leonard | 24 |  farmer |    Michigan  |
| I. W. W. Prisoner 4914. J. H. Beyer | 56 |  painter |    Michigan   |
| I. W. W. Prisoner 4830. Charles Haywood | 46 |  miner |    Minnesota  |
| I. W. W. Prisoner 4865. Charles H. Cody | 46 |  painter |    Montana  |
| I. W. W. Prisoner 4866. Thomas H. Tracy (alias George Martin) | 36 |  teamster |    Nebraska   |
| I. W. W. Prisoner 4837. J. F. Billings | 35 |  cook |    Nebraska   |
| I. W. W. Prisoner 4850. E. M. Beck | 45 |  laborer |    New York  |
| I. W. W. Prisoner 4886. Michael J. Reilly | 23 |  Laborer |    New York  |
| I. W. W. Prisoner 4895. Thomas Savage | 50 |  Machinist |    New York  |
| I. W. W. Prisoner 4899. Ed Miller | 48 |  painter |    New York  |
| I. W. W. Prisoner 4834. Alfred Howard | 28 |  coal packer |    New York  |
| I. W. W. Prisoner 4876. John Nugent | 38 |  Laborer |    New York  |
| I. W. W. Prisoner 4883. Laurence Manning | 26 |  Laborer |    New York  |
| I. W. W. Prisoner 4855. Theodore Lauer | 29 |  laborer |    New York  |
| I. W. W. Prisoner 4873. James Whiteford (Kelly) | 36 |  cook |    New York   |
| I. W. W. Prisoner 4913. Ed Roth | 31 |  longshoreman |    New York   |
| I. W. W. Prisoner 4885. E. F. Hollingsworth | 29 |  fireman |    North Carolina  |
| I. W. W. Prisoner 4881. Earl Osborne | 33 |  logger |    North Carolina   |
| I. W. W. Prisoner 4851. J. A. Kelly | 31 |  logger |    Ohio  |
| I. W. W. Prisoner 4871. Edwart Truitt | 28 |  Longshoreman |    Pennsylvania  |
| I. W. W. Prisoner 4894. Charles Black | 23 | Laborer |    Pennsylvania  |
| I. W. W. Prisoner 4889. Joseph Manning | 28 |  automobile repairer |    Pennsylvania   |
| I. W. W. Prisoner 4860. Tom Tracy | 30 |  crane driver |    Pennsylvania   |
| I. W. W. Prisoner 4882. E. J. Shapeero | 23 |  timekeeper |    Pennsylvania   |
| I. W. W. Prisoner 4902. H. "Happy" Sokol | 26 |  Laborer |    Russia   |
| I. W. W. Prisoner 4892. Carl Newman | 30 |  laborer |    Sweden  |
| I. W. W. Prisoner 4893. John W. Bowdoin | 35 | Laborer |    Sweden  |
| I. W. W. Prisoner 4862. Oscar Johnson | 24 |  laborer |    Sweden  |
| I. W. W. Prisoner 4832. Adolph Ersson | 26 |  laborer and sailor |    Sweden  |
| I. W. W. Prisoner 4900. Louis Morgan | 24 |  laborer |    Texas  |
| I. W. W. Prisoner 4847. Harston Peters | 32 |  laborer |    Virginia    |
| I. W. W. Prisoner 4877. William Lawson | 32 | |    Washington  |
| I. W. W. Prisoner 4887. Clarence "Paddy" Cyphert | 25 |   logger |    Washington   |
| I. W. W. Prisoner 4835. John Rawlings | 26 |  laborer |    Wisconsin  |
| I. W. W. Prisoner 4857. Charles Auspos, alias Austin | 38 |  teamster |    Wisconsin   |
| I. W. W. Prisoner 4833. H. Shebeck | 24 |  laborer |    Wisconsin   |
| I. W. W. Prisoner 4880. Ben Legg | | | |