Founded in 1905, the Industrial Workers of the World captured the attention of a generation with its fiery rhetoric, daring tactics, and program of revolutionary industrial unionism. Pledging to replace the narrow craft unionism of the American Federal of Labor with massive industrial unions, the organization grew in numbers and reputation in the years before World War I, demonstrating an ability to organize workers neglected by the AFL, notably immigrant steel and textile workers in the Northeast, miners, timber, and harvest workers in the West.
But the IWW's revolutionary program and class-war rhetoric yielded more enemies than allies. Frequently jailed or beaten when they tried to organize, Wobblies faced something more serious after the United States mobilized for war in 1917. Federal and state goverments moved to suppress the organization, imprisoning hundreds of Wobblies, passing criminal syndicalism laws that made membership a crime. The IWW survived and is active today, but never regained the momentum of its early years.
This project explores the history of the IWW in its first three decades, presenting information that has never before been available. We have compiled databases of more than 1,800 strikes, campaigns, arrests, and other incidents involving IWW members and present this information both yearbook format and in elaborate interactive maps. We also map more than 900 IWW locals, revealing a geography of activism that include more than 350 towns and cities in 38 states and 5 Canadian provinces. Here you will also find accounts of important events and issues and a wealth of photographs and documents. The timeline/brief history provides a quick introduction to the history of the IWW.
Co-directed by Professor James Gregory and Labor Archivist Conor Casey, the project utilizes the resources of the Labor Archives of Washington and University of Washington Libraries.
Tour the Project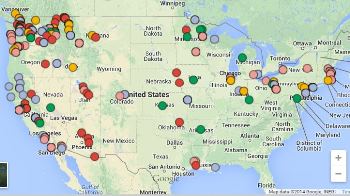 Several interactive maps shows the location of more than 1,800 strikes, campaigns, arrests involving the IWW between 1906 and 1920. Other maps and charts show local unions
This slideshow introduces key events in the story of the IWW from its founding in 1905 through the early 1920s. Links provide additional information.
Here are maps and charts that locate more than 1,800 strikes, campaigns, protests, arrests, raids, and trials from 1905 to 1920. Fully interactive, you can follow the events year by year or month by month.
These yearbooks provide the most complete account of IWW events -- a day-by-day database of hundreds of strikes, protests, campaigns, arrests, prosecutions, and attacks aimed at IWW members -- as recorded in the pages of the Industrial Union Bulletin, Industrial Worker, and Solidarity
These maps show more than 900 IWW unions in 350 cities and towns in 38 states and territories of the United States and 5 Canadian provinces. They are color coded by industry and you may filter by industry and state.
Here are maps and descriptions of ninety newspapers and periodicals affilitated with the IWW in its early years. They were published in nineteen languages.
Articles about important events, issues, and people:
Here are nearly 500 digital photographs, documents, news articles, and oral histories from the Labor Archives, University of Washington Libraries.
This site is part of the Mapping American Social Movements Through the 20th Century consortium based at the University of Washington under the direction of Professor James Gregory.
IWW Project Directors: James Gregory, Conor Casey
Research Associates: Josue Estrada, Rebecca Flores, Arianne Hermida
Contributors: Colin M. Anderson, Matthew Anderson, Nick Bragg, Che Capilli, Alison Cheung, Peter Cole, Laren Coodley, Morgan Cottle, Shaun Cuffin, Mike DiBernardo, Aaron Goings, Michael Hanley, Oliver Janders, Michael Kirkman, James Larrabee, David Marquiz, Christopher Mulcahey, Kiyomi Nunez, Sentera Orwig, Stephen Parfitt, Chris Perry, Oscar Rosales Castañeda, Jack Ross, Danielle Simmons, Victoria Thorpe, Austin Upton, Devra Weber, Kenyon Zimmer