IWW local unions (database)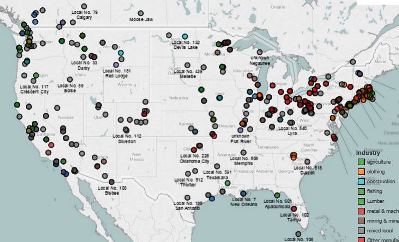 One of the big surprises of this project is the number of local unions created by the IWW in its first decades. So far we have identified 928 union locals, branches, and District Councils in more than 350 cities and towns in 38 states and territories of the United States and 5 Canadian provinces. This indicates that the organization had a greater geographic range than has been understood and we also learn from these data that the IWW was more active in its first few years than previously thought. More than one hundred locals had been established by 1907.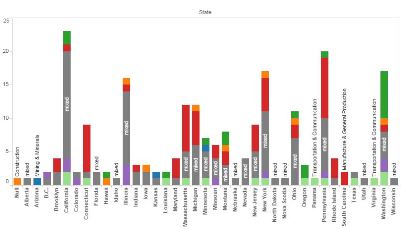 Click on the images (right) to see interactive maps and charts of the locals. Below is the full database organized by state/province. The database was compiled from lists of locals and dues records published at intervals in official publications of the IWW (Industrial Union Bulletin, Industrial Worker, Solidarity) and additional sources. Date ranges are not exact. "Active" signifies the range for which we have information, but a local may have been founded earlier and often endured longer. Here is more about the database and sources.
Database
State/Province
City/town
Local
Sources
Alaska
Fairbanks
Local No. 422 -  (unknown)  active 1908
Industrial Union Bulletin, 05/23/1908
Alaska
Nome
Local No. 264 -  (unknown)  active 1907
Industrial Union Bulletin, 10/19/1907
Alberta
Calgary
Local No. 79 -  (unknown)  active 1913
Solidarity, 07/12/1913
Alberta
Edmonton
Local No. 339 -  (mixed local) Secretary: R. Bradshaw active 1914-1917
Brissenden (1919) , 360 ; Branch Secretaries, Military Intelligence Files
Arizona
Bisbee
Local No. 106 - Metal Mine Workers' Industrial Union Local No. 106 (mining-metals) active 1917
 

Solidarity, p.1,03.03.1917 ; 

Arizona
Bisbee
Local No. 65 -  (unknown) Secretary: Sebla Maxwell active 1916-1917
 Solidarity, p.1,07.22.1916 ; Branch Secretaries, Military Intelligence Files
Arizona
Globe
Local No. 273 -  (unknown) Secretary: W. Welch active 1909-1910
Industrial Worker, 03/12/1910 ;Industrial Worker, 09/09/1909
Arizona
Oatman
Local No. 594 - Oatman Industrial Union (unknown) Secretary: Dick Highfield active 1915-1917
Branch Secretaries, Military Intelligence Files ; 1916 Convention Proceedings, p.??
Arizona
Phoenix
I.U. 800 - Metal Mine Workers' Industrial Union No. 800 (mining-metals) Secretary: Grover H. Perry active 1917
 Solidarity, p.1,03.03.1917 ; Casefile 188032, Department of Justice Investigative Files, Part I: The Industrial Workers of the World, Research Collections in American Radicalism (microfilm), Reel 8.
Arizona
Phoenix
Local No. 272 -  (unknown) Secretary: F. Velarde active 1907-1911
Industrial Worker, 03/12/1910 -Industrial Worker, 09/09/1909 ; Industrial Worker, 01/05/1911 ; Industrial Union Bulletin, 08/31/1907
Arizona
Phoenix
Local No. 272 branch 2 - Spanish branch (unknown)  active 1910
Solidarity, 07/09/1910
Arizona
Prescott
Local No. 416 -  (unknown)  active 1908
Industrial Union Bulletin, 02/08/1908
Arizona
Tucson
Local No. 314 -  (unknown)  active 1907
Industrial Union Bulletin, 08/31/1907
Arizona
Local No. 3 - Arizona State Union of the Department of Mining (mining-metals)  active 1906-1907
Brissenden (1919) , 135 
Arkansas
Texarkana
Local No. 591 - Texarkana Industrial Union (unknown)  active 1915
1916 Convention Proceedings
B.C.
Cranbrook
Local No. 392 -  (unknown)  active 1907
Industrial Union Bulletin, 08/24/1907
B.C.
Kamloops
Local No. 327 -  (unknown)  active 1913
Solidarity, 07/19/1913
B.C.
Lytton
Local No. 327 -  (Railroad) Chartered 08/1911 active 1911-1912
Vincent St. John (1917) ; Industrial Worker, 01/11/1912
B.C.
Nelson
Local No. 182 - Hotel and Restaurant Workers' Industrial Union (Hotel and restaurant) Chartered 11/1911 active 1911-1912
Industrial Worker, 01/11/1912
B.C.
Nelson
Local No. 525 -  (unknown) Secretary: A.L. Elliott active 1907-1912
Industrial Worker, 01/04/1912 ; Industrial Worker, 01/05/1911 ; Industrial Worker, 03/12/1910 ;Industrial Worker, 09/09/1909 ; Industrial Union Bulletin, 10/19/1907
B.C.
Phoenix
Local No. 155 -  (unknown) Secretary: G.W. Rogers active 1907-1911
Industrial Worker, 09/09/1909 ; Industrial Union Bulletin, 08/24/1907 ; Industrial Union Bulletin, 02/08/1908 ; Industrial Worker, 01/05/1911
B.C.
Prince Rupert
Local No. 326 -  (Railroad) Secretary: A.E. Grant active 1909-1912
Industrial Worker, 09/09/1909 ; Industrial Worker, 03/12/1910 ; Vincent St. John, The I.W.W.--Its History, Structure and Methods
B.C.
Rossland
Local No. 535 -  (unknown)  active 1907
Industrial Union Bulletin, 08/24/1907
B.C.
Spences Bridge
Local No. 327 - Railroad Construction Workers' Industrial Union (Railroad Construction) Chartered 11/1911 active 1911-1912
Industrial Worker, 01/11/1912
B.C.
Vancouver
Local No. 332 -  (unknown)  active 1914
Brissenden (1919) , 360 
B.C.
Vancouver
Local No. 45 -  (unknown) Secretary: James Sullivan active 1910-1911
Industrial Worker, 03/12/1910 ; Industrial Worker, 01/05/1911
B.C.
Vancouver
Local No. 526 -  (Lumber handlers)  active 1907-1908
Industrial Union Bulletin, 10/19/1907 ; Industrial Union Bulletin, 02/08/1908
B.C.
Victoria
Local No. 249 -  (Transportation) Chartered 08/1911 active 1911-1912
Industrial Worker, 01/11/1912
B.C.
Yale
Local No. 327 branch 2 - Railroad Construction Workers' Industrial Union (Railroad Construction) Chartered 11/1911 active 1911-1912
Industrial Worker, 01/11/1912
B.C. 
Vancouver
Local No. 322 -  (unknown) Secretary: W.B. Smith active 1907-1915
 Solidarity, p.1,04.03.1915 ; ;Industrial Worker, 03/12/1910 ;Industrial Worker, 09/09/1909 ; Industrial Union Bulletin, 08/24/1907 ; Industrial Union Bulletin, 02/08/1908 ; Industrial Worker, 01/05/1911
B.C. 
Vancouver
unknown -  (Public service)  active 1909-1910
Brissenden (1919) , 366 
B.C. 
Victoria
Local No. 44 -  (unknown) Secretary: Alice Harding active 1908-1911
Industrial Worker, 03/12/1910 ;Industrial Worker, 09/09/1909 ; Industrial Union Bulletin, 02/08/1908 ; Industrial Worker, 01/05/1911
B.C. 
Victoria
Local No. 58 -  (unknown) Chartered 08/1911 active 1911-1915
 Solidarity, p.4,05.01.1915 ; Industrial Worker, 01/11/1912
California
Brawley
Local No. 437, branch 2 -  (unknown) Secretary: J.H. Sanderson active 1910
Industrial Worker, 03/12/1910 
California
Brawley
Local No. 439 -  (mixed local) Secretary: Herman Kubow (1915), J. Miller (1917) active 1912-1917
Brissenden (1919) , 360 ; Solidarity, p.4,05.29.1915 ; Branch Secretaries, Military Intelligence Files ; Industrial Worker, 01/11/1912 ; Solidarity, 09/27/1913
California
Denver
Local No. 14 -  (unknown)  active 1911
Industrial Worker, 01/05/1911
California
Eureka
Local No. 330 -  (unknown)  active 1907
Industrial Union Bulletin, 08/24/1907
California
Eureka
Local No. 431 -  (Lumber) Secretary: F. Wahander active 1914-1917
Brissenden (1919) , 360  ; Solidarity, p.3,04.29.1916 ; Branch Secretaries, Military Intelligence Files
California
Eureka
Local No. 481 - Lumber Workers' Industrial Union No. 481 (Lumber)  active 1916
 Solidarity, p.1,02.26.1916 ; 
California
Fort Bragg
Local No. 426 -  (unknown) Secretary: M. Fissinini active 1917
Branch Secretaries, Military Intelligence Files
California
Fresno
A.W.O. 400 - Agricultural Workers' Organization No. 400 (Agriculture)  active 1917
Minute Books (or subsequent document titles), Casefile 188032, Department of Justice Investigative Files, Part I: The Industrial Workers of the World, Research Collections in American Radicalism (microfilm), Reel 8.
California
Fresno
Local No. 44 -  (unknown)  active 1911
Industrial Worker, 01/05/1911
California
Fresno
Local No. 66 -  (mixed local) Secretary: W.F. Little (1910), J. Manning (1917) active 1910-1915
Brissenden (1919) , 360 ; Solidarity, p.1,04.24.1915 ;  Industrial Worker, 03/12/1910 ; Branch Secretaries, Military Intelligence Files ; Solidarity, 09/20/1913 ; Industrial Worker, 01/04/1912
California
Fruitvale
Local No. 233 -  (unknown)  active 1907
Industrial Union Bulletin, 08/24/1907
California
Holtville
Local No. 437 -  (unknown)  active 1908-1911
Industrial Worker, 01/05/1911 ; Industrial Union Bulletin, 05/23/1908
California
Holtville
Local No. 437 -  (unknown) Secretary: Peter LeBlanc active 1910
Industrial Worker, 03/12/1910 
California
Imperial
Local No. 437, branch 4 -  (unknown) Secretary: Wm. Stanley active 1910
Industrial Worker, 03/12/1910 
California
Los Angeles
 - Italian Propaganda League (Propaganda)  active 1914
1916 Convention Proceedings
California
Los Angeles
Local No. 1 -  (unknown) Secretary: George Paff active 1910-1911
Industrial Worker, 03/12/1910 ; Industrial Worker, 01/05/1911
California
Los Angeles
Local No. 103 -  (mixed local)  active 1914
Brissenden (1919) , 360 
California
Los Angeles
Local No. 12 -  (unknown) Secretary: Wm. Allen active 1907-1911
Industrial Worker, 03/12/1910 ;Industrial Worker, 09/09/1909 ; Industrial Union Bulletin, 08/24/1907; Industrial Worker, 01/05/1911
California
Los Angeles
Local No. 13 -  (unknown)  active 1911
Industrial Worker, 01/05/1911
California
Los Angeles
Local No. 13 branch 1 -  (unknown)  active 1907
Industrial Union Bulletin, 08/31/1907
California
Los Angeles
Local No. 18 -  (unknown) Secretary: W.R. Sautter active 1910
Industrial Worker, 03/12/1910 
California
Los Angeles
Local No. 524 -  (unknown)  active 1907
Industrial Union Bulletin, 09/07/1907
California
Los Angeles
Local No. 602 - Recruiting Local Industrial Union (Recruiting)  active 1915
1916 Convention Proceedings
California
Los Angeles
Local No. 603 -  (unknown) Secretary: John Trey active 1917
Branch Secretaries, Military Intelligence Files
California
Los Angeles
Local No. 63 -  (unknown) Secretary: Wm. Erickson active 1910-1911
Industrial Worker, 03/12/1910 ; Industrial Worker, 01/05/1911
California
Los Angeles
Propaganda League -  (Propaganda)  active 1914
Brissenden (1919) , 360 ; 1916 Convention Proceedings, p.??
California
Oakland
Local No. 150 -  (unknown)  active 1915
 Solidarity, p.2,07.03.1915 ; 
California
Oakland
Local No. 174 -  (mixed local) Secretary: G. Mays (1910), E.G. Flunkett (1917) active 1910-1917
Brissenden (1919) , 360 ; Solidarity, p.2,07.03.1915 ; Industrial Worker, 03/12/1910 ; Branch Secretaries, Military Intelligence Files ; Industrial Worker, 01/05/1911
California
Oakland
Local No. 222 branch 2 -  (unknown)  active 1907
Industrial Union Bulletin, 08/31/1907
California
Oakland
Local No. 233 -  (unknown)  active 1907
Industrial Union Bulletin, 11/16/1907
California
Pittsburg
Local No. 449 - Seal Fishermen Industrial Union (Fishing)  active 1916
1916 Convention Proceedings
California
Porterville
Local No. 313 Branch 1 - Metal Mine & Smelter Workers' Industrial Union (Metal workers)  active 1916
1916 Convention Proceedings
California
Redding
Local No. 313 -  (mixed local) Secretary: Dan Buckley (1916), Carl Kuhlmann (1917) active 1914-1917
Brissenden (1919) , 360 ; Solidarity, p.4, Solidarity, p.3,03.20.1915, 03.04.1916 ; Branch Secretaries, Military Intelligence Files
California
Redding
Local No. 88 -  (mixed local) Secretary: Carl Kuhlman active 1914-1917
Brissenden (1919) , 360 ; Branch Secretaries, Military Intelligence Files
California
Redlands
Local No. 419 -  (unknown) Secretary: R. Vere active 1908-1911
Industrial Worker, 03/12/1910 ; Industrial Worker, 01/05/1911 ; Industrial Union Bulletin, 05/23/1908
California
Redlands
unknown -  (Agriculture)  active 1909-1910
Brissenden (1919) , 366 
California
Redondo
Local No. 246 - Marine Transport Workers' Industrial Union (Marine transport) Chartered 10/1911 active 1911-1912
Industrial Worker, 01/11/1912
California
Redondo
Local No. 87 -  (Transportation) Chartered 1907 active 1907-1908
Industrial Union Bulletin, 08/31/1907 ; Industrial Union Bulletin, 02/08/1908
California
Sacramento
Local No. 236 -  (unknown)  active 1907-1908
Industrial Union Bulletin, 09/07/1907 ; Industrial Union Bulletin, 05/23/1908
California
Sacramento
Local No. 334 -  (mixed local) Secretary: C.L. Lambert active 1914-1917
Brissenden (1919) , 360 ; Branch Secretaries, Military Intelligence Files
California
Sacramento
Local No. 444 - Agricultural Workers' Industrial Union (Agriculture)  active 1915
1916 Convention Proceedings
California
Sacramento
Local No. 489 -  (mixed local) Secretary: C.L. Lambert active 1914-1917
Brissenden (1919) , 360 ; Branch Secretaries, Military Intelligence Files
California
Sacramento
Local No. 71 -  (mixed local) Secretary: C.L. Lambert active 1914-1917
Brissenden (1919) , 360 ; Branch Secretaries, Military Intelligence Files
California
San Diego
Local No. 12 -  (unknown)  active 1911
Industrial Worker, 01/05/1911
California
San Diego
Local No. 13 -  (unknown) Secretary: Benson Jaynes active 1910-1912
Industrial Worker, 03/12/1910 ; Industrial Worker, 01/04/1912
California
San Diego
Local No. 139 -  (unknown)  active 1907
Industrial Union Bulletin, 10/26/1907
California
San Diego
Local No. 245 -  (unknown)  active 1907
Industrial Union Bulletin, 08/24/1907
California
San Diego
Local No. 373 -  (unknown)  active 1911
Industrial Worker, 01/05/1911
California
San Diego
unknown -  (Public service)  active 1909-1910
Brissenden (1919) , 366 
California
San Francisco
Local No. 107 -  (mixed local)  active 1914
Brissenden (1919) , 360 
California
San Francisco
Local No. 147 -  (Construction)  active 1914-1915
Brissenden (1919) , 360 
California
San Francisco
Local No. 173 -  (mixed local) Secretary: J. Lebon active 1907-1917
Brissenden (1919) , 360 ; Solidarity, p.4,01.23.1915, 01.06.1917 ; Industrial Worker, 03/12/1910 ;Industrial Worker, 09/09/1909 ; Industrial Union Bulletin, 07/13/1907 ; Industrial Union Bulletin, 02/08/1908 ; Industrial Worker, 01/05/1911
California
San Francisco
Local No. 173 Branch 2 -  (mixed local) Secretary: O. Banisie active 1914-1917
Brissenden (1919) , 360 ; Branch Secretaries, Military Intelligence Files
California
San Francisco
Local No. 173 Latin branch 2 -  (unknown) Chartered 08/1911 active 1911-1912
Industrial Worker, 01/11/1912
California
San Francisco
Local No. 174, branch 4 -  (unknown) Secretary: F. W. Newlander active 1917
Branch Secretaries, Military Intelligence Files
California
San Francisco
Local No. 3 -  (Garment)  active 1914
Brissenden (1919) , 360 
California
San Francisco
Local No. 31 -  (unknown)  active 1907
Industrial Union Bulletin, 08/24/1907
California
San Francisco
Local No. 363 -  (unknown)  active 1907
Industrial Union Bulletin, 06/22/1907
California
San Francisco
Local No. 407 - Bakery Workers' Industrial Union (Baking) Chartered 09/1911 active 1911-1912
Industrial Worker, 01/11/1912
California
San Francisco
Local No. 501 Branch 1 - Bulding Constructors' Industrial Union (Construction)  active 1907
Industrial Union Bulletin, 08/24/1907
California
San Francisco
Local No. 503 -  (Construction)  active 1907
Industrial Union Bulletin, 08/24/1907
California
San Francisco
Local No. 57 -  (unknown)  active 1907
Industrial Union Bulletin, 10/05/1907
California
San Francisco
Local No. 8 -  (Musicians)  active 1914
Brissenden (1919) , 360 
California
San Francisco
Local No. 9 -  (Marine transport) Secretary: George Speed active 1914-1917
Brissenden (1919) , 360 ; Solidarity, p.4,02.06.1915 ; Branch Secretaries, Military Intelligence Files
California
San Jose
Local No. 191 -  (unknown)  active 1907
Industrial Union Bulletin, 10/19/1907
California
San Jose
Local No. 489 -  (unknown) Secretary: Walter Nudel active 1917
Branch Secretaries, Military Intelligence Files
California
San Jose
Local No. 499 - Recruiting Local Industrial Union (Recruiting)  active 1915
1916 Convention Proceedings
California
San Pedro
Local No. 195 -  (unknown)  active 1907
Industrial Union Bulletin, 08/24/1907
California
San Pedro
Local No. 245 -  (unknown) Secretary: Fred Herrmann active 1910-1913
Industrial Worker, 03/12/1910 ; Solidarity, 09/06/1913
California
San Pedro
Local No. 35 -  (unknown)  active 1907
Industrial Union Bulletin, 08/31/1907
California
San Pedro
Local No. 533 - Transportation Workers' Industrial Union (Transportation)  active 1907-1908
Industrial Union Bulletin, 08/24/1907 ; Industrial Union Bulletin, 05/23/1908
California
San Pedro
unknown -  (Marine Transport) Secretary: Frank Wood active 1917
 Solidarity, p.1,01.13.1917 ; 
California
Santa Cruz
Local No. 527 -  (unknown)  active 1907
Industrial Union Bulletin, 12/21/1907
California
Santa Cruz
Local No. 62 -  (unknown)  active 1907
Industrial Union Bulletin, 08/31/1907
California
Stockton
 - Women's Propaganda League (Propaganda) Secretary: Gertrude F. Cottle active 1914-1917
Branch Secretaries, Military Intelligence Files ; 1916 Convention Proceedings, p.??
California
Stockton
Local No. 173 -  (unknown)  active 1912
Industrial Worker, 01/11/1912
California
Stockton
Local No. 5 - Steamboat & Barge Workers' Industrial Union (Marine transport) Secretary: Louis Moreau active 1914-1917
Brissenden (1919) , 360 ; Solidarity, p.1,02.27.1915 ; Branch Secretaries, Military Intelligence Files ; 1916 Convention Proceedings, p.??
California
Stockton
Local No. 73 -  (mixed local) Secretary: A. Strickland (1915), Alex Michael (1917) active 1914-1917
Brissenden (1919) , 360 ; Solidarity, p.4,01.30.1915 ; Branch Secretaries, Military Intelligence Files
California
Taft
Local No. 453 - Oil Workers' Industrial Union (Oil) "not in good condition" in 1916 active 1913-1917
Industrial Worker, 02/23/1913 ; 1916 Convention Proceedings- Solidarity, p.1,04.14.1917 ; 
California
Tuolumne
Local No. 373 -  (unknown)  active 1907
Industrial Union Bulletin, 08/24/1907
California
Vallejo
Local No. 283 -  (unknown)  active 1907-1908
Industrial Union Bulletin, 02/08/1908 ; Industrial Union Bulletin, 08/31/1907
Colorado
Buena Vista
Local No. 302 -  (unknown)  active 1907
Industrial Union Bulletin, 08/17/1907
Colorado
Colorado Springs
Local No. 237 -  (unknown)  active 1907
Industrial Union Bulletin, 08/31/1907
Colorado
Denver
 - Industrial Council (District Council or grouped locals)  active 1907
Industrial Union Bulletin, 08/31/1907
Colorado
Denver
Local No. 11 -  (Transporation)  active 1907-1908
Industrial Union Bulletin, 11/07/1908 ; Industrial Union Bulletin, 08/31/1907
Colorado
Denver
Local No. 113 - Domestic Workers' Industrial Union (Domestic)  active 1916
 Solidarity, p.4,04.15.1916 ; 1916 Convention Proceedings, p.??
Colorado
Denver
Local No. 125 -  (unknown)  active 1907-1908
Industrial Union Bulletin, 02/08/1908 ; Industrial Union Bulletin, 08/24/1907
Colorado
Denver
Local No. 144 - Power Workers (Utlities)  active 1906-1907
Brissenden (1919) , 134 
Colorado
Denver
Local No. 15 -  (Blacksmiths and Helpers)  active 1907-1908
Industrial Union Bulletin, 08/24/1907 ; Industrial Union Bulletin, 11/07/1908
Colorado
Denver
Local No. 26 -  (mixed local) Secretary: Harry Weinstelu active 1910-1915
Brissenden (1919) , 360 ; Solidarity, p.4,9.18.1915 ; Industrial Worker, 03/12/1910 ; Solidarity, 02/15/1913
Colorado
Denver
Local No. 4 -  (unknown)  active 1908
Industrial Union Bulletin, 10/24/1908
Colorado
Denver
Local No. 404 - Domestic Workers' Industrial Union No. 404 (Domestic)  active 1916
 Solidarity, p.4,04.15.1916 ; 
Colorado
Denver
Local No. 488 -  (unknown)  active 1907
Industrial Union Bulletin, 08/24/1907
Colorado
Denver
Local No. 508 -  (unknown) IUB received money from the "defunct" local active 1907
Industrial Union Bulletin, 08/31/1907
Colorado
Firestone
Local No. 241 - Coal Miners' Industrial Union (Mining-coal) Secretary: L.C. Carlin active 1914-1917
Branch Secretaries, Military Intelligence Files ; 1916 Convention Proceedings, p.??
Colorado
Grand Junction
Local No. 35 -  (unknown)  active 1905-1907
Industrial Union Bulletin, 04/06/1907
Colorado
Guffey
Local No. 555 -  (unknown)  active 1907
Industrial Union Bulletin, 10/19/1907
Colorado
Hudson
Local No. 180 -  (unknown)  active 1907
Industrial Union Bulletin, 10/26/1907
Colorado
Marble
Local No. 408 -  (unknown)  active 1908
Industrial Union Bulletin, 02/08/1908
Colorado
Silverton
Local No. 112 -  (unknown)  active 1907-1908
Industrial Union Bulletin, 08/24/1907 ; Industrial Union Bulletin, 02/08/1908
Colorado
Telluride
Local No. 32 -  (unknown)  active 1907
Industrial Union Bulletin, 10/26/1907
Connecticut
Bridgeport
Local No. 112 -  (mixed local)  active 1914
Brissenden (1919) , 360 
Connecticut
Bridgeport
Local No. 113 - Metal and Machinery Workers' Industrial Union (Metal and Machinery) Chartered 06/1907 active 1907
Industrial Union Bulletin, 07/13/1907
Connecticut
Bridgeport
Local No. 266 -  (Mixed local)  active 1907
Industrial Union Bulletin, 10/26/1907
Connecticut
Hartford
Local No. 160 -  (unknown)  active 1907
Industrial Union Bulletin, 10/19/1907
Connecticut
Hartford
Local No. 69 -  (Machinists)  active 1907-1914
Brissenden (1919) , 360 ; Industrial Union Bulletin, 08/24/1907
Connecticut
Kensington
Local No. 295 -  (unknown)  active 1907
Industrial Union Bulletin, 08/24/1907
Connecticut
Moosup
Local No. 303 -  (Textile) Secretary: Edward Laperle active 1914-1917
Brissenden (1919) , 360 ; Branch Secretaries, Military Intelligence Files
Connecticut
Mystic
Local No. 35 -  (Textile)  active 1914
Brissenden (1919) , 360 
Connecticut
New Haven
Local No. 244 - Transportation Workers' Industrial Union (Transportation)  active 1910-1911
Solidarity, 12/17/1910 ; Industrial Worker, 01/05/1911
Connecticut
New Haven
unknown -  (Railroad)  active 1909-1910
Brissenden (1919) , 366 
Connecticut
New Haven 
Local No. 176 - Silk Workers (Textile)  active 1906-1907
Brissenden (1919) , 135 
Connecticut
New Haven 
Local No. 190 - Silk Workers (Textile)  active 1906-1907
Brissenden (1919) , 135 
Connecticut
New Haven 
Local No. 313 - Paper Makers (Other manufacturing)  active 1906-1907
Brissenden (1919) , 135 
Connecticut
Norwalk
Local No. 535 -  (Textile) Secretary: Joseph Makevich active 1914 - 1917
Brissenden (1919) , 360 ; Branch Secretaries, Military Intelligence Files
Connecticut
Stafford Springs
Local No. 433 -  (Textile) Secretary: S. Martinelli active 1909-1910
Industrial Worker, 03/12/1910 ;Industrial Worker, 09/09/1909
Connecticut
Waterbury
Local No. 187 - Clothing Workers' Industrial Union (Clothing)  active 1910-1911
Industrial Worker, 01/05/1911 ; Clothing
Connecticut
Waterbury
Local No. 310 - Metal & Machinery Workers' Industrial Union (Metal workers) Secretary: Joseph Minicuoci active 1915-1917
Branch Secretaries, Military Intelligence Files ; 1916 Convention Proceedings, p.??
England
London
Local No. 328 -  (unknown)  active 1907-1908
Industrial Union Bulletin, 08/24/1907 ; Industrial Union Bulletin, 02/08/1908
Florida
Apalachicola
Local No. 601 - Fish, Oyster & Shrimp Workers' Industrial Union (Fishing) Secretary: F. H. Pleeger active 1915-1917
Branch Secretaries, Military Intelligence Files ; 1916 Convention Proceedings, p.??
Florida
Key West
Local No. 108 -  (mixed local) Secretary: Santiago Garcia active 1914-1917
Brissenden (1919) , 361 ; Branch Secretaries, Military Intelligence Files
Florida
Tampa
Local No. 102 -  (Cigarmakers)  active 1913-1914
Brissenden (1919) , 361 ; Solidarity, 10/04/1913
Florida
Ybor City
Local No. 103 -  (unknown) Secretary: Salvador Martino active 1917
Branch Secretaries, Military Intelligence Files
Hawaii
Honolulu
Local No. 126 -  (unknown)  active 1911
Industrial Worker, 01/05/1911
Hawaii
Honolulu
Local No. 136 -  (Building Constructors)  active 1910
Solidarity, 08/13/1910
Hawaii
Honolulu
Local No. 428 -  (unknown)  active 1911
Industrial Worker, 01/05/1911
Hawaii
Honolulu
unknown -  (Agriculture)  active 1909-1910
Brissenden (1919) , 366 
Hawaii
Honolulu
unknown -  (Construction)  active 1909-1910
Brissenden (1919) , 366 
Idaho
Boise
Local No. 59 -  (unknown) Chartered 08/1911 active 1911-1912
Industrial Worker, 01/11/1912
Idaho
Wallace
 - Wallace Propaganda League (Propaganda) Secretary: Edward Bens active 1914-1917
Branch Secretaries, Military Intelligence Files ; Brissenden (1919) , 361 
Illinois
Aurora
  active 1916
1916 Convention Proceedings
Illinois
Belleville
Local No. 162 -  (unknown)  active 1907
Industrial Union Bulletin, 04/06/1907
Illinois
Blue Island
Local No. 17 -  (Transportation)  active 1907-1908
Industrial Union Bulletin, 10/19/1907 ; Industrial Union Bulletin, 02/08/1908 ; Industrial Union Bulletin, 08/31/1907
Illinois
Chicago
 - Chicago Recruiting Union (mixed local)  active 1919
New Solidarity, 01/25/1919
Illinois
Chicago
 - Chicago Scandinavian Branch 2 (mixed local)  active 1907
Industrial Union Bulletin, 10/19/1907
Illinois
Chicago
 - Finnish Branch of Hotel, Restaurant, and Domestic Workers' Industrial Union (Hotel, Restaurant, and Domestic)  active 1919
New Solidarity, 03/29/1919
Illinois
Chicago
 - Finnish Recruiting Union (mixed local)  active 1919
New Solidarity, 03/29/1919
Illinois
Chicago
 - Swedish Branch of the Hotel, Restaurant, and Domestic Workers' Industrial Union (Hotel, Restaurant, and Domestic)  active 1919
New Solidarity, 04/05/1919
Illinois
Chicago
I.U. 200 - Marine Transport Workers No. 200 (Marine Transport)  active 1917
Illinois
Chicago
I.U. 300 - Metal and Machinery Workers' Industrial Union No. 300 (Metal workers)  active 1916-1917
 Solidarity, p.1,           Solidarity, p.3,04.29.1916, 07.14.1917 ; Casefile 188032, Department of Justice Investigative Files, Part I: The Industrial Workers of the World, Research Collections in American Radicalism (microfilm), Reel 8. ; Covention
Illinois
Chicago
I.U. 600 - Railroad Workers' Industrial Union No. 600 (Railroad)  active 1915-1919
Minute Books (or subsequent document titles), Casefile 188032, Department of Justice Investigative Files, Part I: The Industrial Workers of the World, Research Collections in American Radicalism (microfilm), Reel 8. ; 1916 Convention Proceedings, p.?? ; New Solidarity, 08/02/1919
Illinois
Chicago
Local No. 1000 - Textile Workers' Industrial Union (Textile)  active 1919
New Solidarity, 05/17/1919
Illinois
Chicago
Local No. 113 -  (Machinists)  active 1919
New Solidarity, 08/02/2019
Illinois
Chicago
Local No. 1200 - Printing and Publishing Workers' Industrial Union (Printing and publishing)  active 1919
New Solidarity, 05/17/1919
Illinois
Chicago
Local No. 134 -  (Machinists)  active 1919
New Solidarity, 08/02/2019
Illinois
Chicago
Local No. 144 -  (mixed local) Secretary: Joe Rada active 1911-1917
Brissenden (1919) , 361 ; Branch Secretaries, Military Intelligence Files ; Industrial Worker, 01/05/1911
Illinois
Chicago
Local No. 144 branch 2 - Packing House Workers' Industrial Union (Packing House Workers) Chartered 09/1911 active 1911-1912
Industrial Worker, 01/11/1912
Illinois
Chicago
Local No. 144 Branch 3 -  (Packing house workers)  active 1911-1914
Brissenden (1919) , 361 ; Industrial Worker, 01/11/1912
Illinois
Chicago
Local No. 167 -  (unknown) Secretary: A. Simpson active 1907-1910
Industrial Worker, 03/12/1910 ;Industrial Worker, 09/09/1909 ; Industrial Union Bulletin, 10/19/1907
Illinois
Chicago
Local No. 229 -  (Machinists)  active 1919
New Solidarity, 08/02/2019
Illinois
Chicago
Local No. 23 -  (Machinists)  active 1907
Industrial Union Bulletin, 08/24/1907
Illinois
Chicago
Local No. 233 -  (unknown) Secretary: F. Balzano active 1909
Industrial Worker, 09/09/1909
Illinois
Chicago
Local No. 250 - Railroad Workers' Industrial Union (Railroad) Chartered 10/1911 active 1911-1912
Industrial Worker, 01/11/1912
Illinois
Chicago
Local No. 263 - Hotel and Restaurant Employees (Public Service)  active 1906-1907
Brissenden (1919) , 135 
Illinois
Chicago
Local No. 299 - Window Washers  (Construction)  active 1906-1907
Brissenden (1919) , 135 ; Industrial Union Bulletin, 03/30/1907
Illinois
Chicago
Local No. 3 - Metal and Machinery Workers' Industrial Union (Metal and machinery) Chartered 08/1911 active 1911-1912
Industrial Worker, 01/11/1912
Illinois
Chicago
Local No. 3 Branch 2 -  (mixed local)  active 1914
Brissenden (1919) , 361 
Illinois
Chicago
Local No. 303 - Macaroni Workers' Industrial Union No. 303 (Macaroni)  active 1917
 Solidarity, p.3,05.05.1917 ; 
Illinois
Chicago
Local No. 341 -  (Railroad construction)  active 1913-1915
Brissenden (1919) , 361 ; Solidarity, p.4,01.30.1915 ; Solidarity, 08/02/1913
Illinois
Chicago
Local No. 363 -  (unknown)  active 1911
Industrial Worker, 01/05/1911
Illinois
Chicago
Local No. 5 -  (Capmakers)  active 1919
New Solidarity, 08/02/2019
Illinois
Chicago
Local No. 52 -  (Machinery)  active 1907
Industrial Union Bulletin, 07/13/1907
Illinois
Chicago
Local No. 52 -  (Machinists)  active 1907
Industrial Union Bulletin, 08/24/1907
Illinois
Chicago
Local No. 526 - Amusement Workers' Industrial Union (Theatre) Chartered 10/1911 active 1911-1912
Industrial Worker, 01/11/1912
Illinois
Chicago
Local No. 526 Theatre Branch 2 -  (Theatrical Amusement Workers) Left AFL for IWW in 10/1913 active 1913
Solidarity, 10/25/1913
Illinois
Chicago
Local No. 531 branch 1 -  (Clothing)  active 1907
Industrial Union Bulletin, 09/07/1907
Illinois
Chicago
Local No. 538 - Chicago Ladies' Tailors Industrial Union (Tailors)  active 1907
Industrial Union Bulletin, 10/19/1907
Illinois
Chicago
Local No. 539 branch 1 - Clothing Workers' Industrial Union (Clothing)  active 1907
Industrial Union Bulletin, 08/24/1907
Illinois
Chicago
Local No. 550 -  (Steel)  active 1907
Industrial Union Bulletin, 10/19/1907
Illinois
Chicago
Local No. 573 - Construction Workers' Industrial Union (Construction)  active 1919
New Solidarity, 01/18/2019
Illinois
Chicago
Local No. 593 - Chicago West Side Industrial Union (unknown) Secretary: J. Legutanke active 1914-1917
Branch Secretaries, Military Intelligence Files ; 1916 Convention Proceedings, p.??
Illinois
Chicago
Local No. 604 -  (Recruiting)  active 1916
1916 Convention Proceedings
Illinois
Chicago
Local No. 608 -  (Hospitality)  active 1916
 Solidarity, p.3,06.24.1916 ; 1916 Convention Proceedings, p.??
Illinois
Chicago
Local No. 609 - Packing House Workers' Industrial Union (Packing house)  active 1916
1916 Convention Proceedings
Illinois
Chicago
Local No. 62 -  (Machinists)  active 1907
Industrial Union Bulletin, 08/24/1907
Illinois
Chicago
Local No. 65 - Jewish Branch no. 6 (unknown)  active 1915
 Solidarity, p.4,01.30.1915 ; 
Illinois
Chicago
Local No. 83 - Alemania Industrial Union (mixed local)  active 1907
Industrial Union Bulletin, 08/24/1907
Illinois
Chicago
Local No. 83 - Bartenders and Waiters (Public Service)  active 1906-1907
Brissenden (1919) , 135 ; Industrial Union Bulletin, 08/31/1907
Illinois
Chicago
Local No. 85 -  (mixed local) Secretary: Ralph Chaplin active 1907-1915
Brissenden (1919) , 361 ; Solidarity, p.2           Solidarity, p.3,03.06.1915, 10.23.1915 ; Industrial Union Bulletin, 03/02/1907
Illinois
Chicago
Local No. 85 Branch 2 -  (mixed local) Secretary: K. Rathje (1909), Geo. B. Stone (1917) active 1909-1917
Brissenden (1919) , 361 - Industrial Worker, 03/12/1910 ;Industrial Worker, 09/09/1909 ; Branch Secretaries, Military Intelligence Files ; Industrial Worker, 01/04/1912
Illinois
Chicago
Local No. 85 Branch 3 -  (mixed local) Secretary: E. Janicki (1909), Peter P. Montville (1917) active 1909-1917
Brissenden (1919) , 361- Industrial Worker, 03/12/1910 ;Industrial Worker, 09/09/1909 ; Branch Secretaries, Military Intelligence Files
Illinois
Chicago
Local No. 85 branch 4 -  (unknown) Chartered 11/1911 active 1911-1912
Industrial Worker, 01/11/1912
Illinois
Chicago
Local No. 85 Branch 5 -  (mixed local)  active 1914
Brissenden (1919) , 361 
Illinois
Chicago
Local No. 85 Branch 6 -  (mixed local) Secretary: B. Schatz active 1914-1917
Brissenden (1919) , 361 ; Branch Secretaries, Military Intelligence Files 
Illinois
Chicago
Local No. 85 Hungarian Branch 7 -  (unknown) Secretary: Steve Gyürfe active 1915-1917
Branch Secretaries, Military Intelligence Files ; 1916 Convention Proceedings, p.??
Illinois
Chicago
Local No. 85, branch 1 -  (unknown) Secretary: R. Stromberg active 1909-1910
Industrial Worker, 03/12/1910 ;Industrial Worker, 09/09/1909
Illinois
Chicago
Propaganda League -  (mixed local) Secretary: Paul Trice active 1910-1914
Brissenden (1919) , 361 - Industrial Worker, 03/12/1910 
Illinois
Chicago 
Local No. 85 Lithuanian Branch 8 -  (unknown)  active 1916
1916 Convention Proceedings
Illinois
Chicago 
unknown -  (Clothing)  active 1909-1910
Brissenden (1919) , 366 
Illinois
Chicago 
unknown -  (Show workers)  active 1909-1910
Brissenden (1919) , 366 
Illinois
Christopher
Local No. 556 -  (unknown)  active 1908
Industrial Union Bulletin, 02/08/1908
Illinois
Collinsville
Local No. 367 -  (unknown)  active 1907
Industrial Union Bulletin, 08/31/1907
Illinois
Dalton
Local No. 267 - Car Repair Workers' Industrial Union (Car repair)  active 1916
Covention
Illinois
Du Quion
Local No. 300 -  (unknown)  active 1907
Industrial Union Bulletin, 12/21/1907
Illinois
Du Quion
Local No. 503 Branch 1 -  (unknown)  active 1907
Industrial Union Bulletin, 08/24/1907
Illinois
East Chicago
unknown -  (Steel workers)  active 1909-1910
Brissenden (1919) , 366 
Illinois
East St. Louis
Local No. 174 -  (unknown)  active 1907-1908
Industrial Union Bulletin, 02/08/1908 ; Industrial Union Bulletin, 08/31/1907
Illinois
Hegewisch
Local No. 302 -  (RR car builders)  active 1909-1910
Brissenden (1919) , 366 ; Industrial Worker, 03/12/1910 
Illinois
LaSalle
Local No. 531 -  (unknown)  active 1907
Industrial Union Bulletin, 08/24/1907
Illinois
Peoria
Local No. 169 -  (unknown)  active 1907
Industrial Union Bulletin, 08/24/1907
Illinois
Peoria
Local No. 67 -  (unknown)  active 1913
Solidarity, 04/26/1913
Illinois
Pullman
Local No. 19 - Metal & Machinery Workers' Industrial Union (Metal and Machinery)  active 1910
Solidarity, 12/17/1910
Illinois
Pullman
Local No. 500 - Transportation Workers' Industrial Union (Transportation) Secretary: W.D. Borger (1909), F. Wessesuski active 1907-1917
Industrial Worker, 03/12/1910 ;Industrial Worker, 09/09/1909 ; Branch Secretaries, Military Intelligence Files ; Industrial Union Bulletin, 08/24/1907 ; Industrial Union Bulletin, 02/08/1908 ; Industrial Worker, 01/05/1911
Illinois
Rockford
Local No. 1100 - Hotel, Restaurant, and Domestic Workers' Industrial Union (Hotel, Restaurant, and Domestic)  active 1919
New Solidarity, 07/19/1919
Illinois
Rockford
Local No. 480 - Furniture Workers' Industrial Union (Furniture) Secretary: Cornelius Carlson active 1914-1919
Brissenden (1919) , 361 ; Solidarity, p.4,05.29.1915 ; New Solidarity, 10/04/1919
Illinois
Rockford
Local No. 480 Lithuanian Branch 2 -  (unknown)  active 1915
1916 Convention Proceedings
Illinois
Rockford
Local No. 480, branch 3 -  (unknown) Secretary: Harrison Haight active 1917
Branch Secretaries, Military Intelligence Files
Illinois
Rockford
Local No. 574 - Construction Workers' Industrial Union (Construction)  active 1916
 Solidarity, p.4,05.06.1916 ; 1916 Convention Proceedings, p.??
Illinois
Seatonville
Local No. 353 -  (unknown)  active 1907
Industrial Union Bulletin, 12/21/1907
Illinois
Seatonville
Local No. 353 branch 2 -  (unknown)  active 1907
Industrial Union Bulletin, 08/31/1907
Illinois
South Chicago
I.U. 303 Croation Branch - Steel Workers' Industrial Union (Steel)  active 1910
Solidarity, 11/12/1910
Illinois
South Chicago
unknown -  (Steel workers)  active 1909-1910
Brissenden (1919) , 366 
Illinois
Springfield
Local No. 172 -  (unknown)  active 1907
Industrial Union Bulletin, 08/24/1907
Illinois
Staunton
Local No 242 - Coal Miners' Industrial Union (Mining-coal) Secretary: Henry Szewezyk. Chartered 11/1911 active 1911-1917
Branch Secretaries, Military Intelligence Files
Illinois
West Pullman
Local No.  -  (Metal workers)  active 1909-1911
Brissenden (1919) , 366 ; Local No. 19
Indiana
Alexandria
Local No. 611 -  (Recruiting)  active 1916
1916 Convention Proceedings,
Indiana
Anderson
Local No. 201 -  (unknown) Secretary: W.H. Barber active 1910
Industrial Worker, 03/12/1910 
Indiana
Anderson
unknown -  (Metal workers)  active 1909-1910
Brissenden (1919) , 366 
Indiana
Elwood
Local No. 306 - Iron, Steel & Tin Plate Workers' Industrial Union (Metal workers)  active 1915
1916 Convention Proceedings
Indiana
Greenwood
Local No. 311 -  (unknown)  active 1907
Industrial Union Bulletin, 08/24/1907
Indiana
Hammond
Local No. 12 -  (Transportation)  active 1907
Industrial Union Bulletin, 08/24/1907
Indiana
Hammond
Local No. 301 -  (unknown) Secretary: John Hermann active 1910
Industrial Worker, 03/12/1910 
Indiana
Hammond
Local No. 600 -  (unknown) Secretary: W. A. Cornland active 1917
Branch Secretaries, Military Intelligence Files
Indiana
Hammond
unknown -  (RR car builders)  active 1909-1910
Brissenden (1919) , 366 
Indiana
Indianapolis
Local No. 105 -  (mixed local)  active 1914
Brissenden (1919) , 361 
Indiana
Indianapolis
Local No. 52 -  (mixed local)  active 1914
Brissenden (1919) , 361 
Indiana
Indianapolis
Local No. 52 -  (unknown)  active 1913
Solidarity, 02/01/1913
Indiana
Indianapolis
Local no. 96 -  (unknown)  active 1907
Industrial Union Bulletin, 06/22/1907
Indiana
Linton
Local No. 138 - Coal Miners' Industrial Union (Mining-coal)  active 1910
Solidarity, 10/15/1910
Indiana
Linton
Local No. 225 -  (unknown)  active 1911
Industrial Worker, 01/05/1911
Indiana
Mishawaka
Local No. 537 -  (unknown)  active 1907
Industrial Union Bulletin, 08/24/1907
Indiana
Muncie
unknown -  (Metal workers)  active 1909-1910
Brissenden (1919) , 366 
Indiana
Muncle
Local No. 200 -  (unknown) Secretary: Henry Hahn active 1910
Industrial Worker, 03/12/1910 
Indiana
North Bend
Local No. 541 -  (unknown)  active 1907
Industrial Union Bulletin, 08/24/1907
Indiana
Plainfield
Local No. 260 -  (unknown)  active 1907
Industrial Union Bulletin, 08/31/1907
Indiana
Plainfield
Local No. 390 -  (unknown)  active 1907
Industrial Union Bulletin, 08/24/1907
Indiana
South Bend
Local No. 360 -  (unknown)  active 1907-1908
Industrial Union Bulletin, 10/19/1907 ; Industrial Union Bulletin, 02/08/1908
Iowa
Des Moines
Local No. 573 - Construction Workers' Industrial Union (Construction)  active 1919
New Solidarity, 02/15/1919
Iowa
Des Moines
Local No. 577 -  (unknown)  active 1913
Solidarity, 09/06/1913
Iowa
Sioux City
Local No. 129 -  (unknown)  active 1911
Industrial Worker, 01/05/1911
Iowa
Sioux City
Local No. 139 -  (unknown) Secretary: Ben Limberger active 1909-1910
Industrial Worker, 03/12/1910 ;Industrial Worker, 09/09/1909
Iowa
Sioux City
Local No. 142 -  (Packing House) Added to the IWW in December of 1916 active 1916
 Solidarity, p.4,12.16.1916 ; 
Iowa
Sioux City
Local No. 400 - Agricultural Workers' Industrial Union (Agriculture)  active 1919
New Solidarity, 10/25/1919
Iowa
Sioux City
Local No. 592 - Sioux City Industrial Union (Lumber) Secretary: Edmond Stafford (1915), Alex Miller (1917) active 1915-1917
 Solidarity 04.24.1915, 05.08.1915, 12.18.1915 ; Branch Secretaries, Military Intelligence Files ; 1916 Convention Proceedings, p.??
Iowa
Sioux City
Propaganda League -  (mixed local)  active 1914-1915
Brissenden (1919) , 361 ; Solidarity, p.1,            Solidarity p.2,01.30.1915 ; 1916 Convention Proceedings, p.??
Iowa
Sioux City
unknown -  (Construction)  active 1909-1910
Brissenden (1919) , 366 
Iowa
Valley Junction
Local No. 577 -  (mixed local) Secretary: Charles Schmidt active 1914-1917
Brissenden (1919) , 361 ; Solidarity, p.1, Solidarity, p.3, Solidarity p.2,01.16.1915, 01.23.1915, 05.29.1915 ; Branch Secretaries, Military Intelligence Files
Kansas
Chicopee
unknown - Miners (mining)  active 1906-1907
Brissenden (1919) , 135 
Kansas
Frontenac
Local No. 520 -  (unknown)  active 1907
Industrial Union Bulletin, 08/24/1907
Kansas
Hutchinson
Local No. 124 -  (unknown) Chartered 06/1907 active 1907
Industrial Union Bulletin, 09/07/1907
Kansas
Kansas City
Local No. 146 -  (mixed local)  active 1914
Brissenden (1919) , 361 
Kansas
Pittsburg
Local No. 212 -  (unknown)  active 1907
Industrial Union Bulletin, 08/31/1907
Kansas
Pittsburg
unknown - Miners (mining)  active 1906-1907
Brissenden (1919) , 135 
Kansas
Wichita
Local No. 205 -  (unknown)  active 1907
Industrial Union Bulletin, 08/31/1907
Kansas
Wichita
Local No. 224 -  (Baking)  active 1907
Industrial Union Bulletin, 07/13/1907
Kansas
Wichita
Local No. 548 -  (Machinists)  active 1907
Industrial Union Bulletin, 08/24/1907
Kansas
Wichita
Local No. 61 -  (Brick workers)  active 1907
Industrial Union Bulletin, 08/31/1907
Kentucky
Louisville
Local No. 31 -  (unknown)  active 1907-1908
Industrial Union Bulletin, 08/24/1907 ; Industrial Union Bulletin, 02/08/1908
Kentucky
Louisville
Local No. 546 -  (unknown)  active 1907
Industrial Union Bulletin, 08/24/1907
Kentucky
Louisville
Local No. 73 -  (unknown)  active 1907
Industrial Union Bulletin, 03/16/1907
Louisiana
Alexandria
Local No. 282 -  (Lumber) Secretary: A. L. Churchill active 1914-1917
Brissenden (1919) , 361 ; Branch Secretaries, Military Intelligence Files
Louisiana
Lake Charles
Local No. 289 -  (unknown)  active 1907-1908
Industrial Union Bulletin, 10/19/1907 ; Industrial Union Bulletin, 02/08/1908
Louisiana
Lake Charles
Local No. 289 branch 2 -  (unknown)  active 1907
Industrial Union Bulletin, 08/31/1907
Louisiana
New Orleans
Local No. 38 -  (unknown) Secretary: F. Albera active 1907-1910
Industrial Worker, 03/12/1910 ;Industrial Worker, 09/09/1909 ; Industrial Union Bulletin, 03/30/1907
Louisiana
New Orleans
Local No. 7 -  (Marine transport)  active 1914
Brissenden (1919) , 361 
Maryland
Baltimore
I.U. 600 - Railroad Workers' Industrial Union (Railroad)  active 1916
1916 Convention Proceedings
Maryland
Baltimore
Local No. 148 -  (unknown) Secretary: Chas. Black active 1917
Branch Secretaries, Military Intelligence Files
Maryland
Baltimore
Local No. 192 -  (Textile) Secretary: Ignatius Legis active 1914-1917
Brissenden (1919) , 362 Solidarity, p.3,06.24.1916 ; Branch Secretaries, Military Intelligence Files
Maryland
Baltimore
Local No. 192 Branch 2 -  (Textile) Secretary: Jos. Naikus active 1914-1917
Brissenden (1919) , 362 ; Branch Secretaries, Military Intelligence Files
Maryland
Baltimore
Local No. 192 Branch 5 - Ladies' Tailors (Clothing)  active 1914
1916 Convention Proceedings
Maryland
Baltimore
Local No. 192, branch 1 -  (unknown) Secretary: John Brunert active 1917
Branch Secretaries, Military Intelligence Files
Maryland
Baltimore
Local No. 275 -  (Tobacco)  active 1914
Brissenden (1919) , 362 
Maryland
Baltimore
Local No. 371 -  (mixed local) Secretary: Alfredo Fratessi active 1914-1917
Brissenden (1919) , 362 ; Branch Secretaries, Military Intelligence Files
Massachusetts
Boston
 - Boston Propaganda League (Propaganda)  active 1915
1916 Convention Proceedings
Massachusetts
Boston
 - Italian Propaganda League (Propaganda)  active 1914
1916 Convention Proceedings
Massachusetts
Boston
Local No. 165 -  (unknown)  active 1907-1908
Industrial Union Bulletin, 10/26/1907 ; Industrial Union Bulletin, 02/08/1908 ; Industrial Union Bulletin, 08/24/1907
Massachusetts
Boston
Local No. 2 -  (Marine transport)  active 1914
Brissenden (1919) , 362 
Massachusetts
Boston
Local No. 324 - General Laborers' Industrial Union (mixed local)  active 1915
1916 Convention Proceedings
Massachusetts
Boston
Local No. 384 -  (unknown) Secretary: Michele D. Orfane active 1917
Branch Secretaries, Military Intelligence Files
Massachusetts
Boston
Local No. 557 -  (Piano)  active 1912
Vincent St. John (1917)
Massachusetts
Boston
Local No. 617 -  (Shoes) Not officially recognized by the IWW. active 1916
 Solidarity, p.1,11.18.1916 ; 
Massachusetts
Brookline
 - Brookline Propaganda (Propaganda) Secretary: J. F. Mason active 1917
Branch Secretaries, Military Intelligence Files
Massachusetts
Brookline
Propaganda League -  (mixed local) Secretary: J F. Mason active 1914-1917
Brissenden (1919) , 362 ; Branch Secretaries, Military Intelligence Files
Massachusetts
Cambridge
Local No. 165 -  (unknown)  active 1907
Industrial Union Bulletin, 10/26/1907
Massachusetts
Cambridge
Local No. 56 -  (unknown)  active 1907
Industrial Union Bulletin, 11/16/1907
Massachusetts
Chicopee Falls
Local No. 470 - Rubber Workers' Industrial Union (Rubber)  active 1919
New Solidarity, 02/15/1919
Massachusetts
East Dedham
Local No. 265 - Railroad Shop Workers' Industrial Union (Railroad) Secretary: Salvatore D'Amico active 1915-1917
Branch Secretaries, Military Intelligence Files ; 1916 Convention Proceedings, p.??
Massachusetts
East Taunton
Local No. 167 - Cotton Workers' Industrial Union (Agriculture)  active 1915
1916 Convention Proceedings
Massachusetts
Fall River
Local No. 204 -  (Textile)  active 1914
Brissenden (1919) , 362 
Massachusetts
Fall River
Local No. 206 -  (unknown) Secretary: J. S. Weznek active 1917
Branch Secretaries, Military Intelligence Files
Massachusetts
Fall River
Local No. 55 -  (Textile) Secretary: Wm. Swindleburst active 1907-1910
Industrial Worker, 03/12/1910 ;Industrial Worker, 09/09/1909 ; Industrial Union Bulletin, 12/21/1907
Massachusetts
Fall River
Local No. 55 -  (unknown)  active 1907
Industrial Union Bulletin, 08/31/1907
Massachusetts
Haverhill
Local No. 161 -  (Textile)  active 1912
Vincent St. John (1917)
Massachusetts
Haverhill
Local No. 169 -  (Textile)  active 1912
Vincent St. John (1917)
Massachusetts
Holyoke
Local No. 205 -  (Textile) Secretary: W.J. Banorowsky active 1914-1915
Brissenden (1919) , 362 ; Solidarity, p.3,08.14.1915 ; 
Massachusetts
Holyoke
Local No. 206 -  (unknown) Secretary: W.J. Bawerovsky active 1917
Branch Secretaries, Military Intelligence Files
Massachusetts
Lawrence
Local No. 20 -  (Textile) Secretary: Joseph Tuminowsky (1915) , C.G. Smith (1909), Seph Temineski (1917) active 1909-1917
Brissenden (1919) , 362 ; Solidarity, p.4,04.03.1915 ; - Industrial Worker, 03/12/1910 ;Industrial Worker, 09/09/1909 ; Branch Secretaries, Military Intelligence Files ; Vincent St. John, The I.W.W.--Its History, Structure and Methods ; Industrial Union Bulletin, 09/28/1907 ; Industrial Union Bulletin, 02/08/1908 ; Industrial Worker, 01/05/1911
Massachusetts
Lowell
Local No. 424 -  (Textile)  active 1911
Industrial Worker, 01/05/1911
Massachusetts
Lowell
Local No. 436 Greek Branch -  (Textile)  active 1910
Solidarity, 12/17/1910
Massachusetts
Lowell
Local No. 436 Lithuanian Branch 1 -  (Textile) Secretary: G. Coppens active 1909-1917
Brissenden (1919) , 362 - Industrial Worker, 03/12/1910 ;Industrial Worker, 09/09/1909 ; Branch Secretaries, Military Intelligence Files ; 1916 Convention Proceedings, p.??
Massachusetts
Lowell
Local No.436 Portuguese Branch 2 -  (Textile)  active 1916
1916 Convention Proceedings
Massachusetts
Lynn
Local No. 209 -  (Machinists)  active 1914
Brissenden (1919) , 362 
Massachusetts
Malden
Local No. 190 -  (Textile)  active 1914
Brissenden (1919) , 362 
Massachusetts
New Bedford
Local No. 157 -  (Textile) Secretary: Wm. Yates (1909), Walter Barlow (1917) active 1907-1917
Brissenden (1919) , 362 ; Industrial Worker, 03/12/1910 ;Industrial Worker, 09/09/1909 ; Branch Secretaries, Military Intelligence Files ; Industrial Worker, 01/05/1911 ; Industrial Union Bulletin, 08/31/1907
Massachusetts
New Bedford
Local No. 157, Italian Branch -  (Textile)  active 1910
Industrial Worker, 03/12/1910 
Massachusetts
Quincy
Local No. 34 Branch 2 -  (mixed local) Secretary: Ottis F. Coffin active 1914-1917
Brissenden (1919) , 362 ; Branch Secretaries, Military Intelligence Files
Massachusetts
Quincy
Local No. 517 -  (unknown)  active 1907-1908
Industrial Union Bulletin, 08/24/1907 ; Industrial Union Bulletin, 02/08/1908
Massachusetts
Quincy Point
Local No. 34 Branch 1 -  (mixed local) Secretary: Alan Cran active 1914-1917
Brissenden (1919) , 362 ; Branch Secretaries, Military Intelligence Files
Massachusetts
Quincy Point
Local No. 34 Branch 2 -  (mixed local)  active 1914
Brissenden (1919) , 362 
Massachusetts
Saxonville
Local No. 21 -  (Textile) Chartered 1907 active 1907
Industrial Union Bulletin, 08/31/1907
Massachusetts
South Barre
Local No. 358 - Textile Workers' Industrial Union (Textile)  active 1916
1916 Convention Proceedings
Massachusetts
South Barre
Local No. 583 -  (unknown) Secretary: Ettor Gerundo active 1917
Branch Secretaries, Military Intelligence Files
Massachusetts
Springfield
 - Springfield Recruiting Union (mixed local)  active 1919
New Solidarity, 02/15/1919
Massachusetts
Vineyard Haven
 -  (unknown) Chartered 06/1907 active 1907
Industrial Union Bulletin, 09/07/1907
Massachusetts
Wakefield
Local No. 98 -  (unknown)  active 1907-1908
Industrial Union Bulletin, 10/26/1907 ; Industrial Union Bulletin, 02/08/1908
Massachusetts
Worcester
Local No. 320 -  (unknown)  active 1907
Industrial Union Bulletin, 08/24/1907
Massachusetts
Worcester
Local No. 60 -  (unknown)  active 1907
Industrial Union Bulletin, 11/16/1907
Michigan
Detroit
Local No. 1100 - Hotel, Restaurant, and Domestic Workers' Industrial Union (Hotel, Restaurant, and Domestic)  active 1919
New Solidarity, 07/19/1919
Michigan
Detroit
Local No. 117 - Shoe Workers' Industrial Union (Shoes) Established in early 1916.
Secretary: A. Cohen active 1916-1917
 Solidarity, p.1,02.12.1916 ; Branch Secretaries, Military Intelligence Files ; 1916 Convention Proceedings, p.??
Michigan
Detroit
Local No. 159 -  (unknown)  active 1907-1908
Industrial Union Bulletin, 08/24/1907
Michigan
Detroit
Local No. 16 -  (Automobile)  active 1911-1915
Brissenden (1919) , 362 ; Solidarity, p.2,01.16.1915, 07.03.1915 ; Solidarity, 01/25/1913 ; Industrial Worker, 01/05/1911
Michigan
Detroit
Local No. 16 Branch 1 -  (mixed local) Secretary: B. F. Boyle active 1914-1917
Brissenden (1919) , 362 ; Branch Secretaries, Military Intelligence Files
Michigan
Detroit
Local No. 16 Branch 2 -  (Automobile) Chartered 10/1911 active 1911-1914
Brissenden (1919) , 362 ; Industrial Worker, 01/11/1912
Michigan
Detroit
Local No. 16 Branch 3 -  (mixed local) Secretary: John Lasdauskas active 1914-1917
Brissenden (1919) , 362 ; Branch Secretaries, Military Intelligence Files
Michigan
Detroit
Local No. 25 -  (Car and foundry workers)  active 1907
Industrial Union Bulletin, 09/07/1907
Michigan
Detroit
Local No. 26 -  (Automobile)  active 1914
Brissenden (1919) , 362 
Michigan
Detroit
Local No. 300 - Metal and Machinery Workers' Industrial Union (Metal and machinery)  active 1919
New Solidarity, 01/18/1919
Michigan
Detroit
Local No. 4 -  (Machinists)  active 1907
Industrial Union Bulletin, 08/24/1907
Michigan
Detroit
Local No. 464 - Alkali & Chemical Workers' Industrial Union (Chemical)  active 1916
1916 Convention Proceedings
Michigan
Detroit
Local No. 551 -  (Automobile)  active 1914
Brissenden (1919) , 362 
Michigan
Detroit
Local No. 551 Branch 1 -  (Automobile)  active 1914
Brissenden (1919) , 362 
Michigan
Detroit
Local No. 551 Branch 2 -  (Automobile)  active 1914
Brissenden (1919) , 362 
Michigan
Detroit
Local No. 603 -  (Food)  active 1914
Brissenden (1919) , 362 
Michigan
Detroit
Local No. 62 -  (mixed local)  active 1910-1914
Brissenden (1919) , 362 ; Solidarity 10/15/1910 ; Local No. 62 -  (unknown)  active 1911
Michigan
Detroit
Local No. 62 branch 2 -  (unknown) Hungarian active 1911-1912
Industrial Worker, 01/11/1912
Michigan
Detroit
Local No. 63 branch 2 -  (unknown) Secretary: John Barthak active 1917
Branch Secretaries, Military Intelligence Files
Michigan
Grand Rapids
Local No. 202 -  (Furniture)  active 1910
Solidarity, 08/13/1910
Michigan
Grand Rapids
Local No. 292 -  (unknown)  active 1911
Industrial Worker, 01/05/1911
Michigan
Jackson
Local No. 4 - Metal and Machinery Workers' Industrial Union (Metal and Machinery)  active 1910
Solidarity, 07/09/1910
Michigan
Jackson
Local No. 605 -  (Recruiting)  active 1916
1916 Convention Proceedings
Michigan
Jackson
unknown -  (Metal workers)  active 1909-1910
Brissenden (1919) , 366 
Michigan
Negaunee
unknown -  (mixed local)  active 1909-1910
Brissenden (1919) , 366 
Minnesota
Aurora
Local No. 490 -  (mining-metals)  active 1916
1916 Convention Proceedings
Minnesota
Biwabik
Local No. 490 - Biwabik Branch (mining-metals)  active 1916
1916 Convention Proceedings
Minnesota
Bovey
Local No. 529 -  (unknown)  active 1907
Industrial Union Bulletin, 10/19/1907 ; Industrial Union Bulletin, 08/24/1907
Minnesota
Buhl
Local No. 490 - Buhl Branch (mining-metals)  active 1916
1916 Convention Proceedings
Minnesota
Chisholm
Local No. 407 -  (unknown)  active 1908
Industrial Union Bulletin, 02/08/1908
Minnesota
Chisholm
Local No. 490 - Chisholm Branch (mining-metals)  active 1916
1916 Convention Proceedings
Minnesota
Crosby
Local No. 490 - Crosby Branch (mining-metals)  active 1916
1916 Convention Proceedings
Minnesota
Dawson
Local No. 76 -  (unknown)  active 1907-1908
Industrial Union Bulletin, 10/19/1907; Industrial Union Bulletin, 02/08/1908
Minnesota
Deer River
Local No. 424 -  (unknown) Secretary: W. Free active 1909-1910
Industrial Worker, 03/12/1910 -Industrial Worker, 09/09/1909
Minnesota
Deer River
unknown -  (Lumber)  active 1909-1910
Brissenden (1919) , 366 
Minnesota
Duluth
Local No. 1100 - Hotel, Restaurant, and Domestic Workers' Industrial Union (Hotel, Restaurant, and Domestic)  active 1919
New Solidarity, 07/19/1919
Minnesota
Duluth
Local No. 126 -  (mixed local) Secretary: Elmer Stonewall active 1914-1917
Brissenden (1919) , 362 ; Branch Secretaries, Military Intelligence Files
Minnesota
Duluth
Local No. 245 - Marine Transport Workers' Industrial Union (Marine transport)  active 1916
 Solidarity, p.1,08.26.1916 ; 1916 Convention Proceedings, p.??
Minnesota
Duluth
Local No. 351 -  (unknown)  active 1907
Industrial Union Bulletin, 08/24/1907
Minnesota
Duluth
Local No. 490 - Metal Mine Workers' Industrial Union (mining-metals) The Mesabi Range strike grew this local into five branches and continued Finnish radical activity in the area drew an additional 5000 members in 1917.  active 1916-1917
Brenner, Day, Ness 466, 469 ; Solidarity, p.4,02.19.1916 ; Casefile 188032, Department of Justice Investigative Files, Part I: The Industrial Workers of the World, Research Collections in American Radicalism (microfilm), Reel 8.
Minnesota
Duluth
Local No. 68 -  (unknown)  active 1911-1913
Solidarity, 06/28/1913 ; Industrial Worker, 01/05/1911
Minnesota
Duluth
Local No. 69 -  (unknown)  active 1913
Solidarity, 10/11/1913
Minnesota
Eveleth
Local No. 490 - Eveleth Branch (mining-metals)  active 1916
1916 Convention Proceedings
Minnesota
Gilbert
Local No. 490 - Gilbert Branch (mining-metals)  active 1916
1916 Convention Proceedings
Minnesota
Hibbing
Local No. 47 -  (Public service)  active 1907-1908
Industrial Union Bulletin, 11/16/1907 ; Industrial Union Bulletin, 02/08/1908
Minnesota
Hibbing
Local No. 490 - Hibbing Branch (mining-metals)  active 1916
1916 Convention Proceedings
Minnesota
Hibbing
Local No. 552 -  (unknown)  active 1907
Industrial Union Bulletin, 08/24/1907
Minnesota
Kinney
Local No. 490 - Kinney Branch (mining-metals)  active 1916
1916 Convention Proceedings
Minnesota
Minneapolis
 - Scandinavian Propaganda League (Propaganda) Secretary: Helge Millburg active 1917
Branch Secretaries, Military Intelligence Files
Minnesota
Minneapolis
A.W.O. 400 - Agricultural Workers' Organization No. 400 (Agriculture) W. T. Nef active 1917
Minute Books (or subsequent document titles), Casefile 188032, Department of Justice Investigative Files, Part I: The Industrial Workers of the World, Research Collections in American Radicalism (microfilm), Reel 8. ; Branch Secretaries, Military Intelligence Files
Minnesota
Minneapolis
Local No. 137 -  (unknown) Secretary: Peter Johnson active 1910-1912
Industrial Worker, 03/12/1910 ; Industrial Worker, 01/05/1911; Industrial Worker, 01/04/1912
Minnesota
Minneapolis
Local No. 14 -  (Transportation)  active 1907-1908
Industrial Union Bulletin, 08/31/1907 ; Industrial Union Bulletin, 02/08/1908
Minnesota
Minneapolis
Local No. 221 -  (mixed local)  active 1913-1914
Brissenden (1919) , 362 ; Solidarity, 10/11/1913
Minnesota
Minneapolis
Local No. 356 -  (unknown)  active 1907
Industrial Union Bulletin, 08/24/1907
Minnesota
Minneapolis
Local No. 383 -  (unknown) Polish active 1910-1911
Solidarity, 08/13/1910 ; Industrial Worker, 01/05/1911
Minnesota
Minneapolis
Local No. 400 -  (Metal and machinery)  active 1907
Industrial Union Bulletin, 11/16/1907
Minnesota
Minneapolis
Local No. 490 - Metal Mine Workers' Industrial Union (mining-metals)  active 1916
1916 Convention Proceedings
Minnesota
Minneapolis
Local No. 500 -  (Transportation)  active 1914
Brissenden (1919) , 362
Minnesota
Minneapolis
Local No. 573 - Construction Workers' Industrial Union (Construction)  active 1916-1917
Minute Books (or subsequent document titles), Casefile 188032, Department of Justice Investigative Files, Part I: The Industrial Workers of the World, Research Collections in American Radicalism (microfilm), Reel 8. ; 1916 Convention Proceedings, p.??
Minnesota
Minneapolis
Local No. 600 - Railroad Workers' Industrial Union (Railroad)  active 1919
New Solidarity, 11/08/1919
Minnesota
Minneapolis
Local No. 64 -  (mixed local) Secretary: Charles Gray (1915), C.H. Fisher (1909), C.W. Anderson (1917) active 1909-1917
Brissenden (1919) , 362 ; Solidarity, p.4,           Solidarity, p.1,03.20.1915, 03.27.1915 ; - Industrial Worker, 03/12/1910 ;Industrial Worker, 09/09/1909 ; Branch Secretaries, Military Intelligence Files ; Industrial Worker, 01/05/1911; Industrial Worker, 01/04/1912 ; Industrial Union Bulletin, 08/24/1907
Minnesota
Minneapolis
Local No. 64 Branch 2 -  (unknown)  active 1910
Solidarity, 08/13/1910
Minnesota
Northfield
Local No. 176 -  (unknown)  active 1907
Industrial Union Bulletin, 11/16/1907
Minnesota
St. Paul
Local No. 307 -  (mixed local)  active 1906-914
Brissenden (1919) , 135, 362 ; Industrial Union Bulletin, 03/30/1907
Minnesota
Virginia
Local No. 490 - Virginia Branch (mining-metals)  active 1916
1916 Convention Proceedings
Minnesota
Virginia
Local No. 800 - Metal Mine Workers' Industrial Union (mining-metals)  active 1919
New Solidarity, 01/25/1919
Missouri
Bates
Local No. 409 -  (unknown)  active 1908
Industrial Union Bulletin, 02/08/1908
Missouri
Flat River
unknown - Retail Clerks Union (Retail)  active 1906-1907
Brissenden (1919) , 134 
Missouri
Kansas City
 - Kansas City Propaganda League (unknown) Secretary: Hugh M. Scott active 1909
Industrial Worker, 09/09/1909
Missouri
Kansas City
I.U. 400 - Agricultural Workers' Organization (Agriculture)  active 1915
 Solidarity, p.1,05.22.1915 ; 
Missouri
Kansas City
Local No. 193 - Clothing Workers' Industrial Union (Clothing) Chartered 09/1911 active 1911-1912
Industrial Worker, 01/11/1912
Missouri
Kansas City
Local No. 54 -  (unknown)  active 1907
Industrial Union Bulletin, 11/16/1907
Missouri
Kansas City
Local No. 61 -  (mixed local) Secretary: N.E. McGuskin active 1912-1917
Brissenden (1919) , 363 ; Solidarity, p.4,           Solidarity, p.1,            Solidarity, p.1,01.30.1915, 04.03.1915, 10.16.1915 ; Branch Secretaries, Military Intelligence Files ; Solidarity, 08/23/1913 ; Industrial Worker, 01/04/1912
Missouri
Kansas City
Local No. 8 -  (unknown)  active 1907-1908
Industrial Union Bulletin, 08/24/1907 ; Industrial Union Bulletin, 04/18/1908
Missouri
St. Joseph
Local No. 18 -  (unknown)  active 1907
Industrial Union Bulletin, 10/19/1907
Missouri
St. Louis
Local No. 188 -  (unknown) Secretary: B. Blumoff active 1907-1911
Industrial Worker, 03/12/1910 ;Industrial Worker, 09/09/1909 ; Industrial Union Bulletin, 10/19/1907 ;  Industrial Worker, 01/05/1911
Missouri
St. Louis
Local No. 188, branch 2 -  (unknown) Secretary: I. Goldberg active 1910
Industrial Worker, 03/12/1910 
Missouri
St. Louis
Local No. 413 -  (unknown) Secretary: W.A. Hoffman active 1909-1911
Industrial Worker, 03/12/1910 ;Industrial Worker, 09/09/1909 ; Industrial Worker, 01/05/1911
Missouri
St. Louis
Local No. 84 -  (unknown) Secretary: Julius Pollock active 1907-1913
Industrial Worker, 03/12/1910 ;Industrial Worker, 09/09/1909 ; Industrial Union Bulletin, 08/24/1907 ; Industrial Union Bulletin, 02/08/1908 ; Industrial Worker, 01/05/1911 ; Industrial Worker, 01/04/1912 ; Solidarity, 03/15/1913
Missouri
St.Louis
Local No. 101 -  (mixed local)  active 1914
Brissenden (1919) , 363 
Missouri
St.Louis
Local No. 84 -  (mixed local) Secretary: A. Ross (1915), Frank Vanne (1917) active 1914-1917
Brissenden (1919) , 363 ; Solidarity, p.3,          Solidarity, p.3,10.02.1915, 12.11.1915 ; Branch Secretaries, Military Intelligence Files
Missouri
St.Louis
Local No. 90 - Shoemakers (Shoes)  active 1906-1907
Brissenden (1919) , 135 
Missouri
St.Louis
unknown -  (Clothing)  active 1909-1910
Brissenden (1919) , 366 
Missouri
Webb City
Local No. 603 - Metal, Mine & Smelter Workers' Industrial Union (Metal workers) Secretary: James Riley active 1916-1917
Branch Secretaries, Military Intelligence Files ; 1916 Convention Proceedings, p.??
Montana
Anaconda
Local No. 105 -  (unknown) Secretary: John Byrne active 1907-1911
Industrial Worker, 03/12/1910 ;Industrial Worker, 09/09/1909 ; Industrial Union Bulletin, 07/13/1907 ; Industrial Union Bulletin, 09/07/1907 ; Industrial Worker, 01/05/1911
Montana
Anaconda
Local No. 142 -  (unknown) Secretary: J.F. Schroeder active 1909-1911
Industrial Worker, 03/12/1910 ;Industrial Worker, 09/09/1909 ; Industrial Worker, 01/05/1911
Montana
Anaconda
unknown -  (mixed local)  active 1909-1910
Brissenden (1919) , 366 
Montana
Billings
Local No. 39 -  (unknown) Secretary: Ralph H. Belcher active 1909-1910
Industrial Worker, 03/12/1910 ;Industrial Worker, 09/09/1909
Montana
Butte
 - Delivery Workers' Industrial Union (Delivery)  active 1907
Industrial Union Bulletin, 11/16/1907
Montana
Butte
Local No. 405 -  (unknown) Secretary: F.C. Meyer active 1908-1910
Industrial Worker, 03/12/1910 ;Industrial Worker, 09/09/1909 ; Industrial Union Bulletin, 05/23/1908
Montana
Butte
Local No. 411 -  (unknown)  active 1907
Industrial Union Bulletin, 12/21/1907
Montana
Butte
Local No. 465 -  (unknown)  active 1911
Industrial Worker, 01/05/1911
Montana
Butte
Local No. 5 -  (unknown)  active 1907
Industrial Union Bulletin, 08/24/1907
Montana
Butte
Propaganda League -  (mixed local) Secretary: Ed. Ross (1917), Paul Cooney (1910) active 1910-1917
Brissenden (1919) , 363 ; Branch Secretaries, Military Intelligence Files ; Industrial Worker, 03/12/1910 
Montana
Butte
unknown -  (Baking)  active 1909-1910
Brissenden (1919) , 366 
Montana
Butte
unknown - Bakery Workers (Baking)  active 1906-1907
Brissenden (1919) , 135 
Montana
Darby
Local No. 33 -  (unknown) Secretary: Pete Brown active 1909
Industrial Worker, 09/09/1909
Montana
Great Falls
Local No. 41 -  (unknown) Secretary: J.W. Bailey active 1909-1910
Industrial Worker, 03/12/1910 ;Industrial Worker, 09/09/1909
Montana
Great Falls
Local No. 571 -  (mixed local)  active 1913-1914
Brissenden (1919) , 363 ; Solidarity, 09/20/1913
Montana
Kalispell
Local No. 300 -  (unknown) Secretary: M.F. McClung active 1909
Industrial Worker, 09/09/1909
Montana
Kalispell
Local No. 411 -  (unknown)  active 1908
Industrial Union Bulletin, 01/18/1908
Montana
Kalispell
Local No. 421 - Brewery Workers (Brewery) Secretary: Joe Duddy active 1908-1911
Industrial Worker, p. 1 May 6, 1909 - Industrial Worker, 03/12/1910 ;Industrial Worker, 09/09/1909 ; Industrial Union Bulletin, 02/08/1908 ; Industrial Worker, 01/05/1911
Montana
Kalispell
unknown -  (Lumber)  active 1909-1910
Brissenden (1919) , 366 
Montana
Lewistown
Local No. 65 -  (unknown)  active 1907
Industrial Union Bulletin, 11/16/1907
Montana
Missoula
Local No. 140 -  (unknown)  active 1913
Solidarity, 05/31/1913
Montana
Missoula
Local No. 40 -  (Lumber) Voted to join AWO, Secretary: Pete Brown active 1910-1916
Brissenden (1919) , 363 ; Solidarity, p.4,04.01.1916 ; - Industrial Worker, 03/12/1910 ; Industrial Worker, 01/05/1911; Industrial Worker, 01/11/1912
Montana
Missoula
unknown -  (Lumber)  active 1909-1910
Brissenden (1919) , 366 
Montana
Red Lodge
Local No. 181 - Domestic Service Workers Industral Unon (Domestic)  active 1910-1911
Industrial Worker, 01/05/1911 ; Solidarity, 07/09/1910
Montana
Roundup
unknown -  (Construction)  active 1909-1910
Brissenden (1919) , 366 
Montana
St. Regis
Local No. 35 -  (unknown) Secretary: H.C. McCann active 1909
Industrial Worker, 09/09/1909
Nebraska
Omaha
Local No. 36 -  (unknown) Secretary: F.H. Alexander active 1909-1910
Industrial Worker, 09/09/1909;Industrial Worker, 03/12/1910 
Nebraska
Omaha
Local No. 384 -  (unknown)  active 1913
Solidarity, 01/25/1913
Nebraska
Omaha
Local No. 595 - Omaha Industrial Union (unknown) Secretary: J.J. Rogers active 1915-1917
Branch Secretaries, Military Intelligence Files ; 1916 Convention Proceedings, p.??
Nebraska
Omaha
Local No. 86 -  (unknown)  active 1907-1908
Industrial Union Bulletin, 01/18/1908 ; Industrial Union Bulletin, 08/31/1907
Nebraska
Omaha
Propaganda League -  (mixed local)  active 1914
Brissenden (1919) , 363 
Nevada
Beatty
Loca No. 262 -  (unknown)  active 1907-1908
Industrial Union Bulletin, 07/13/1907 ; Industrial Union Bulletin, 02/08/1908
Nevada
Goldfield
 - Railway Workers' Industrial Union (Railway)  active 1907
Industrial Union Bulletin, 11/16/1907
Nevada
Goldfield
Local No. 353 -  (mixed local) Secretary: Chas. C. Chambers active 1914-1917
Brissenden (1919) , 363 ; Branch Secretaries, Military Intelligence Files
Nevada
National
Local No. 72 -  (unknown)  active 1910-1911
Industrial Worker, 01/05/1911; Solidarity, 12/17/1910
Nevada
National
unknown -  (mixed local)  active 1909-1910
Brissenden (1919) , 366 
Nevada
Reno
Local No. 306 -  (unknown)  active 1907
Industrial Union Bulletin, 08/31/1907
Nevada
Reno
Local No. 588 -  (mixed local)  active 1914
Brissenden (1919) , 363 
Nevada
Rhyolite
Local No. 258 -  (unknown)  active 1907-1908
Industrial Union Bulletin, 08/24/1907 ; Industrial Union Bulletin, 02/08/1908
Nevada
Spring Valley
Local No. 353 -  (unknown)  active 1907
Industrial Union Bulletin, 10/19/1907
Nevada
Tonopah
Local No. 111 -  (unknown) Secretary: T.R. Wilson active 1917
Branch Secretaries, Military Intelligence Files
Nevada
Tonopah
Local No. 325 -  (unknown)  active 1907
Industrial Union Bulletin, 03/02/1907
Nevada
Tonopah
Propaganda League -  (mixed local)  active 1914
Brissenden (1919) , 363 
Nevada
Unionville
Local No. 100 -  (unknown) Chartered 05/1907 active 1907
Industrial Union Bulletin, 09/07/1907
New Hampshire
Nashua
Local No. 359 - Textile Industrial Workers' Union (Textile)  active 1916
1916 Convention Proceedings
New Jersey
Athenia
Local No. 266 - Shop Workers' Industrial Union (Retail)  active 1916
1916 Convention Proceedings
New Jersey
Bayonne
Local No. 42 -  (unknown)  active 1907
Industrial Union Bulletin, 09/07/1907
New Jersey
Elizabeth
Local No. 29 -  (Machinists)  active 1907
Industrial Union Bulletin, 08/24/1907
New Jersey
Elizabeth
Local No. 74 -  (Machinists)  active 1907
Industrial Union Bulletin, 08/24/1907
New Jersey
Harrison
Local No. 24 -  (unknown) Secretary: A. Hagaberg active 1909-1910
Industrial Worker, 03/12/1910 ;Industrial Worker, 09/09/1909
New Jersey
Hoboken
Local No. 120 -  (unknown)  active 1908
Industrial Union Bulletin, 02/08/1908
New Jersey
Hoboken
Local No. 504 -  (Transportation)  active 1914
Brissenden (1919) , 363 
New Jersey
Hudson County
Local No. 120 -  (unknown)  active 1907
Industrial Union Bulletin, 09/07/1907
New Jersey
Jamestown
Local No. 365 - Mixed Industries (mixed local)  active 1906-1907
Brissenden (1919) , 135 
New Jersey
Jersey City
Local No. 502 - Macaroni Workers' Industrial Union (Macaroni)  active 1916
1916 Convention Proceedings
New Jersey
Jersey City
Local No. 510 -  (unknown) Secretary: H. Hartman active 1907-1910
Industrial Worker, 03/12/1910 ;Industrial Worker, 09/09/1909 ; Industrial Union Bulletin, 05/18/1907
New Jersey
Jersey City
Local No. 67 -  (mixed local)  active 1907-1908
Industrial Union Bulletin, 05/04/1907 ; Industrial Union Bulletin, 05/23/1908
New Jersey
Jersey City
unknown - Industrial Workers Union (mixed local)  active 1906-1907
Brissenden (1919) , 134 
New Jersey
Kearny
Local No. 24 -  (unknown)  active 1907
Industrial Union Bulletin, 12/21/1907
New Jersey
New Brunswick
Local No. 476 - Textile Workers' Industrial Union (Textile) Secretary: Andrew Newman active 1915-1917
Branch Secretaries, Military Intelligence Files ; 1916 Convention Proceedings, p.??
New Jersey
Newark
Local No.  -  (Excavators) Chartered 06/1907 active 1907
Industrial Union Bulletin, 09/07/1907
New Jersey
Newark
Local No. 123 -  (mixed local)  active 1914
Brissenden (1919) , 363 
New Jersey
Newark
Local No. 153 -  (unknown) Secretary: John Polleshia active 1917
Branch Secretaries, Military Intelligence Files
New Jersey
Newark
Local No. 24 -  (Machinists)  active 1907
Industrial Union Bulletin, 10/19/1907
New Jersey
Newark
Local No. 300 - Metal and Machinery Workers' Industrial Union (Metal and machinery)  active 1919
New Solidarity, 11/22/1919
New Jersey
Newark
Local No. 90 -  (mixed local) Secretary: Jacob Israeal active 1914-1917
Brissenden (1919) , 363 ; Solidarity, p.2,04.11.1914 ; Branch Secretaries, Military Intelligence Files
New Jersey
Paterson
Local No. 1000 - Textile Workers' Industrial Union (Textile)  active 1919
New Solidarity, 08/30/1919
New Jersey
Paterson
Local No. 152 - Silk Workers (Textile) Membership grew from 900 members prior to the Paterson Strike (1913) to 10,000 during the conflict. SecretaryL Charles Krattiger active 1907-1917
Brissenden (1919) , 363 ;  Melvyn Dubofsky, We Shall Be All: A History of the IWW,  271-2 ; Solidarity, p.4,05.29.1915 ; Branch Secretaries, Military Intelligence Files ; Industrial Union Bulletin, 03/16/1907; Industrial Union Bulletin, 02/01/1908
New Jersey
Paterson
Local No. 152 Branch 1 -  (unknown)  active 1907
Industrial Union Bulletin, 08/24/1907
New Jersey
Paterson
Local No. 152 branch 2 -  (unknown)  active 1907
Industrial Union Bulletin, 09/07/1907
New Jersey
Paterson
Local No. 152 Branch 4 -  (unknown)  active 1907
Industrial Union Bulletin, 08/24/1907
New Jersey
Paterson
Local No. 152 Branch 5 -  (unknown)  active 1907
Industrial Union Bulletin, 08/24/1907
New Jersey
Paterson
Local No. 156 -  (Woodworkers)  active 1907
Industrial Union Bulletin, 08/31/1907
New Jersey
Paterson
Local No. 214 -  (Broad silk weavers)  active 1907
Industrial Union Bulletin, 03/02/1907
New Jersey
Paterson
Local No. 22 -  (Locomotive builders)  active 1907
Industrial Union Bulletin, 06/15/1907
New Jersey
Paterson
Local No. 25 -  (Textile)  active 1914
Brissenden (1919) , 363 
New Jersey
Paterson
Local No. 4 - Flax Dressers' Union (Flax dressers)  active 1907
Industrial Union Bulletin, 08/24/1907
New Jersey
Paterson
Local No. 42 -  (Musicians)  active 1907
Industrial Union Bulletin, 08/24/1907
New Jersey
Paterson
Local No. 63 -  (Machinists)  active 1907
Industrial Union Bulletin, 08/24/1907
New Jersey
Paterson
Local No. 63 -  (Machinists)  active 1907
Industrial Union Bulletin, 08/24/1907
New Jersey
Paterson
unknown - Industrial Workers Union (mixed local)  active 1906-1907
Brissenden (1919) , 134 
New Jersey
Summit
Local No. 212 - Silk Workers' Industrial Union (Textile)  active 1914-1917
Brissenden (1919) , 363 ; Branch Secretaries, Military Intelligence Files ; 1916 Convention Proceedings, p.??
New Jersey
West Hoboken
Local No. 120 -  (Textile) Secretary: D. Ficari active 1909-1911
Industrial Worker, 03/12/1910 ;Industrial Worker, 09/09/1909 ; Industrial Worker, 01/05/1911
New Jersey
West Hoboken
Local No. 514 -  (Textile) Secretary: A. Clerici active 1914-1917
Brissenden (1919) , 363 ; Branch Secretaries, Military Intelligence Files
New York
Brooklyn
 - Propaganda League (Propaganda)  active 1914
1916 Convention Proceedings
New York
Brooklyn
Local No. 177 -  (unknown)  active 1907
Industrial Union Bulletin, 08/24/1907
New York
Brooklyn
Local No. 179 -  (unknown) Secretary: J.A. Houlston active 1909-1910
Industrial Worker, 03/12/1910 ;Industrial Worker, 09/09/1909
New York
Brooklyn
Local No. 179 Branch 1 -  (mixed local) Secretary: D. Goldstein active 1914-1917
Brissenden (1919) , 364 ; Branch Secretaries, Military Intelligence Files
New York
Brooklyn
Local No. 192 -  (Cigar makers)  active 1907
Industrial Union Bulletin, 08/31/1907
New York
Brooklyn
Local No. 193 -  (unknown)  active 1907
Industrial Union Bulletin, 08/24/1907
New York
Brooklyn
Local No. 206 -  (unknown)  active 1907
Industrial Union Bulletin, 08/24/1907
New York
Brooklyn
Local No. 213 -  (Machinists)  active 1914
Brissenden (1919) , 364 
New York
Brooklyn
Local No. 25 -  (Machinists)  active 1907
Industrial Union Bulletin, 08/24/1907
New York
Brooklyn
Local No. 300 - Metal and Machinery Workers' Industrial Union (Metal and machinery)  active 1919
New Solidarity, 11/22/1919
New York
Brooklyn
Local No. 46 - Brooklyn Branch Bakery Workers' Industrial Union (Baking)  active 1916
1916 Convention Proceedings
New York
Brooklyn
Local No. 466 -  (mixed local)  active 1914-1917
Brissenden (1919) , 364 ; Branch Secretaries, Military Intelligence Files
New York
Brooklyn
Local No. 495 - Sugar Workers' Industrial Union (Food)  active 1915
1916 Convention Proceedings
New York
Brooklyn
Local No. 599 -  (Recruiting) Established in 04/1916 active 1916
 Solidarity, p.4,07.22.1916 ; 1916 Convention Proceedings, p.??
New York
Brooklyn
Local No. 701 -  (Printing)  active 1914
Brissenden (1919) , 364 
New York
Buffalo
 - Buffalo Propaganda League (Propaganda) Secretary: H. Tuthill active 1910
Industrial Worker, 03/12/1910 
New York
Buffalo
I.U. 200 - Marine Transport Workres' Industrial Union No. 200 (Marine Transport)  active 1917
 Solidarity, p.4,05.26.1917 ; 
New York
Buffalo
Local No. 317 -  (unknown) Polish; Secretary: J. Fronkowlak active 1907-1911
Industrial Worker, 03/12/1910 ;Industrial Worker, 09/09/1909 ; Industrial Union Bulletin, 08/24/1907 ; Industrial Union Bulletin, 04/18/1908 ; Industrial Worker, 01/05/1911
New York
Buffalo
Local No. 43 -  (Machinists)  active 1907-1908
Industrial Union Bulletin, 05/25/1907; Industrial Union Bulletin, 02/08/1908
New York
Buffalo
Local No. 5 -  (mixed local) Secretary: Joseph Klepus active 1914-1917
Brissenden (1919) , 363 ; Solidarity, p.2,          Solidarity, p.1,05.29.1915, 06.26.1920 ;  Branch Secretaries, Military Intelligence Files
New York
College Point
Local No. 301 -  (unknown)  active 1907
Industrial Union Bulletin, 08/24/1907
New York
Dunkirk
Local No. 17 - Metal & Machinery Workers' Industrial Union (Metal and Machinery)  active 1910-1911
Solidarity, 11/12/1910 ; Industrial Worker, 01/05/1911
New York
Dunkirk
unknown -  (Metal workers)  active 1909-1910
Brissenden (1919) , 366 
New York
Harlem
Local No. 300 - Metal and Machinery Workers' Industrial Union (Metal and machinery)  active 1919
New Solidarity, 11/22/1919
New York
Jamestown
Local No. 114 -  (mixed local)  active 1914
Brissenden (1919) , 363 
New York
Jamestown
Local No. 353 -  (unknown)  active 1907
Industrial Union Bulletin, 08/31/1907
New York
Jamestown
Local No. 365 -  (unknown)  active 1907
Industrial Union Bulletin, 08/24/1907
New York
Jamestown
Local No. 553 -  (Furniture workers)  active 1907
Industrial Union Bulletin, 08/31/1907
New York
Jersey City
Local No. 163 -  (unknown) Secretary: W.N. Waggoner active 1907-1910
Industrial Worker, 03/12/1910 ;Industrial Worker, 09/09/1909 ; Industrial Union Bulletin, 10/19/1907
New York
Little Falls
Local No. 207 -  (Textile) Secretary: Paul Slevis active 1914-1917
Brissenden (1919) , 363 ; Branch Secretaries, Military Intelligence Files
New York
Long Island City
Local No. 301 -  (Macaroni) Secretary: Guiseppe Fallettini active 1915-1917
 Solidarity, p.4,10.28.1916 ; Branch Secretaries, Military Intelligence Files ; 1916 Convention Proceedings, p.??
New York
New York
 -  (Bakery and confectionary workers) Chartered 06/1907 active 1907
Industrial Union Bulletin, 09/07/1907
New York
New York
  active 1916
1916 Convention Proceedings
New York
New York
 - New York Propaganda League (mixed local)  active 1908
Industrial Union Bulletin, 06/27/1908
New York
New York
I.U. 49 -  (unknown)  active 1917
 Solidarity, p.8,08.08.1916 ; 
New York
New York
Local No, 180 - Domestic Service Workers' Industrial Union (Domestic)  active 1910
Solidarity, 07/09/1910
New York
New York
Local No. ? -  (Watch and Clock Workers)  active 1913
Solidarity, 02/01/1913
New York
New York
Local No. 1 -  (Marine transport) Secretary: John L. Cantela active 1914-1917
Brissenden (1919) , 364 ; Branch Secretaries, Military Intelligence Files
New York
New York
Local No. 1000 - Textile Workers' Industrial Union (Textile)  active 1919
New Solidarity, 11/22/1919
New York
New York
Local No. 105 -  (Tobacco)  active 1913
Solidarity, 01/04/1913
New York
New York
Local No. 112 - Hotel & Restaurant Workers' Industrial Union (Hospitality)  active 1915
1916 Convention Proceedings
New York
New York
Local No. 1200 - Printing and Publishing Workers' Industrial Union (Printing and publishing)  active 1919
New Solidarity, 04/19/1919
New York
New York
Local No. 129 -  (unknown)  active 1913
Solidarity, 01/04/1913
New York
New York
Local No. 130 -  (unknown) Secretary: N. Beekman active 1907-1910
Industrial Worker, 03/12/1910 ;Industrial Worker, 09/09/1909 ; Industrial Union Bulletin, 08/24/1907
New York
New York
Local No. 134 -  (unknown)  active 1913
Solidarity, 01/04/1913
New York
New York
Local No. 15 -  (unknown) Secretary: A. Black active 1909-1910
Industrial Worker, 03/12/1910 ;Industrial Worker, 09/09/1909 ; Industrial Union Bulletin, 12/21/1907
New York
New York
Local No. 161 -  (Typography) Secretary: C. Delz active 1907-1909
Industrial Worker, 03/12/1910 ;Industrial Worker, 09/09/1909 ; Industrial Union Bulletin, 07/04/1908 ; Industrial Union Bulletin, 08/31/1907
New York
New York
Local No. 161 Hungarian Branch 3 -  (unknown)  active 1907
Industrial Union Bulletin, 08/24/1907
New York
New York
Local No. 166 -  (unknown)  active 1907
Industrial Union Bulletin, 08/24/1907
New York
New York
Local No. 168 -  (Shoes) 1000 members as of 11/1910 active 1910
Solidarity, 11/5/1910
New York
New York
Local No. 177 - Capmakers (Clothing)  active 1906-1907
Brissenden (1919) , 135 
New York
New York
Local No. 179 -  (mixed local)  active 1911-1915
Brissenden (1919) , 364 ; Solidarity, p.2,          Solidarity, p.4,03.06.1915, 04.03.1915, 06.19.1915 ; Solidarity, 01/04/1913 ; Industrial Worker, 01/05/1911; Industrial Worker, 01/04/1912
New York
New York
Local No. 179 Branch 3 -  (mixed local) Secretary: L. Fischbein active 1914-1917
Brissenden (1919) , 364 ; Branch Secretaries, Military Intelligence Files
New York
New York
Local No. 189 - Clothing Workers' Industrial Union (Clothing)  active 1910-1913
Solidarity, 11/12/1910 ; Solidarity, 01/04/1913 ; Industrial Worker, 01/05/1911
New York
New York
Local No. 194 -  (unknown)  active 1907
Industrial Union Bulletin, 08/24/1907
New York
New York
Local No. 198 - Shirt Workers' Industrial Union (Clothing)  active 1915
1916 Convention Proceedings
New York
New York
Local No. 230 -  (unknown)  active 1913
Solidarity, 01/04/1913
New York
New York
Local No. 261 -  (unknown)  active 1907
Industrial Union Bulletin, 07/27/1907
New York
New York
Local No. 357 -  (unknown)  active 1913
Solidarity, 01/04/1913
New York
New York
Local No. 389 -  (unknown)  active 1907
Industrial Union Bulletin, 08/24/1907
New York
New York
Local No. 420 -  (unknown) Secretary: C.G. Fisher active 1909-1910
Industrial Worker, 03/12/1910 ;Industrial Worker, 09/09/1909
New York
New York
Local No. 46 -  (Baking) Secretary: Luigi Rota active 1909 - 1917
Brissenden (1919) , 364 ; Branch Secretaries, Military Intelligence Files ; New Solidarity, 11/22/1919 ; Industrial Union Bulletin, 11/16/1907
New York
New York
Local No. 462 -  (Button Making) Formerly AFL active 1916
 Solidarity, p.1,11.25.1916 ; 
New York
New York
Local No. 487 - Electrical Workers' Industrial Union (Electrical)  active 1916
1916 Convention Proceedings
New York
New York
Local No. 522 -  (Musicians)  active 1908
Industrial Union Bulletin, 08/22/1908
New York
New York
Local No. 522 Branch 1 -  (unknown)  active 1907
Industrial Union Bulletin, 08/24/1907
New York
New York
Local No. 522 branch 1 -  (unknown)  active 1907
Industrial Union Bulletin, 09/07/1907
New York
New York
Local No. 522 Branch 3 -  (unknown)  active 1907
Industrial Union Bulletin, 08/24/1907
New York
New York
Local No. 527 -  (Textile) Secretary: Mary E. Takajian active 1914-1917
Brissenden (1919) , 364 ; Branch Secretaries, Military Intelligence Files
New York
New York
Local No. 536 - Hungarian Recruiting Local (mixed local)  active 1907
Industrial Union Bulletin, 03/23/1907
New York
New York
Local No. 546 -  (unknown)  active 1913
Solidarity, 01/04/1913
New York
New York
Local No. 547 - Italian Barbers' Local (Barbers) Started in 1907 active 1907
Industrial Union Bulletin, 08/24/1907
New York
New York
Local No. 556 -  (unknown)  active 1913
Solidarity, 01/04/1913
New York
New York
Local No. 558 -  (Piano Workers) Over 100 members in 1914 active 1913
Solidarity, 01/04/1913
New York
New York
Local No. 561 - Piano Workers' Industrial Union (Piano)  active 1916
1916 Convention Proceedings
New York
New York
Local No. 58 -  (unknown)  active 1907
Industrial Union Bulletin, 08/24/1907
New York
New York
Local No. 59 -  (Clothing)  active 1907
Industrial Union Bulletin, 03/16/1907
New York
New York
Local No. 59 branch 3 -  (Clothing)  active 1907
Industrial Union Bulletin, 08/24/1907
New York
New York
Local No. 59 branch 3 -  (Clothing)  active 1907
Industrial Union Bulletin, 08/31/1907
New York
New York
Local No. 9 -  (mixed local) Secretary: Joseph Novak active 1913-1917
Brissenden (1919) , 364 ; Branch Secretaries, Military Intelligence Files 
New York
New York
Local No. 9 - Bohemian Metal Workers' Union (Metal)  active 1913
Solidarity, 03/08/1913
New York
New York
Local No. 91 -  (unknown)  active 1907
Industrial Union Bulletin, 08/24/1907
New York
New York
Local No. 95 -  (Building Workers) Secretary: W. Northrop active 1907-1913
Industrial Worker, 03/12/1910 ;Industrial Worker, 09/09/1909  ; Solidarity 02/12/1910 ; Solidarity, 01/04/1913 ; Industrial Union Bulletin, 10/26/1907 ; Industrial Union Bulletin, 08/22/1908
New York
New York
Local No. 95 Branch 10 -  (unknown)  active 1907
Industrial Union Bulletin, 08/24/1907
New York
New York
Local No. 95 Branch 4 - Building Trades Industrial Union (Building Trades)  active 1907
Industrial Union Bulletin, 08/24/1907
New York
New York
Local No. 95 Iron Workers' Branch - Building Trades Industrial Union (Iron Workers)  active 1907
Industrial Union Bulletin, 08/24/1907
New York
New York
unknown -  (Clothing)  active 1909-1910
Brissenden (1919) , 366 
New York
New York
unknown -  (Construction)  active 1909-1910
Brissenden (1919) , 366 
New York
New York
unknown -  (Public service)  active 1909-1910
Brissenden (1919) , 366 
New York
New York
unknown - Electrical Workers' Industrial Union (Electrical)  active 1916
 Solidarity, p.4,05.27.1916 ; 
New York
New York
unknown - Italian Federation of Bakers (Baking)  active 1916
 Solidarity, p.3,06.03.1916 ; 
New York
New York 
Local No. 556, branch 2 -  (unknown) Secretary: Jaroslav Muller active 1917
Branch Secretaries, Military Intelligence Files
New York
New York 
Local No. 573 - Construction Workers' Industrial Union (Construction)  active 1919
New Solidarity, 11/22/1919
New York
Olean
Local No. 61 -  (unknown)  active 1910-1911
Industrial Worker, 01/05/1911; Solidarity, 10/15/1910
New York
Rochester
Local No. 191 -  (Textile) John L. Cantela active 1914-1917
Brissenden (1919) , 363 ; Branch Secretaries, Military Intelligence Files
New York
Rochester
Local No. 51 -  (Machinists)  active 1907
Industrial Union Bulletin, 08/31/1907
New York
Rochester
Local No. 76 -  (mixed local) Secretary: M. Feingold active 1914-1917
Brissenden (1919) , 363 ; Branch Secretaries, Military Intelligence Files
New York
Schenectady
I.U. 300 - Metal & Machinery Workers' Industrial Union (Metal workers)  active 1916
1916 Convention Proceedings
New York
Schenectady
Local No. 1 -  (Machinists)  active 1907
Industrial Union Bulletin, 08/31/1907
New York
Schenectady
Local No. 31 -  (unknown)  active 1907
Industrial Union Bulletin, 03/02/1907
New York
Skohegan
Local No. 379 -  (unknown)  active 1907
Industrial Union Bulletin, 08/24/1907
New York
Utica
Local No. 113 -  (mixed local)  active 1914
Brissenden (1919) , 363 
New York
Yonkers
Local No. 91 -  (unknown) Secretary: J. Lyng active 1907-1909
Industrial Worker, 09/09/1909 ; Industrial Union Bulletin, 09/07/1907 ; Industrial Union Bulletin, 02/08/1908
New York 
New York
Local No. 206 -  (unknown)  active 1907
Industrial Union Bulletin, 08/31/1907
North Dakota
Devils Lake
Local No. 152 - Building Workers' Industrial Union (Building Workers) Chartered 10/1911 active 1911-1912
Industrial Worker, 01/11/1912
North Dakota
Minot
Local No. 585 -  (mixed local)  active 1914
Brissenden (1919) , 364 ; 1916 Convention Proceedings, p.??
Nova Scotia
Amherst
Local No. 122 -  (mixed local)  active 1914
Brissenden (1919) , 360 
Ohio
Akron
Local No. 470 - Rubber Workers' Industrial Union (Rubber)  active 1913-1919
New Solidarity, 03/08/1919
Ohio
Canton
Local No. 259 -  (unknown)  active 1907
Industrial Union Bulletin, 09/14/1907
Ohio
Cincinnati
Local No. 107 -  (mixed local)  active 1914
Brissenden (1919) , 364 
Ohio
Cincinnati
Local No. 17 -  (Machinists)  active 1907
Industrial Union Bulletin, 08/31/1907
Ohio
Cincinnati
Local No. 213 -  (unknown)  active 1907
Industrial Union Bulletin, 08/24/1907
Ohio
Cincinnati
Local No. 221 -  (unknown)  active 1907
Industrial Union Bulletin, 08/24/1907
Ohio
Cincinnati
Local No. 33 -  (Machinists)  active 1908
Industrial Union Bulletin, 02/08/1908
Ohio
Cincinnati
Local No. 579 -  (unknown)  active 1913
Solidarity, 12/27/1913
Ohio
Cincinnati
Local No. 6 -  (unknown)  active 1907-1908
Industrial Union Bulletin, 08/24/1907 ; Industrial Union Bulletin, 05/23/1908
Ohio
Cincinnati
Local No. 73 -  (Safe workers)  active 1907
Industrial Union Bulletin, 03/16/1907
Ohio
Cincinnati
unknown - Marble Workers (Construction)  active 1906-1907
Brissenden (1919) , 135 
Ohio
Cleveland
 - Cleveland Propaganda League (Propaganda) Secretary: Rose Williams, Frank Lochus active 1915-1917
Branch Secretaries, Military Intelligence Files ; 1916 Convention Proceedings, p.??
Ohio
Cleveland
 - Lithuanian Propaganda League (Propaganda)  active 1916
1916 Convention Proceedings
Ohio
Cleveland
I.U. 197 - Garment Workers' Industrial Union No. 197 (Garment)  active 1917
 Solidarity, p.6,07.21.1917 ; 
Ohio
Cleveland
Local No. 139 - Hodcarriers (Construction)  active 1906-1907
Brissenden (1919) , 135 
Ohio
Cleveland
Local No. 139 branch 1 -  (unknown)  active 1907
Industrial Union Bulletin, 08/31/1907
Ohio
Cleveland
Local No. 139 Hungarian Branch -  (unknown)  active 1907
Industrial Union Bulletin, 08/24/1907
Ohio
Cleveland
Local No. 145 -  (Packing House Workers)  active 1913
Solidarity, 05/03/1913
Ohio
Cleveland
Local No. 17 -  (unknown) Hungarian active 1916
 Solidarity, p.1,08.12.1916 ; 
Ohio
Cleveland
Local No. 23 -  (unknown)  active 1907
Industrial Union Bulletin, 09/14/1907
Ohio
Cleveland
Local No. 31 -  (Metal and Machinery)  active 1907
Industrial Union Bulletin, 07/27/1907
Ohio
Cleveland
Local No. 33 -  (Machinists) Secretary: Chas. H. Smith (1909), E.J. Miller (1917) active 1907-1917
Brissenden (1919) , 364 ; Solidarity, p.2,          Solidarity, p.4,05.09.1914, 10.30.1915 ; - Industrial Worker, 09/09/1909 ; Branch Secretaries, Military Intelligence Files ; Industrial Union Bulletin, 08/24/1907 ; Solidarity, 05/03/1913 ; Industrial Worker, 01/05/1911
Ohio
Cleveland
Local No. 33 branch 2 - Metal and Machinery Workers' Industrial Union (Metal and machinery) Chartered 09/1911 active 1911-1912
Industrial Worker, 01/11/1912
Ohio
Cleveland
Local No. 33 Branch 3 -  (mixed local)  active 1914
Brissenden (1919) , 364 
Ohio
Cleveland
Local No. 450 -  (Furniture)  active 1914
Brissenden (1919) , 364 
Ohio
Cleveland
Local No. 575 - Building Workers' Industrial Union (Construction) Hungarian active 1916
 Solidarity, p.1,06.24.1916 ; 1916 Convention Proceedings, p.??
Ohio
Cleveland
Local No. 606 -  (Recruiting) Hungarian active 1916
 Solidarity, p.1,08.12.1916 ; 1916 Convention Proceedings, p.??
Ohio
Cleveland
Local No. 613 - Shoe Repair Workers' Industrial Union (Shoes)  active 1916
1916 Convention Proceedings
Ohio
Cleveland
Local No. 80 -  (Musicians)  active 1907
Industrial Union Bulletin, 09/07/1907
Ohio
Cleveland
Local No. 89 -  (Tobacco) Secretary: B. Persky active 1907-1910
Industrial Worker, 03/12/1910 ; Industrial Union Bulletin, 08/24/1907 ; Industrial Union Bulletin, 02/08/1908
Ohio
Cleveland
Local No. 98 -  (unknown) Secretary: M. Marceau active 1909
Industrial Worker, 09/09/1909
Ohio
Columbus
Local No. 170 -  (unknown)  active 1907
Industrial Union Bulletin, 10/19/1907
Ohio
Columbus
Local No. 257 -  (mixed local)  active 1907
Industrial Union Bulletin, 05/04/1907
Ohio
Columbus
Local No. 54 -  (unknown)  active 1913
Solidarity, 01/04/1913
Ohio
Dayton
Local No. 573 -  (unknown)  active 1913
Solidarity, 07/05/1913
Ohio
Dillonvale
Local No. 236 -  (unknown) Secretary: Joseph Kobylak active 1917
Branch Secretaries, Military Intelligence Files
Ohio
Dillonvale
Local No. 240 -  (mixed local)  active 1914
Brissenden (1919) , 364 
Ohio
Dillonvale
Local No. 340 -  (unknown) Secretary: James Delocal active 1917
Branch Secretaries, Military Intelligence Files
Ohio
Fostoria
Local No. 309 - Wire Workers' Industrial Union (Wire)  active 1910
Solidarity, 08/13/1910
Ohio
Fostoria
unknown -  (Metal workers)  active 1909-1910
Brissenden (1919) , 366 
Ohio
Fremont
Local No. 10 -  (Electrical)  active 1912
Vincent St. John (1917)
Ohio
Glencoe
Local No. ? -  (unknown) Chartered 06/1907 - fee paid by JB Sabalach active 1907
Industrial Union Bulletin, 09/07/1907
Ohio
Lorain
Local No. 75 -  (unknown) Secretary: G.A. Storck active 1910
Industrial Worker, 03/12/1910 
Ohio
Lorain
Local No. 76 -  (unknown)  active 1911
Industrial Worker, 01/05/1911
Ohio
Lorain
unknown -  (mixed local)  active 1909-1910
Brissenden (1919) , 366 
Ohio
Lyra
Local No. 540 -  (unknown)  active 1907
Industrial Union Bulletin, 08/24/1907
Ohio
Martins Ferry
Local No. 294 -  (unknown) Secretary: Evan Enoch active 1910
Industrial Worker, 03/12/1910 
Ohio
Massillion
unknown -  (Tin plate)  active 1909-1910
Brissenden (1919) , 366 
Ohio
Massillon
Local No. 295 -  (unknown) Secretary: Clyde Sweeney active 1910
Industrial Worker, 03/12/1910 
Ohio
Niles
Local No. 302 - Iron and Steel Mill Workers' Industrial Union (Iron and steel mill) Chartered 11/1911 active 1911-1912
Industrial Worker, 01/11/1912
Ohio
Portsmouth
Local No. 321 -  (unknown)  active 1907
Industrial Union Bulletin, 10/19/1907
Ohio
Rayland
Local No. 236 -  (mixed local)  active 1914
Brissenden (1919) , 364 
Ohio
Rossford
 - Glass Workers' Industrial Union (Glass workers)  active 1919
New Solidarity, 05/17/1919
Ohio
Toledo
Local No. 300 - Metal and Machinery Workers' Industrial Union (Metal and Machinery Workers' Industrial Union)  active 1919
New Solidarity, 01/18/1919
Ohio
Toledo
Local No. 86 -  (mixed local) Secretary: Josephine Bates (1915), Leon E. Shuff (1917) active 1914-1917
Brissenden (1919) , 364 ; Solidarity, p.4,10.09.1915 ; Branch Secretaries, Military Intelligence Files
Ohio
Warren
Local No. 539 - Lamp Workers' Industrial Union (Lamp workers) Chartered 11/1911 active 1911-1912
Industrial Worker, 01/11/1912
Ohio
Youngstown
 - Youngstown Propaganda League (Propaganda) Secretary: Pat Rossi active 1917
Branch Secretaries, Military Intelligence Files
Ohio
Youngstown
Local No. 196 -  (unknown)  active 1907-1908
Industrial Union Bulletin, 08/24/1907 ; Industrial Union Bulletin, 02/08/1908
Oklahoma
Cushing
Local No. 454 - Oil Workers' Industrial Union (Oil) Secretary: James S. Keen active 1915-1917
Branch Secretaries, Military Intelligence Files ; 1916 Convention Proceedings, p.??
Oklahoma
Drumright
I.U. 450 - Oil Workers' Industrial Union No. 450 (Oil)  active 1917
 Solidarity, p.1,03.31.1917 ; 
Oklahoma
Oklahoma City
Local No. 226 -  (Baking)  active 1907
Industrial Union Bulletin, 10/19/1907
Oklahoma
Oklahoma City
Local No. 239 -  (unknown)  active 1907-1908
Industrial Union Bulletin, 08/24/1907 ; Industrial Union Bulletin, 02/08/1908
Ontario
Fort Williams
I.U. 6 - Marine Transport Workers' Industrial Union (Marine Transport)  active 1914
1916 Convention Proceedings
Ontario
Hamilton
Local No. 251 -  (unknown)  active 1907
Industrial Union Bulletin, 08/24/1907
Ontario
Hamilton
Local No. 554 -  (unknown)  active 1907
Industrial Union Bulletin, 04/27/1907
Ontario
Hamilton
Local No. 72 -  (Machinists)  active 1907
Industrial Union Bulletin, 08/31/1907
Ontario
Toronto
Local No. 198 -  (unknown)  active 1907-1908
Industrial Union Bulletin, 10/26/1907 ; Industrial Union Bulletin, 10/10/1908
Ontario
Toronto
Local No. 53 -  (Machinists)  active 1907
Industrial Union Bulletin, 08/24/1907
Ontario
West Lake
Local No. 514 -  (unknown)  active 1907
Industrial Union Bulletin, 08/24/1907
Oregon
Astoria
Local No. 543 -  (unknown)  active 1907
Industrial Union Bulletin, 08/24/1907 ; Industrial Union Bulletin, 08/31/1907
Oregon
Bend
I.U. 500 - Lumber Workers' Industrial Union No. 500 (Lumber)  active 1917
 Solidarity, p.8,07.21.1917 ; 
Oregon
Crescent City
Local No. 117 -  (unknown)  active 1907
Industrial Union Bulletin, 07/20/1907
Oregon
Eugene
Local No. 88 -  (unknown)  active 1913
Solidarity, 10/04/1913
Oregon
Marshfield
Local No. 435 - Lumber Workers' Industrial Union (Lumber) Chartered 11/1911 active 1911-1912
Industrial Worker, 01/11/1912
Oregon
Newberg
Local No. 330 -  (unknown)  active 1907
Industrial Union Bulletin, 06/15/1907
Oregon
Portland
Local No. 141 -  (Construction) Secretary: W.T. Nef active 1909-1913
Industrial Worker, 03/12/1910 ;Industrial Worker, 09/09/1909 ; Industrial Worker, 01/05/1911; Solidarity, 06/28/1913
Oregon
Portland
Local No. 319 -  (Lumber)  active 1907
Melvyn Dubofsky, We Shall Be All: A History of the IWW,  129 ; Industrial Union Bulletin, 08/31/1907
Oregon
Portland
Local No. 92 -  (unknown) Secretary: B.E. Nilsson active 1909-1915
 Solidarity, p.1,04.24.1915 ; Industrial Worker, 03/12/1910 ;Industrial Worker, 09/09/1909
Oregon
Portland
Local No. 93 -  (Lumber) Secretary: Paul Frowerk active 1907-1914
Brissenden (1919) , 364 ; Industrial Worker, 03/12/1910 ;Industrial Worker, 09/09/1909 ; Industrial Worker, 01/05/1911; Solidarity, 06/28/1913 ; Industrial Union Bulletin, 08/31/1907 ; Industrial Union Bulletin, 02/08/1908 ; Solidarity, 06/28/1913 ; Industrial Worker, 01/05/1911
Oregon
Portland
unknown -  (Railroad)  active 1909-1910
Brissenden (1919) , 366 
Panama
Cristobal 
Local No. 505 -  (Transportation)  active 1914
Brissenden (1919) , 364 
Pennsylvania
Allegheny
Local No. 293 -  (unknown) Secretary: Th. Bessemie active 1910
Industrial Worker, 03/12/1910 
Pennsylvania
Allegheny
Local No. 293, Croatian branch -  (unknown) Secretary: Th. Bessemie active 1910
Industrial Worker, 03/12/1910 
Pennsylvania
Allentown
Local No. 57 -  (unknown)  active 1908
Industrial Union Bulletin, 02/01/1908
Pennsylvania
Austin Heights
Local No. 504 - Coal Mine Workers' Industrial Union (Mining-coal)  active 1915-1916
 Solidarity, p.1,02.19.1916 ; 1916 Convention Proceedings, p.??
Pennsylvania
Avoca
Local No. 508 -  (Mining-coal) Secretary: Peter Hadush active 1916-1917
 Solidarity, p.1,02.19.1916 ; Branch Secretaries, Military Intelligence Files
Pennsylvania
Braddock
Local No. 150 -  (unknown)  active 1907
Industrial Union Bulletin, 08/24/1907
Pennsylvania
Dunmore
Local No. 5 -  (unknown) Secretary: L. D'Andrea active 1909-1910
Industrial Worker, 03/12/1910 -Industrial Worker, 09/09/1909
Pennsylvania
Dupont
Local No. 507 - Coal Mine Workers' Industrial Union (Mining-coal)  active 1915-1916
 Solidarity, p.1,02.19.1916 ; 1916 Convention Proceedings, p.??
Pennsylvania
Duryea
Local No. 506 -  (Mining-coal) Secretary: John Malinoski active 1915-1917
 Solidarity, p.1,02.19.1916 ; Branch Secretaries, Military Intelligence Files ; 1916 Convention Proceedings, p.??
Pennsylvania
E. Pittsburgh
Local No. 350 -  (unknown) Secretary: B.F. Haldeman active 1917
Branch Secretaries, Military Intelligence Files
Pennsylvania
Erie
Local No. 210 -  (Machinists)  active 1914
Brissenden (1919) , 364 
Pennsylvania
Erie
Local No. 300 - Metal and Machinery Workers' Industrial Union (Metal and machinery)  active 1919
New Solidarity, 03/08/1919
Pennsylvania
Fairchance
Local No. 25, branch 2 -  (unknown) Secretary: G. Basso active 1909
Industrial Worker, 09/09/1909
Pennsylvania
Greenwood
Local No. 510 -  (Mining-coal)  active 1916
 Solidarity, p.1,02.19.1916 ; 
Pennsylvania
Homeacre-Lyndora
unknown -  (RR car builders)  active 1909-1910
Brissenden (1919) , 366 
Pennsylvania
Homestead
Local No. 205 -  (Machinists)  active 1914
Brissenden (1919) , 364 
Pennsylvania
Jessup
Local No. 501 - Coal Mine Workers' Industrial Union (Mining-coal)  active 1916
1916 Convention Proceedings
Pennsylvania
Lancaster
Local No. 57 -  (unknown)  active 1907
Industrial Union Bulletin, 11/16/1907
Pennsylvania
Luzerne
Local No. 583 - Coal Mine Workers' Industrial Union (Mining-coal)  active 1916
1916 Convention Proceedings
Pennsylvania
Lyndora
Local No. 299 -  (unknown) Secretary: Jerry Kaufold active 1909-1910
Industrial Worker, 03/12/1910 ;Industrial Worker, 09/09/1909
Pennsylvania
Masontown
Local No. 25, branch 1 -  (unknown) Secretary: John Lodone active 1909
Industrial Worker, 09/09/1909
Pennsylvania
McDonald
Local No. 392 -  (unknown) Secretary: Paulon Bastide active 1910
Industrial Worker, 03/12/1910 
Pennsylvania
McKees Rocks
Local No. 229 - Car Builders Industrial Union (RR car builders) reported 5000 members in September of 1909 active 1909
Melvyn Dubofsky, We Shall Be All: A History of the IWW,  208 
Pennsylvania
McKees Rocks
Local No. 294 -  (unknown)  active 1911
Industrial Worker, 01/05/1911
Pennsylvania
McKees Rocks
Local No. 296 -  (Steel workers) Secretary: Val. Spunar active 1910
Industrial Worker, 03/12/1910 ; Solidarity 01/29/1910
Pennsylvania
McKees Rocks
unknown -  (Steel workers)  active 1909-1910
Brissenden (1919) , 366 
Pennsylvania
Minooka
Local No. 510 - Coal Mine Workers' Industrial Union (Mining-coal)  active 1915
1916 Convention Proceedings
Pennsylvania
Monaca
Local No. 101 - Steel Workers' Union (Steel workers)  active 1907
Industrial Union Bulletin, 09/07/1907
Pennsylvania
Monaca
Local No. 106 -  (unknown)  active 1907
Industrial Union Bulletin, 10/19/1907
Pennsylvania
Monaca
Local No. 607 -  (Recruiting)  active 1916
1916 Convention Proceedings
Pennsylvania
Monogahela City
Local No. 393 -  (unknown) Secretary: James Alassia active 1910
Industrial Worker, 03/12/1910 
Pennsylvania
New Castle
Local No. 297 -  (unknown) Secretary: H.C. Fletcher (1910), Geo. W. Dawson (1917) active 1910-1917
 Solidarity, p.1,03.27.1915 ; Industrial Worker, 03/12/1910 ; Branch Secretaries, Military Intelligence Files
Pennsylvania
New Castle
Local No. 298 -  (unknown) Secretary: Charles McKeever active 1909-1910
Industrial Worker, 03/12/1910 ;Industrial Worker, 09/09/1909
Pennsylvania
New Castle
unknown -  (Tin plate)  active 1909-1910
Brissenden (1919) , 366 
Pennsylvania
Newcastle
Local No. 297 -  (unknown)  active 1911
Industrial Worker, 01/05/1911
Pennsylvania
Old Forge
Local No. 511 - Coal Mine Workers' Industrial Union (Mining-coal) Secretary: J. Yaniello (1910), F. F. Kuskowski (1917) active 1907-1917
 Solidarity, p.1,02.19.1916 ; Industrial Worker, 03/12/1910 ; Branch Secretaries, Military Intelligence Files ; 1916 Convention Proceedings, p.??; Industrial Union Bulletin, 08/31/1907
Pennsylvania
Old Forge
Local No. 511 Branch 1 -  (unknown) Secretary: Constantine de Rosa active 1917
Branch Secretaries, Military Intelligence Files
Pennsylvania
Old Forge
Local No. 511 Polish Branch 2 -  (unknown)  active 1915
1916 Convention Proceedings
Pennsylvania
Old Forge
Local No. 97 -  (mixed local)  active 1914
Brissenden (1919) , 364 
Pennsylvania
Parsons
Local No. 505 -  (Mining-coal) Secretary: Angelo Nude active 1915-1917
 Solidarity, p.1,02.19.1916 ; Branch Secretaries, Military Intelligence Files ; 1916 Convention Proceedings, p.??
Pennsylvania
Parsons
Local No. 516 -  (unknown) Secretary: Anon Parisee active 1910
Industrial Worker, 03/12/1910 
Pennsylvania
Patton
Local No. 372 -  (unknown) Secretary: P. Cox active 1907-1909
Industrial Worker, 09/09/1909 ; Industrial Union Bulletin, 07/13/1907
Pennsylvania
Philadelphia
 - Metal Workers' Industrial Union (Metal)  active 1907
Industrial Union Bulletin, 11/16/1907
Pennsylvania
Philadelphia
I.U. 100 - Marine Transport Workers No. 100 (Marine Transport)  active 1917
Minute Books (or subsequent document titles), Casefile 188032, Department of Justice Investigative Files, Part I: The Industrial Workers of the World, Research Collections in American Radicalism (microfilm), Reel 8.
Pennsylvania
Philadelphia
I.U. 1000 - Textile Workers' Industrial Union No. 1000 (Textile)  active 1917
Minute Books (or subsequent document titles), Casefile 188032, Department of Justice Investigative Files, Part I: The Industrial Workers of the World, Research Collections in American Radicalism (microfilm), Reel 8.
Pennsylvania
Philadelphia
I.U. 497 or Local No. 497 - Sugar Workers' Industrial Union No. 497 (Food)  active 1917
Minute Books (or subsequent document titles), Casefile 188032, Department of Justice Investigative Files, Part I: The Industrial Workers of the World, Research Collections in American Radicalism (microfilm), Reel 8.
Pennsylvania
Philadelphia
I.U. 600 - Railroad Workers' Industrial Union (Railroad)  active 1916
1916 Convention Proceedings
Pennsylvania
Philadelphia
Local No. 100 - Tobacco Workers' Industrial Unon (Tobacco)  active 1910
Solidarity, 07/09/1910
Pennsylvania
Philadelphia
Local No. 109 - Cigar Workers' Industrial Union (Tobacco)  active 1916
1916 Convention Proceedings
Pennsylvania
Philadelphia
Local No. 11 -  (unknown) Secretary: H. Davis active 1909-1911
Industrial Worker, 09/09/1909 ; Industrial Worker, 01/05/1911
Pennsylvania
Philadelphia
Local No. 11 Branch 2 - Metal Workers' Industrial Union (Metal)  active 1910
Solidarity, 07/09/1910
Pennsylvania
Philadelphia
Local No. 183 - German Workers' Industrial Union (unknown)  active 1911-1912
Industrial Worker, 01/11/1912
Pennsylvania
Philadelphia
Local No. 218 -  (Textile)  active 1907-1914
Brissenden (1919) , 364 ; Industrial Union Bulletin, 08/24/1907
Pennsylvania
Philadelphia
Local No. 251 - Railroad Workers' Industrial Union (Railroad) Chartered 10/1911 active 1911-1912
Industrial Worker, 01/11/1912
Pennsylvania
Philadelphia
Local No. 404 -  (Musicians) Secretary: Joe Shoefer active 1909-1914
Brissenden (1919) , 364 ; Industrial Worker, 09/09/1909
Pennsylvania
Philadelphia
Local No. 405 -  (mixed local)  active 1914
Brissenden (1919) , 364 
Pennsylvania
Philadelphia
Local No. 405 Branch 1 -  (mixed local) Secretary: W. Drebrewobski active 1914-1917
Brissenden (1919) , 364 ; Branch Secretaries, Military Intelligence Files
Pennsylvania
Philadelphia
Local No. 412 -  (Musicians) Secretary: H. Eingart active 1908-1909
Industrial Worker, 09/09/1909 ; Industrial Union Bulletin, 02/08/1908
Pennsylvania
Philadelphia
Local No. 414 -  (unknown) Secretary: R. Walters active 1909
Industrial Worker, 09/09/1909
Pennsylvania
Philadelphia
Local No. 423 -  (unknown)  active 1908
Industrial Union Bulletin, 05/16/1908
Pennsylvania
Philadelphia
Local No. 425 -  (Textile) Secretary: A. Debuigne (1909), Alfred Bailler (1917) active 1909-1917
Brissenden (1919) , 364 ; Industrial Worker, 03/12/1910 ;Industrial Worker, 09/09/1909 ; Branch Secretaries, Military Intelligence Files ; Industrial Worker, 01/05/1911
Pennsylvania
Philadelphia
Local No. 425 Branch 1 -  (Textile)  active 1914
Brissenden (1919) , 364 
Pennsylvania
Philadelphia
Local No. 451 -  (Furniture)  active 1914
Brissenden (1919) , 364 
Pennsylvania
Philadelphia
Local No. 494 -  (unknown)  active 1907
Industrial Union Bulletin, 11/16/1907
Pennsylvania
Philadelphia
Local No. 496 - Sugar Refinery Workers' Industrial Union (Food)  active 1916
1916 Convention Proceedings
Pennsylvania
Philadelphia
Local No. 533 -  (Textile)  active 1914
Brissenden (1919) , 364 
Pennsylvania
Philadelphia
Local No. 547 -  (Reed and Rattan Workers)  active 1913
Solidarity, 07/12/1913
Pennsylvania
Philadelphia
Local No. 57 -  (mixed local) Secretary: Louis Hagyi active 1914-1917
Brissenden (1919) , 364 ; Branch Secretaries, Military Intelligence Files
Pennsylvania
Philadelphia
Local No. 57 Branch 2 -  (mixed local)  active 1914
Brissenden (1919) , 364 
Pennsylvania
Philadelphia
Local No. 599 - Coopers' Industrial Union (unknown)  active 1916
1916 Convention Proceedings
Pennsylvania
Philadelphia
Local No. 610 - Salt Workers' Industrial Union (Mining)  active 1916
1916 Convention Proceedings
Pennsylvania
Philadelphia
Local No. 612 - Shoe Repairers' Industrial Union (Shoes)  active 1916
 Solidarity, p.1,09.30.1916 ; 1916 Convention Proceedings, p.??
Pennsylvania
Philadelphia
Local No. 651 -  (unknown) Started in April 1907 active 1907
Industrial Union Bulletin, 08/24/1907
Pennsylvania
Philadelphia
Local No. 8 -  (Marine transport) Led by Ben Fletcher,  the local organized black and white longshoremen and controlled the Philadelphia docks until 1923. The IWW's most famous example of interacial unionism. active 1913-1928
Peter Cole,  Wobblies on the Waterfront
Pennsylvania
Pittsburgh
Local No. 143 -  (unknown) Secretary: Michael Rheinhard active 1910-1911
Industrial Worker, 03/12/1910 ; Industrial Worker, 01/05/1911
Pennsylvania
Pittsburgh
Local No. 215 -  (mixed local) Secretary: Geo W. Pearce active 1907-1914
Brissenden (1919) , 364 ;Industrial Worker, 03/12/1910 ;Industrial Worker, 09/09/1909 ; Solidarity, 11/08/1913 ; Industrial Union Bulletin, 11/16/1907 ; Industrial Worker, 01/05/1911
Pennsylvania
Pittsburgh
Local No. 291 - Tube and Pipe Mill Workers (Tube and Pipe)  active 1910-1911
Industrial Worker, 03/12/1910 ; Industrial Worker, 01/05/1911
Pennsylvania
Pittsburgh
Local No. 293 -  (unknown)  active 1907-1911
Industrial Worker, 01/05/1911 ; Industrial Union Bulletin, 10/26/1907
Pennsylvania
Pittsburgh
Local No. 300 - Metal and Machinery Workers' Industrial Union (Metal and machinery)  active 1919
New Solidarity, 01/18/1919
Pennsylvania
Pittsburgh
Local No. 350 - Vehicle Workers' Industrial Union (Vehicle)  active 1915
1916 Convention Proceedings
Pennsylvania
Pittsburgh
Local No. 64 -  (Machinists)  active 1907
Industrial Union Bulletin, 08/24/1907
Pennsylvania
Pittsburgh
unknown -  (mixed local)  active 1909-1910
Brissenden (1919) , 366 
Pennsylvania
Pittsburgh
unknown -  (Packing house)  active 1909-1910
Brissenden (1919) , 366 
Pennsylvania
Pittsburgh
unknown -  (Packing house)  active 1909-1910
Brissenden (1919) , 366 
Pennsylvania
Pittsburgh
unknown -  (Steel workers)  active 1909-1910
Brissenden (1919) , 366 
Pennsylvania
Pittston
Local No. 502 - Coal Mine Workers' Industrial Union (Mining-coal) Secretary: Dante Seaviggi active 1916-1917
 Solidarity, p.1,02.19.1916 ; Branch Secretaries, Military Intelligence Files ; 1916 Convention Proceedings, p.??
Pennsylvania
Pittston
Local No. 509 - Coal Mine Workers' Industrial Union (Mining-coal)  active 1915-1916
 Solidarity, p.1,02.19.1916 ; 1916 Convention Proceedings, p.??
Pennsylvania
Pittston
Local No. 515 -  (unknown) Secretary: G. Grechi active 1910
Industrial Worker, 03/12/1910 
Pennsylvania
Plains
Local No. 503 - Coal Mine Workers' Industrial Union (Mining-coal) Secretary: Dante Seaviggi, A. Marsell active 1915-1917
 Solidarity, p.1,02.19.1916 ; ;Branch Secretaries, Military Intelligence Files ; 1916 Convention Proceedings, p.??
Pennsylvania
Plainsville
Local No. 581 - Coal Mine Workers' Industrial Union (Mining-coal)  active 1916
1916 Convention Proceedings
Pennsylvania
Port Richmond
Local No. 74 -  (unknown)  active 1907
Industrial Union Bulletin, 08/24/1907
Pennsylvania
Reading
Local No. 15 -  (Metal and Machinery)  active 1909-1911
Solidarity, 08/13/1910 ; Industrial Worker, 01/05/1911 ; Brissenden (1919) , 366 
Pennsylvania
Scranton
I.U. 900 - Coal Miners' Industrial Union No. 900 (Mining-coal)  active 1917
 Solidarity, p.1,04.14.1917 ; 
Pennsylvania
Scranton
Local No. 511 - Italian Branch (mixed local)  active 1909
Industrial Worker, p. 1 May 6, 1909 
Pennsylvania
Scranton
Local No. 524 -  (unknown) Secretary: T. Geotomo active 1909-1910
Industrial Worker, 03/12/1910 ;Industrial Worker, 09/09/1909
Pennsylvania
Shelly
Local No. 276 -  (Tobacco)  active 1914
Brissenden (1919) , 364 
Pennsylvania
Taylor
Local No. 504 -  (unknown) Secretary: F. Topelowski active 1917
Branch Secretaries, Military Intelligence Files
Pennsylvania
Wilkinsburg
Local No. 150 -  (unknown)  active 1907
Industrial Union Bulletin, 08/24/1907
Pennsylvania
Woods Run
Local No. 292 - Car Builders (Car Building)  active 1909-1911
Industrial Worker, 03/12/1910 ; Brissenden (1919) , 366 ; Industrial Worker, 01/05/1911
Pennsylvania
Wyoming
Local No. 580 - Coal Mine Workers' Industrial Union (Mining-coal)  active 1916
Covention
Quebec
Montreal
Local No. 229 -  (unknown)  active 1907
Industrial Union Bulletin, 08/31/1907
Rhode Island
Lymansville
 - National HQ (Textile) Secretary: Francis Miller active 1910
Industrial Worker, 03/12/1910 
Rhode Island
Mapleville
Local No. 166 -  (Textile)  active 1907
Industrial Union Bulletin, 09/28/1907
Rhode Island
Olneyville
Local No. 530 -  (Textile) Secretary: T.J. Powers active 1907-1915
Brissenden (1919) , 365 ; Solidarity, p.4,02.06.1915 ; Industrial Worker, 03/12/1910 ;Industrial Worker, 09/09/1909 ; Industrial Union Bulletin, 09/28/1907 ; Industrial Union Bulletin, 02/08/1908 ; Industrial Worker, 01/05/1911
Rhode Island
Olneyville
Local No. 530 Belgian Branch 4 -  (unknown)  active 1915
1916 Convention Proceedings
Rhode Island
Pawtucket
unknown - Textile Workers (Textile)  active 1906-1907
Brissenden (1919) , 134 
Rhode Island
Providence
Local No. 114 -  (Brewery workers)  active 1907
Industrial Union Bulletin, 09/07/1907
Rhode Island
Providence
Local No. 121 -  (unknown)  active 1907-1911
Industrial Worker, 01/05/1911; Industrial Union Bulletin, 11/16/1907
Rhode Island
Providence
Local No. 121 Italian branch -  (unknown) Chartered 06/1907 active 1907
Industrial Union Bulletin, 09/07/1907
Rhode Island
Providence
Local No. 151 -  (Clothing)  active 1910-1911
Solidarity, 08/13/1910 ; Industrial Worker, 01/05/1911
Rhode Island
Providence
Local No. 279 -  (unknown)  active 1911
Industrial Worker, 01/05/1911
Rhode Island
Providence
Local No. 292 -  (unknown)  active 1907-1908
Industrial Union Bulletin, 08/24/1907 ; Industrial Union Bulletin, 02/08/1908
Rhode Island
Providence
Local No. 379 -  (Public service)  active 1910
Solidarity, 10/01/1910
Rhode Island
Providence
Local No. 404 - Bakery Workers' Industrial Union (Baking)  active 1910-1916
1916 Convention Proceedings ; Solidarity, 07/23/1910 ; Industrial Worker, 01/05/1911
Rhode Island
Providence
Local No. 530 - National Textile Industrial Union (Textile)  active 1915
 Solidarity, p.4,02.06.1915 ; 
Rhode Island
Providence
unknown -  (Metal workers)  active 1909-1910
Brissenden (1919) , 366 
Rhode Island
Providence
unknown -  (mixed local)  active 1909-1910
Brissenden (1919) , 366 
Rhode Island
Woonsocket
Local No. 513 -  (Textile) Secretary: Francis Smith active 1907-1917
Industrial Worker, 03/12/1910 ;Industrial Worker, 09/09/1909 ; Brissenden (1919) , 365 ;  ; Branch Secretaries, Military Intelligence Files ; Industrial Union Bulletin, 09/28/1907 ; Industrial Worker, 01/05/1911
Rhode Island
Woonsocket
Local No. 513 Branch 1 -  (unknown)  active 1907
Industrial Union Bulletin, 08/24/1907
Rhode Island
Woonsocket
Local No. 99 -  (unknown) Secretary: C.A. Ulderico active 1909-1911
Industrial Worker, 03/12/1910 ;Industrial Worker, 09/09/1909 ; Industrial Worker, 01/05/1911
Rhode Island
Woonsocket
unknown -  (mixed local)  active 1909-1910
Brissenden (1919) , 366 
Saskatchewan
Moose Jaw
 - Moose Jaw Propaganda League (Propaganda)  active 1914
1916 Convention Proceedings
South Carolina
Belton
Local No. 211 - Textile Workers' Industrial Union (Textile)  active 1914
1916 Convention Proceedings
South Carolina
Dalzell
Local No. 516 -  (unknown)  active 1907
Industrial Union Bulletin, 10/19/1907
South Carolina
Easley
Local No. 537 -  (Textile) Secretary: F.M. Spearman active 1914-1917
Brissenden (1919) , 365 ; Branch Secretaries, Military Intelligence Files
South Carolina
Greenville
Local No. 512 -  (Textile) Secretary: I.A. Brothers active 1914-1917
Brissenden (1919) , 365 ; Branch Secretaries, Military Intelligence Files
South Dakota
Mellette
Local No. 439 -  (unknown)  active 1915
 Solidarity, p.4,08.21.1915 ; 
Tennessee
Memphis
Local No. 506 -  (unknown)  active 1907
Industrial Union Bulletin, 08/31/1907
Texas
Blue Mound
Local No. 532 -  (unknown)  active 1907
Industrial Union Bulletin, 08/24/1907
Texas
Galveston
Local No. 3 -  (Marine transport)  active 1914
Brissenden (1919) , 365 
Texas
Houston
Local No. 165 -  (unknown)  active 1907
Industrial Union Bulletin, 08/24/1907
Texas
Houston
Local No. 270 -  (unknown)  active 1907-1908
Industrial Union Bulletin, 08/31/1907 ; Industrial Union Bulletin, 02/08/1908
Texas
San Antonio
Local No. 185 - Mixed Industries (mixed local)  active 1906-1907
Brissenden (1919) , 135 ; Industrial Union Bulletin, 08/31/1907
Texas
Thurber
Local No. 512 -  (unknown)  active 1907
Industrial Union Bulletin, 08/24/1907
Utah
Halper
Local No. 327 -  (unknown)  active 1911
Industrial Worker, 01/05/1911
Utah
Riverton
Local No. 549 -  (unknown) Started in 1907 active 1907
Industrial Union Bulletin, 08/24/1907
Utah
Salt Lake City
Local No. 10 -  (unknown)  active 1907-1908
Industrial Union Bulletin, 11/16/1907 ; Industrial Union Bulletin, 02/08/1908
Utah
Salt Lake City
Local No. 114 - Domestic Workers' Industrial Union (Domestic)  active 1916
1916 Convention Proceedings
Utah
Salt Lake City
Local No. 202 -  (unknown)  active 1907
Industrial Union Bulletin, 08/24/1907
Utah
Salt Lake City 
Local No. 345 -  (unknown) Secretary: J. Wilson active 1913-1917
Branch Secretaries, Military Intelligence Files ; Solidarity, 12/06/1913
Utah
Salt Lake City 
Local No. 69 -  (mixed local) Secretary: A. Rowan active 1911-1915
Brissenden (1919) , 365 ; Solidarity, p.1,           Solidarity, p.4,04.24.1915, 05.01.1915, 09.18.1915 ; Solidarity, 08/30/1913 ; Industrial Worker, 01/05/1911
Utah
Salt Lake City 
Local No. 695 -  (unknown) Secretary: J. Wilson active 1917
Branch Secretaries, Military Intelligence Files
Vermont
Barre
 - Musicians' Industrial Union (Music)  active 1907
Industrial Union Bulletin, 11/16/1907
Vermont
Barre
Local No. 117 -  (unknown) Secretary: Peter Bianchi active 1917
Branch Secretaries, Military Intelligence Files
Vermont
Barre
Local No. 410 -  (unknown) Secretary: L. Marchetto active 1907-1910
Industrial Worker, 03/12/1910 ;Industrial Worker, 09/09/1909 ; Industrial Union Bulletin, 12/21/1907 ; Industrial Union Bulletin, 02/08/1908
Vermont
Montpelier
Local No. 7 -  (unknown) Secretary: F. Rossi active 1907-1910
Industrial Worker, 03/12/1910 ; Industrial Union Bulletin, 10/26/1907
Vermont
Waterbury
Local No. 176 -  (unknown) Secretary: N. Imbruglio active 1909-1910
Industrial Worker, 03/12/1910 ;Industrial Worker, 09/09/1909
Virginia
Newport News
Local No. 30 -  (Machinists)  active 1907-1908
Industrial Union Bulletin, 09/07/1907 ; Industrial Union Bulletin, 02/08/1908
Virginia
Norfolk
 Local No. 4 -  (Marine transport) Secretary: Jos. Aspilqusta active 1914-1917
Brissenden (1919) , 365 ; Branch Secretaries, Military Intelligence Files
Virginia
Port Norfolk
Local No. 39 -  (unknown)  active 1907
Industrial Union Bulletin, 11/16/1907
Virginia
Portsmouth
Local No. 39 -  (Machinists)  active 1907
Industrial Union Bulletin, 08/31/1907
Virginia
Richmond
Local No. 9 -  (unknown)  active 1907
Industrial Union Bulletin, 11/16/1907
Washington
Aberdeen
Local No. 354 -  (unknown) Secretary: C.G. Wertenbaker active 1907-1912
Industrial Worker, 03/12/1910, Industrial Union Bulletin, 08/24/190, Industrial Union Bulletin, 02/08/1908, Industrial Worker, 01/05/1911, Industrial Worker, 03/14/1912
Washington
Aberdeen
Local No. 448 - Fishery and Cannery Workers' Industrial Union (Fishery and Cannery)  active 1919
New Solidarity, 10/25/1919
Washington
Anacortes
Local No. 314 -  (unknown)  active 1911
Industrial Worker, 01/05/1911
Washington
Anacortes
Local No. 316 -  (unknown) Secretary: Al Enstrom active 1910
Industrial Worker, 03/12/1910 
Washington
Anacortes
unknown -  (Lumber)  active 1909-1910
Brissenden (1919) , 366 
Washington
Ballard
Local No. 388 -  (unknown)  active 1907
Industrial Union Bulletin, 08/24/1907
Washington
Bellingham
Local No. 418 -  (unknown)  active 1908
Industrial Union Bulletin, 02/08/1908
Washington
Blaine
Local No. 319 -  (unknown)  active 1911
Industrial Worker, 01/05/1911
Washington
Burnett
I.U. 236 - Coal Miners' Industrial Union (Mining-coal)  active 1910
Solidarity, 12/17/1910
Washington
Burnett
Local No. 234 -  (unknown)  active 1911
Industrial Worker, 01/05/1911
Washington
Everett
Local No. 248 -  (unknown)  active 1911
Industrial Worker, 01/11/1912
Washington
Greenwater
Local No. 116 -  (unknown)  active 1907
Industrial Union Bulletin, 10/26/1907
Washington
Hoquiam
Local No. 276 -  (unknown)  active 1907
Industrial Union Bulletin, 10/19/1907
Washington
Rainier
Local No. 542 -  (unknown)  active 1907
Industrial Union Bulletin, 08/24/1907
Washington
Raymond
Local No. 433 - Lumber Workers' Industrial Union (Lumber) Chartered 10/1911 active 1911-1912
Industrial Worker, 01/11/1912
Washington
Seattle
I.U. 325 - Shipbuilders' Industrial Union No. 325 (Ship building) Raided in 03/1919 active 1917-1919
Minute Books (or subsequent document titles), Casefile 188032, Department of Justice Investigative Files, Part I: The Industrial Workers of the World, Research Collections in American Radicalism (microfilm), Reel 8. ; New Solidarity, 05/17/1919
Washington
Seattle
I.U. 700 - Marine Tranport Workers' Industrial Union No. 700 (Marine Transport)  active 1917-1919
Minute Books (or subsequent document titles), Casefile 188032, Department of Justice Investigative Files, Part I: The Industrial Workers of the World, Research Collections in American Radicalism (microfilm), Reel 8. ; New Solidarity, 05/17/1919
Washington
Seattle
Local No. 121 -  (unknown)  active 1911
Industrial Worker, 01/05/1911
Washington
Seattle
Local No. 132 -  (unknown)  active 1911
Industrial Worker, 01/05/1911
Washington
Seattle
Local No. 178 -  (mixed local) Secretary: Aug. Wangeman (1909), Thos. Whitehead (1917) active 1907-1917
Brissenden (1919) , 365 ; Industrial Worker, 03/12/1910 ;Industrial Worker, 09/09/1909 ; Branch Secretaries, Military Intelligence Files ; Industrial Union Bulletin, 03/09/1907 ; Industrial Union Bulletin, 02/08/1908
Washington
Seattle
Local No. 178 Branch 2 -  (mixed local) Secretary: Ed. Mattson active 1914-1917
Brissenden (1919) , 365 ; Branch Secretaries, Military Intelligence Files
Washington
Seattle
Local No. 179 -  (unknown)  active 1911
Industrial Worker, 01/05/1911
Washington
Seattle
Local No. 194 -  (Clothing)  active 1912-1913
Vincent St. John (1917) ; Solidarity, 03/29/1913
Washington
Seattle
Local No. 223 -  (unknown)  active 1911
Industrial Worker, 01/05/1911
Washington
Seattle
Local No. 252 -  (Marine transport) Secretary: Thos. Whitehead. Chartered 11/1911 active 1911-1917
Brissenden (1919) , 365 ; Solidarity, p.4,07.29.1916 ; Branch Secretaries, Military Intelligence Files ; Industrial Worker, 01/11/1912
Washington
Seattle
Local No. 317 -  (Lumber)  active 1914
Brissenden (1919) , 365 
Washington
Seattle
Local No. 382 -  (mixed local) Secretary: W.J. Morris (1909), Thos. Whitehead (1917) active 1909-1917
Brissenden (1919) , 365 ; Solidarity, p.3,04.11.1914 ; Industrial Worker, 03/12/1910 ;Industrial Worker, 09/09/1909 ; Branch Secretaries, Military Intelligence Files
Washington
Seattle
Local No. 382 -  (unknown)  active 1908
Industrial Union Bulletin, 05/23/1908
Washington
Seattle
Local No. 400 -  (Public service)  active 1914
Brissenden (1919) , 365 ; 1914 Polk Directory, ; 
Washington
Seattle
Local No. 427 -  (Food)  active 1914
Brissenden (1919) , 365 ; 1914 Polk Directory, ; 
Washington
Seattle
Local No. 432 -  (Lumber) Secretary: Wm. Liebrecht active 1909-1917
Brissenden (1919) , 365 ; Solidarity, p.4,01.30.1915, 04.14.1917 ; Casefile 188032, Department of Justice Investigative Files, Part I: The Industrial Workers of the World, Research Collections in American Radicalism (microfilm), Reel 8. ; Industrial Worker, 03/12/1910 ;Industrial Worker, 09/09/1909
Washington
Seattle
Local No. 432 -  (unknown)  active 1911
Industrial Worker, 01/05/1911
Washington
Seattle
Local No. 500 - Lumber Workers' Industrial Union (Lumber)  active 1919
New Solidarity, 01/18/1919
Washington
Seattle
Local No. 573 - Construction Workers' Industrial Union (Construction)  active 1919
New Solidarity, 02/08/1919
Washington
Seattle
Local No. 675 -  (Lumber)  active 1914
Brissenden (1919) , 365 ; 1914 Polk Directory, ; 
Washington
Seattle 
Local No. 131 -  (unknown) Secretary: A.C. Cole active 1909-1910
Industrial Worker, 03/12/1910 ;Industrial Worker, 09/09/1909
Washington
Seattle 
Local No. 178, branch 3 -  (unknown) Secretary: Frits A. Main active 1917
Branch Secretaries, Military Intelligence Files
Washington
Seattle 
Local No. 178, Swedish/Scandinavian Branch 3 -  (unknown)  active 1914
1916 Convention Proceedings
Washington
Seattle 
unknown -  (Hospitality)  active 1909-1910
Brissenden (1919) , 366 
Washington
Sedro-Woolley
Local No. 312 -  (unknown)  active 1911
Industrial Worker, 01/05/1911
Washington
Spokane
A.W.O. 400 - Agricultural Workers' Organization No. 400 (Agriculture)  active 1917
Minute Books (or subsequent document titles), Casefile 188032, Department of Justice Investigative Files, Part I: The Industrial Workers of the World, Research Collections in American Radicalism (microfilm), Reel 8.
Washington
Spokane
I.U. 500 - Lumber Workers' Industrial Union No. 500 (Lumber)  active 1917
Minute Books (or subsequent document titles), Casefile 188032, Department of Justice Investigative Files, Part I: The Industrial Workers of the World, Research Collections in American Radicalism (microfilm), Reel 8.
Washington
Spokane
Local No. 132 -  (unknown) Secretary: Chas. Brown active 1909-1910
Industrial Worker, 03/12/1910 ;Industrial Worker, 09/09/1909
Washington
Spokane
Local No. 222 -  (unknown) Secretary: W.H. Douglas active 1907-1916
 Solidarity, p.1,08.12.1916 ; Industrial Worker, 03/12/1910 ;Industrial Worker, 09/09/1909 ; Industrial Union Bulletin, 05/11/1907 ; Industrial Union Bulletin, 02/08/1908 ; Industrial Worker, 01/05/1911
Washington
Spokane
Local No. 223 -  (unknown)  active 1907
Industrial Union Bulletin, 08/24/1907
Washington
Spokane
Local No. 315 -  (Lumber) Secretary: Richard Brasier active 1914-1917
Brissenden (1919) , 365 ; Solidarity, p.4,02.05.1916 ; Branch Secretaries, Military Intelligence Files
Washington
Spokane
Local No. 358 -  (Brewers)  active 1907
Industrial Union Bulletin, 08/24/1907
Washington
Spokane
Local No. 423 -  (unknown) Secretary: F.W. Shwartz active 1909-1910
Industrial Worker, 03/12/1910 ;Industrial Worker, 09/09/1909
Washington
Spokane
Local No. 424 -  (unknown)  active 1911
Industrial Worker, 01/05/1911
Washington
Spokane
Local No. 434 -  (unknown) Secretary: Hugh A. Hanley active 1909-1910
Industrial Worker, 03/12/1910 ;Industrial Worker, 09/09/1909
Washington
Spokane 
Local No. 183 - Cement Workers (Construction)  active 1906-1907
Brissenden (1919) , 135 
Washington
Tacoma
Local No. 1100 - Hotel, Restaurant, and Domestic Workers' Industrial Union (Hotel, Restaurant, and Domestic)  active 1919
New Solidarity, 07/19/1919
Washington
Tacoma
Local No. 169 -  (mixed local)  active 1907-1914
Brissenden (1919) , 365 ; Industrial Union Bulletin, 10/19/1907 ; Industrial Union Bulletin, 02/08/1908
Washington
Tacoma
Local No. 338 -  (Lumber) Secretary: Sam Nelson active 1914-1917
Brissenden (1919) , 365 ; Branch Secretaries, Military Intelligence Files
Washington
Tacoma
Local No. 380 -  (Marine transport) Secretary: A. Payne (1909), Dan Thompson (1917) active 1907-1917
Brissenden (1919) , 365 ; Solidarity, p.3,1916.02.19 ; Industrial Worker, 09/09/1909 ; Branch Secretaries, Military Intelligence Files ; Industrial Worker, 01/05/1911; Industrial Worker, 01/04/1912 ; Industrial Union Bulletin, 08/24/1907
Washington
Tacoma
Local No. 500 - Lumber Workers' Industrial Union (Lumber)  active 1919
New Solidarity, 03/08/1919
Washington
Tacoma
Local No. 545 -  (Smelting)  active 1907
Industrial Union Bulletin, 04/20/1907
Washington
Vancouver
Local No. 544 -  (unknown)  active 1907
Industrial Union Bulletin, 08/24/1907
Washington
Wenatchee
Local No. 76 -  (unknown)  active 1910
Solidarity, 07/23/1910
Wisconsin
Lohrville
Local No. 364 - Quarry Workers' Industrial Union Local 364 (Quarry)  active 1916
 Solidarity, p.1,04.29.1916 ; 1916 Convention Proceedings, p.??
Wisconsin
Marblehead
Local No. 364 -  (Quarry)  active 1916
1916 Convention Proceedings
Wisconsin
Milwaukee
Local No. 118 -  (mixed local)  active 1914
Brissenden (1919) , 365 
Wisconsin
Milwaukee
Local No. 122 -  (unknown)  active 1907
Industrial Union Bulletin, 08/24/1907
Wisconsin
Milwaukee
Local No. 123 -  (unknown)  active 1907
Industrial Union Bulletin, 03/30/1907
Wisconsin
Milwaukee
Local No. 9 -  (Brewery workers)  active 1907
Industrial Union Bulletin, 08/31/1907
Wisconsin
Superior
Local No. 247 -  (unknown)  active 1911
Industrial Worker, 01/05/1911
Wisconsin
Superior
Local No. 500 - Lumber Workers' Industrial Union (Lumber)  active 1919
New Solidarity, 04/05/1919
Wisconsin
Superior
Local No. 800 - Metal Mine Workers' Industrial Union (Mining-metal)  active 1919
New Solidarity, 04/05/1919
Wyoming
Cheyenne
Local No. 140 -  (unknown) Secretary: Louis Moreau active 1910-1915
 Solidarity, p.3,08.14.1915 ; - Industrial Worker, 03/12/1910