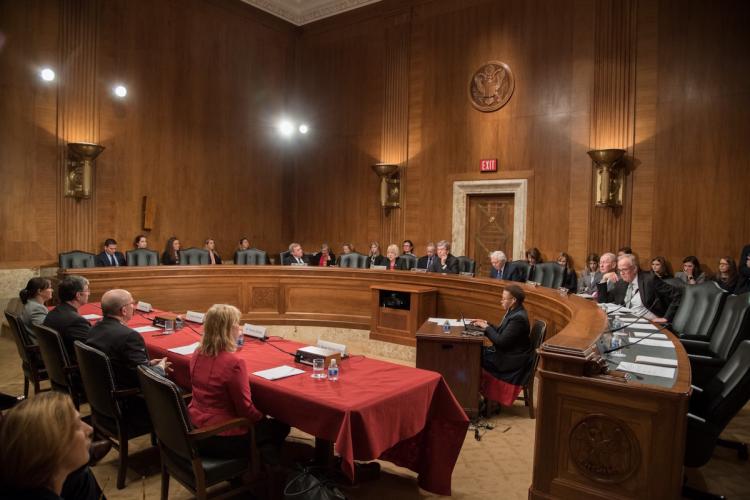 In March of last year, it seemed like NIH federal funding for Alzheimer's disease researchers was hanging in the balance, stalled, even while a bipartisan group of senators expressed their desire to support robust funding and enact a $414 million increase. Now, the 2018 Omnibus spending bill has come through. Here's what spending bill does for Alzheimer's research and social programs.
Then:
In March of 2017, Dr. Thomas Grabowski, Director of the UW Memory and Brain Wellness Center and the UW Alzheimer's Disease Research Center (ADRC) testified in front of the Senate Appropriations Subcommittee in support of a $414 million increase in federal Alzheimer's disease research funding, needed in order to achieve the goals of the National Plan to Address Alzheimer's Disease to prevent and effectively treat Alzheimer's disease by 2025, and advocated for by the Alzheimer's Association and the Alzheimer's Impact Movement (AIM).
Dr. Grabowski explained that NIH funding is what gives longevity to the research infrastructure, brings about standardization and thematic direction, enables cooperation at scale, and trains new scientists.
Reflecting on the experience later, he said, "I came away from the hearing realizing that the bipartisan subcommittee members really seem interested in marshalling material to support the continuing robust funding of the NIH, but it also sounded like the recent budget proposals for increased Alzheimer's disease research funding remain on uncertain ground." One year later…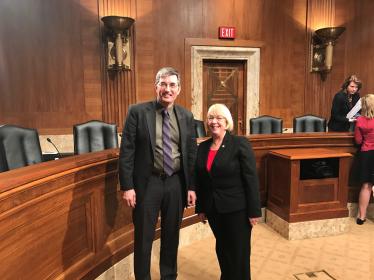 Now:
The 2018 Omnibus spending bill includes the hoped for Alzheimer's disease research funding! Here's what this bill means for researchers who study Alzheimer's Disease and other dementias (besides new summer plans to write a lot of grants!) The bill:
>Gives the National Institute of Health (NIH) a $3 billion boost, to $37 billion, the biggest percent increase NIH has received since a 5-year effort to double the agency's budget ended in 2003.
>Includes the requested $414 million in new NIH funding for Alzheimer's disease research, a 30% increase, that puts total funding for research there at $1.8 billion. "Alzheimer's advocates are gratified that members of Congress responded to our urging to continue the significant growth in NIH funding we've seen in recent years for dementia research," says Peter Newbould, the Public Policy Manager of the Alzheimer's Association WA State Chapter. Funding increases accelerate research, but there is still more to be done. It will take a sustained investment from Congress if we're to continue making progress toward effective treatment and a cure."
>Rejects a proposed cut to the overhead payments that accompany NIH grants to universities to help maintain needed research infrastructure and equipment.
>Included Kevin and Avonte's Law, bipartisan legislation to protect seniors with Alzheimer's and dementia and children with developmental disabilities who are prone to wandering. Kevin and Avonte's Law reauthorizes a Department of Justice program that helps local law enforcement officials quickly identify wandering individuals with Alzheimer's and reunite them with their families. State and local law enforcement agencies, state health care agencies, and nonprofit organizations will have access to resources to establish and run programs to prevent wandering and to locate missing individuals.
>Frontotemporal degeneration (FTD), a spectrum of brain diseases that impact language and behavior and lead to dementia, has been added to a short list of diseases to receive research funding through the Department of Defense under the Congressionally Directed Medical Research Program, with support led by Sen. Chuck Schumer (D-N.Y.).
The $414 million increase for Alzheimer's research was secured by Senate Appropriations Labor, Health and Human Services, Education and Related Agencies Subcommittee Chairman Roy Blunt (R‐Mo.) and Ranking Member Patty Murray (D‐Wash.), and by House Appropriations Labor, Health and Human Services, Education and Related Agencies Subcommittee Chairman Tom Cole (R‐Okla.) and House Appropriations Committee Ranking Member Nita Lowey (D‐N.Y.).
The Fight Ahead:
According to the Alzheimer's Association, Alzheimer's is the most expensive disease in America, costing more than heart disease and cancer. Nearly one in every five dollars of Medicare spending is spent on people with Alzheimer's and other dementias. However, even with the recent funding increases, in 2017, the NIH spent only $100 on Alzheimer's research for every $12,500 Medicare and Medicaid spent caring for people with the disease.
But, with modest advances in research and prevention measures, the future need not be so grim, as Dr. Grabowski told the committee of senators in 2017, "By 2050, cases of Alzheimer's disease will about triple, so were talking a trillion dollars of direct and opportunity costs," said Grabowski. "The incidence of Alzheimer's disease-type dementia doubles every 5 years after age 65, and so if we could delay onset by 5 years, we could cut the number of cases in half, and by inference, we could cut dementia-related costs in half."
For Funding Year 2019, the Alzheimer's Association and AIM is requesting a $425 million increase in NIH funding, through the Professional Judgment Budget submitted directly to Congress by NIH. —Genevieve Wanucha
For more context, see the March 2017 article: A Bipartisan Moment for Medical Research
Photos credit Alex Keenan