About Dimensions Magazine and Newsletters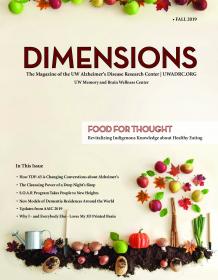 Our monthly newsletter and twice-yearly magazine connect readers with the latest in ADRC Alzheimer's and related disorders research, care, and dementia-friendly community initiatives at the UW Memory and Brain Wellness Center. These publications are a resource for memory clinic families, ADRC research participants, and interested UW faculty and staff. The magazine and monthly newsletter are produced by the UW MBWC communications team, under the leadership of MBWC and ADRC director Dr. Thomas Grabowski, MD. Questions or submissions, contact Genevieve Wanucha at gwanucha@uw.edu.
View/Download previous issues of Dimensions, 2007-current:
Winter/Spring 2022 The Memory Hub Opens! Contents: ADRC Discoveries Made Possible By You - New Awards, Grants & Funding - Angela Hanson's Takeaways from AAIC2021 - New Spanish Language Webpage: memoria.uw.edu - Do Microglia Cells Hold the Key to Understanding Personal Genetic Risk in Alzheimer's Disease? - ADRC Indigenous Aging Brain Health Series: Indigenous Perspectives at the Dementia Friendly-Futures Conference- Homespun Comfort: My Fidget Apron Project - - Group Haiku by the Gathering Place - A Year in Virtual Garden Discovery Walks - Memory Loss: Guide to Next Steps - Current Schedule. Read Online or Download PDF here.
Spring 2021 - Celebrating Our Community Champions Contents: ADRC Discoveries Made Possible By You - New Awards, Grants & Funding - Twitter As a Career Development Tool for Researchers - Project ECHO Dementia: A web-based virtual learning model for front-line care providers from around WA State -Enrolling Research Studies - What's in the Works at the Memory Hub? - Ask About Alzheimer's: A Program for Middle-Schoolers - Save the Date: Expanding Possibilities Conference! - Introducing: The Memory Loss Compass Rose -Dublin for Dementia: Maureen Cardosa's Marathon Effort to Support Alzheimer's Disease Research - Building Virtual Supports for Lewy Body Dementia Caregivers - ADRC Indigenous Aging Brain Health Series: Dr. Gary Ferguson on Traditional Foods, Ways of Healing, and Indigenous Elder Wisdom - Window of Opportunity: Enhancing Social Connections for Residents of Memory Care Communities - The Power of Caregiver Advocacy: A Grassroots Effort to Improve Vaccine Access for Seattle's Vulnerable Homebound Elders - Creating a Culturally Engaging Brain Health Program for Seattle's African American Communities, One Step at a Time
Fall 2020 - 35th Anniversary Edition. Contents: The Early ADRC's Search for an Alzheimer's Gene: How Creative Teamwork, Collaboration, Leadership, and Luck Set the Stage for Today's Approach to Biological Complexity - An Ecology of the Aging Brain: The Shared Project of the Adult Changes in Thought Study and the ADRC - The Far-Reaching Legacy of Non-Pharmacological Intervention and Caregiving Programs at the Early UW ADRC and Related Programs - High Standards: A Profile of Ellen Wijsman - Taking the Long Road: ADRC Efforts to Recognize Health Disparities and Better Represent American Indians and Alaska Natives in Alzheimer's Disease Research - An Interview with the ADRC's Founding Director - Celebrating ADRC Research Participants - A Prescription for Prevention: Exploring the Most Impactful Take-home Lessons of the ACT Study about Dementia Prevention and Risk Factors - Revisiting a Defining Question, 34 Years Later - A Research Mystery for the Ages: Are Females at a Higher Risk for Alzheimer's? - ADRC Milestones: 1978-2020
Spring 2020 -Home Is Where the Art is: Can a Creative Home Environment Help Loved Ones Age in Place? -Building a Platform for Protein Therapeutics -The Power of an Active Lifestyle to Boost Brain Resilience -Announcing the Memory Hub: A Place for Dementia-Friendly Community, Collaboration, and Impact -The Wisdom of Indigenized Health Interventions for Native Elders -Improving the Quality of Care for LGBTQ Older Adults -Recent Publications & New Grants -My Journey from Disease to Advocacy -FAQ on ADRC Research Participation
Fall 2019 Featured Publications - The Cleansing Power of a Deep Night's Sleep - New Models of Dementia Residences Across the World - Food for Thought: Revitalizing Indigenous Knowledge about Healthy Eating - The Storytelling of Elaine Grinnell, Jamestown S'Klallam Elder - SOAR Program Takes People to New Heights - How TDP-43 is Changing Conversations about Alzheimer's Disease - Updates from the 2019 Alzheimer's Association International Conference - Why I - And Everybody Else- Loves My 3D Printed Brain
Spring/Summer 2019 Featured publications - Voice diagnostics -Busting myths about Alzheimer's treatments & diets - Diversity in research participation - Creating legacy while living with dementia - Dementia Friends in WA State - Poetry - Arts & Creativity Showcase - and much more.
Fall 2018 Bringing a New Vision of Social Citizenship to the Cascadia Region; Inventing a Blood Test for Alzheimer's and Parkinson's Diseases; The Gut Microbiome and Brain Health; "Ooh La La!" In the Garden with Ciscoe Morris; Poems & Essays; UW Huntington's Disease Symposium; Dementia Friends Comes to WA State; Highlights of the AAIC 2018; The Freshest Data on Diet and Cognition; Students, Is a Neuroscience Major Right For You?
Spring 2018 Resilience in Alzheimer's Disease: 6 Ways to Build a Stronger Brain, Mind, and Spirit at Any Stage of Life; Fish Oil ad Seafood for Brain Health: What's the Evidence?; New Clinical Trial; Federal Funding News; Highlights of the ADRC Pilot Projects; Student Spotlight; Update on the WA State Dementia Action Collabortative; Co-Participants: The Unsung Heroes of ADRC Research Studies; Grand Prize in National Dementia Friendly Photo Contest
Fall 2017 Dancing to Remember: The Science of Brain Healthy Activities; Local Opportunities; Addressing Alzheimer's Disease in Native American Communities; The Tiny Worm Driving UW Alzheimer's Research; This Summer's Ride4Alz Motorcycle Tour; Updates from London's Alzheimer's Association Int'l Conference AAIC 2017; Essays & Poems: Garden Walkers
Winter/Spring 2017 Presto Change-O! Neurons in a Dish; Statewide Innovations in Dementia Policy; Recipes for a Healthy Brain; Prazosin: Agitation Antidote; the Rising Stars of Alzheimer's Research; The Art of Alzheimer's Exhibit
Fall 2015: Precision Medicine: Alzheimer's Treatments Tailored to Suit You; UW ADRC 30th Birthday; Recent Publications; Letter from the Editors; Sleeping in Seattle; Momentum for Momentia; Good Food; Brain Healthy Activities; A Letter That Traveled the World
Fall 2014: The Genetics, Demographics, and Environment of Alzheimer's and Hope; UW ADRC Biomarkers; Alzheimer's Association International Conference Updates; Letter from the Editors; Writer, Filmmaker, and UW ADRC Participant: An Interview with Ann Hedreen; SNIFF: Alzheimer's Disease and Nasal Insulin; Community Opportunities; If at First You Don't Succeed; Food for Thought; The Healing Arts: An Interview with Local Art Therapist Erin Partridge
Spring 2013: Memories Made and Unmade: Alzheimer's Effects on Four Stages of Memory; The Human Connectome Project; Global Research Updates; Walking the Neuro-Path: An Interview With New ADRC Director Dr. Thomas Montine; Resveratrol, Anger Management: Caregiver Tips for Handling Alzheimer's Behavioral Symptoms; Annual Alzheimer's Benefit Dance
Spring 2012: Connecting the Dots: Dr. Gail Li and the Epidemiology of Alzheimer's; Local Research Updates; An Upside to Risk Factors; Lumbar Puncture Myth Buster; William Utermohlen: Self Portraits of Alzheimer's; Questions Answered with Linda Whiteside of the Alzheimer's Association; Making a Greater Investment in Alzheimer's; Gloria's Story
Fall 2011: Fingers Crossed: Potential for Progress in a New Era of Alzheimer's; ICAD Updates; Heart to Heart; Study Updates: Where We Are Now; A Dance to Remember; Improv for Alzheimer's; The Head + The Heart; So Long, Farewell: An Ode to Retirement
Spring 2011: Confronting a Century of Lewy Body Confusion; From Bingo to Brain Scans; Sleep and Memory; National Alzheimer's Project Act; Focus on the Future: Current ADRC Projects; African Americans and Alzheimer's Disease: Dr. Solomon Carter Fuller
Fall 2010: Traumatic Brain Injury and Alzheimer's Disease; Gap in Understanding of Alzheimer's Disease Risk and Prevention Among Most Vulnerable Populations
Spring 2010: Old Drugs are New Weapons in the Fight Against Alzheimer's Disease; Pacific Northwest Udall Center
Fall 2009: From Research Labs to Possible Treatments for Alzheimer's Disease; DHA in Alzheimer's Disease and Age-Related Cognitive Decline
Spring 2009: Change is Coming to the ADRC; Education Core Changes in Staff; Living at Home with Help and Home Safety Tips
Summer 2008: ADRC Forum: Alzheimer's Care in the 21st Century; Fair Weather Fun; Recognizing and Responding to Pain in Loved Ones with Dementia
Spring 2008: ADRC Research Confirms Alzheimer's Disease Begins Years Prior to Diagnosis, as Early as 50 Years Old; Legal and Financial Planning; Q & A: Anger and What To Do With It
Winter 2008: Similarities and Differences in Identical Twins with Familial Alzheimer's Disease; Q & A: Winter Safety Tips
Fall 2007: Fall Prevention Clinic Shows Promise for Reducing Injurious Falls in Older Adults; Can You Trust What You Read? Q & A: How Can I Make the Holiday Season More Enjoyable for a Loved One with Alzheimer's
Summer 2007: ADRC Public Forum; When Words Fail: Visiting a Loved One in a Nursing Home; Q & A: Traveling with Alzheimer's
Spring 2007: Researchers Finding Screening Tool Superior to Primary Care Physicians at Detecting Dementia; Strange New World: When Persons with Dementia Must Visit the Hospital (Part 2); Q & A: Early-Onset Alzheimer's and Driving
Winter 2007: ADRC Researchers Identify Biomarkers for Alzheimer's Disease; Strange New World: When Persons with Dementia Must Visit the Hospital (Part 1); Q & A: Early-Stage Resources