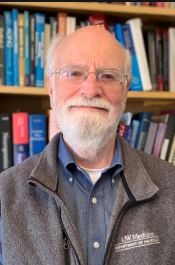 We are proud to share "Dr. Bird's Nest – Blog" with the HD Community. Dr. Thomas Bird, founder of the University of Washington HD Center of Excellence, and author of "Can You Help Me? Inside the Turbulent World of Huntington Disease", has dedicated decades of clinical care and research to Huntington disease. We look forward to hearing from him as he blogs about a variety of Huntington's disease topics sharing his experiences from 40+ years of caring for individuals with HD. 
December 2021
Bladder, Bowel and Sexual Problems in Huntington's Disease
Brenda Vicars, RN, and her team at the University of Washington HD Center have recently published an important study titled "High Prevalence of Concomitant Bladder, Bowel and Sexual Symptoms in Huntington's Disease".  It has been recognized for many years that persons with HD often have bowel and bladder symptoms, but the frequency and severity of these problems has not been fully characterized.  This group of investigators administered a self-reported questionnaire to 48 patients with manifest HD.  This group included 26 males and 22 females ranging in age from 22 to 78 (average 48 years).   The subjects had had symptoms of HD for an average of  6.8 years ranging from 1 to 22 years.  The average CAG repeat expansion size was 44 with a range of 38 to 61. Thus, they studied a fairly typical group of symptomatic patients with HD.
There were numerous important findings from this study.  First, a surprisingly high 93% reported symptoms in at least one of the three areas (bladder, bowel or sexual).  87% reported a urinary symptom (incontinence and frequency being most common), 60% reported a bowel problem (constipation being most common), and 56% reported a sexual symptom (particularly decreased sexual activity as the disease progressed).  Second, a remarkable 40% reported at least one symptom in all three areas.  Hence, concomitant problems in all areas were common. Furthermore, persons with concomitant problems tended to have longer disease duration and worsening total functional capacity scores.
This study emphasizes that HD affects all parts of the nervous system, not only cognitive and behavioral regions, but also the autonomic nervous system and spinal cord.  All these areas can influence control of bowel, bladder and sexual function.  These pelvic organ systems are very important players in arriving at quality of life.  Their dysfunction can seriously impair our activities of daily living.  The study authors rightly conclude that "it is important for health care providers to recognize these symptoms and account for them in the overall treatment and management of patients with HD as they would other functional deficits. Many patients will present with a combination of urinary, bowel and sexual dysfunction which should be addressed in a holistic manner."
Brenda Vicars, RN was able to recently discuss this important topic with Lauren Holder, Producer, Help 4 HD International on her radio podcast titled "Bladder, bowel and sexual dysfunction". The interview can be heard here:  www.help4hd.org/podcast/episode/2defdb80/bladder-bowel-and-sexual-dysfunction
The study publication can be read online at:  https://doi.org/10.3390/jpm11080714
Best wishes and be well,

Previous Blog Posts