Some of the world's top scientists are hard at work to develop treatments for Huntington's disease – and real progress is being made. Dozens of possible treatments are being investigated and hope is building in the HD community.
Get Involved
Successful treatments will arrive more quickly if more people help out.  Here's how you can get involved:
UW Clinical Trials
Our clinical research manager would love to tell you more about options for participating in clinical trials and research at the University of Washington Center of Excellence.
Amy Good, PhD, CCR                                                                                                          Clinical Research Manager 
206-543-3647
amygood@uw.edu
Enroll-HD
Enroll-HD is the largest worldwide study of Huntington's disease families.  Anyone from an HD family can participate and you don't need to know your genetic testing results to do so. A short annual assessment, involving a neurological exam, questionnaires, and a a blood sample is all it takes to help scientists better understand HD.  Being involved with Enroll-HD puts you in a prime spot to sign up for future clinical trials.  To learn more and or to sign-up please contact our clinical research study coordinator, Debra Del Castillo.
HD Trial Finder
Use HDSA's HD Trial Finder to locate Huntington's disease clinical trials nationwide.
Surveys
Researchers, clinicians and other HD healthcare professionals frequently need to solicit input from the HD patients, families and caregivers through anonymous surveys. The results of these surveys are used to help guide future HD care and research strategies. Learn more about current surveys that could benefit from your feedback.
Get Up to Speed on Promising Research
HD Buzz
HD Buzz – "Huntington's disease research news. In plain language. Written by scientists. For the global HD community."
Dr. Ed Wild and Dr. Jeff Carroll (co-founders of HDBuzz) gave this fantastic Avengers-themed presentation reviewing the status of HD research at the 2019 HDSA Annual Convention. It's an easy to follow talk, packed with plenty of superhero references and jokes.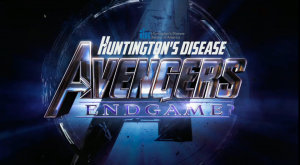 HDSA
Stay up to date on HD Research by following HDSA Research communications – including a weekly blog, webinars, annual research reports and more!
Huntington Study Group
The Huntington Study Group (HSG) is a world leader in facilitating high-quality clinical research trials and studies in Huntington disease (HD).