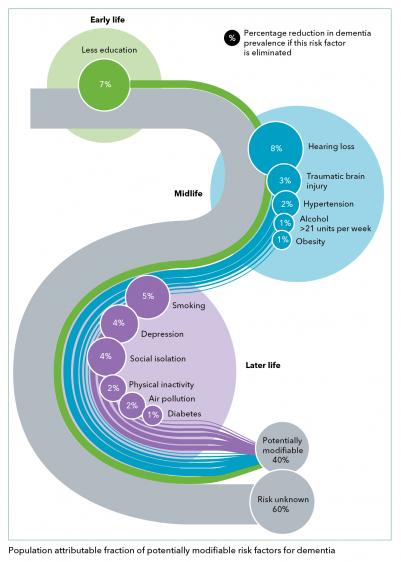 At this week's Alzheimer's Association International Conference 2020, Professor Gill Livingston, dementia researcher at University College, London kicked off the launch of the new Lancet Commission report, stating that dementia can be thought of as preventable. She based that claim on the evidence that the incidence of dementia (the number of newly diagnosed cases) has decreased by over 20% over the last 20 years in the US, UK, France Holland, and Sweden. Yet, the number of people living with dementia is estimated to rise to 132 million by 2020, particularly in low and middle income countries, which have rising life expectancies and a higher risk burden from diabetes and cigarette smoking. "There needs to be more focused work on making accurate estimates of risk and intervention tailored to each setting, but over all it's a good message: the potential for prevention is higher" she said.
The Report provides policy makers, doctors, researchers, and the general public with evidence-based strategies for reducing dementia risk, recognizing the barriers that many face to accessing the vital components to brain health through life.
The authors added 3 potentially preventative risk factors to the 9 in the previous report in 2017. New factors to the list include traumatic brain injury in mid-life, exposure to air pollution in later life, and excessive alcohol use, defined as more than 14 drinks a week. The other 9 are less education, hearing loss, hypertension, obesity, smoking, depression, social isolation, lack of physical activity, and diabetes.
Over on the KPWHRI blog, Dr. Eric B. Larson, MD, MPH gives his perspective on the growing knowledge about preventative risk factors and prevention strategies in early, mid, and later life. He answers questions about reducing risks, disparities, and threats from COVID-19. Larson is Associate Director of the ADRC and Senior Investigator at Kaiser Permanente WA Health Research Institute (KPWHRI) and is among the 28 authors of this report.
-> READ: Q & A: New Lancet report offers hope for preventing dementia