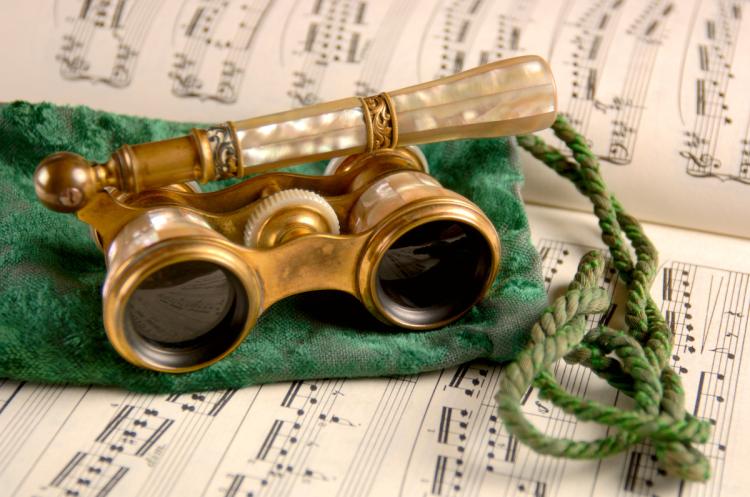 It's opening night of Don Giovanni at the Metropolitan Opera House in New York City. The audience looks like a sparkling sea of tuxedos and cocktail dresses. And then, it begins. "When the lights dim slightly, the chandeliers rise upwards, and the curtains open…Remembering this awesome moment, I get goose bumps," says Randi Luoto.
Like many family dementia caregivers, Randi generally doesn't have the time or resources to travel to New York City alone and immerse herself in several opera performances for a week. But a search for a caregiver respite opportunity turned into the trip of a lifetime.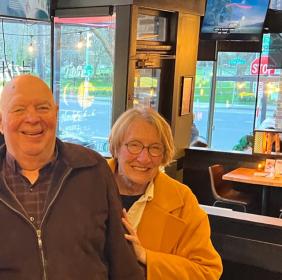 Randi lives with her husband Dennis who received a diagnosis of memory loss due to Alzheimer's disease in Florida in 2016. After moving to Seattle in 2020, the couple found support groups and resources through the Greenwood Senior Center and Seattle Park's and Recreation Dementia Friendly programming. Dennis now enjoys spending time with people in the Elderwise program, held at the Memory Hub.
"It's good way to spend a three or four hours a day. And I just appreciate talking to other people and having a nice day. It's well done," says Dennis.
For Randi, finding this supportive community in Seattle has helped her emotionally adjust to unexpected changes, but the responsibilities of caregiving can add up.
Each year, more than 16 million Americans provide unpaid care for family and friends with dementia due to Alzheimer's disease and related conditions, according to the Centers for Disease Control. While many people report emotional and spiritual fulfillment from their caregiving role, many also experience stress and anxiety related to the demands of daily care.
Taking some respite, defined as a short-term rest or break, from caregiving can be a healthy part of any caregiver's life, providing a few hours or days to devote to their own self-care and foster their emotional and physical resilience.
With her doctor's encouragement, Randi thought about her ideal vision for caregiver respite. She knew about a company called Road Scholar, which offers immersive adventure trips with educational themes such as sailing, cooking, or learning a language in locations all over the world. The opera adventure in New York City sounded like just what she was looking for.
"Opera has the ability to help you transcend wherever you are," she says. "The music is just so hauntingly beautiful that you can lose yourself in it."
Upon a closer look, she learned that Road Scholar offers Caregiver Grants to offset the costs for caregivers to attend an adventure experience of their choice. She applied for and received a grant that provided the program fee, the hotel costs, and most meals for five days in early May.
The trip took Randi to several performances at the Metropolitan Opera House, private demonstrations, moderated interviews of professional singers, meet-and-greets with Metropolitan Opera staff, and a 90-minute backstage tour of Lincoln Center.
"To me, it was fascinating to learn so much about opera," says Randi, who learned about everything from the costume designer's role to the vocal cord dynamics behind performers' opera voices. "I learned that the romantic leads in opera tend to be tenors (highest adult male singing voices) and never basses (lowest male singing voices). Likewise, the high lilting sopranos (highest female voice) tend to be romantic leads. So, if you have a lower voice, you're probably condemned to never being the sweetheart," says Randi. "I think this is so interesting."
Randi also deeply enjoyed spending time with the other program participants, none of whom were caregivers or recipients of a caregiver grant.
"Every dinner, I would deliberately sit with somebody new, because it was just so fun to meet new people," she says. Everyone had a different story."
Real life did poke through this dream at times. It had been stressful to arrange consistent homecare for her husband for the week and, predictably, Randi struggled with feelings of needing to check in and needing to coordinate unexpected issues from afar.
"Still, it was so wonderful for me to have this perfectly distilled experience, and I talk about it to everyone and anyone who will listen."
Along with the memories of sparkling chandeliers and enchanting music, Randi is left with a new conviction that more organizations should consider supporting caregiver health and well-being. She suggests that caregiver respite opportunities could be a new employee benefit.
"There are so, so many caregivers out there, and caregiver burnout is not pretty."