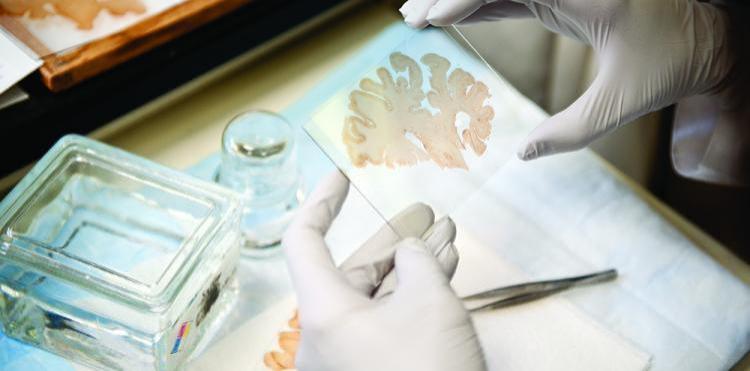 Congratulations to the 2022-2023 awardees of the ADRC Development Projects! These projects, led by postdoctoral fellows and faculty members, use ADRC resources to advance the understanding, diagnosis, and/or treatment of Alzheimer's disease.

Niranjan Balu, PhD, Research Assistant Professor, Vascular Imaging Lab, UW Radiology
Carolyn Parsey, PhD, Assistant Professor, UW Neurology, Memory and Brain Wellness Center
Project: Vascular contributions to Alzheimer's disease and related dementias
Vascular contributions, such as disorders of the brain's blood vessels and blood flow, play a key role in development of cognitive impairment in many types of dementia, including dementia caused by Alzheimer's disease. In this new ADRC-funded study, MRI physicist Dr. Niranjan Balu and neuropsychologist Dr. Carolyn Parsey will evaluate non-invasive MRI-based imaging biomarkers to identify changes in brain vasculature so that pathological changes can be detected early. They will identify whether large artery changes can detect brain atrophy or dementia in people with Atherosclerosis or Alzheimer's disease, paving the way for future dementia treatments that may target large artery disease. The researchers will collaborate with the ADRC's Suman Jayadev, MD, and Thomas Grabowski, MD, and the UW Vascular Imaging Lab's Thomas Hatsukami, MD and Chun Yuan, PhD.
Swati Mishra, PhD, Postdoctoral Fellow, UW Department of Laboratory Medicine and Pathology
Project: Defining the role of endo-lysosomal dysfunction in human microglia harboring Alzheimer's disease (AD)- predisposing mutations in a 2-dimensional monolayer and a novel 3-dimensional cerebral organoid model system

Emerging evidence from human genetic and neuropathological studies shows that dysfunction in microglia, the immune cells of the brain, contribute to onset and progression of Alzheimer's disease. Dr. Swati Mishra will lead a new study to investigate previously unexplored pathways potentially regulated by known Alzheimer's disease risk factors in microglia, using a novel 3D human model system. She will focus on a protein transport and waste disposal pathway, called the endo-lysosomal system, in microglia. The findings will not only enhance our understanding of how genes known to increase Alzheimer's risk contribute to brain pathology but may also reveal novel pathways that will help develop treatment strategies. Dr. Mishra will collaborate with ADRC's Suman Jayadev, MD, and Jessica Young, PhD.

Monica Sanchez-Contreras, PhD, Acting Instructor, UW Department of Laboratory Medicine and Pathology
Project: Somatic mtDNA mutations as contributors to amyloid pathology and tauopathy in Alzheimer's disease

Mitochondria are organelles that generate most of a cell's supply of energy. Abnormal mitochondrial function is an early finding in brain regions affect by Alzheimer's disease, found even before the hallmark build up of amyloid and tau are detected. Previous work has shown that mutations in the mitochondrial genome accumulate with age and are increased in patients with cognitive impairment and who have moderate tau aggregation. Dr. Monica Sanchez-Contreras will investigate the hypothesis that mutations in the mitochondrial genome abnormally increase at preclinical stages of Alzheimer's disease and contribute to mitrochondrial dysfunction and the worsening of Alzheimer' pathology. This study will provide a foundation for studying the molecular mechanisms at play in the transition from cognitive impairment to dementia. Dr. Sanchez-Contreras will use brain samples from the UW ADRC Precision Neuropathology Core.
Jason Webster, PhD, Postdoctoral Fellow, Integrated Brain Imaging Center, UW Radiology
Project: Facilitating brain biorepository use: Atlas-based Labelling of neuropathological sampling
Alzheimer's disease research relies on insights from the study of autopsied blocks of brain tissue preserved and stored in brain biorepositories. Researchers, such as those in the ADRC Precision Neuropathology Core, must systematically collect and identify these tissue blocks according to a brain sampling protocol. Yet, determining whether an actual block contains a particular brain structure or where a particular cortical area is located within a ribbon of brain tissue can be challenging. A common framework to precisely identify the brain structures of interest in biorepository tissue blocks could improve the accessibility of stored brain tissue and strengthen the validity of the findings that rely on this tissue.
Dr. Jason Webster will use the tools of neuroimaging to create digital representations of the neuropathology sampling protocol as well as the corresponding samples from actual brain donors. The products of the project will facilitate researchers' ability to quickly find the appropriate biospecimens for their research and to target locations within those samples with the anatomic consistency. The project will also provide a searchable database of neuroscience terms to simplify biorepository tissue requests. This work develops collaborations between members of the ADRC Precision Neuropathology, Imaging and Biomarker, and Data Management and Statistics Cores.
Oleg Zaslavsky, PhD, Associate Professor, UW Biobehavioral Nursing & Health Informatics
Project: Speech-based coherence for early detection of adverse health events in people living with Alzheimer's disease
Intensive monitoring for unexpected changes in health for people living with Alzheimer's disease can reduce emergency room visits and hospital admissions by instigating early treatments. Although several technologies for monitoring and early detection exist, none of them is optimized to capture delirium in Alzheimer's disease. Delirium typically involves language dysfunction. In this new project, Dr. Oleg Zaslavsky and team will develop protocols for collecting conversational speech samples from people with Alzheimer's disease and evaluate the extent to which certain speech features correlate with clinical assessment of delirium and subsequent use of acute care. This study will serve as groundwork for their longterm goal to develop a speech-based automated solution for early detection of adverse health events in people living with Alzheimer's disease.