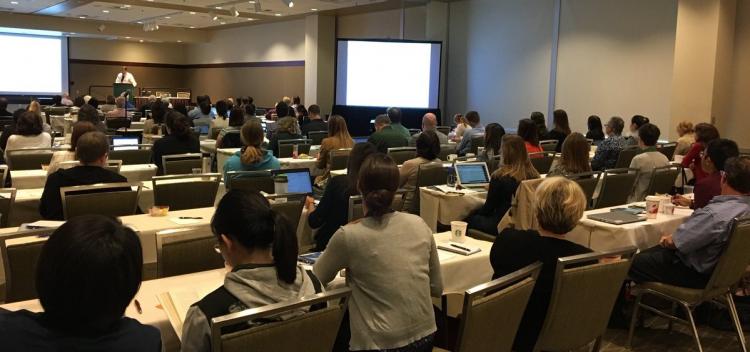 The Adult Changes in Thought (ACT) 6th Annual Symposium hosted attendees from more than 20 universities, research institutions, and health care systems. The presenters shared updates on research that leverages data from the Seattle ACT study on brain health and dementia.
This longitudinal study, a collaboration of UW Medicine/ADRC and Kaiser Permanente WA Health Research Institute, has followed over 5,000 aging participants from the community from age 65 and older, collecting information on health and cognitive function every 2 years. Some develop dementia, and some agree to donate their brains at the end of life. The ACT uses this extensive data resource to identify the environmental and genetic factors that increase the risk of brain disease and find ways to help communities delay or avoid dementia.
To get a sense of the variety of this research, scroll through the real-time highlights, photos, and links to more information from UW Memory and Brain Wellness Center/Alzheimer's Disease Research Center ADRC (@MemoryBrain_UW) and Kaiser Permanente WA (@ErinJBowles) (@kpwashington).
A few photo highlights from #ACT2018—Adult Changes in Thought 6th Annual Symposium—Sarah Tom, Ed Lein, Christine Mac Donald, KPWHRI chart review team #KPResearch #Alzheimer's #dementia 1/2 pic.twitter.com/GccxSnNsNv

— KP WA Research (@KPWaResearch) August 15, 2018
#ACT2018 audience, Dirk Keene, Sascha Dublin, Jing Zhou. Thanks to photographers @ErinJBowles @MemoryBrain_UW @JoanDeClaire! 2/2 pic.twitter.com/w1AC24B9vo

— KP WA Research (@KPWaResearch) August 15, 2018
Current work in the ADRC Neuropathology Core: Jessica Young, Caitlin Latimer, and Dirk Keene!
#ACT2018 day 2. Kicking it off with neuropathology highlights. Our study participants can donate their brains to research. Many of them undergo brain autopsy within 8 hours of death. We are most grateful to our participants for helping us build this amazing resource!

— Erin Bowles (@ErinJBowles) August 14, 2018
Model proposed by Jessica Young @UWMedicine @uwpathology for using stem cells (hiPSC) to develop approaches for treating AD. #ACT2018 pic.twitter.com/h7JVoGtFVq

— Erin Bowles (@ErinJBowles) August 14, 2018
#ACT2018 ADRC's Jessica Young transforms human #pleuripotent stem cells into neurons, in order to study mechanisms of #Alzheimer's and therapeutic targets. #endosomal #endocytic network #lysosomes #SORL1 #CRISPR

Background reading on her approach: https://t.co/O11pIXHuWz pic.twitter.com/J1YWIGHzwk

— UW Memory Brain (@MemoryBrain_UW) August 14, 2018
What passion! So lucky to have Caitlin Latimer as a new faculty at @MemoryBrain_UW: "Love it or hate it, I've summarized ALL neuropathology scores in cohort of people resistant or resilient to dementia. She shows degree of #TDP43, #amyloid, #tau important to measure! #ACT2018 https://t.co/zg9LwL2nOt

— UW Memory Brain (@MemoryBrain_UW) August 14, 2018
If we try to lump people into one disease, any targeted therapies will fall short. Alzheimer's disease is actually made up of several different subtypes. -C. Dirk Keene @UWMedicine @MemoryBrain_UW #ACT2018 pic.twitter.com/M83H2ubCKP

— Erin Bowles (@ErinJBowles) August 14, 2018
...which gets support from the Director of the National Institute on Aging Alzheimer's Disease Centers Program!
— NinaB (@Nina_BSil) August 14, 2018
ADRC collaborator Ed Lein from Allen Institute for Brain Science joined us to talk precision neuropathology!
There are 100s of types of neurons in any given brain region, with varying genetics and disease vulnerabilities, says UW ADRC collaborator Ed Lein of @AllenInstitute. The field has the molecular technology needed to analyze individual human neurons, but funding needed! #ACT2018

— UW Memory Brain (@MemoryBrain_UW) August 14, 2018
Ed Lein from @AllenInstitute discussing cell maps of brains in mice. This mapping will eventually be applied to human brain cells. #ACT2018 pic.twitter.com/ePuqbStUw2

— Erin Bowles (@ErinJBowles) August 14, 2018
Medical anthropology
#ACT2018 UW anthropologist Janelle Taylor @nelliesue and @kpwashington Marlaine Gray @frommarlaine asks: What happens to people with #dementia without strong family support? They are using the ACT study and healthcare data as a resource to determine health outcomes and needs.

— UW Memory Brain (@MemoryBrain_UW) August 14, 2018
Epidemiology
Can we find patients with undiagnosed dementia in the electronic medical record through their "fingerprint"? New research presented by Sascha Dublin @KPWaResearch #ACT2018 pic.twitter.com/e8IoLBZqgl

— Erin Bowles (@ErinJBowles) August 14, 2018
Brain imaging news
#ACT2018 Christine Mac Donald of @UWNeurosurgery: "countless hours" of collaborative work goes into planning a future shared #brain imaging data resource @USCLONI @MemoryBrain_UW @kpwashington @uwpathology. The ACT Imaging Repository Project: https://t.co/2o8ZMfZn0b pic.twitter.com/PDQuCbokSO

— UW Memory Brain (@MemoryBrain_UW) August 14, 2018
Poetry
Poetry reading during break at #ACT2018 on the complex experience of witnessing a life-changing diagnosis of neurological disease and the "beauty of humane consciousness" -by Ron Louie. Read 'A Matter of Fact:' https://t.co/HloYaJ4FJz (image: Gloria Kinney) pic.twitter.com/DCAn0MTXDl

— UW Memory Brain (@MemoryBrain_UW) August 14, 2018
Pharmacology
Some great pharmacoepi research being proposed at #ACT2018. Douglas Barthold presenting on potential association between metformin (used to treat type 2 diabetes) and cognitive decline/risk of Alzheimer's disease. @UW_Pharmacy

— Erin Bowles (@ErinJBowles) August 14, 2018
Do antihypertensives impact risk of dementia BEYOND the pathway that reduces blood pressure? Great question from @zacharyamarcum @UW_Pharmacy that we could try to address using ACT study and @KPWaResearch data. #ACT2018

— Erin Bowles (@ErinJBowles) August 14, 2018
Health and exposure risks: hearing loss, air pollution, lack of sleep, traumatic brain injury, high blood glucose, sedentary behavior
Good question at #ACT2018: Does hearing loss lead to dementia - or, is hearing loss an early marker of cognitive impairment? Nicole Armstrong @JohnsHopkinsSPH says studying hearing aids for older adults will help answer, along ACT study population. https://t.co/x74TOEuZEc

— UW Memory Brain (@MemoryBrain_UW) August 14, 2018
Background on Lianne Sheppard + Gail Li's #ADRC work on air pollution and the brain #ACT2018! https://t.co/8yNnUs47j7 https://t.co/Ezlh4mfQHx

— UW Memory Brain (@MemoryBrain_UW) August 13, 2018
Who needs sleep?! Guess what - we all do and at every age! Poor sleep can be related to cognitive problems later in life. -Kelsie Full @UCSDIPH #ACT2018

— Erin Bowles (@ErinJBowles) August 14, 2018
Important and timely research being presented by @DamsOConnor @MountSinaiNYC on traumatic brain injury and dementia risk. Lots of news on this recently, including major concerns from @NFL #ACT2018 pic.twitter.com/czkgAyfWfw

— Erin Bowles (@ErinJBowles) August 14, 2018
We know higher levels of blood glucose are associated with increased dementia risk…but why? Associations with neuropathology findings so far are inconsistent. -Paul Crane @UWMedicine #ACT2018

— Erin Bowles (@ErinJBowles) August 13, 2018
Excited to see @DoriRosenberg present an update on ACT's physical activity and sedentary behavior data! #ACT2018 pic.twitter.com/Fe1mU8YXyN

— Erin Bowles (@ErinJBowles) August 13, 2018
Sedentary behavior = time spent sitting/inactive (butmore than lying down).
Average sedentary time for adults age 70-85= 9+hrs PER DAY.
Very understudied area of research in terms of association with health outcomes. -@DoriRosenberg @KPWaResearch #ACT2018

— Erin Bowles (@ErinJBowles) August 13, 2018
Which comes first? Less activity—> cognitive impairment?
OR cognitive impairment—> less activity?
Great question from Tom Bird @UWMedicine #ACT2018

— Erin Bowles (@ErinJBowles) August 13, 2018
I'm so impressed by the amount and quality of the ACT study data. It's a fantastic longitudinal study and clearly a labor of love for the researchers involved. #ACT2018

— Nicki Liachko (@nliachko) August 13, 2018
Medicare
Monthly costs for Medicare Advantage dementia pts 12 mos before diagnosis through 2 years after (blue line) vs people without dementia (orange line). Norma Coe @penn #ACT2018 pic.twitter.com/oHg9ms7Pxm

— Erin Bowles (@ErinJBowles) August 13, 2018
George Martin @UWMedicine making an excellent point about bill HR676 (Medicare for All) and how it could greatly enhance our ability to do aging research by providing detailed primary care data for large populations over time. #ACT2018 pic.twitter.com/gbBOZhOFH5

— Erin Bowles (@ErinJBowles) August 13, 2018
Eric Larson from @KPWaResearch kicking off the 6th annual ACT Symposium! Our largest symposium to date! #ACT2018 pic.twitter.com/iYbCbcqaSW

— Erin Bowles (@ErinJBowles) August 13, 2018