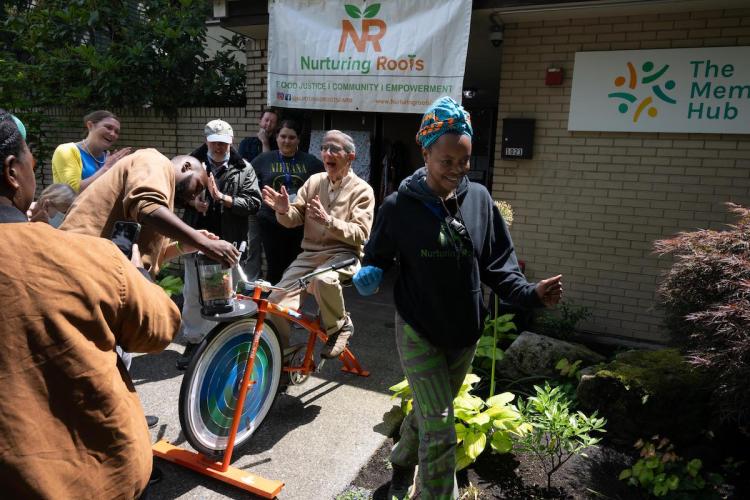 At the first annual Brain Health Block Party, held in honor of Alzheimer's and Brain Awareness Month 2023, at least 130 community members of all ages turned out for a day of brain-healthy activities and social connection in Seattle's First Hill neighborhood.
Seven sites celebrated a variety of fun, easy ways to promote brain health and wellness, such staying active, reducing stress, strolling in nature, challenging our minds, engaging with others, and choosing whole foods. The day also built awareness about memory loss, reminding others that healthy activities and social belonging can improve the lives of people living with dementia and related conditions.
The annual Brain Health Block Party is the brainchild of MBWC's Emily Meeks, who manages the Dementia Friends Washington public awareness program at the Memory Hub. "The heartbeat of Dementia Friends Washington is about building community and creating connections to help make where we live dementia friendly," Meeks said. "I think the first annual Brain Health Block Party was a success! People really came together to celebrate community and brain health and wellness."
The Memory Hub site's brain-healthy activity gave many block party participants the chance to ride a smoothie bike for the very first time in their lives. Kelien Taylor, Nyema Clark, and Olivia Quarles of Nurturing Roots Farm kept the bike blender full of ice, raspberries, blueberries, and mint and helped people pedal their way to a refreshing and nutritious summer treat.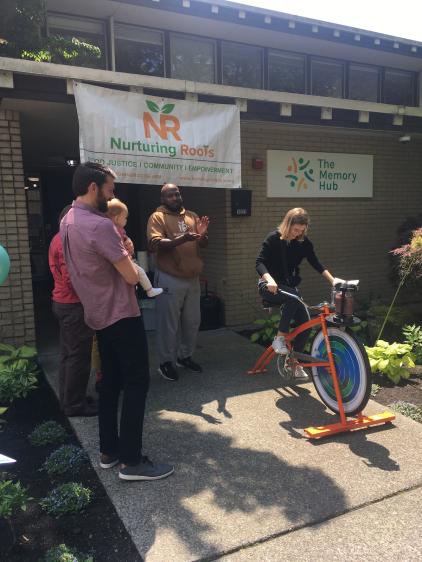 "Watching the older generation ride the smoothie bike—it was like they were kids again," said Quarles about her favorite thing at the Brain Health Block Party. Quarles said she was happy to help at the Memory Hub. From an experience suffering from a concussion sustained in a football game, she knows how important healthy brain activities can be to recovering from a head injury.
"We had the best time today at the Block Party. That Smoothie Bike was brilliant!" said Terry Brashem, a family care partner. "Thanks for a special day!"
Just around the corner from the Memory Hub, the Frye Art Museum's Mary Jane Knecht and Samantha Sanders of the Frye's Creative Aging Program hosted a collaborative art activity. People could sit and draw freeform designs on the paper covering a long table. The table became a little social hub as people connected, laughed, and created.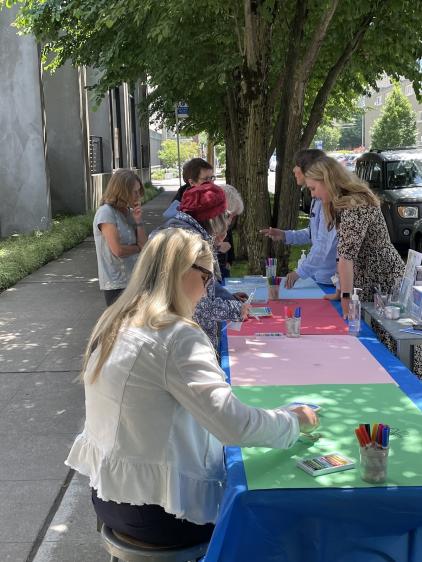 "It was so fun," says Knecht. "A week later, Frye staff keep mentioning the block party and asking, 'how can we do more things like this to build and foster a sense of community here on First Hill?' Personally, I was blown away that we pulled off this huge event so quickly."
The day highlighted just how delicious healthy foods can be. Participants could go from having a smoothie at the Memory Hub to enjoying generous cups of colorful fresh-pressed juices at the Murano Senior Living site. "Our chef really had fun this morning choosing and combining all those healthy ingredients," said Erin Staadecker, manager of Opal by Leisure Care, the memory care program at Murano Senior Living. The drinks provided a cooling treat after visitors played with the brain anatomy puzzle and enjoyed making designs on the interactive felt board.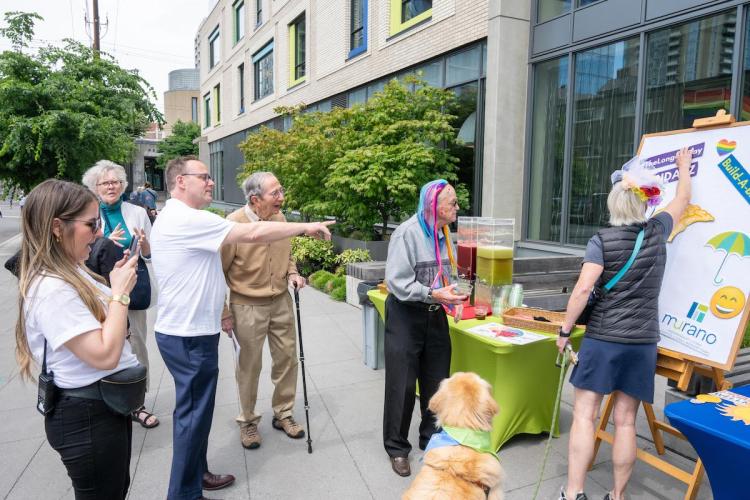 And at the Skyline Seattle location, you got a red ticket for a frozen yogurt topped with nuts, berries, or dark chocolate, only after you engaged in a cognitive stimulation activity—either working on a crossword puzzle or creating art on a canvas bag. This site provided a contrasting experience to the boisterous one at the Memory Hub. On the Skyline patio, people quietly sat around a sunshine-dappled table, working on the crosswords, deep in concentration.
"It was amazing to witness," said Bree Long, marketing coordinator at Skyline Seattle, "One of our residents sat there and finished an entire crossword! It was so good to see him have the chance to do that."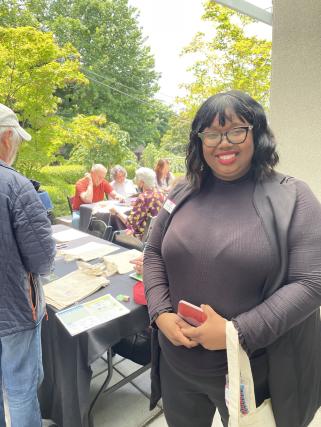 Long said that she was excited to join this event because brain health and dementia awareness are important to her. "I am participating today because it's a chance to bring our community together around recognizing the importance of the little things we can do to care for our brain health and to help people with dementia." Bree remembers when she and her sister were caring for their mother in the later stages of dementia, and the power of simply playing music. "She responded to the music. She showed that she could hear us. I feel like there is always something that can touch someone."
Up at Swedish Medical Center, Dina Metti, Program Manager at Center for Healthy Aging, Women's Brain Health at Swedish, greeted the visitors who had gotten a nice workout on the way there. "The day went great," she said. "Participants kept on commenting on how fun it was to walk around the neighborhood to the different locations and enjoy the activities. People were excited to make their own trail mix and enjoy the snack after walking up the hill to see us."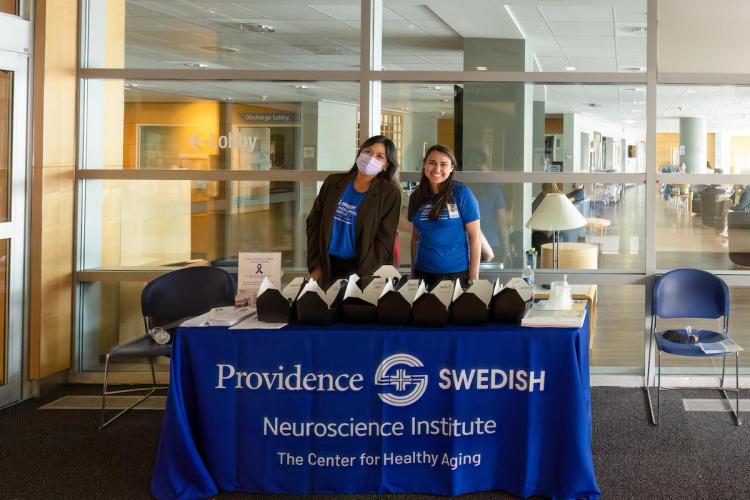 "Our Center for Healthy Aging is grateful to be a part of this Block Party to raise awareness about Brain health and Alzheimer's disease—so fun," said Nancy Isenberg, MD, Medical Director of the Center for Healthy Aging.
At the Horizon House stop, people met the organization's team and learned a lot about brain health. Erika Campbell, social services care connector at Horizon House, said, "It was a spectacular day. People came in droves to have popcorn and answer brain health trivia on a sunny day-what could be better?"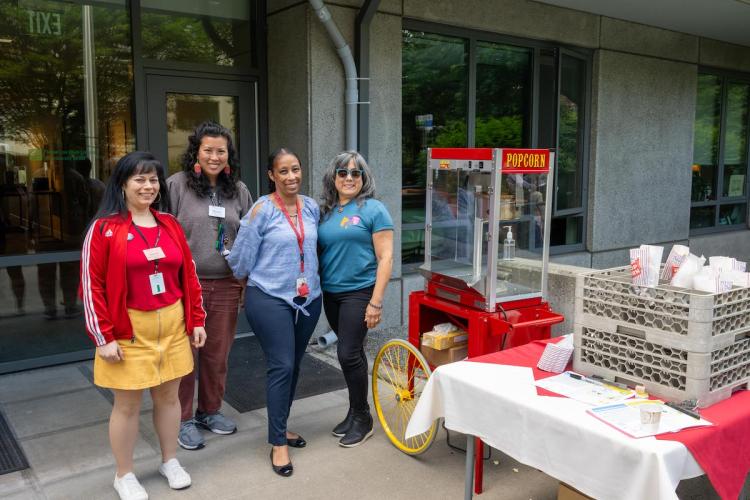 Beyond the fun ways to promote brain health, the block party cultivated our local community in a way that felt new and energizing. Connecting with others in this jubilant atmosphere reminded us of how many people, of all different backgrounds, are a part of our community and share a common interest in brain health and social belonging for everyone.
"I was so happy to see such a diverse group of people so fully engaged at each of the stations and with each other," said MBWC's Neuropsychologist Kristoffer Rhoads, PhD. "It's such a reflection of how First Hill has become more of a neighborhood over time."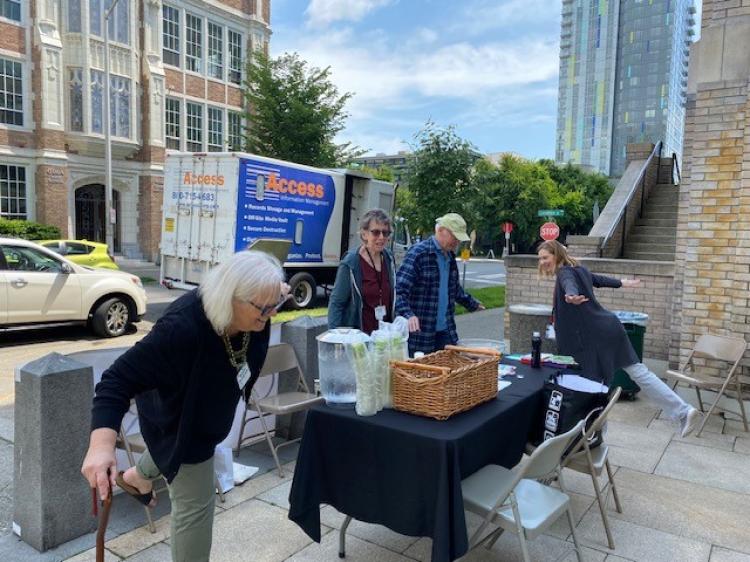 Supporting community health is an important issue for St. James Cathedral, the Memory Hub's closest neighbor, right across the street. "St. James Cathedral embraced the chance to participate in the Brain Health Block Party so we could bring the community together around this very important issue," said Anisa Ralls, Director of Mental Health and Wellness Ministry at St. James Cathedral. "It made me happy to see all of the people who came and out and were a part of this event!"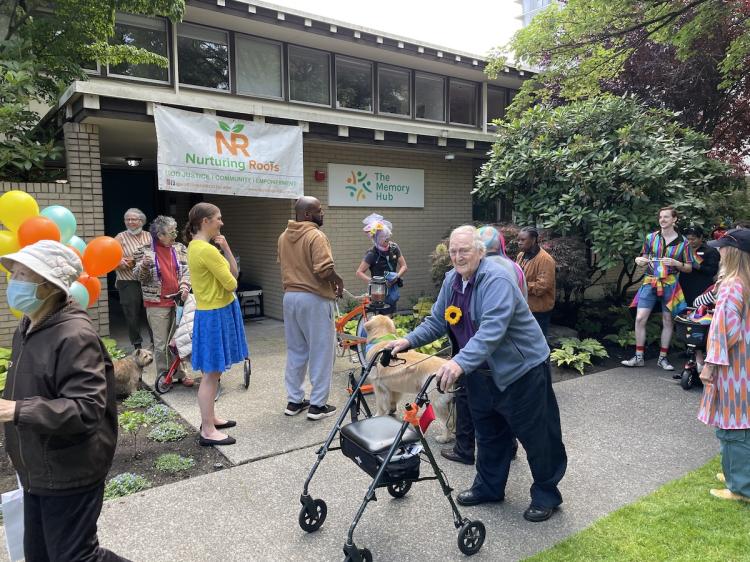 "The past, present and future came together for me during the Brain Health Block Party," said Julia Shaffer, author of Help Grandma Remember. "I revisited the past through a conversation with community member, Richard Ferry. In the present, I connected with Mary Jane Knecht from the Frye's Creative Aging Program. I will move into the future promoting dementia awareness."
Around the end of the block party, chants of "Love Is Love" could be heard from up the street. It was the Murano's Pride Parade, happening the same day. The group gathered in front of the Memory Hub, dancing, hugging, and riding the smoothie bike. MBWC's Marigrace Becker, director of the Memory Hub, looked around in surprise. "This is my dream," she said. Becker's life passion—well-known in this community—is for bringing people together.
It's not the first time she has felt her dream realized among a joyous crowd. The block party crowd reminded Becker of the festival co-hosted in 2019 by the MBWC and the UBC Centre for Research on Personhood in Dementia at the Peace Arch Provincial Park in Surrey, BC. The event united a crowd to celebrate the creativity and advocacy of persons living with dementia. "It's like a First Hill version of Dementia Without Borders." - Genevieve Wanucha