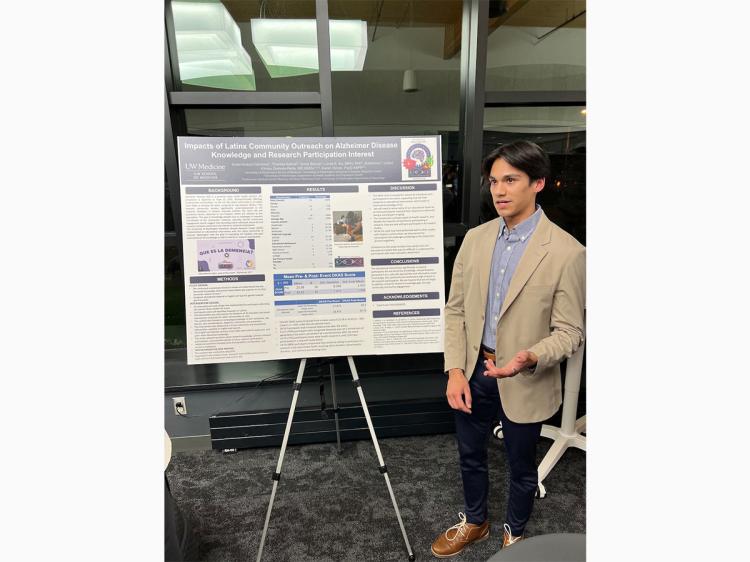 Izzy Anaya Carmona, second-year medical student, completed a summer research project at the UW Memory and Brain Wellness Center. He worked directly under Dr. Kimiko Domoto-Reilly and Dr. Karen Torres to investigate and apply effective methods to recruit members of the Latinx community in research, specifically in Alzheimer's research. As a student volunteer, he helped the ADRC outreach team conduct an educational intervention with the Latinx community of Sumner, WA, where participants learned about Alzheimer's disease and readiness for research participation. His work included creating a Spanish-language educational video about Alzheimer's disease.
Izzy was recently awarded a Clinical Outcome Based Research Honorable Mention in the Idaho WWAMI Medical Education Research Poster Symposium. His poster is titled, Impacts of Latinx Community Outreach on Alzheimer's Disease Knowledge and Participation Interest. The authors on the poster also include members of the ADRC Outreach, Recruitment, and Education team: Theresa Kehne, Sonia Bishop, Linda Ko, PhD, Katherine Lopez, Kimiko Domoto Reilly, MD, MMSc, and Karen Torres, PsyD ABPP.
"Working on this research project and poster meant a lot to me," says Izzy. "Not only did we get an idea about the base knowledge and interest regarding dementia and research participation, we were able to get insight into challenges of the Latinx population in attaining healthcare services as we interacted with the participants during the Sumner Brain Health Event. This was most informative as a researcher, as well as a future healthcare provider to better reach the community and bridge the gap in delivering health care services to the Latinx community."
The team is proud of Izzy and thank him for his vital and creative contributions to community outreach.
Learn more:
Visit memoria.uw.edu to view La Enfermedad de Alzheimer 101 in Spanish or with English subtitles.


For those interested in the resources produced by the ADRC ORE Core, check out the NEW ADRC Community newsletter on memoria.uw.edu. Contact sbishop@uw.edu to sign up to receive it in Spanish or English, by email or mail. View Online: Español | English.