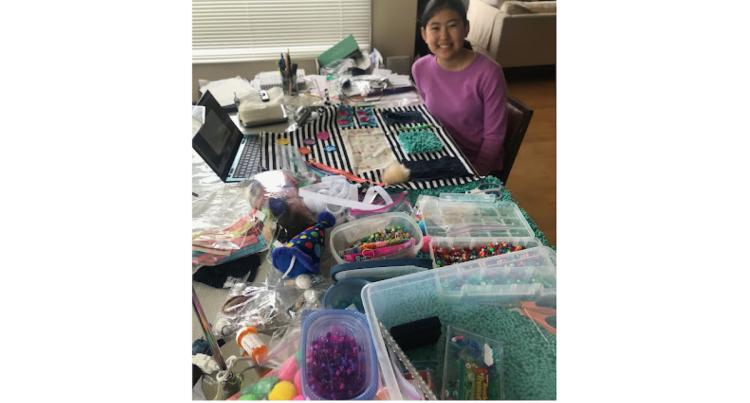 As published in Dimensions Magazine - Winter/Spring 2022
By Emi Takayama, Junior, Lakeside High School and MBWC fall intern
I treasure my childhood memories of visiting my paternal grandmother, Megumi Takayama, in her nursing home near Tokyo Bay, Japan. There, we witnessed her enjoying piano music in the dining hall and occasionally taking wheelchair strolls. She had received her diagnosis of Alzheimer's disease at age 65, and during her late stages, I struggled with the lack of understanding of why she never spoke. Looking back, I wished I had spent more time with her, holding her hand and talking to her. Ultimately, I remain grateful for the tiny moments of grace that I shared with her.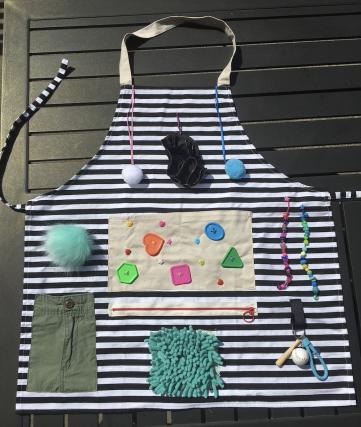 Remembering her story propelled me to seek out volunteer opportunities within memory care centers. However, after the pandemic hit Washington, new state guidelines significantly impeded any community service I had envisioned. Fortunately, I soon discovered a project online posted by Gateway Hospice in Pittsburgh, PA, requesting "fidget aprons." Although I had never heard of these aprons before, I was excited to pursue an activity from home. Initially, a simple service project, fidget aprons have surprisingly uplifted my life and the lives of others.
My maternal grandmother and I found that fidget aprons are designed to provide sensory stimulation and other forms of comfort for people living with dementia. Fidget or activity aprons have unique sensory attachments to help calm the patients. For example, buttons and zippers offer tactile reminders of past clothing, while fuzzy accessories elicit playfulness and warmth.
Fidget aprons can be thought of as a form of sensory stimulation, which also includes touch therapy, music therapy, aromatherapy, horticultural activities, and more. Research shows that sensory stimulation can decrease anxiety for people living with dementia. According to the Canadian Association of Occupational Therapists, sensory stimulation works best with familiar objects and textures. On a fidget apron, you can fasten objects that carry personal significance for your loved one, such as key chains, buttons, baby socks, pieces of old fabric or pockets from favorite shirts. My hope is that fidget aprons can not only engage a person's senses, but also evoke pleasant memories from their past.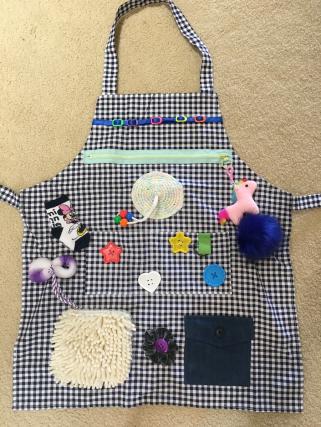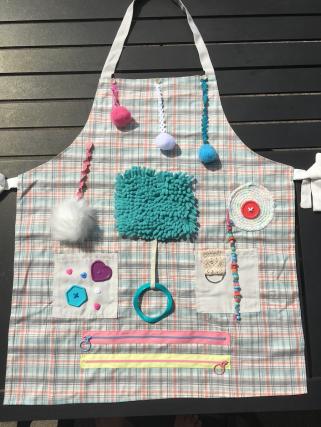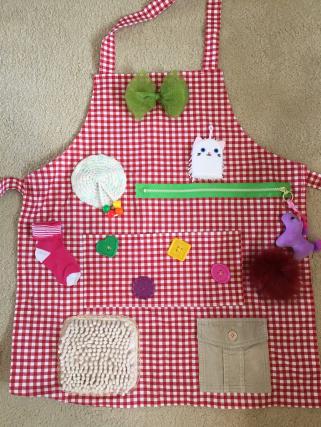 After researching, my grandmother and I decided to hand sew some aprons for Gateway Hospice and the UC Davis Hospice Program, where patients receive end-of-life care. We began by purchasing strong, sturdy fabric to create a blank apron and made several trips to craft stores and Goodwill for sensory attachments. In the design process, I had to consider safety for the people who will wear these aprons by ensuring that the objects attached would not easily break or fall off and become swallowing hazards. We quickly learned that items like tiny beads or inexpensive pom-poms may easily break or shed. After much trial and error, eventually, my grandmother and I produced over 50 aprons.
Covid-19 and public health regulations have had a devastating impact on hospice residents and faculty. Towards the start of the pandemic, Gateway Hospice Volunteer Coordinator Suzanne Ferguson noted, "People were dying sooner and there was more depression, more anxiety... People need contact, they need to be able to see people, they need to be able to touch people." I hoped that with my apron project, I could provide a small amount of human connection in this time of need.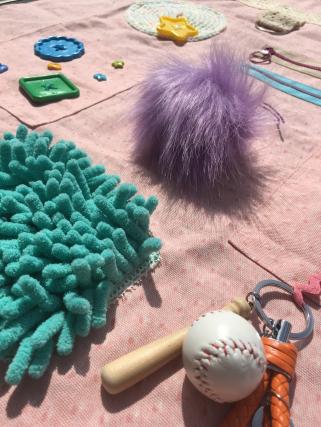 We were ecstatic to hear feedback from the staff at UC Davis about our donation of aprons. "The fidget aprons have been even more cherished during the pandemic when our in-person volunteer program has been closed due to COVID precautions," said Erin S. Bjork, UC Davis Hospice Volunteer Coordinator. Receiving feedback from both hospices has allowed me to further develop my fidget apron designs and prioritize not only physical stimulation but also visual. Ms. Ferguson pointed out that colors and aesthetics are important in addition to various textures.
Ms. Bjork added, "Our staff has been very thankful to have handmade gifts to deliver to the patients. The families are very appreciative of the gifts as well. Often, they aren't sure how to help calm their loved ones and keep their hands busy. The fidget aprons have been a welcome gift to support their loved ones. Families are so surprised and amazed that a teen would take the time to make the fidget aprons by hand for their loved ones." I now feel so blessed with the opportunity to participate in such a simple project that could impact so many people, including dementia patients, caretakers, and their families.
This year, I learned about the UW Memory and Brain Wellness Center clinic, and I decided to donate my remaining fidget aprons to patients and families who are interested in trying one out. "The donation of fidget aprons is a tremendous gift of time, effort and expertise. They are such a cool tool for our patients with dementia who need some meaningful activity and are such a beautiful outlet for their curiosity," said Elisabeth Lindley, certified nurse practitioner, UW MBWC Clinic. The clinic currently has a small number of aprons available for donation. If you are interested in reserving one, please contact gwanucha@uw.edu.
Sources:
Sánchez A. et al. Comparing the Effects of Multisensory Stimulation and Individualized Music Sessions on Elderly People with Severe Dementia: A Randomized Controlled Trial. J Alzheimers Dis. 2016.
Mileski M. et al. "Sensory and memory stimulation as a means to care for individuals with dementia in long-term care facilities." Clinical interventions in aging vol. 13 967-974. 2018
Wegerer, J. How Sensory Stimulation Can Help Alzheimer's. Alzheimers.net, 13 Mar. 2017.
*
Make your own fidget aprons!
You will need: 1.5 yards of cotton woven fabric, zipper and scrap fabrics, ribbon, trim, key rings, additional objects (see list below), and an apron sewing pattern (Recommended: A Sewing Pattern from Fishstick Designs). You can also buy a blank, pre-made apron, or use one you already have, instead of following a sewing pattern.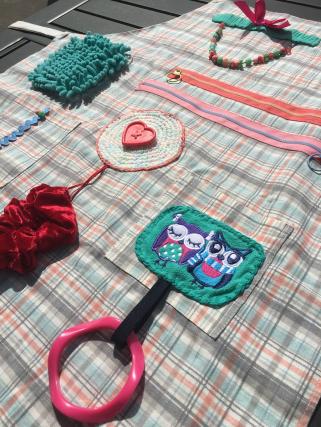 Some tips:
Avoid small buttons or any tiny objects that patients could choke on.


High quality Pom-poms: We found cheap pom-poms but realized they were pretty easy to destroy and pick at, so we went with some better quality keychain pompoms that people usually attach to backpacks instead.


Sensory diverse materials: Sensory diverse materials (unique fabrics, bath mats, etc.). You can cut out squares of super interesting fabric and glue that down to the apron.


Keychains and beaded chains: We also bought keychains and beaded chains that we sewed on, but I think you could instead attach keychains to the straps of the apron at the top.


Fuzzy socks: We ended up using a good amount of baby socks, which are very soft.


Dollar store items, Goodwill: We found some great materials at the dollar store and at goodwill, such as loofahs and squishy keychains that had many different textures.


Visuals are important! Use nice colors that appeal to your loved one's senses.