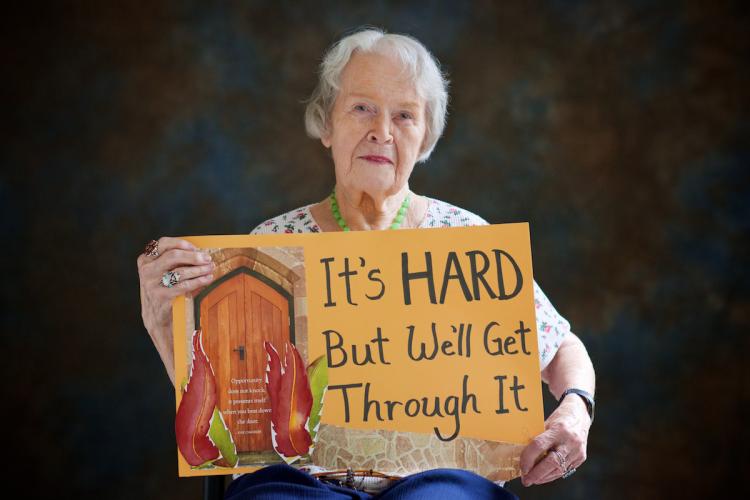 As published in Dimensions Magazine, Spring 2018
For Seattle resident Jean Mills, living with memory loss has been a catalyst to help others – and has catapulted her to national fame!
By Marigrace Becker
Jean Mill's portrait won Grand Prize early this year in Dementia Friendly America's contest for photos representing "the essence and diversity of what it means to be a dementia-friendly community." Her image is now featured on their website and social media platforms, spreading her positive message across the country. "I'm just happy for the opportunity to reach out to anybody going through the same thing," states Mills.
Mills' award-winning portrait, and the poster she holds, grew out of year-long advocacy effort she contributed to with the Gathering Place early stage memory loss program at Seattle's Greenwood Senior Center. She and fellow group members produced a multimedia project called "Living With Memory Loss: In Our Own Words" – culminating in a short documentary film which debuted last fall.
One guiding question provided the framework for the entire project: what would you want the world to know about your experience living with memory loss?
Distilling their responses into a single phrase, some group members shared wisdom for others walking this path – with messages like "Be brave," "Take one day at a time," and "Let your light shine." Others targeted the general public, aiming to build understanding and respect: "Please be patient with us." "Have compassion for all."
Group members designed vibrant posters around these themes, had professional portraits taken with their posters, and shared additional insights in filmed interviews.

According to Mills, a key goal was to convey that "you're not alone if you have memory loss – there are a lot of people that have it." The project also aimed to raise awareness about supportive programs like the Gathering Place that can provide social connection. "I want people to have a way to approach it and be able to talk about it, and to be with other people who are in the same boat," she states.
For fellow group member Neil Murphy, who chose the statement, "I'm still here," it was important to communicate that life continues beyond diagnosis. "It's a simple phrase and a simple thought," he states, "but no matter what's happening, I'm alive and well, and… I'm not perfect, but I'm happy!"
For Murphy, the project is one of many ways he contributes in his community.
"You could say, 'oh I've got memory loss, woe is me,' or 'oh, we've got these memory problems so we can't really do anything.' Or we can say, 'we've got these memory problems, but to heck with it, we're going to do the best we can!'"
Mills takes a similar pro-active approach to life. Her poster's statement, "It's hard but we'll get through it," sums it up. She explains, "Every day is a battle. And we're not the first to have come upon it. I don't like to think that I can be beaten by something – I like to take any advantage that is available to me. Going to the Gathering Place is something I enjoy for that."
Reflecting on the overall project, Mills states, "I hope it has a big impact. To be meaningful is one of the greatest things a person can be." Murphy concludes, "Knowing that the project touched the heart and mind of one person would be enough – and I know that's already happened!"
This project is one in a series of advocacy efforts that Gathering Place members have taken part in over the years – from an anti-stigma campaign, to writing an encouraging letter that is distributed to people newly diagnosed in the Memory & Brain Wellness Clinic and beyond. "The group had a lot of history in advocacy," states facilitator Erika Merz. "They have a lot of passion and want to do things that make the world a better place."
From all reports, the project is certainly having that result. "So many people shared excitement about the film after the initial screening last fall," states Merz. "As a society we're so logic focused, we see people as lacking X Y Z instead of really seeing each other's hearts. In the Gathering Place, I see people grow and learn, expand, connect, create new ideas – in really profound ways. Snippets of that show in this film."
This is the kind of reframing that the UW Memory & Brain Wellness Center is so keen to support – reinforcing that people with dementia maintain a variety of strengths and remain valuable members of the community. We provided consultation on the documentary film, and now gratefully display the posters in clinic conference rooms as a way to provide hope to those receiving a new diagnosis. Moving forward, we hope to integrate the portraits into statewide efforts to promote positive images of people with dementia, and challenge stigma.
__
Would you like to view the group's short documentary? Join the Greenwood Senior Center for a free film screening from 6:30 – 8:00 p.m. on Wednesday, May 16. RSVP to 206-297-0875.