Husband and wife pair Frances and John Smersh opened the small business Click! Design that Fits, a West Seattle store featuring modern art and home furnishings, in 2004. Initially, they had thought about naming it 'Spark & Structure.' Frances always provided the spark of inspiration and motivation; John had business and financial sense.
After Frances received a diagnosis of early onset Alzheimer's disease in 2015, they went public with her condition in their company newsletter. The West Seattle community and their friends in the small business world rallied around them and continue to offer outpourings of support.
There's still plenty of spark and structure in the Smersh's lives. Frances is needing more help with jewelry-making, so an artist friend regularly sits with Frances as she comes up with a design, and then helps her to construct the delicate pieces of metal, beads, and string into earrings and necklaces.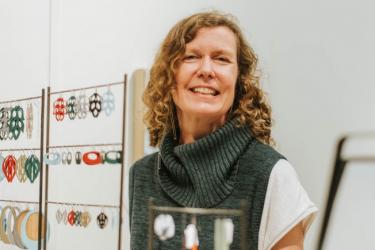 After the diagnosis, Frances and John brainstormed about the future and ways to stay happy and socially connected. They had heard of Momentia Seattle, a grassroots movement to help people with memory loss and their families stay active in their communities. And while they weren't quite sure what Momentia programs would offer them, Frances ended up joining the 'Momentia in My Neighborhood' workshop in October 2016.
"This diagnosis doesn't mean that you just stop being a person or that you need to be written off and belong in a nursing home," says John. "There's a desire to engage in life, and I think that's what Frances decided to do—to live in the moment, because that's what we have."
Momentia in My Neighborhood has its roots in the fall of 2013, when four organizational partners, Seattle Parks & Recreation, Southeast Seattle Senior Center, Elderwise and Full Life Care, hosted a Southeast Seattle neighborhood gathering, which invited people living with memory loss to develop their own ideas for dementia-friendly programs. The results became popular events in Seattle: a monthly drum circle, a monthly volunteer opportunity at Rainier Beach Urban Farm and Wetlands, and an annual celebration at the Royal Room music venue. Because of the sustained success and evolution of these programs, and an interest in expanding opportunities to a new region of the city, members of the Momentia Seattle Stewardship Team helped spearhead this process in West Seattle.
That's how Frances found herself at the West Seattle Senior Center in a group discussion facilitated by Marigrace Becker of UW Memory and Brain Wellness Center and Cayce Cheairs of Seattle Parks and Recreation. She suggested the idea of throwing a party with live music, in a public venue.
"Frances was very clear that she wanted to set an example of how people with memory loss can participate their community without facing stigma or fear," says Nora Gibson, Executive Director of Full Life Care, who worked Frances and John over the following months to plan the event, 'Rock the House.'
On Thursday April 27th, 2017, a crowd of people with memory loss and their friends and care partners, and members of the general public, filled the bar area of Shadowlands. Emcee Brent Amaker, a friend of the Smersh's and singer/guitarist of Brent Amaker and The Rodeo invited everyone to enjoy drinks, food, music, and the company of West Seattle locals. Jay Cates, a local musician, played classic songs from the 1960s to the 1990s. He set the mood with the Beatles' 1968 hit "I will."
"This is West Seattle at its best," said Helene Walling, who was sharing some sharp childhood memories about nicknames with the people at her table.
Jay Cates said later that when Frances and Nora Gibson asked if he would be interested in providing the musical entertainment for Rock the House, he had thought, "Why not? Of course! "Memory loss such a relatable topic, and we all have connections to people who deal with this condition," he said. "I hadn't really thought about it before—that it might be intimidating to be so public about the diagnosis, and that a social mixer could make it easier and take away some of that fear."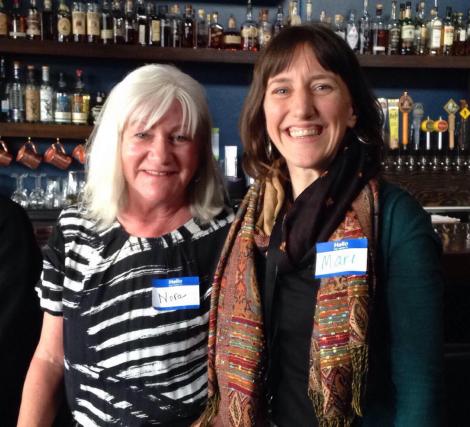 Frances, wearing a grey leather jacket and earrings made of interlinking silver squares, moved like a butterfly from table to table of guests and friends. She took on the roles of host and entertainer. "This is better than I imagined," she said. "I didn't have any real expectations. I've been blown away!"
Rock the House was one of several dementia-friendly programs inspired by West Seattle neighbors. A 4-week workshop, Story Share & Sketch, took place at High Point Community Center this spring and invited people with memory loss and their loved ones to explore life stories using drama, dialogue and drawing. One more of these programs is ongoing: Providence Mt. St. Vincent has opened up its monthly drum circle experience to members of the general public. View this and other community programs on the Momentia website, www.momentiaseattle.org.
"Rock the House – and the other programs that grew out of the Momentia in My Neighborhood process in West Seattle – are perfect examples of the creative, locally rooted programs that emerge when people with memory loss and their loved ones have a seat at the table," says Marigrace Becker. "People know what they love to do, and they know the gems of their local neighborhood. It's amazing what can happen when you bring together neighbors and organizations who are invested in building dementia-friendly communities."
—Genevieve Wanucha
As part of its commitment to building dementia-friendly communities, the UW Memory & Brain Wellness Center is bringing the Momentia in My Neighborhood process to regions beyond Seattle. We're currently facilitating it in south Snohomish County. If you think your community should be next, give us a call at 206-744-2017, or email mbecker1@uw.edu. Interested communities should have a local point person, as well as several potential partner organizations with capacity to offer public programs (senior centers, arts organizations, libraries, museums, community centers, YMCA's, etc).
*Photos by Nora Gibson