A space for community, collaboration and impact has never felt more vital.
Last year, the UW Memory and Brain Wellness Center (MBWC) announced the launch of a new initiative on Seattle's First Hill: The Memory Hub. Bringing together people, programs and partners, the Memory Hub will operate as a vibrant dementia-focused programs and events venue, collaborative workspace and training center. It will be conveniently located just a few blocks from the memory clinic at Harborview Medical Center and beside our partner the Frye Art Museum, welcoming visitors year-round to explore what it means to live well with dementia.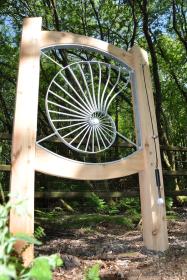 While riding out the past year of COVID, we've had ample time to focus on fine-tuning our plans for the Memory Hub! Meanwhile, with the extended social isolation we've all experienced, a space for community, collaboration and impact has never felt more vital. Here's a glimpse of what's been in the works behind the scenes, as we eagerly await an opportunity to launch:
Developing virtual programs that we and our partners can offer from the "Zoom room" at the Memory Hub – from support groups to creative arts classes


Connecting with Memory Hub partners to explore opportunities to partner on virtual programs, such as the new Wellness Wednesdays webinar series with the Alzheimer's Association


Planning for a new statewide dementia-friendly communities learning collaborative housed at the Memory Hub


Solidifying a generous parking agreement with our neighbors, Murano Senior Living


Designing a logo, thanks to Memory Hub volunteer Experience Designer Cal Dobrzynski. She captured the community and collaboration at the heart of the Memory Hub.
Stay tuned for a virtual launch in late Fall of 2021, where we'll unveil the website and provide a Memory Hub progress update!
Learn more about the Memory Hub