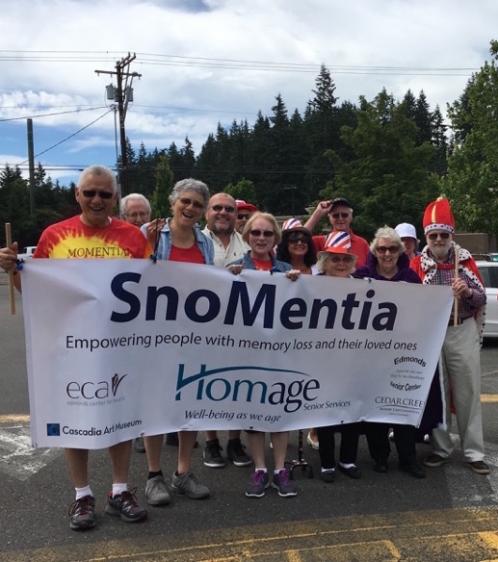 "That's great Seattle has all these dementia-friendly programs, but what about in our area?"
Marigrace Becker, MSW
Seattle receives national recognition for its variety of dementia-friendly programs—from walks at Woodland Park Zoo to gallery tours at the Frye Art Museum. Under the banner of the Momentia movement, these programs aim to empower people with memory loss and their loved ones to stay active and connected in the community. But as awareness of these programs has grown, so has the push to expand them beyond the Seattle area.
In response to this demand, the UW Memory & Brain Wellness Center spent the last year developing and testing a model that new communities can use to start their own dementia-friendly programs. The model, "Momentia in My Neighborhood," (MIMN) provides a structured process with a grassroots flair, powered by the contributions of people with dementia and their loved ones, the support of local partner organizations, and the unique assets of each community.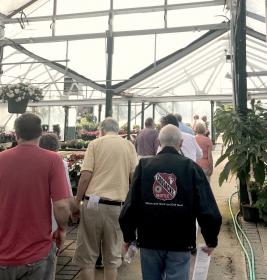 After successfully implementing the model in West Seattle – with partners like Seattle Parks & Recreation, Full Life Care, Providence Mount Saint Vincent, the Senior Center of West Seattle, and members of the Momentia Seattle Stewardship Team—we moved ahead with our goal to equip other regions. First up – south Snohomish County.
In January 2017, a variety of south Snohomish County senior service, arts and culture, and health-related organizations attended an initial presentation about the Momentia movement. From there, a number of them committed to supporting MIMN, and they hosted the foundational piece of the model—a program design session in which people with dementia and their loved ones take the lead.
In this step of MIMN, community members with dementia and their loved ones share what they like to do in the neighborhood, by choosing a photo or object such as a guitar, football, or paintbrush. They then brainstorm a "bold idea" for a new dementia-friendly program based on these themes. Meanwhile, partner organizations play a supportive role and sign up to help develop the programs that rise to the top. For the south Snohomish county attendees—who embraced the name "SnoMentia" as a play on words with Momentia—ideas ranged from canoe trips to garden tours.
"It was very worthwhile to have the ideas sparked by people with memory loss," said Gillian Jones of Edmonds Center for the Arts. "Before, we would be operating based on what we might think people with dementia in our community would want to do. With this model, we can partner directly with the people we aim to serve."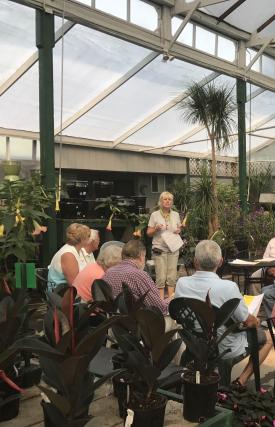 Moving beyond a cookie-cutter approach, MIMN recognizes that each community has its own character and strengths, and builds this into the process. In Snohomish County, community members and organizations piloted their new dementia-friendly programs over the summer. First, a group walked in the Edmonds 4th of July parade, holding a SnoMentia banner and raising awareness about the other upcoming programs. Next, the team promoted the launch of the Alzheimer's Association's monthly art walk at Cascadia Art Museum. From there, Edmonds Senior Center organized a day trip to Flower World, and Mountlake Terrace Community Senior Center hosted a popular Elvis dinner theater event.
Among the people with dementia and their loved ones who participated in the programs, the response was highly positive. One caregiver who helped promote the Elvis dinner theater noted, "I was just amazed—the food, the turnout—it was unbelievable." Another agreed with a smile: "It was great to be there all together. Elvis came around to each table, and he didn't care whether you had memory loss or not!"
Organizations involved noted the refreshing collaborative approach taken by MIMN. "When you're working in an agency, you sometimes don't know that others are doing similar things," said Ruth Egger, of Homage Senior Services. "In this process you build a shared vision of dementia-friendly programs and get support. It brings you out of isolation."
Egger originally reached out about expanding the Momentia movement to Snohomish County, and played a key role in organizing the potential partner organizations. She couldn't be more pleased with the results. "Through this process, we built something that will stick. Those who have worked together have decided to meet every quarter, to expand dementia-friendly programs, share ideas and promote all that is going on. We've seen Momentia grow beyond Seattle, and I look forward to seeing the concept spread elsewhere."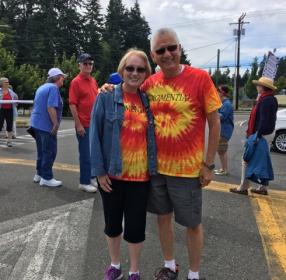 Meanwhile, MIMN is already in motion in north Snohomish County through the enthusiastic leadership of the Stillaguamish Senior Center. At the same time, Olympia and Bellingham are exploring what Momentia can look like in their areas. And so, slowly but surely, dementia-friendly programs are taking off throughout the state.
Read "My Heart is in the Community" A Q&A with the MBWC intern who helped develop Momentia in My Neighborhood. Yuanjin Zhou, UW '21, brings a perspective on dementia care programs from China.
If you'd like to learn more about the Momentia in My Neighborhood model, or how it can be implemented in your area, please contact Marigrace Becker, UW Memory & Brain Wellness Center Program Manager for Community Education & Impact: mbecker1@uw.edu, 206-744-2017.