Welcome to the UW ADRC's Research Education Component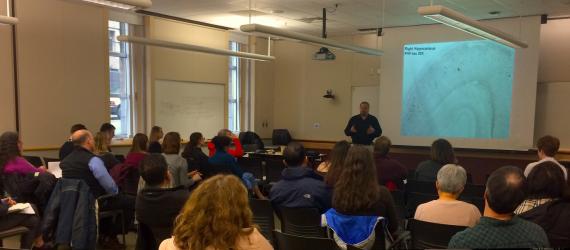 The UW ADRC's Research Education Component (REC) offers a program focused on developing the next generation of Alzheimer's researchers, supporting the assimilation of established researchers from outside fields into the Alzheimer's disease and Alzheimer's disease-related dementias (AD/ADRD) research community, and allowing trainees and investigators at outside institutions access to the dynamic research and scientific environment of the UW ADRC.
We are pleased to announce that we are accepting applications for the UW ADRC Research Education Component (REC) Trainee and Investigator cohorts for the coming academic year. Details.
The REC consists of 3 key programs:
REC Trainee Program – The UW ADRC REC Trainee program provides a broad-based training in the clinical presentation and course of AD/ADRD in addition to the basic, translational and clinical research approaches used in their study. Designed to complement participants' ongoing training, this program provides 6-10 REC Trainees each year with a cohort-based introduction to the basics of AD/ADRD, orientation to the use of data and resources available through the UW ADRC cores, and access to scientific and research environment of the UW ADRC.


REC Investigator Program – The UW ADRC REC Investigator program provides Alzheimer's-focused mentorship and UW ADRC Research Navigation support to junior investigators and to established investigators entering the AD/ADRD research field. By providing access to a hand-selected multi-disciplinary mentorship team and concierge-style coordination in connecting with UW ADRC resources, the REC will support the development of self-sustaining research projects by investigators well-connected within the UW ADRC research community.


ADRD Open Neuroscience Workshop – Webpage coming soon. In collaboration with Sage Bionetworks, the UW ADRC REC will hold an annual ADRD Open Neuroscience Workshop. The goal of this Workshop is to develop fluency and experience in leveraging publicly available AD/ADRD-focused datasets among trainees and investigators associated with the UW ADRC and other ADRCs nationally. This program is a two-day meeting where learning will occur in a small-group environment, with a combination of guided hands-on introductions to the datasets, their origins and structures, user interfaces, visualization and statistical tools, and small group-based projects.
AD@UW Lunchtime Meetings
The REC hosts a monthly lunch-time training series to provide a broad-based background in Alzheimer's disease and related dementias. Led by expert ADRC faculty guides, these sessions will include an overview of basics of AD/ADRD, descriptions of ADRC research resources and practical insight into how to access and integrate them into participants' research. AD@UW is open to trainees and investigators of all backgrounds, both at the UW and at outside institutions. AD@UW sessions will be connected by Zoom to support real-time participation across UW campuses and at outside institutions, and recorded and archived for offline viewing. Questions about AD@UW, contact: Molly Chinn at wamble@uw.edu.
AD@UW is generally held on the 4th Friday of each month, from 12:00-1: 30pm (Seattle local time).
AD@UW Research Gateway
This portal provides open access to the Alzheimer's disease and Alzheimer's disease-related dementias (AD/ADRD) research and scientific environment of the UW ADRC. The below calendar below aggregates the array of weekly, monthly, and quarterly seminars, workshops, and journal clubs. In addition, the calendar includes AD/ADRD-related talks and events from other UW research departments talks and events at the UW, including those of specific interest to REC Trainees and Investigators. When possible, Zoom-based video conferencing will be provided so that trainees and investigators at different UW campuses and dispersed at other institutions can participate.
Clinicopathologic Correlation Conference. A longstanding monthly conference sponsored by the UW Department of Pathology that reviews cases of special clinical and neuropathological interest. It is well attended by most UW and VA clinicians who treat or evaluate cases associated with the UW ADRC. Each quarter, the CPC is replaced by the ADRC Quarterly Scientific meeting, in which junior investigators present their progress made on ADRC-funded research projects.


Research in Progress Seminar. This monthly seminar meets jointly with the UW Neuropathology Division where trainees present their ongoing research. In addition to comments raised during their seminars, trainees receive formal feedback from their primary mentors and from designated ADRC investigators.


ADRC Seminar Series. A monthly UW ADRC-supported meeting intended to provide a forum for ADRC and related investigators to discuss research projects that align with the Center's ongoing focus on biological heterogeneity of AD and its implications for precision medicine.


Lunch with a Local Legend. An Alzheimer's Disease Training Program-sponsored lunch-time chalk-talk series that meets twice a year whose goal is to increase trainee exposure to highly esteemed UW faculty with interests in neurodegeneration and aging.


UW ADRC Indigenous Aging Native AD Research Education. This ADRC webpage maintains a variety of resources, including video recordings and slideshows of research talks and presentations, for researchers, students, and clinicians interested in Alzheimer's disease and related dementias in American Indians and Alaskan Natives.


>>Some trainees may lack a connection to a local ADRC and are dispersed at institutions throughout the U.S. To address this, the network of Zoom-enabled video-conferencing hubs used for the AD@UW curriculum will be linked to these events. Zoom-based video-conferencing will be added so that dispersed REC Trainees can routinely participate.