New Positions Available:
The Alzheimer' Disease Training Program currently has 1 post-doc and 1 pre-doc position available (flexible start date) for a trainee interested in pursuing a career in Alzheimer's disease and related dementias research. Application deadline is September 1, 2020. Learn more.
About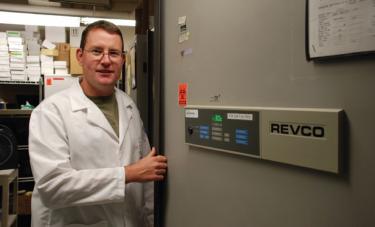 The Alzheimer's Disease Training Program (ADTP), "Neurobehavior, Neuropathology, and Risk Factors in Alzheimer's Disease," focuses on translational research in Alzheimer's disease (AD) and related dementias. The objective of our research training program is to provide interdisciplinary training for basic science, clinical, and translational researchers so that they will be able to advance clinical hypotheses about the etiology, pathophysiology, and treatment of AD and related disorders.
The training program is the only formal program at the University of Washington focused on training investigators to carry out basic, clinical, and translational research in AD and related neurodegenerative disorders. Our program is supported by the rich and interactive research environment of the University of Washington and Veterans Affairs Puget Sound Health Care System, where a critical mass of faculty conduct research across the spectrum of Alzheimer's disease and related dementias.
The program supports training positions for 7 postdoctoral trainees. For postdoctoral trainees our goal is to have ~40% clinical (MD, MD/PhD, or PhD in Clinical Psychology) and ~60% research (PhD) postdoctoral fellows. Incoming MD candidates are expected to have completed a residency, usually in psychiatry, neurology, neuropathology, radiology, internal medicine, or geriatric medicine. Postdoctoral PhD candidates come from a broad range of disciplines, including clinical psychology, neuropsychology, biochemistry, genetics, neurobiology, and pharmacology. Basic science trainees typically join the program during their 1st year of postgraduate training and usually remain for three years. MD and clinician PhD fellows are expected to remain for a two year period, and will be strongly encouraged to remain for a third.
The program also supports training positions for 4 predoctoral candidates. Predoctoral trainees will be recruited from the following UW PhD programs: Genome Sciences, Molecular Basis of Disease, Molecular and Cellular Biology, Neurobiology and Behavior, and Pharmacology, and will join the ADTP program in their 2nd or 3rd year of graduate training. Special recruitment efforts will be made to include underserved minority trainees.
On a rolling basis, we invite applications from pre- and post-doctoral students interested in pursuing a career in Alzheimer's disease research. The appointments will be to a National Institute on Aging T32 funded training program. As such, all funded positions require U.S. citizenship or permanent residency for eligibility, although unfunded participation in training activities does not.
Questions:
Molly Chinn at
wamble@uw.edu
.
Upcoming ADTP RIPS Seminar, Journal Club, and Related Events
Previous Journal Clubs and RIPS
August 26: Danielle Faivre
July 22: ADTP journal club. Allison Knupp: Abnormal TDP-43 Function Impairs Activity-Dependent BDNF Secretion, Synaptic Plasticity, and Cognitive Behavior Through Altered Sortilin Splicing
June 24: Jason Webster: Brain atrophy in AD
April 22nd: Neurodegenerative Diseases T32 Journal Club. Presenter: Ben Blue on some recent work on AD-related pathogenesis in C. elegans.
April 3:
RIPS: Neuropathology Research in Progress Seminar: Connecting mTOR to tauopathy in genetically diverse fruit flies.
Presenter: Mitchell B. Lee, PhD, Senior Fellow, Promislow Lab/ Fellow, Alzheimer's Disease Training Program, UW Pathology
March 25: ADTP journal club. Journal club will be held at the VA, building 101, Room 3W03. Paper: Van Skike et al. mTOR drives cerebrovascular, synaptic, and cognitive dysfunction in normative aging.
February 19th, 2020: Journal Club with Molly Braun. Location: VA Bldg. 101. Room 3W05. Paper: Winer et al. Sleep as a Potential Biomarker of Tau and -Amyloid. Neurobiology of Disease Burden in the Human Brain.