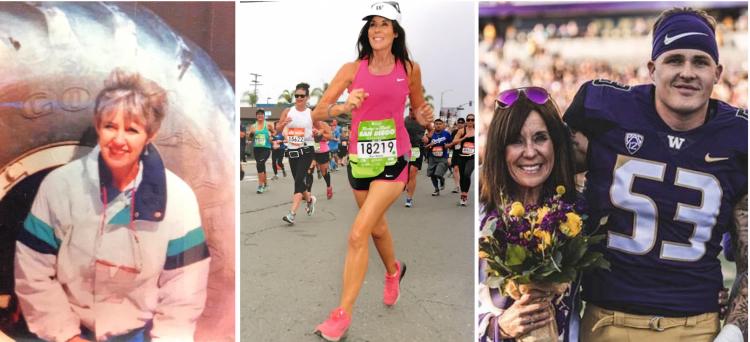 Published in Dimensions Magazine - Spring 2021
For San Diego educator Maureen Cardosa, running is more than a way to stay healthy. She runs to raise funds for Alzheimer's disease research in honor of her mother, Rosemary "Rosie" Gaither, who has lived with this disease for two decades. "My passion for running is a way for me to put my energy into something positive that can make a difference and connect people," she says. Now, at "58 years young," Maureen is training for her 7th long-distance race: the Dublin Marathon on October 24, 2021. This fitness effort is part of a UW Medicine campaign to gain donors for the UW Alzheimer's Disease Research Fund.
"Everybody loves Rosie," says Maureen. "She's just is such a kind person, and she was always the life of the party. It's been really hard to see her affected by dementia. I think there's so much more going on inside than she can express in words. When she hears my sister and I talk and tell stories, you can see her eyes light up and she'll laugh, so we know she's still in there."
Maureen is the Husky Mom of Jake Wambaugh, a scholarship athlete from UW Coach Chris Petersen's first recruiting class (2014). Through this natural connection to the UW, she learned about the opportunity to launch a UW Medicine Accelerate Medicine campaign to support Alzheimer's disease research. UW videographer Payton Wagner offered to help her create a professionally produced video to spread awareness of the campaign.
In addition to sharing the promotional video, Maureen posts daily workout routines, exercise and healthy eating tips, and inspirational updates about her training progress to Instagram to promote the campaign. "I really want to inspire others to look at life differently and get out there and take care of themselves, physically through their own passion. I am trying to give them pieces along my journey," she says. Her followers and campaign supporters cheer her on and push her to continue.
But she couldn't have done it without her son Jake, who helped her plan the fitness component of her campaign. For Christmas, Jake wrote his mother a complete workout plan, based on his research about marathon running and his many years of weight training experience. "He's amazing," says Maureen. When she started to become worried about the impact of the COVID-19 pandemic on her plans, he told her, "Mom, what are you worried about? You're going to raise the funds, no matter what."
While researching the work of the UW Alzheimer's Disease Research Center, Maureen read about George Martin, MD, Professor Emeritus of UW Pathology, who founded the UW ADRC in 1985 and contributed insights into the fundamental biological mechanisms of aging, brain health, and Alzheimer's disease. She resonated with his big-picture perspective on the importance of early childhood education for the development of future healthy brains and critical thinking skills. This subject happens to be Maureen's other passion, which motivates her work as Director of Preschool and Junior Kindergarten at the Warren-Walker School in Point Loma. After getting the chance to speak with Dr. Martin, she is even more excited to partner with the UW ADRC. "It's all come full circle for me," she says •
Become a sponsor at www.acceleratemed.org/maureen-cardosa.
Photos, from left:
Rosemary Mannion Gaither. Courtesy, Maureen Cardosa
Maureen Cardosa running in support of Alzheimer's research at the Rock and Roll Marathon 2016 in San Diego. Courtesy, Maureen Cardosa
Maureen Cardosa and son Jake Wambaugh. Courtesy, University of Washington