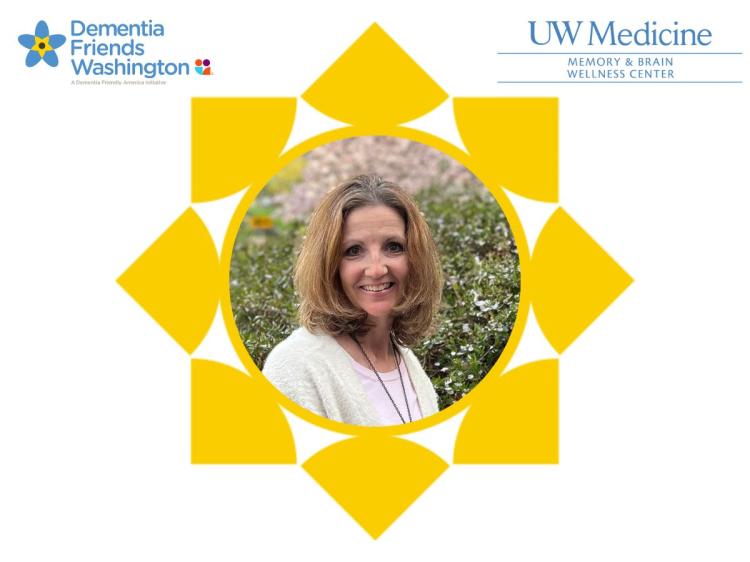 Dementia Friends Champions help us spread the word about supporting people living with dementia. This spotlight features the great people championing our shared mission to make communities more dementia friendly. Today, we spotlight Misty Eberspecher, Independent Living Program Manager at Housing Resources Bainbridge!

Misty Eberspecher, she/her, Bainbridge Island, Washington
Why did you decide to become a Dementia Friend Champion?
After learning about Dementia Friends and attending the session on becoming a Dementia Friend, I immediately wanted to learn more and do more to support the Kitsap community. Many of the people I meet with in my daily work either have dementia themselves or have a family member they care for with dementia. I believe strongly that the more we can spread awareness of dementia and offer the tools needed to effectively communicate with and support those with dementia, the more our community can support each other.
What do you do outside of Dementia Friends?
I began assisting individuals with developmental disabilities many years ago, and I found it very rewarding. I soon acquired my bachelor's degree in social work and continued providing daily and mental health support to multiple clients. I have since joined the team at Housing Resources Bainbridge where I am the Independent Living program manager, and my role is to provide seniors in the community with home safety modifications. I recently became a Certified Aging-In-Place Specialist (CAPS) as well. I have the pleasure of assisting community members with staying safe in their homes and helping them "thrive in place."
What is a project, event, or initiative that excites you?
Housing is a problem all over the world. Our agency, Housing Resources Bainbridge, provides affordable housing options in Bainbridge Island. We have upcoming projects to help meet the need for affordable housing, and I am looking forward to assisting with the safety measures for the units and seeing the projects completed.
What would you like your team to know about you?
I have always had a passion to help others and to see others thrive. I look forward to continuing to assist my community with home safety as well as spreading the word about Dementia Friends and dementia in general.
If you are interested in learning more about becoming a Dementia Friend, please email dementiafriendswa@gmail.com
What is a Dementia-Friendly Community?
Dementia-Friendly Programs and Activities