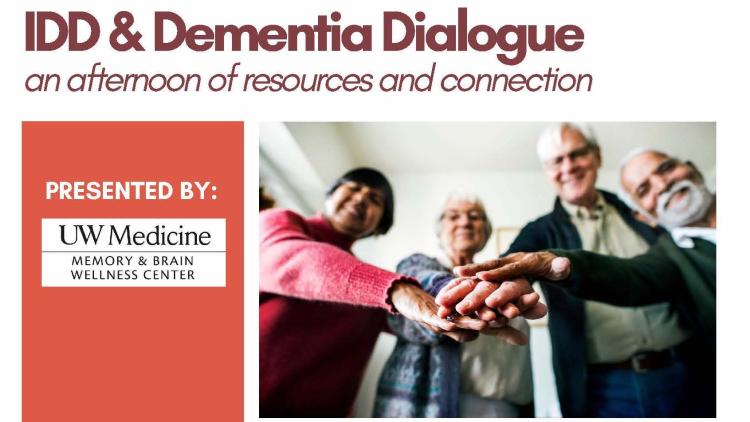 By Katie Freeman, departing social work student at the UW Memory and Brain Wellness Center
At the Memory and Brain Wellness Center, our mission is to build dementia-friendly communities that are accessible to all people with dementia. That's why it was important to us to host our first I/DD & Dementia Dialogue on May 13th at the Memory Hub. This event was a wonderful afternoon of connection, meaningful engagement, and resources for people with intellectual and developmental disabilities (I/DD) who have dementia, alongside family and professional caregivers.
Because of improvements in healthcare and support services, the life expectancy of people with I/DD has significantly increased in the past 50 years. This means that many more folks with I/DD are now experiencing age-related diseases and conditions, such as dementia. Most individuals with I/DD have a similar risk of developing dementia as the general population, but those with Down Syndrome have an increased risk. Alzheimer's disease affects around 30% of people with Down Syndrome in their 50s and around 50% of people with Down Syndrome in their 60s. This increased risk is due to the extra copy of chromosome 21, which produces one of the key proteins associated with changes in the brain due to Alzheimer's disease.
During this event, we offered an adapted Dementia Friends session for family and professional caregivers. This presentation included information on early signs of dementia in people with I/DD, best practices for communication and tailored resources for this community. It's vital for caregivers to know what signs to look out for because dementia looks different for individuals with I/DD than the general population. We often think of memory loss as the most obvious sign of dementia, but that's not true for most people with I/DD who have dementia. Instead, the common signs of dementia for this population include difficulty completing familiar tasks; misplacing things and losing the ability to retrace steps; trouble with visual-spatial processing; decreased or poor judgment; and challenges in problem solving. Additionally, dementia may show up for individuals with Down Syndrome as new or increased seizure activity, incontinence, mobility changes, and difficulty swallowing.
The I/DD & Dementia Dialogue also included a Q&A with a panel of experts, including UW MBWC's Michael Schrift, DO, MA, professor and medical director of neuropsychiatry and brain health at UW School of Medicine. Also on the panel were professional caregivers April Hamilton and Olivia Jokumsen from Full Life Care, and family caregiver Susan Simpson-Fox. These panelists were able to offer a wide range of advice and information, based on their personal and professional experiences.
While the Dementia Friends session and Q&A with panelists were going on, a concurrent program was offered for people with I/DD who have dementia. We teamed up with Memory Hub partner organization Elderwise to lead a session of their signature wet-on-wet watercolor painting. This was followed by class on creative movement and music, led by music therapist Sharyn Braff.
We hope that this will be the first of many events for the I/DD community at the Memory Hub.
Interested in learning more? Sign up for a Dementia Friends session here!