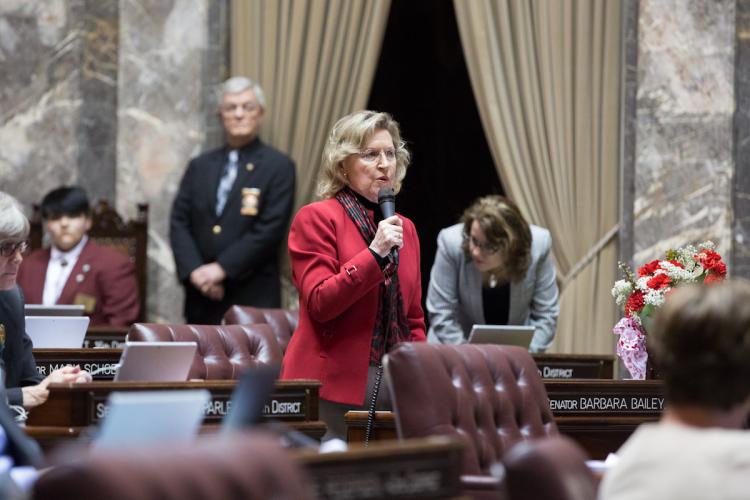 The Alzheimer's Association Facts and Figures 2016 report gives an eye-opening look at the financial impact on families who care for a loved one with dementia. The survey underscores the importance, and difficulty, of planning for a diagnosis in America.
The Alzheimer's Association has just released Facts and Figures, an annual statistical resource for the public about the issue affecting 5.4 million people in the US. As baby boomers age, the number of individuals over 65 with Alzheimer-type dementia will likely triple to 13.8 million by mid-century. The 2016 report highlights the financial impact on families who care for a loved one with dementia of any kind.
According to the report's survey, published in April's issue of Alzheimer's & Dementia, most people mistakenly believe that Medicare or personal health insurance will pay for long-term care expenses for dementia care, or don't know whether they do. Only 10% of Americans over 55 have long-term care insurance. Middle class families often sell homes and cars to pay unmanageable out-of-pocket costs, which are three times the costs for people without dementia.
The national survey of households explored the economic impact by asking about the family meal. Most strikingly, care contributors were 28% more likely than non-care contributors to report going with less food or going hungry because they didn't have enough money to pay for proper meals.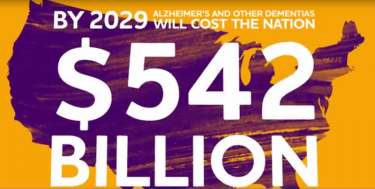 It's hard to find anyone in the dementia world who's surprised by this report. "These are hard numbers to deal with, but unfortunately, I think they're reflective of our reality for most families," says Dr. Kristoffer Rhoads, a neuropsychologist at the UW Memory and Brain Wellness Center. "Each time I venture outside the metro area, even within, I'm struck by the economic toll this disease takes."
When Seattle resident Ann Hedreen and her siblings had to move their mother Arlene into a care home because of progressing symptoms of dementia, they faced tough decisions about high monthly expenses. Hedreen's sister, a social worker, knew to hire an eldercare attorney. Even so, they ended up selling the family's house and using nearly all of their mother's pension and social security to keep her happy and comfortable until the end of her life in 2006.
"Perhaps of all serious illnesses, Alzheimer disease is the hardest for which to prepare," says Hedreen, who wrote a book about her caregiving experience. "Looking back, I realize how much dementia forces you to make important decisions when in emotional crisis." It was the Alzheimer's Association's support groups and classes, and the supportive siblings who divvied up caregiving duties, that got her through the most difficult times.
*
In Washington State, Alzheimer disease-type dementia is the 3rd leading cause of death. The Facts & Figures report estimates that 100,000 Washingtonians age 65 and older currently live with dementia, amongst 330,000 mostly unpaid caregivers. In response to the growing economic strain, the WA State Alzheimer Disease Plan, unveiled at the State House in February, sets out goals for future legislation aimed at smarter ways to handle dementia in the national social health insurance program.
The plan provides guidelines for earlier detection of memory impairment, care planning, and better treatment for related health issues, all meant to delay or prevent some of the costs of late stage care. Also recommended is new training for caregivers and providers to prevent unnecessary medical visits, non-value-added diagnostic tests, and rapid re-admissions to ERs. Along those lines, Governor Jay Inslee signed the Caregiver Advise, Record, Enable (CARE) Act into law April 1, which ensures support to caregivers as their loved ones transition home from hospital stays.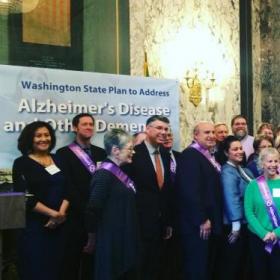 "The hope is that, over time, state dollars can be reallocated to caregivers, as well as programs and services that can provide support, training, and education to medical professionals," says Rhoads, a member of the Alzheimer Disease Working Group, which created the WA State Plan.
The Facts and Figures report underscores the importance of personal financial planning for issues of aging and caregiving, but it also illustrates the degree to which American families have not been able to avoid economic distress. The new statistics show why. Facts of life, such as level of income, education, access to medical treatment and information, and family support, often make it impossible to plan for the extent and type of care required for dementia, within the current system.
"Even when a medical team can fully explain the diagnosis and consequences to families, they often leave the clinic with the question, "What now?!," says neurologist Dr. Tom Grabowski, Director of the UW Memory and Brain Wellness Center, who sees a gap between the care typically extended to people living with memory loss, and what they end up needing. "Dementia isn't just a problem for our patients. It's a problem for society."
As doctors and policy makers begin to move solutions for caregivers forward, another story is unfolding in this widely recognized dementia-friendly city. Many residents are joining with the Momentia Seattle community movement to promote the wellbeing of families and speak back to fatalistic narratives about dementia that lead to stigma and isolation. Organizations such as Seattle Parks and Recreation Department, the Washington Chapter of the Alzheimer's Association, the Frye Art Museum, and the UW Memory and Brain Wellness Center, foster a wealth of dementia-friendly programs and opportunities for art, recreation, social connection, and volunteerism. It's all free. —Genevieve Wanucha
Read "
The debilitating cost of long-term care
" in the Seattle Times, by Lauren Bonazzo Camarda, a graduate student at the University of Washington School of Social Work. She highlights the gaps in Medicare.