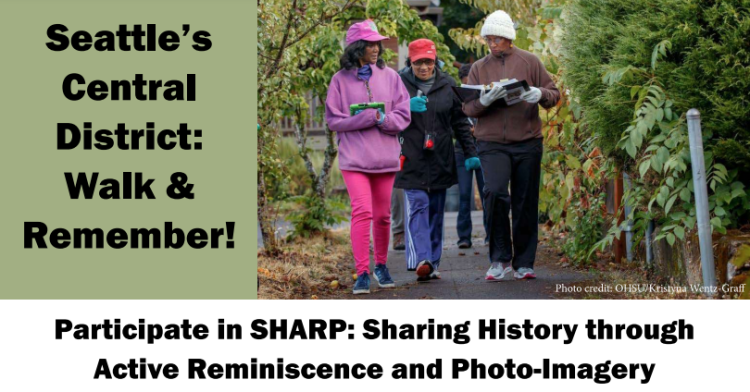 Seattle's Central District: Walk & Remember! Download the flyer
Participate in SHARP Seattle, a culturally engaging walking and brain health program that aims to improve cognitive health among older African Americans with ties to Seattle's Central District. You may be eligible to participate if you are:
At least 55 years old
African American
Living in (or have lived) in Seattle's Central District
Experiencing (or not) mild memory loss
In good general health
Able to walk one mile
Participation will include neighborhood walks three times per week for four (4) weeks and engaging in small-group discussions about memories of living and working in the Central District. Funding provided by the Neighborhood Matching Fund, Seattle Department of Neighborhoods, City of Seattle.
Sponsors include:
• Aging and Disability Services, Seattle Human Services
• Alzheimer's Association, Washington State Chapter
• Black Heritage Society of Washington State
• Central Area Senior Center
• de Tornyay Center for Healthy Aging, UW School of Nursing
• Memory and Brain Wellness Center, UW Medicine
• Oregon Health & Science University
• Seattle Parks & Recreation
Participation Summer walks are underway, and there's still time to join a group in August or September! For more info or to sign up, e-mail Anthony Cryer at anthonyc@casrcenter.org
or call 206-726-4926.