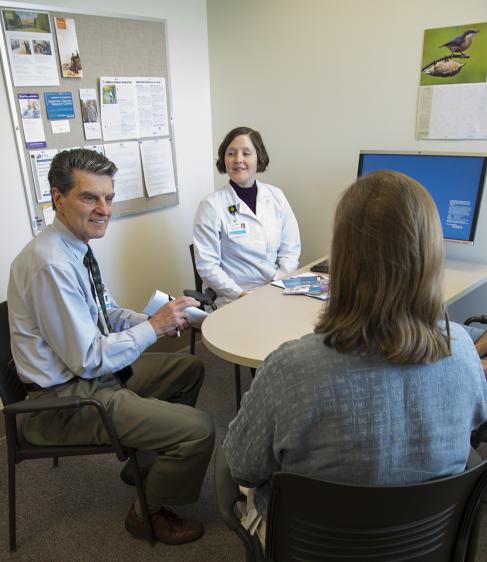 Every weekday morning at 8 am, Andrew McCormick arrives in his office at the UW Memory and Brain Wellness Center's (MBWC) clinic. He always wears a tie, even if the day's counseling sessions will take place over the phone. His standards are high.
"Andy," as our clinic team knows him, is retiring after a 23-year social work career at Harborview Medical Center. He has spent the last three years in the MBWC, acting as a guide for families going through challenging diagnoses of Alzheimer's disease and related conditions. His job involves advising families in person and in phone meetings. In a family conference, he will answer questions and offer resources to the family about coping with a new diagnosis.
McCormick, who previously worked in Harborview's neuroinjury ICU, came to the MBWC with deep knowledge about care planning and placement after hospital stays. Yet, he had much to learn about the unique aspects of dementia care.
"Many patients are living at home with family and caregivers," he says. "It's a process of having to assess the whole family's situation, locate the sources of stress, and then try to help them by recommending them new care strategies, services, and community social opportunities."
Elisabeth Lindley, the nurse practitioner of the MBWC, who conducts the family conferences with McCormick, credits his knowledge and compassion. "I really trust him as a listener. And when we have to give someone a diagnosis, Andy is calm, compassionate, and confident. He often says the thing that everyone in the room needs to hear."
When the clock strikes 4:30 pm, McCormick's workday is done. "He's off to activities ranging from environmental writing classes to yoga to ballroom dancing," says Marigrace Becker, the MBWC's Program Manager of Community Education and Impact. "He has been a model of a balanced life for us."
In retirement, McCormick plans to devote even more time to his passion for nature, particularly his 40-year hobby of bird watching. He volunteers at the Eastside Audubon Society, writes for their newsletter, the Corvid Crier, and leads field trips all over Washington State for people who want to watch birds. He'll travel more on his own, using bird watching as a way to learn about the natural environment and culture of new places.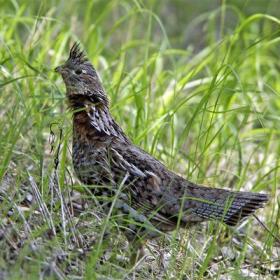 "The fact is, life is precious and, as we age, limitations arise," he says. "I've learned here that there is a time to decide that if I'm going to do other things with my life, I have to take advantage of my health and do them now."
Though McCormick originally planned to retire a year earlier, he hasn't felt ready to leave our team. In fact, he has continued to expand his role and contributions to the clinic, beyond direct patient care. For example, he had an early instinct that patients and caregivers needed a high quality, supportive written resource to refer to on an ongoing basis. He started on a draft.
After months of researching, conducting focus groups with caregivers and people living with memory loss, writing—even copy editing—he and his collaborator on the project, Marigrace Becker, have completed "Living with Memory Loss: A Basic Guide," a handbook that offers information, resources, and messages of hope from others who face diagnoses of Alzheimer's disease, Lewy Body dementia, and frontotemporal degeneration (FTD). Download full version.
McCormick also spearheaded the MBWC clinic team's journal club, a monthly meeting in which a team member reviews and discusses a published research article in his or her particular medical expertise. "Journal club exposes the entire multi-disciplinary clinic team to information outside of our own specialties," says Becker. "Over time, it has increased our collective knowledge and helped us bond as a team."
Perhaps his most enduring contribution to the MBWC approach to dementia care is materializing as he retires. He has been working with Dr. Ruth Kohen, MBWC geriatric psychiatrist, to help her design a program called Integrated Memory Care (STAR-IMEC), an enhanced care program for patient-caregiver dyads struggling with communication issues, behavior issues, or depression and anxiety. The six-session psychotherapy intervention, currently in the pilot phase at the MBWC, aims to provide education about dementia and training in helpful ways to adapt.
"Many times, we as social workers are responding to a person's immediate needs or crises, and we receive phone calls from doctors who need help with a difficult case," he says. "The IMEC takes a more proactive approach. This program aims to bring about a bigger change in the long run, such as more sustainability and problem solving skills for a family." STAR-IMEC builds off of the successes of the dementia behavioral interventions of UW School of Nursing's Dr. Linda Teri.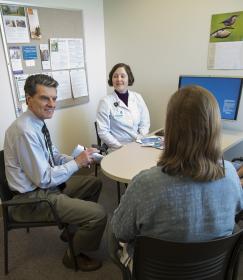 McCormick's job always comes down to making a real difference in the lives of families. He finds it particularly beneficial when patients and families stay physically active and engaged in social life. Fortunately, he can leverage the MBWC's educational, support and engagement programs that promote living well with dementia. He also encourages people to join activities such as the Frye Art Museum's here: now program, walks in Woodland Park Zoo and public gardens, Alzheimer's cafes, a volunteer program at Cherry Street Food Bank, and improv acting at the Taproot Theatre. These programs, all free of charge, are all part of Momentia, a grassroots movement to build dementia-friendly communities.
McCormick hopes that future social workers in dementia care will focus on the needs of those who live in more rural areas of Washington. He observes that these families often have less local access to dementia-specific resources and neighborhood services. "Momentia needs to spread!" he says.
"Andy is a rock for our patients and their families, whether they live near or far," says Director of the MBWC, Dr. Thomas Grabowski. "He has a lot to retire for, and yet he embraced the mission and potential of the Memory and Brain Wellness Center just as we got started in 2013 and has been with us every step of the way. We will always be grateful." —Genevieve Wanucha
Cover photo: by Yankech Gary, female Rose-breasted Grosbeak