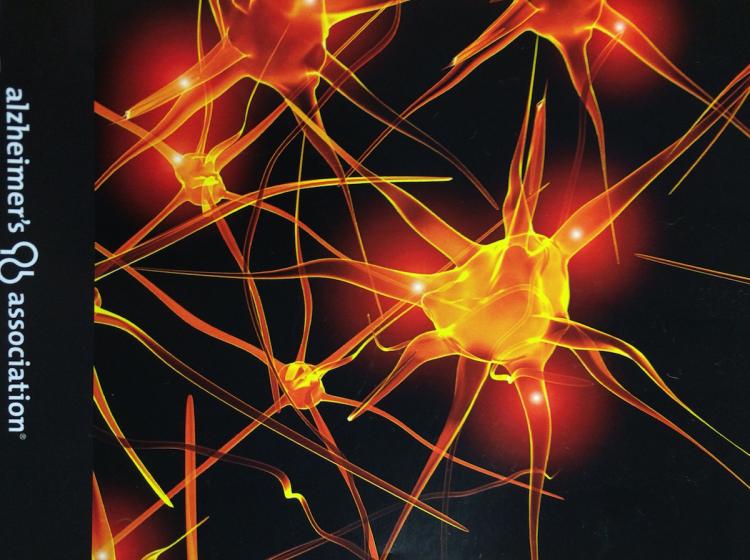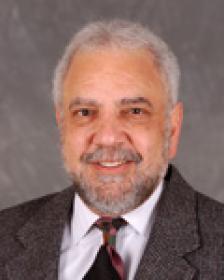 How better to start the 32nd Discovery Conference of the Alzheimer's Association Washington State Chapter than with the question, "What does memory loss mean to you?" Keynote speaker Dr. Steven Sabat of Georgetown University gave the audience a minute to jot down an answer, focusing everyone's thoughts on their own preconceptions about dementia.
People with Alzheimer's disease have trouble recalling memories, Sabat explained, but it's not that simple. Alzheimer's disease indeed impacts 'explicit memory,' or the ability to retrieve information, consciously and in the moment. However, he has observed that people with Alzheimer's disease do make and recall new memories in a process called 'implicit memory.' This form of memory can be thought of as the lasting imprint of an experience, along with its emotional weight. Implicit memory results in a change in a person's actions based on an experience he or she doesn't consciously recall having had. He quoted Maya Angelou: "People won't remember what you said, but they'll remember how you made them feel."
"Memory can be powerful when it's attached to something emotional." - Dr. Sabat #discovery #endalz #seattle

— Alz Association WA (@ALZ_WA) April 7, 2017
He suggested that our assumptions about memory loss can influence our treatment of people with dementia. "Don't put people in the position to fail" with questions that demand explicit memory, such as 'What did you have for breakfast?' or 'What neighborhood do you live in? Instead, ask open-ended questions, such as 'What's your favorite part of summer?' If someone is having trouble answering a direct question, phrases such as 'Take a guess' can tap into a person's implicit memories about something without putting them on the spot. "After all, making someone anxious doesn't help him or her retrieve information from memory," he said.
"Think about how you would feel if people saw you as your least favorite attribute." - Dr. Sabat on the experience of having #Alzheimers

— Alz Association WA (@ALZ_WA) April 7, 2017
"I really enjoyed how Dr. Sabat twisted our perspective around to the patient's point of view," said Kimberly Lowell, a research coordinator in the UW Alzheimer's Disease Research Center (ADRC), "and brought our attention to finding and honoring the person within."
Research in Alzheimer's and Beyond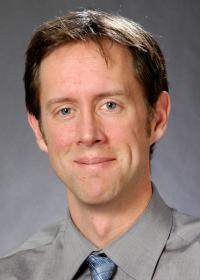 In classic Discovery Conference fashion, the day's workshops featured talks by several researchers and educators affiliated with the UW Memory and Brain Wellness Center. Dr. Kristoffer Rhoads, PhD, Associate Professor of Neurology, gave an update on current directions in Alzheimer's research. He focused on the field's efforts to better understand the window of time in which a therapeutic or lifestyle intervention can stop the accumulation of pathology and prevent or delay symptoms. Rhoads walked the audience through the current studies and clinical trials at UW, but it was the findings from studies of lifestyle interventions that really opened eyes.
Rhoads highlighted a study of 65 sedentary adults that showed exercise (working up a sweat for 45 minutes, 4 times/week) reduced tau protein in the brain and improved memory, attention and executive function. Another study of 923 adults aged 58-98 who maintained the MIND diet for 4.5 years showed a 53% reduction in the incidence of Alzheimer's disease dementia. Behavior change is difficult, Rhoads noted, but studies are showing that people who participate in group activities experience the most benefits.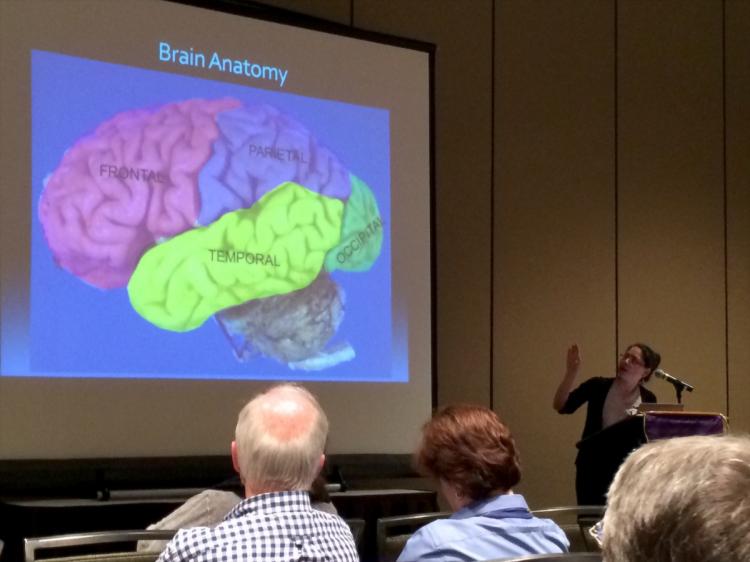 MBWC neurologist Dr. Kimiko Domoto-Reilly, gave an overview of frontotemporal degeneration (FTD), a non-Alzheimer's disease cause of early-onset dementia. FTD may impact language comprehension, speech and/or behavior or motor function. Outside in the exhibit hall, Joanne Linerud and Joseph Beaulieu of the Association for Frontotemporal Dementia (AFTD) served as her counterparts, offering information on caregiver support and resources. "FTD is a unique, often misdiagnosed disease, and we want to provide information to educate doctors and staff in memory facilities," said Linerud. "The ball is rolling and we hope to catch the wave and find people in the Seattle community who could use our help." The Northwest Region AFTD holds caregiver monthly support groups in Longview, Tukwila, and Seattle (Details). There's also a national phone-based support group for adult children affected by FTD (Details).
Dr. Emily Trittschuh, Assistant Professor, UW Department of Psychiatry and Behavioral Sciences, presented ways to help older veterans with post-traumatic stress. These veterans are twice as likely to develop dementia than veterans without a PTSD diagnosis, and they often deal with chronic health issues and depression. Her belief is that while pharmacological and behavioral therapies provide important benefits, other forms of social support, education, and monitoring can make lasting differences in the quality of their lives.
At the Veterans Affairs Puget Sound Health Care System, she has been running a psychoeducational group in which these men learn strategies to improve attention and memory, and develop everyday routines and organizational skills. As she and her colleagues recently found, the participants enjoyed belonging to the social group and did not experience a worsening in PTSD symptoms. They reported less depression and increased feelings of self-efficiency. Trittschuh is now working to increase the study sample size to investigate her hypothesis that participants will reduce their utilization of healthcare services as a result of the educational group.
A New Dementia Story
Discovery Conference attendees Mr. and Mrs. Les and Julie Burger of Vancouver, Washington, had a favorite workshop—the one that had the audience singing by the end. In "Connecting and Empowering Persons with Dementia and their Care Partners: Dementia-Friendly Programs in Your Community," Marigrace Becker, Program Manager of MBWC's Community Education and Impact, Cayce Cheairs of Seattle Parks and Recreation Lifelong Recreation Programs, Katherine Painter of the Alzheimer's Association, and Keri Pollock of Aging Wisdom introduced Momentia, a grassroots movement empowering people with memory loss and their loved ones to remain connected and active in the community. Local examples include organized group activities, such as cafe meet-ups, drum circles, and walks in art museums or nature. The guiding focus of Momentia is to dispel the narrative that people with dementia are passive recipients of care. The "new dementia story" is about people defined by purpose, courage, hope, and strength in the face of challenge.
We have a great group ready to talk about #dementia-friendly programs! #discovery #seattle #endalz pic.twitter.com/XrBL4X83PV

— Alz Association WA (@ALZ_WA) April 7, 2017
At one point, the audience broke up into small groups and came up with ideas for dementia-friendly community programs. Mrs. Burger, who is experiencing the early symptoms of Alzheimer's disease and loves to stay active, suggested asking a community space to host a dance night; Mr. Burger envisioned a walk in a nearby nature preserve. They had listened closely to panelist Marigrace Becker's 5 Tips on creating a successful program:
*
1. Learn about what brings joy to a person with memory loss and their loved ones. Afterall some of the most unique opportunities, such as the theater improv workshops through Taproot Theatre, have been the ideas of people living with memory loss.
2. Work with others and see if community members or organizations would like to donate materials or spread the word.
3. Use available community assets and public spaces, and make them into places where everyone belongs.
4. Spend energy on connecting with people who show curiosity and interest in your idea, and move on quickly from those who aren't responsive.
5. Keep it simple by not trying to start something too complicated or long-term. To learn more, watch a video of the entire workshop on Momentia Seattle's Facebook page, which includes the performance of the Momentia Rap at the end.
*
All in all, Discovery Conference 2017 became a day of possibilities. We can boost our brain health and memory with exercise and diet modification. We can help people with memory loss communicate and avoid anxiety. We can look forward to new, personalized therapies in the coming years. We can help older veterans with PTSD. We can find support groups if we are dealing with a rare form of dementia. And we can even build Momentia in our neighborhood!
Thank you to Elisabeth Lindley, registered nurse practitioner at the UW MBWC clinic, who worked on the 2017 Planning Council to provide input on the speakers and topics for this year's Discovery Conference.