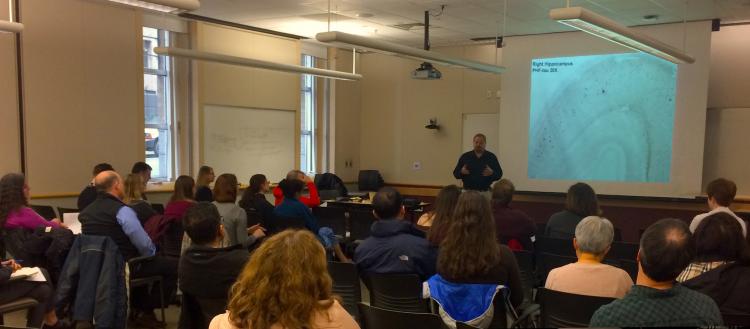 Learn about the newly funded 2020-2021 ADRC Development Projects. These awards encourage investigators to use ADRC resources to advance the understanding, diagnosis, or treatment of Alzheimer's disease.
Meredith Course, PhD. Postdoctoral Fellow, Division of Medical Genetics, UW Medicine


Project: Novel Transcripts of PSEN1 and PSEN2 in Familial and Sporadic Alzheimer Disease
Pathogenic gene variants in PSEN1 and PSEN2 are rare causes of familial Alzheimer's disease. In recent work, a UW team including ADRC researchers and others in the Jayadev and Valdmanis Labs, uncovered evidence that age-related changes in the way PSEN2 generates transcripts (instructions of making proteins) may be involved in Alzheimer's risk in the general population.
In this new project, Dr. Course and collaborators, including Drs. Paul Valdmanis and Kathryn Gudsnuk, will characterize and quantify novel PSEN1 and PSEN2 transcripts in samples from cases of familial and sporadic Alzheimer's disease from the UW ADRC using the PacBio Iso-Seq—a third-generation sequencing method for obtaining long reads of transcripts. This project will considerably expand the understanding of PSEN1 and PSEN2 variants in different forms of Alzheimer's disease and may describe new functions for PSEN1 and PSEN2. The researchers see this research as a possible first step in discovering ways to preserve genetic function as a possible future treatment.
Deidre Jansson, MSc, PhD. Senior Postdoctoral Fellow, Department of Psychiatry and Behavioral Sciences, UW Medicine


Project: Defining the cellular and transcriptomics architecture of the choroid plexus in Alzheimer's disease: a pilot study
The choroid plexus is a critical component of brain physiology, producing cerebrospinal fluid, regulating transfer of nutrients and immune cells into the brain, as well as playing a role in clearance of debris and aggregated proteins. In Alzheimer's disease, choroid plexus function is impaired, and has been linked to Alzheimer's pathological processes. However, the choroid plexus is made up of functionally diverse cellular phenotypes, and the specific contributions to disease pathology have not been investigated. In this new project, Dr. Jansson and ADRC collaborators, including Drs. Jeffrey Iliff, C. Dirk Keene, Suman Jayadev, and Ben Logsdon, will pilot test a single nuclear RNA sequencing technology in defining the cellular and transcriptomic signature of the choroid plexus in human Alzheimer's disease. The proposed pilot study will provide a foundational resource for the study of the choroid plexus in human Alzheimer's disease, facilitate the development of a novel research platform, and enable the design of human-specific therapeutic targets.
Elizabeth Rhea, PhD. Research Biologist, VA Puget Sound Health Care System/ Research Assistant Professor, UW Division of Gerontology


Project: Soluble insulin receptor levels in Alzheimer's disease
Central nervous system insulin resistance is associated with Alzheimer's disease. Patients show a decreased ratio of insulin cerebrospinal fluid (CSF)/serum and impaired central nervous system insulin receptor signaling. When insulin is delivered to the central nervous system, memory is improved. This ADRC Development Project will focus on the factors that regulate the levels of CSF insulin in people living with Alzheimer's. Dr. Rhea, along with ADRC collaborator Dr. Jessica Young, plan to measure levels of the soluble insulin receptor (sIR) in the CSF of patients compared to age-matched controls and whether neurons are a source of this protein. Importantly, in the CSF of patients with HIV-associated neurocognitive disorders, also known as AIDS dementia complex, sIR levels are increased compared to patients without HIV-associated neurocognitive disorders. However, no one has measured the levels of the sIR in the CSF from people living with Alzheimer's disease. Therefore, the purpose of this proposal is to execute an assay to measure the sIR from the CSF of normal age-matched controls and Alzheimer's samples. The researchers will test their hypothesis that Alzheimer's samples will have higher levels of the sIR.