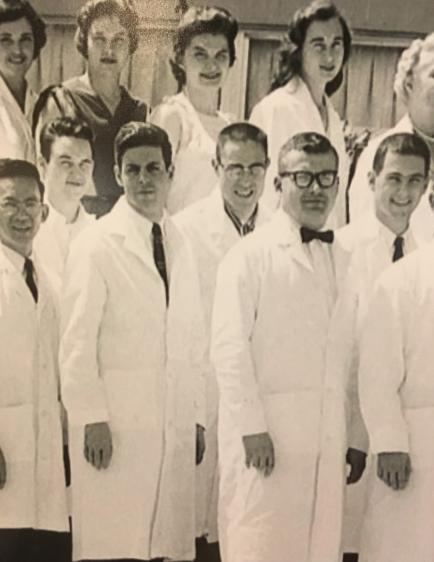 On June 30, 2017, Professor Emeritus Dr. George Martin turned 90 years old. Several generations of Dr. Martin's colleagues in the UW Department of Pathology gathered to celebrate Martin's work and legacy of scientific accomplishment, generosity, and collegiality.
At the party, Dr. Martin was recognized for creating research opportunities in neuropathology and the biology of aging. By the time he founded the UW Alzheimer's Disease Research Center (ADRC) in 1985, he had already founded (in 1970) the UW Medical Scientist Training Program (MSTP) and the UW Genetic Approaches to Aging Research Institutional Training Grant, supported by the National Institute on Aging. He also continues to serve on the Executive Committee of that program and the Nathan Shock Center of Excellence for Basic Research on the Biology of Aging.
"George, you have touched us not just with the big programs you've built, but also your repository of wisdom of how things work here and how to avoid mistakes of the past," said Dr. Charlie Alpers, Interim Chair, UW Department of Pathology.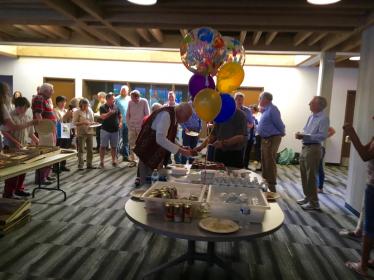 Everyone had stories to share about Dr. Martin. Bryce Sopher, Research Scientist in the Garden Lab, joined Martin's lab as a postdoctoral fellow in 1993 and began to study Alzheimer's disease under his mentorship. "George is the ultimate diplomat," said Sopher. "He made sure that I understood the importance of the diplomatic side of research and your relationships with people. There's nothing he loves more than going to meetings and discussing science." Another attendee, Lise Quinn, IT specialist and Helpdesk Supervisor in the UW Dept. of Pathology, said that she has learned a lot about the brain from conversations with Martin when she visits his lab.
"When I came to UW as a postdoctoral fellow," said Dr. Matt Kaeberlein, Professor in the UW Department of Pathology, "I knew immediately upon meeting George that he was genuinely excited in the biology of aging, and I immediately felt valued and accepted."
Dr. Martin remains focused on helping the newest generation of researchers. He spoke about his aim to convince the the National Institutes of Aging to extend the time that young investigators have before they must start writing a competitive renewal grant for their NIH Research Project R01, usually at 3 years. "I think having 7 years would let them really dig in and help them start out with a bang."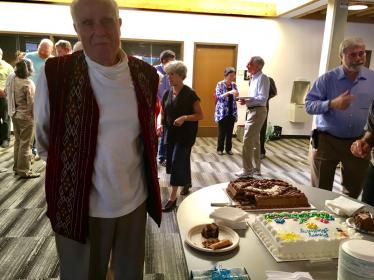 To honor Dr. Martin's commitment to early career scientists, the UW Department of Pathology has made sure that his legacy will live on through their work. The department recently established an endowment in his name, which when funded through donations, will support postdoctoral fellows and junior faculty as they launch their careers.
"It's been fascinating to watch the field of pathology grow over all of these years," Dr. Martin said. "And the technology today is so exciting. It would be kind of nice to go around again."