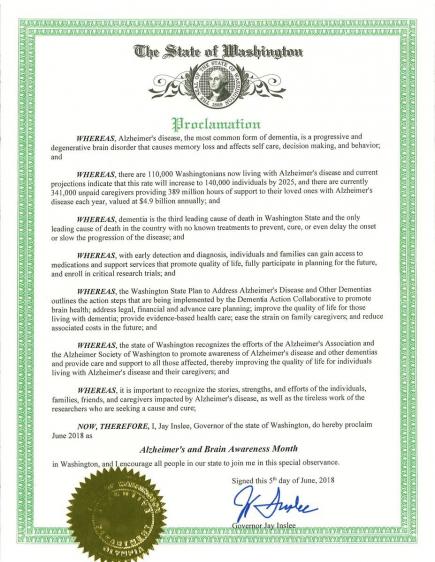 "Now, Therefore, I Jay Inslee, Governor of the state of WA, do hereby proclaim June 2018 as Alzheimer's and Brain Awareness Month, and I encourage all people in our state to join me in this special observance."
We've put together your reading list for Alzheimer's and Brain Awareness Month in WA State! These selected stories and resources from UW Memory and Brain Wellness Center, feature current advances in research and clinical care, funding updates, and the people at the forefront of making Washington State a place where people with memory loss and dementia stay active and thrive in their communities.
Research/Treatment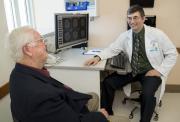 Highlights of the 2018 Discovery Conference Topics included the transformative role of hope in dementia caregiving, technology for better and safer living with memory loss, community wellbeing, delirium, dementia with Lewy Bodies, and frontotemporal dementia.
The Good News about Alzheimer's Disease [VIDEO] Thomas Grabowski, director of the UW Memory and Brain Wellness Center/ADRC, talks about ongoing trials and interventions.
Transforming Dementia Care and Planning Barak Gaster, MD, has spent 20 years developing meaningful solutions for prevalent and difficult issues in primary care. Now he is preparing family physicians to better identify signs of cognitive decline, fully engage in dementia care, and help everyone plan for future medical decisions.
Presto Change-O! Neurons in a Dish: A New Approach to Alzheimer's Disease A new stem-cell study suggests that targeting a specific protein trafficking pathway in human cells can fight against the production of Alzheimer's disease pathology.
What's the Best Diet for the Aging Brain? Q&A with Dr. Angela Hanson, who studies how diet and genetics can affect cognition and Alzheimer disease progression. Hear more from Dr. Hanson in Fish Oil and Seafood for Brain Health: What's the Evidence?
In a Worm, the Kraemer Lab Studies the Early Signs of Human Brain Disease New clues to what kicks off neurodegeneration and possible therapeutic targets
Community/Outreach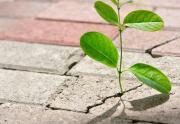 Bringing Positive Change to Our Communities This Changemaker story on Q13 FOX signals growing recognition of Momentia Seattle and the efforts of people living with memory loss, and their loved ones, to stay engaged and active in their communities. [VIDEO]
Opening a Dialogue about Dementia The UW ADRC outreach team aims to bring culturally responsive clinical care and avenues to research participation to urban Native American communities.
An Extravaganza of Brains Greets Kids at UW Brain Awareness Week Event The Memory and Brain exhibit at the 2018 UW Brain Awareness Week Open House offered students of all ages a show-and-tell of all the different ways scientists can visualize the human brain and diagnose brain disorders.
Our Time Has Come The pioneering group of the Our Time Has Come workshop has culminated in a community action project to raise dementia awareness in the younger generation. [VIDEO]
Garden Walkers A reflection on benefits of nature and horticultural therapy-inspired activities for the human body, mind, and spirit, through the lens of the Garden Discovery Walk program in Seattle
Statewide and National Efforts/Funding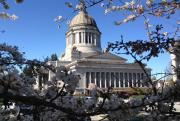 Washington State Dementia Action Collaborative - Accomplishments to Date The UW Memory & Brain Wellness Center is proud to play a role in the Dementia Action Collaborative (DAC), a public-private partnership committed to implementing the Washington State Plan to Address Alzheimer's Disease and Other Dementias. With over 100,000 Washingtonians living with dementia, and another 300,000 people caring for a loved one with dementia, a statewide approach to dementia care and supportive services has never been more crucial.
Omnibus Spending Bill 2018 UPDATE: A Bipartisan Moment for Alzheimer's Research In March of last year, it seemed like NIH federal funding for Alzheimer's disease researchers was hanging in the balance, stalled, even while a bipartisan group of senators expressed their desire to support a robust funding increase. Here's what the 2018 spending bill means.
Congresswoman DelBene Visit Turns Spotlight on Role of NIH, Medicare/Medicaid Funding At the UW ADRC, DelBene learned about how federal funding supports patients and families, access to cutting-edge brain imaging, and training in geriatrics for medical residents and doctors.