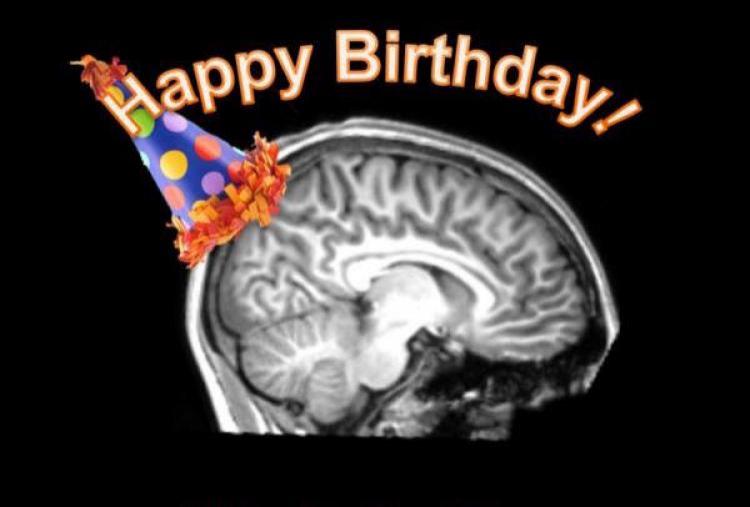 Without research volunteers, it wouldn't be possible to conduct studies of brain disease and seek treatments. These individuals invest a lot of time and energy getting to the study site and undergoing brain scans and other tests, often motivated by the knowledge that their donation will mostly benefit future generations. Now, researchers in the UW Integrated Brain Imaging Laboratory have a way to express gratitude to research participants for their invaluable contributions in the most personal of ways.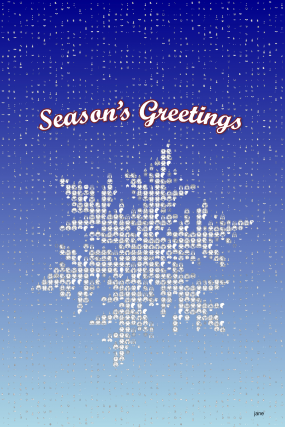 The team works with structural magnetic resonance imaging, which is a technology that provides detailed, three-dimensional images of the human brain. They use these brain scans to study the structure and function of the brain in aging and disease. Over the past few years, these researchers have been having some fun with it. They developed a computer program that automatically generates birthday cards from study participants' own brain scans.
Essentially, the program takes the brain scan, identifies a visually interesting slice from the middle of the brain, overlays a party hat and text on the slice, and creates a printable image. It can also make snowflake mosaics composed of tiny brain images. Researchers can access all the tools they need to generate birthday cards from structural brain scans on the UW IBIC Github website.
The birthday card program is more than meets the eye. First and foremost, it's a way to connect with participants. It's also an open access resource for research labs, and it's a training module for young neuroimagers. "I realized it included all of the elements of neuroimaging that I try to teach students," says Tara Madhyastha, research assistant professor in the UW Integrated Brain Imaging Center, "such as how to program and how to manipulate images."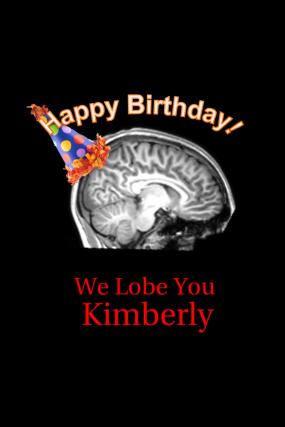 Most importantly, the birthday cards allow Dr. Madhyastha and her team to break out of the scientific world and touch people on an emotional level. "I found that it was a way to communicate the fact that we are always working with the data we gain from our research participants," she says. "Sometimes it's hard to explain what we are studying, or to describe what exactly we have learned, but we can at least communicate that we value our research participants and the data that they give to us." She now treasures a heartfelt note from a participant who received a card in the mail.
The idea for the cards originally came from Christina Caso, an imaging specialist in the UW Integrated Brain Imaging Center/Alzheimer's Disease Research Center. In her previous position as a research coordinator in Lisa Feldman Barrett's Lab at Northeastern University, she and her team devised the cards as a way to keep in touch with study participants after their baseline visit and encourage them to remain active in the study.
Shortly after her arrival to the UW in 2016, Caso made one mention of the birthday cards to her new team. She remembers how Dr. Madhyastha's excitement derailed the rest of a lab meeting. The team soon began to develop the project on a larger scale. ("Nothing is ever small with me," Madhyastha says.) Undergraduate researcher Briana Lee wrote the initial program that generated the birthday cards, along with computer science student An Wang. They currently use the system to practice computer programming.
Other members of the research staff at UW Integrated Brain Imaging Center, Trevor Day, Josh Wolfe, and Ji-Min Park, expanded on this work, fixed bugs, and published it on the internet. The birthday card program works on scans of brains of all different sizes, making it suitable for studies involving children or adults.
The team never expected the birthday card program to grow into a central part of their lab experience. "At first I thought it was simply part of my training, and I think it's amazing how functional it has become," says Lee. "It's not only reached our subjects but has also been made available for other labs to use. I love that we were able to apply my work in a personal way and it's unique that it gives a study participant a picture of their own brain."
-Genevieve Wanucha