The Great Migration (African American)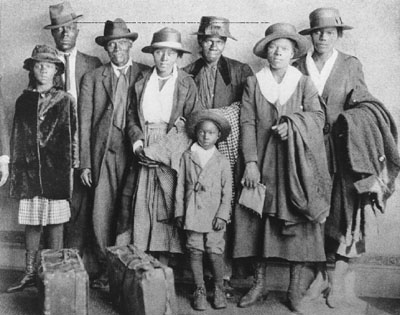 by James Gregory
Over the course of the 20th century, more than seven million African Americans left homes in the South to resettle in northern and western states. Historians have long described this exodus as the Great Migration, great not just because of the numbers of people who moved but also because of the social and political consequences. Once a people of the South, Black Americans became increasingly part of the big cities of all regions and in those urban settings steadily gained political and cultural influence. The Great Migration was thus key to the struggles and accomplishments of the long civil rights movement.
This page introduces resources for exploring the Great Migration, including several sets of interactive maps and tables showing where people settled and where they came from decade by decade.
How Many?
Migration out of the South was not new to the 20th Century, but volumes escalated through the first three decades of the new century, reaching a peak during World War I and the 1920s. Jobs in the North were part of the lure, especially as labor shortages encouraged companies to relax customary whites-only hiring restrictions. But other factors were also involved, notably the chance to exchange Jim Crow subordination for the greater freedom of cities outside the South.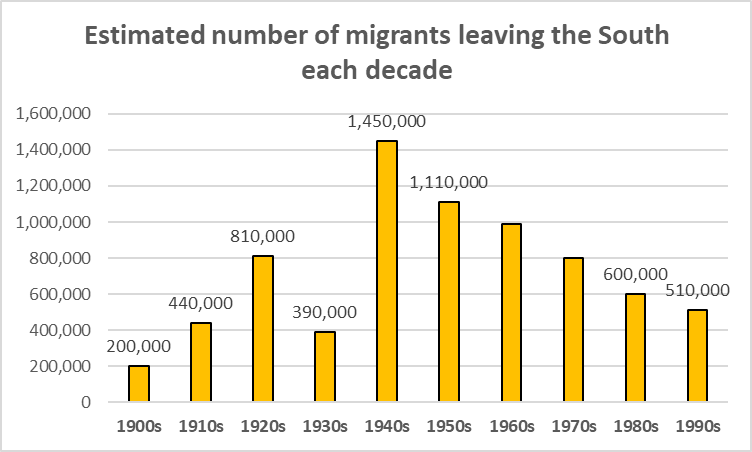 Migration slowed dramatically in the 1930s, then soared during World War II and the two decades following, a period sometimes called the Second Great Migration. After the 1960s, rates of migration began to decline noticeably and by the 1980s former southerners were among those looking for opportunities in the new economy of the South, now renamed the Sunbelt.
The chart at right shows estimates of the volume of migration out of the South during each decade. It is based on calculations using the census survival method reported in James Gregory, The Southern Diaspora: How the Great Migrations of Black and White Southerners Transformed America. Since the publication of that book, Leah Platt Bouston (Competition in the Promised Land: Black Migrants in Northern Cities and Labor Markets) refined the method and clarified data problems that complicate estimates for the 1960s and 1970s. Accordingly, the chart reports only loose estimates for those decades.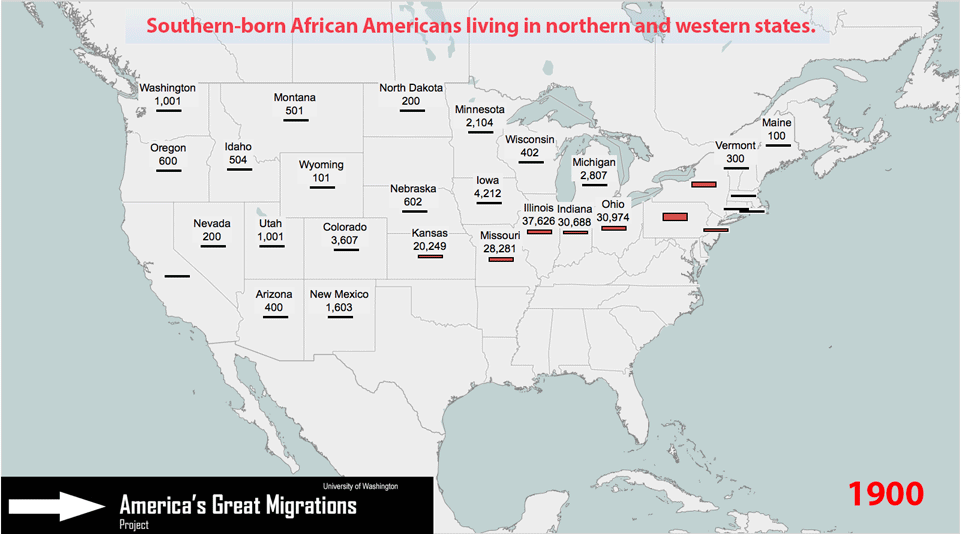 Click the image at right for six interactive maps and charts that show the numbers of African American migrants leaving the South, the states and cities where they settled, and their states of origin for each decade 1900 to 2000. Filters allow you to select particular states and cities and to see the where residents had come from. Or you can select a particular southern state and track where migrants settled. An interactive data table shows the numbers behind the Tableau maps.
Essays