OMA&D Academic Counseling Services
About UW CAMP
The College Assistance Migrant Program (CAMP) at the University of Washington (UW) is federally-funded through the U.S. Department of Education's Office of Migrant Education and is designed to outreach to and support students from migrant and seasonal farmworker families during their first year in college. The program provides students with both financial assistance and support services. CAMP is housed in the Office of Minority Affairs and Diversity at the UW.
Mission:
UW CAMP's mission is to provide migrant and seasonal farm working students with the necessary tools to enhance and maximize their opportunities in pursuit of post-secondary education.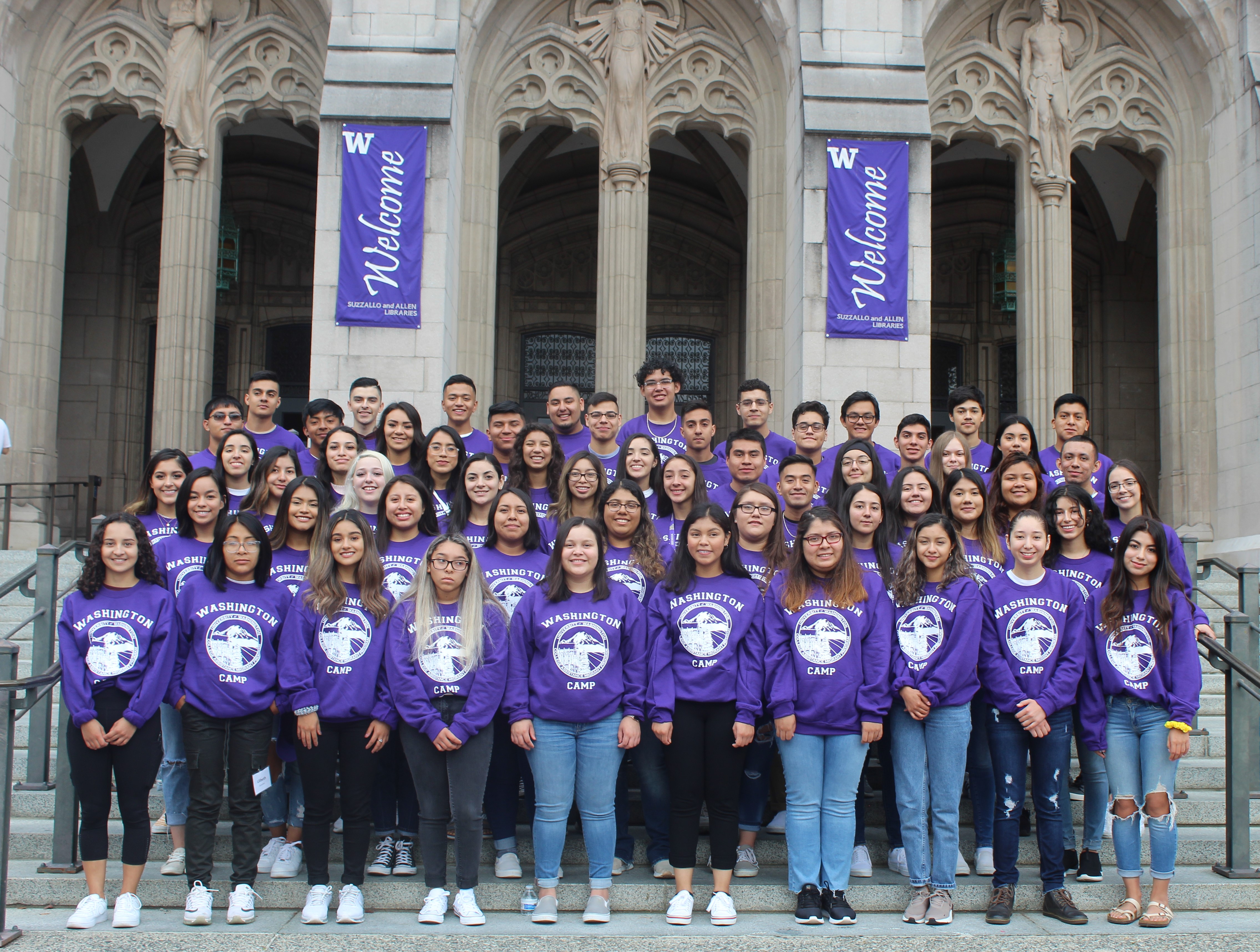 Cohort 10
UW CAMP Services at the University of Washington:
Academic skills assessment
Access to research, internship, and job opportunities
Access to scholarships
Access to Study Abroad
CAMP summer orientation
Career development
Community building
Cultural and social events
Financial aid counseling
Leadership development
Mentoring
Networking opportunities
Personal counseling and academic advising
Tutoring and instructional support
Up to $1,000 stipend for participation
Year-long seminar
BUILDING COMMUNITY AT THE COLLEGE LEVEL
The College Assistance Migrant Program (CAMP) was created to assist first-year students in higher education who have migrant and seasonal farm-working backgrounds. Meaning, they themselves or their parents' work activity is directly related to the production of crops, dairy products, poultry, cultivation or harvesting of trees, ranching, fishery, cannery, nursery, and forestry work. CAMP supports both the student and their immediate family by providing resources and wrap-around services to the student in order to ensure their continuation onto post-secondary education.
The federally funded College Assistance Migrant Program has existed on the University of Washington-Seattle (UW) campus since 2010. With each new academic year comes a new cohort consisting of a minimum of 50 UW first-year students. These students were accepted to both the UW institution, as well as the CAMP program. During recruitment, the program aims to attract the most academically prepared students that are the most underserved. Typically, the CAMP recruiter is the first to connect with students and their families because they go into their home communities to have meaningful conversations with students and their families about navigating the college application process. Recognizing that most CAMP students are first-generation, meeting families where they are creates trust between parents and the CAMP team. Families then feel comfort in knowing that their children have a team supporting them through their transition to graduation from UW.

Since 2016, on average 97.5% of the students are first-generation college students. Throughout the years our data has shown that about 96% of the students in CAMP continue onto their second year at the University of Washington. This demonstrates the impact and success that the program has in building a supportive community for migrant and seasonal farm working students. Many of the students come from areas in Washington State known for seasonal work, such as Skagit, Yakima, and Grant Counties. Not only does the CAMP team academically assist students, but the program also provides social, emotional, and financial resources so students feel supported at the University of Washington and encouraged to continue their education. 
One goal the CAMP team has is to make CAMP feel like family and a safe space where students can make friends and build community. Students in CAMP are reminded of how resilient and empowering their stories are. They are encouraged to strive for success in all aspects of their lives. Yazaret Villafana, a former CAMP scholar, shares that,
"not only did this program feel like a home that supported me academically, socially, emotionally, and financially, but CAMP helped me gain confidence in myself. As a first-generation Latina I found purpose in myself as a student in this institution."
To help students stay connected to their own traditions and the Seattle culture, the team provides cultural events throughout the school year. Sophia Dominguez, a cohort 7 scholar, shared that she enjoys the quarterly breakfasts, where they bring in Mexican pastries and breakfast burritos for all past and current CAMP students to enjoy. Dominguez describes it as,
"a perfect way to bond with the cohort and the staff." 
Other events include taking the students to art museums, exploring downtown, or taking them to catch a baseball game at T-Mobile Park.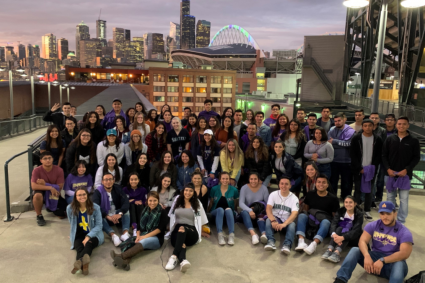 Along with cultural events, CAMP has other programs available for students, such as mentoring. Dominguez shared the immense impact that the CAMP peer mentor program had on her academic goals. Dominguez met someone who was going to pursue graduate school, which helped her see that she could do it too. In addition to the peer mentor program, students also have the opportunity to find a faculty mentor in their career field who can guide them.
It is the impact made on student's lives that makes the program great. The successes and experiences of the students are what inspire the team to continue doing what they can to support students with migrant and seasonal farm-working backgrounds. They strive to make CAMP a true home away from home.