OMA&D Academic Counseling Services
Meet the CAMP Team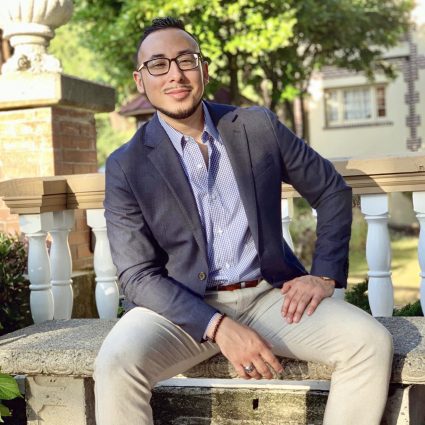 Andres Huante joined the CAMP team in the Summer of 2015 as the Recruiter and Academic Adviser and now serves as CAMP Director. He is from the small town of Lynden, WA where he has lived the majority of his life until attending the University of Washington (UW) as a Freshman in 2009. Andres earned a Bachelor of Arts degree in June 2014 and completed his Master of Education from UW in June 2015. During his leisure time, Andres enjoys eating at new restaurants, attending Husky football games, and spending time with his family and friends. Andres is excited to be working with CAMP and the Office of Minority Affairs & Diversity to support students who come from a similar background as his own.
Please email Andres if you have any questions regarding the summer Dare to Dream Academies.
Andres Huante | Director
P: 206-543-8520 | E: andres09@uw.edu
---
Natalia was born and raised in Wenatchee, Washington. Like her parents, Natalia worked in agriculture, specifically with apples and cherries to help support her families' needs. As a Cohort 5, UW CAMP Scholar in 2014, she found a supportive community at the University of Washington. Her personal mission is to inspire, educate and support underserved students' educational achievement through higher education. She received her Bachelors of Arts in Education, Communities, and Organizations and decided to continue her studies further. Natalia recently completed her Masters of Education in Leadership and Higher Education in Spring 2020. In her free time, Natalia likes to karaoke, hike, and take pictures while exploring. She is committed to supporting CAMP students on their exciting new journey at the UW!
Natalia Esquivel Silva | Academic Adviser
P: 206-685-4027 | E: esquin@uw.edu
---
Myrella is from the very small agricultural town of Dryden, WA. Growing up, she watched her parents and older siblings work in the pear orchards and warehouses packing cherries. When she got older, she also worked during the cherry season. Once Myrella got accepted to the University of Washington, she became a part of the CAMP family (Cohort 6)! She discovered her passion for college access when she worked as a mentor for CAMP's Dare to Dream Summer Program. After three continuous years of being a D2D mentor and a student staff member for the DO-IT Summer Study Program, Myrella obtained a B.A. in Education, Communities, and Organizations. Recently, she completed her M.Ed. from Seattle University in Student Development Administration. As part of her graduate studies, Myrella completed an internship for DO-IT, as the Summer Youth Project Coordinator, and now leads operations for Dare to Dream at UW. In her free time, Myrella enjoys trying new food, going out for walks, dancing, taking BuzzFeed quizzes, and having virtual hangouts! She is excited to be back at her first home away from home and take on her new role as CAMP's Program Manager!
Myrella Gonzalez | Program Manager
P: 206-616-6454 | E: gonzom15@uw.ed
---
Laura was born and raised in the small town of Prosser, WA. Cherries were a big part of Laura's life growing up. She spent many summers working alongside her parents as well as aunts, uncles, and cousins in the orchards. Her parents always encouraged her to pursue a college education and upon graduating high school she attended the University of Washington. During her first year at the UW, Laura was a part of CAMP's Cohort 7. CAMP provided her with the resources she needed to be successful as a first-generation college student. Laura enjoyed the program so much she decided to stay connected throughout her undergraduate career. She served as a peer mentor and Dare to Dream summer academy mentor for two consecutive years. CAMP not only helped her be successful at the UW but also helped her find her passion in education and advocating for college access. Laura graduated with her Bachelor of Arts degree in Education, Communities, & Organizations in June 2019. She is currently working on completing her Masters of Education with a focus on Critical Educational Change and Leadership. When Laura is not busy working on homework, she enjoys watching new movies and tv shows. She is also a big fan of music, spending time outside, and enjoying the company of her family and friends. Laura is excited to continue supporting students through their journey in higher education and to be a part of the UW CAMP team!
Laura Barrera | Recruiter & Academic Adviser
P: 206-221-0527 | E: laurab98@uw.edu
---

Kristian Wiles is the Interim Assistant Vice President of Student Success in the Office of Minority Affairs & Diversity at the University of Washington (UW). In this role at UW, Mr. Wiles oversees programs and teams of professionals that provide advising, academic support, professional development, and community building experiences to over 6,100 students annually, including students participating in the College Assistance Migrant Program (CAMP). Over his career, Kristian has focused his efforts on higher education and community settings toward supporting underrepresented students through direct service and larger collaborative initiatives. This includes oversight and administration of retention programs in Arizona and Washington for the past 14 years. As a first-generation college student, he is proud to hold a Bachelor's degree from Pacific Lutheran University, a Master's degree from University of Delaware and to have served on the Boards of the Washington State TRIO Association, the Northwest Association of Educational Opportunity Programs, and nationally with the Council for Opportunity in Education. In addition to work, Kristian looks forward to spending time with his partner and two kids (6 & 8 years old) enjoying art, music, sports, and the local outdoors.
Kristian Wiles | Principal Investigator
P: 206-543-2938 | E: kmwiles@uw.edu