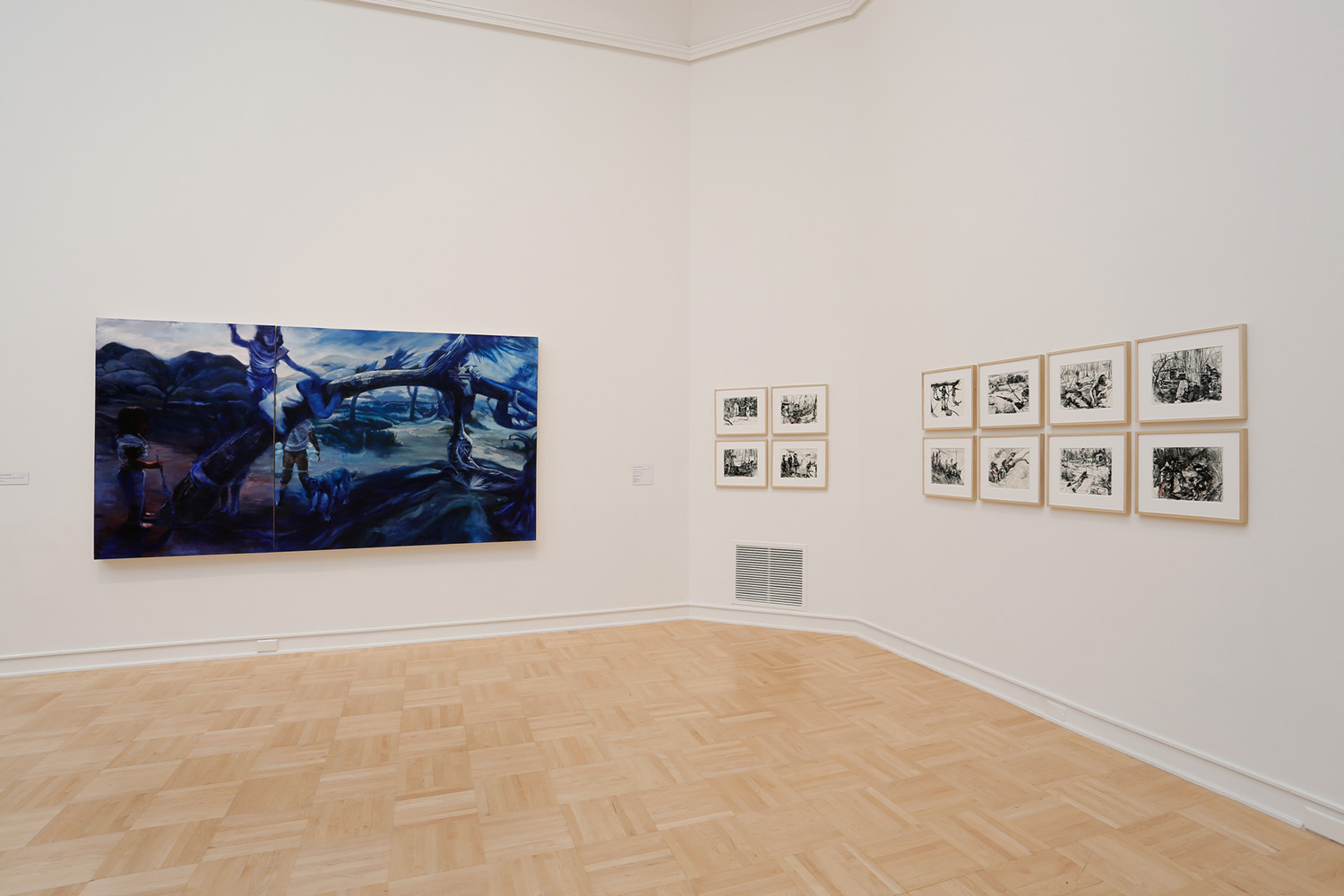 Artist Statement
Abigail Drapkin grew up exploring the forests of Midcoast Maine, but for the past ten years she has lived in cities — Boston, Paris, San Francisco, and Seattle. Her change of scenery every few years drives her to investigate the stories behind a landscape that are passed down through folklore, influenced by current events, and infused into popular culture.
Her recent work uses sequential imagery in the form of ink transfer drawings and oil paintings to investigate the complex narratives humans tell about the forest and their role within it. The forest has been used throughout history as a setting for morality lessons, magical and frightening encounters with animals, and often unsettling outcomes. Tapping the childhood imagination — where fiction filters true events — Abigail addresses the question of what a contemporary fairy tale set in an ancient forest would look like.
In the context of the Anthropocene, our current geological era where humans have impacted the planet beyond repair, diminishing forest habitats symbolize the endangered biodiversity that rely on them. To tell this story, her series uses a gaggle of girls as its flawed protagonists. Her drawings are as constructed and collaged as the story itself, which interweaves references to European folktales, paintings by Bruegel and Goya, the account of the Last Great Auk, and social media posts of the recent destruction within US National Parks. The subsequent events tread the ambiguous line between play and violence, evoking the blindness and folly of human misdeeds against the natural world.
Education
MFA, University of Washington
BA, Studio Art and French, Brandeis University
Exhibitions
2019, Cobblestones and Lumber, San Francisco Art Institute, San Francisco, CA
2018, 10 Études for Summer, Jacob Lawrence Gallery, Seattle, WA
2018, Tropical Lab 12: Sense, Institute of Contemporary Art (ICA) Singapore, Singapore
2017, Our Summer of Love and Resistance, Avenue 12 Gallery, San Francisco, CA
2016, Familiar Deconstructed, SMASH Gallery, San Francisco, CA
Committee Members
David Brody (Painting + Drawing)
Ann Gale (Painting + Drawing)
Philip Govedare (Painting + Drawing)
Zhi Lin (Painting + Drawing)
Helen O'Toole (Painting + Drawing)