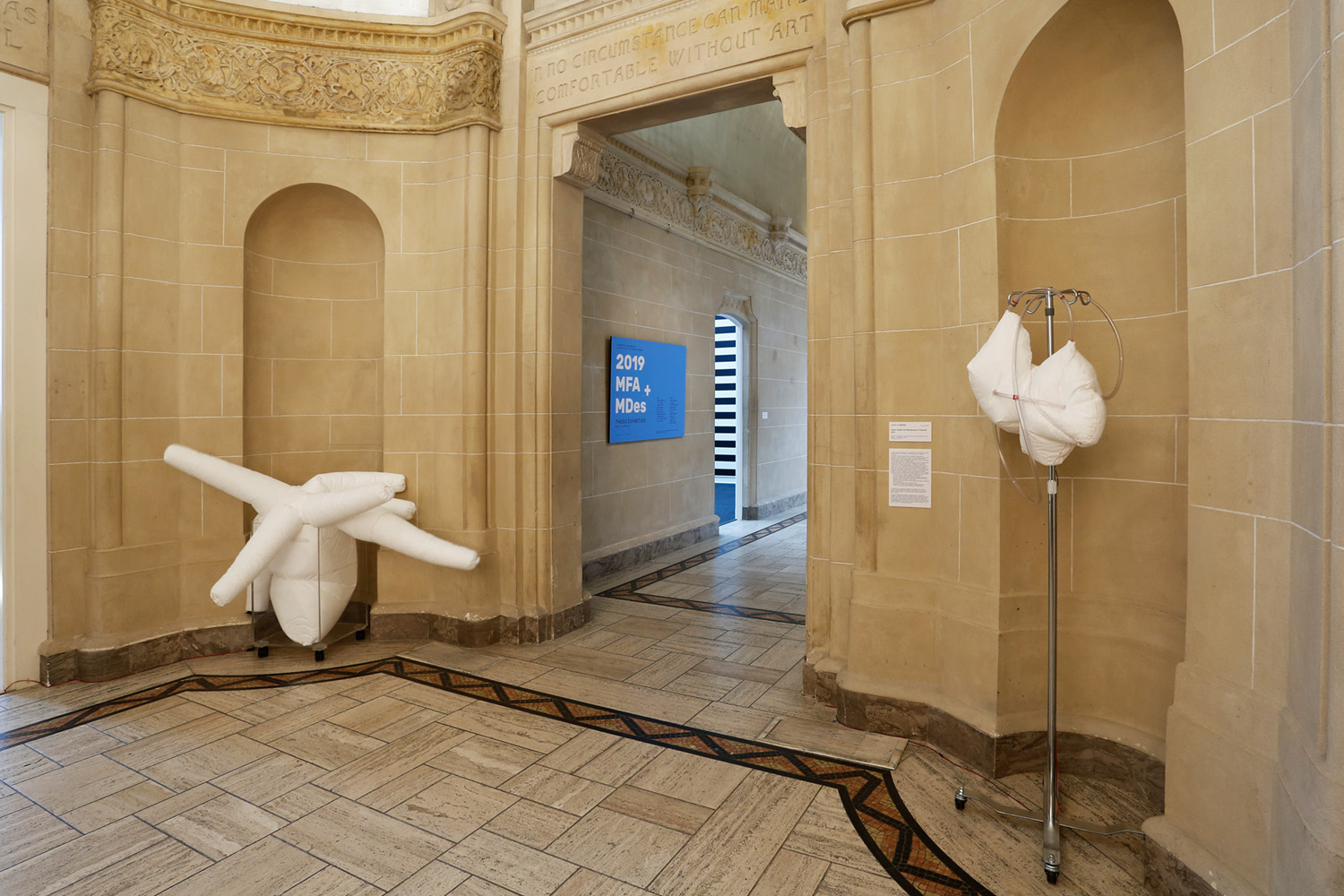 Artist Statement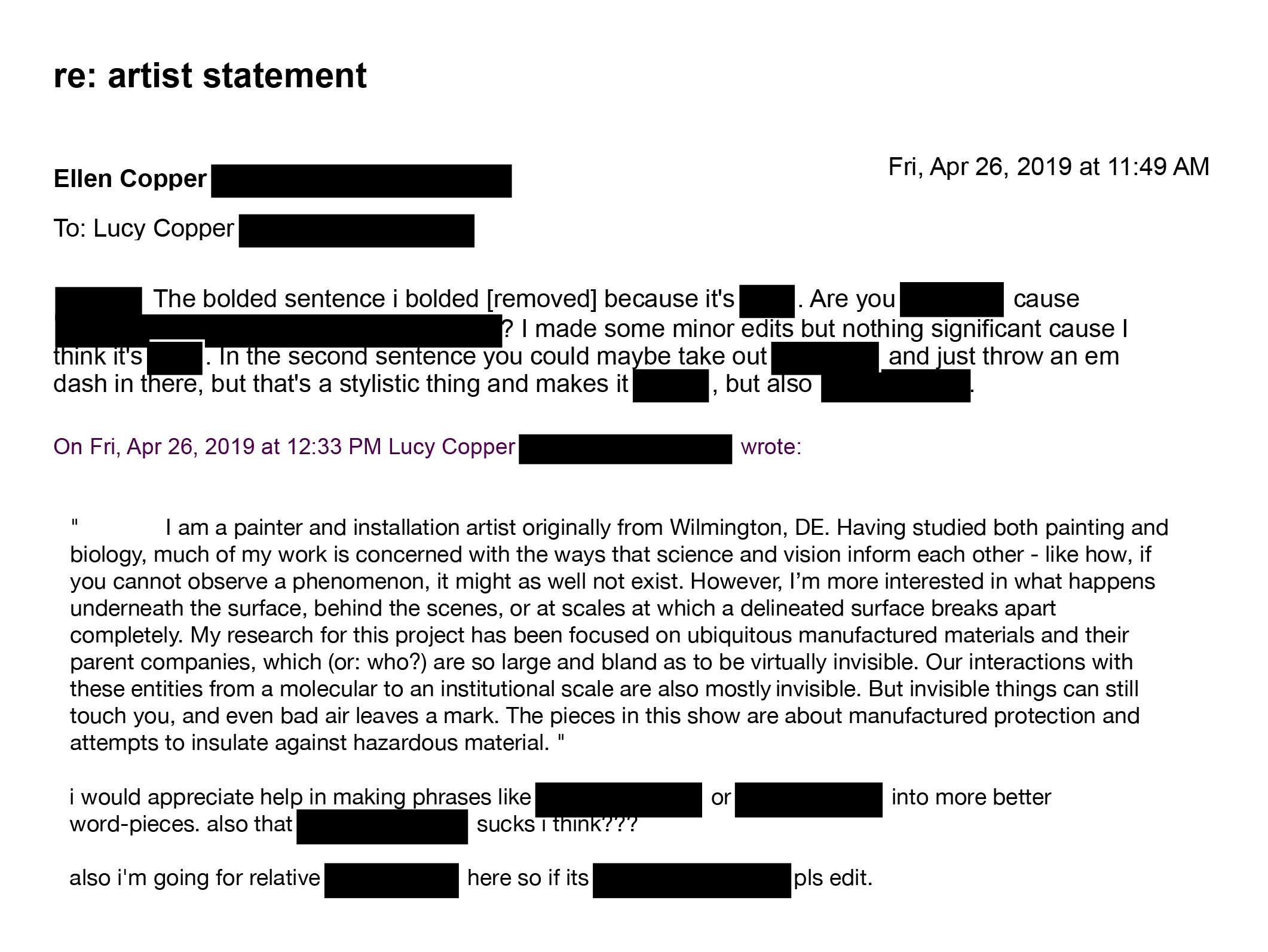 Education
Master of Fine Arts, University of Washington, Seattle
Bachelor of Science, The College of William & Mary
Committee Members
Zhi Lin (Painting + Drawing)
Helen O'Toole (Painting + Drawing)
Ann Gale (Painting + Drawing)
David Brody (Painting + Drawing)
Philip Govedare (Painting + Drawing)
Emily Zimmerman (Director and Curator, Jacob Lawrence Gallery)
Notes for Images
[1] A stasis /ˈsteɪsɪs/ or stasis field, in science fiction, is a confined area of space in which time has been stopped or the contents have been rendered motionless.
[2] E.I. du Pont de Nemours and Company, subsidiary of DowDuPont. DowDuPont currently ranked No. 1 on both the Toxic 100 Index and Toxic 100 Water list, with 8.22 million pounds of toxic air releases and 3.35 million pounds total toxic surface water releases in 2018. Data courtesy of the Political Economy Research institute at UMass Amherst.
[3] Tyvek® 500 garments are composed of flash spun high density polyethylene which creates a unique, nonwoven material available only from DuPont. Tyvek® garments provide an ideal balance of protection, durability and comfort. They are now available with external serged seams that provide the performance of Type 5/6 garments, which have been tested to standards against light liquid aerosols and airborne solid particles. The coveralls provide an effective barrier against particles (down to 1.0 micron in size). Tyvek® 500 coveralls are suitable for applications such as pharmaceutical handling, chemical processing, automatic spray painting, maintenance and many others. Tyvek® 500 Type 5/6 coveralls offer the following safety and comfort benefits:
Chemical protective clothing, Category III, Type 5-B and 6-B
EN 1073-2 (protection against radioactive contamination)
Protection against infective agents (EN 14126) including resistance to penetrationa by blood and body fluids using synthetic blood (ISO 16603)
Antistatic treatment (EN 1149-5) – on both sides
Serged external seams featuring patent-pending technology for enhanced liquid spray tightness
Very low inward leakage due to optimized design
Tyvek® auto-lock zipper and storm flap for increased protection
Elastic face, wrists and ankles as well as glued-in waist elastic
[a] Permeation is the absorption, diffusion, and desorption of a chemical through a barrier material at the molecular level. Penetration, on the other hand, is the bulk passage of a chemical through a pore or opening in the barrier material.
To help you understand the difference between these two mechanisms, consider this example. Have you ever opened a bottle of soda to find out that it was flat? There aren't any holes in the bottle. The liquid is still inside. Why is the soda flat? It's flat because the carbon dioxide that gives the soda its fizz has permeated through the bottle over time. If you opened fresh bottle of soda and did not replace the cap, the carbon dioxide would just escape out of the top of the bottle. That would be penetration.